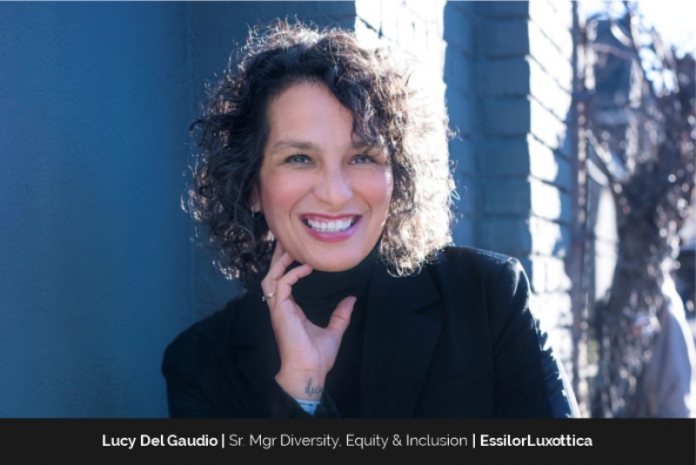 Lucy Del Gaudio, a Senior Manager of Diversity, Equity, and Inclusion at EssilorLuxottica, sets herself apart from other leaders by her unique perception of success. While many view success as a personal accomplishment, Lucy defines it as the ability to add value to a team or an organization. Her alacritous and transformative thinking has earned her a place among "The Most Influential Women in Diversity & Inclusion, 2023."
Lucy Del Gaudio's single-word self-definition as "Agile" rings true to us, emphasizing her acuity in the business. Even her philosophy on success is a personification of agility. She advocates for being flexible and adaptable to changing circumstances, which makes her an ideal leader. Her source of inspiration comes from Bruce Lee's words, "Always be yourself, express yourself, have faith in yourself; do not go out and look for a successful personality and duplicate it." She believes that success is achieved by being happy and authentic in one's own shoes.
Personal Experiences as Catalysts for Change: Lucy Del Gaudio's Journey to D&I Leadership
Lucy Del Gaudio reveals that her inspiration for taking on the role of a D&I leader was a personal leap of faith. When asked about the road that led her to this position, Lucy shares, "Growing up as a woman of color, I've faced many hurdles. I also faced a multitude of barriers being a woman in the military. Entering the D&I space allows me to foster change. I get to use my personal story to help others."
She emphasizes that leading a company to success is not easy, but it is a path she is grateful to take. Lucy believes her journey has equipped her with the skills and knowledge necessary to make a lasting impact.
She states, "I have learned to be agile and adaptable, which has been critical in my career."
With her experiences as a woman of color and a military veteran, Lucy is passionate about creating change in the D&I space. She said, "I want to leave a legacy of a leader who was not afraid to take risks and push boundaries. I want to inspire others to do the same."
There is no doubt that today her determination, compassion, and resilience have made an impact that inspires others, making her an incredible leader by Dolly Parton's definition: "If your actions create a legacy that inspires others to dream more, learn more, do more and become more, then, you are an excellent leader."
Overcoming Barriers in Professional Life
Lucy draws inspiration from the words of Frida Kahlo: "At the end of the day, we can endure much more than we think we can." These words have helped her overcome many challenges throughout her life. Through her experiences, Lucy learned valuable lessons about resilience and perseverance.
When asked about the roadblocks she faced in her professional journey, Lucy shares that when she began her career in the military, she constantly had to prove herself as a woman. She faced numerous injustices that she is now advocating for. When she transitioned to the corporate world, she encountered similar struggles.
However, Lucy found that building a solid community was key. She expresses, "finding like-minded people and building a solid community around me helped me overcome those roadblocks."
Redefining the Lens and Frames Industry through Diversity and Inclusion: Insights from Lucy Del Gaudio
When asked about EssilorLuxottica and its stance on diversity and inclusion, Lucy Del Gaudio emphasizes the company's commitment.
"At EssilorLuxottica, we passionately believe in equal opportunities for every employee – at every level," Lucy shares. "No matter your race, gender, age, nationality, religion, sexual or political orientation, marital status, union affiliation, or disability, we pay our employees the same for the same work."
Lucy also speaks about the company's various initiatives to promote diversity and inclusion, such as fostering open dialogue among employees and providing an inclusive work environment. These efforts benefit employees and contribute to the company's success in a highly competitive industry.
Lucy explains that EssilorLuxottica stands out in the industry due to its innovative ideas around diversity and inclusion. She highlights that by cultivating a culture of diversity and inclusion, they are better able to attract and retain top talent, drive innovation, and meet the evolving needs of their customers. She further notes that their commitment to diversity and inclusion isn't just the right thing to do, it's also good for business, as it lays the foundation for a stronger and more resilient company.
A Career Rooted in Advocacy: Her Journey Before EssilorLuxottica
Lucy Del Gaudio shares about her life before EssilorLuxottica and the beginning of her career. Her Diversity, Equity, and Inclusion journey began with her veteran advocacy work. As an Afro-Latina woman who served in the military, she was aware of the long history of injustice that minority veterans faced.
According to her, advocating for others and creating change was especially important. She found satisfaction in fighting for the rights of minority veterans and making a difference in their lives. She says, "My career gave me the space to do that."
With her passion for advocacy work, Lucy worked tirelessly to create awareness about the challenges faced by minority veterans. Her efforts eventually caught the attention of EssilorLuxottica, which recognized her advocacy work and offered her a role in their Diversity, Equity, and Inclusion department.
A Leader's Most Memorable Recognition: Lucy's Story
While Lucy has received various recognitions for her work, one that stands out came from the Point of Light Inspiration Honor Roll. Lucy conveys that the recognition was for her work with the Pink Berets, a women's veteran service organization that helps women who have experienced trauma while serving. She adds that it was a special recognition and that it had been humbling to receive it.
As the Chief Operating Officer of the Pink Berets, Lucy works alongside her colleague and sister-in-arms, Stephanie Gattas, who is the founder and CEO. Together, they have created a safe space for women veterans and helped them heal from their traumas.
Overcoming Challenges in the Industry: A Woman Leader's Perspective
When asked about the challenges she had faced as a woman in leadership in her industry, Lucy Del Gaudio acknowledges that it had not been easy, but it had made her very resilient. She shares that she thought of her granddaughter whenever she worked on an initiative.
According to her, she wanted her granddaughter to be proud of the impact she had made. She says, "I want her to one day say that she's proud of the impact her Abuela (Grandmother in Spanish) made."
The sagacious woman leader also shares her views on making an influential impact on the next generation. She believes that being a role model and inspiring young women to pursue leadership roles is essential. She wishes to lead by example and encourage other women to do the same.
A Day in the Life of a Senior Manager of Diversity, Equity & Inclusion at EssilorLuxottica
As Senior Manager of Diversity, Equity & Inclusion, Lucy leads a team and works closely with senior leadership to identify and address opportunities in the space. She also develops and implements training programs, policies, and procedures to create a more equitable and inclusive workplace. This role requires significant coordination with various departments and stakeholders and keeping up with industry trends and best practices.
Lucy considers herself privileged to lead the Business Resource Groups and Think Tank at EssilorLuxottica. Her responsibilities include consulting with the various brands on their DEI initiatives and creating educational moments within the Cultural and Heritage months with their Inclusion Calendar.
According to Lucy, her role involves much interaction with people. She articulates, "It's a lot of listening, learning, and understanding the people I work with, the initiatives they're passionate about, and how I can support them in achieving their goals."
Striking the Perfect Balance between Personal and Professional Life
In today's fast-paced world, achieving a perfect balance between personal and professional life can be a challenge. Lucy believes that finding equilibrium between these two aspects of life is a never-ending balancing act that requires constant attention.
From her experience, Lucy suggests blocking time on the calendar to complete work while setting clear boundaries for personal time. "As a mother of four – it's tricky at times to balance personal and professional life. I have an extraordinarily strong work ethic, something I learned from my Cuban Grandmother, Isabel. My family is incredibly important to me. I do my best to 'turn it off' when I get home. "
Lucy emphasizes that a healthy balance between personal and professional life can lead to a more fulfilling life in terms of career but also terms of relationships and personal growth. Therefore, it's essential to prioritize emotional well-being and make time for activities that bring joy and happiness.
Encouraging Employee Engagement through Effective Communication
Lucy is a leader who not only recognizes her strengths but also the strengths of others. She inspires and empowers those around her to achieve their potential. Lucy takes pride in motivating employees to participate and engage in activities at EssilorLuxottica. She believes communication is the key to getting the word out and keeping everyone connected and engaged. Lucy uses various tools and channels to ensure employees stay informed and updated about the latest initiatives. By fostering a culture of communication and collaboration, Lucy has created an environment where employees feel valued and empowered to contribute to the organization's success. Her innovative mindset and flexibility make her a distinctive leader who doesn't define success solely as an individual accomplishment.
Empowering Employees and Fostering Inclusivity: The Future of EssilorLuxottica
According to Lucy, the future success of EssilorLuxottica depends on fostering inclusivity and promoting career development among a diverse group of employees.
The organization recognizes that a diverse workforce is crucial for meeting customers' evolving needs. EssilorLuxottica's dedication to ongoing training and development programs ensures that its employees have the knowledge and skills required for success. This investment in their workforce enables them to form a solid and adaptable team capable of driving growth and achieving success. EssilorLuxottica is well-positioned to have a bright future by prioritizing inclusivity and empowering its employees. By valuing diversity and investing in its workforce, it will continue to be a leading organization in its industry for years to come.
Lucy Del Gaudio's Goals and Message to Women Aspiring to Leadership
Lucy Del Gaudio aims to inspire and drive positive change as a woman in leadership, following in the wise words of Eleanor Roosevelt: "A good leader inspires people to have confidence in the leader. A great leader inspires people to have confidence in themselves," She wishes to empower young women of color to 'think BIG' and recognize their potential to make a difference. Her message to aspiring women in leadership is to stay true to themselves and their values, remain committed to learning and growth, and never let their gender, ethnicity, or any other factor hold them back. She encourages them to be confident, brave, and willing to take risks to achieve their goals.
Lucy signs off with a thoughtful message, "We don't need superpowers to revise the world. The 'change' might be the door next to you. Your aplomb and intrepidity hold the key to open it."