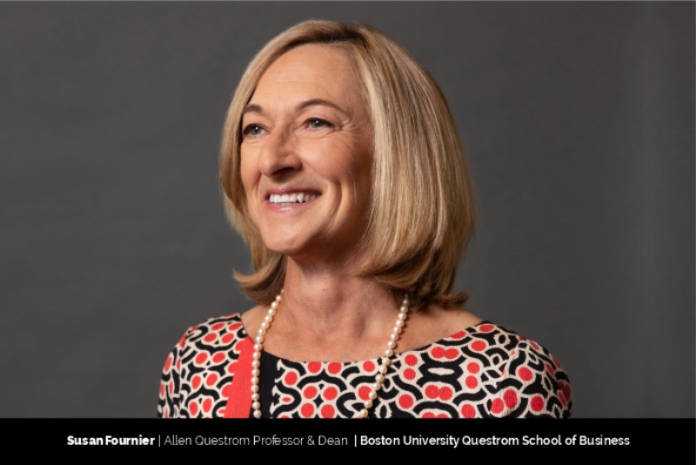 When Susan Fournier took the reins of Boston University's Questrom School of Business in 2018, she became its first female dean. She is also the first academic dean in over 40 years. Since taking charge, Susan is using strategic foresight to make Questrom the business school of the future. Her proactive and insightful decisions enabled her leadership team, faculty and staff to deftly navigate through uncertain times during the COVID-19 pandemic.
In 2005 Susan joined Questrom as a faculty member. She started as an Associate Professor of Marketing and Dean's Research Fellow; and in 2013, she was named Questrom Professor in Management. Over the years, she has played varied influential roles as an educator, researcher, and administrator at the Business School.
Susan is also an elected board member of AACSB, the accrediting agency for business schools, as well as an appointed member of AACSB's innovation committee. The Innovation committee will identify a value creating positioning for business moments as the Dean of Questrom is the launch of their Online MBA program before the pandemic hit the world. She and her team have built it up to be a successful, differentiated, value-enhancing and thriving program with over 1800 students to date. She also considers creating a strategic plan for the school, using a collaborative process that involved all faculty and staff, as a significant achievement. schools and consider necessary changes to enhance business programs and services.
"To be nominated and elected reflects that Boston University (BU) Questrom is on the radar in a way it never was before."
A String of Achievements
For Susan, one of her proudest moments as the Dean of Questrom is the launch of their Online MBA program before the pandemic hit the world. She and her team have built it up to be a successful, differentiated, value-enhancing and thriving program with over 1800 students to date. She also considers creating a strategic plan for the school, using a collaborative process that involved all faculty and staff, as a significant achievement.
Additionally, Questrom has reimagined and expanded the Social Impact MBA to instill social impact as a lens for the purpose of business in all of their programs.
"DEVELOPING BUSINESS LEADERS WHO CREATE VALUE FOR THE WORLD."
And finally, after two years of work, the school recently rolled out a crystallized set of values: students first, the pursuit of excellence, and respect for everyone. "We feel that these three values will really help us create tighter bonds and an organizational culture where our actions are in line with our values."
Susan's leadership has also led to Questrom's significant upward movement in various business school rankings. For example, in 2023, Poets & Quants ranked BU's undergraduate business program 17th. This data driven ranking includes over 100 business schools.
Also, Susan is enabling the building of a more diverse, representative and inclusive organization. "Though there is an opportunity to do even more, the emphasis and support are there from her," points out Paul Alexander, the Chief Marketing Officer at the Boston University Questrom School of Business.
Susan's exemplary leadership of this AAU academic research university is also recognized outside the school, according to Paul. This year, she was again in the top 2 percent of researchers across 7 million+ scientists. Susan, who earned her PhD and worked extensively in market research, was also named a fellow by the Association of Consumer Research (ACR) in 2022 in recognition of her career contributions to the field.
At the School you can feel the momentum because of Susan's leadership and accomplishments. "I get a chance to see it, says Paul, because together we relaunched the school's brand behind this idea of 'QUESTROM MEANS BUSINESS,' and that is being acknowledged by other schools as well as internally among students, faculty and staff."
Launch of the Online MBA Program
In March-April of 2020, the COVID-19 pandemic forced universities and colleges to quickly design and launch their online learning programs. Boston University Questrom School of Business didn't have to scramble to do that. Under Susan's leadership, her team introduced the online MBA program months before the pandemic hit the world.
One of the most notable things about this online program is the school's decision to launch it as an affordably priced MBA. Its total cost – $24,000. This makes a quality education accessible to different segments of the population throughout the globe.
Now, in Year 4, it has graduated over 1800 students. This program is for people who want to learn management skills, not career switchers. Students have a radically different approach where they learn cross functional skills – managing risk, digital transformation, leadership – in six integrated models. These are the skill sets required for leadership in today's business world.
The Online MBA requires engagement, and the faculty teaching online classes are not part-timers. Susan says, "We staff with our fulltime faculty. And some of our best class instructors are teaching in this online program."
The launch of the online MBA program was a monumental task for Susan and her team. It required them to build capacities and capabilities, human resource skills, and technology. In so doing, they have been able to use some of these capabilities in the broader Questrom portfolio.
Questrom also offers a large number of programs to provide students with a full range of programs to meet today's challenges. These include the full-time MBA, part-time MBA, social impact MBA, health-sector MBA, and digital tech dual degree MBA, to name a few.
This global online learning program has also increased the schools global reach and brand. Questrom is ranked third in terms of the percentage of international students, as measured by Poets and Quants.
"It is a huge world, and I think there is tremendous potential for growth," Susan says. "We haven't even touched the tip of the iceberg when it comes to our global reach."
Dealing with Challenges
In the post-COVID-19 world, most educational institutions had to pivot to online learning. "I'm not alone in emphasizing the sea change that this required," Susan points out. "Living in a hybrid world where on-campus, residential experiences are also valued —that's the challenge and it is easy to get the balance wrong."
Susan emphasizes that business schools like hers are part of a customer-facing, high-touch industry. Career services, after-class office hours, team projects and presentations, club events and gatherings have been a part of Questrom for 110 years. "To migrate that to online was like rewiring fundamentals in our DNA, and this did not simply comprise becoming familiar with new technology" Susan points out.
Although Questrom boasts tech enabled classrooms, faculty and staff had to develop new skills with new tools because of the online program. Faculty had to adapt their pedagogy to shift to a virtual classroom from the traditional classroom with tiered seating and blackboards. "We did this amidst major anxiety among students and the world," Susan points out. "Some students couldn't get out of their home countries and get back. (Due to pandemic restrictions)
We were one of the first and only major universities to "teach from anywhere", offering classes in person for those who were available and comfortable and, simultaneously online for those who were not." Susan feels that she was very lucky to be at Boston University during the pandemic. As the entire university was back in the classroom by September 2020. "With our hybrid learning model, all faculty were in the classroom. It was this 'fractioned' kind of crazy world,"
Susan says. "And, by the next summer, when most schools were still remote, we were all back, 100% in the classroom. It was an amazing testament to our commitment to student learning and the residential experience."
According to Susan, the beauty of BU lies in an ecosystem of 18 schools and colleges that includes a public health school and a medical campus, all coordinated by a central administration that built a multi-million-dollar infrastructure to create psychological safety and health for all those on campus. "For example, we were getting tested twice a week," reveals Susan. "I knew then that it was safer here than anywhere else."
Bridging the Gap
An essential idea at the core of Questrom's formula for success and differentiation is interdisciplinarity. Susan emphasizes that the issues businesspeople face and the problems they and society need to solve are not born in a silo and cannot be contained or solved there. "Our problems are complex, thorny, messy. All the business disciplines need to be brought to bear to solve them," she adds.
For example, if someone works at Procter & Gamble and has to deliver 20% of revenue in new products, the business leaders need tech, process innovation, marketing, and strategy to achieve that target.
"Interdisciplinarity is how the business world works and mastering that is how businesses succeed," Susan says" She adds that academia faces a strong pull toward silos because faculty need to publish in disciplinary journals, get tenured in a department, and attend conferences targeted to niche communities of likeminded scholars.
"The two worlds have always been disconnected, but now the fracture is even more significant," she notes. Questrom works hard to bridge that gap through a cross-disciplinary curriculum and initiatives like digital business and social impact that span silos.
Susan stresses that social impact "is a great test of this reality: it comprises virtually everything." For example, social impact involves finance to understand how to stimulate investments, accountants to understand how to report on ESG-type standards for boards, and marketers to understand if the consumer is missing in the ESG equation.
"As with social impact, the problems we choose to solve are inherently interdisciplinary, and to reflect that, we have to build governance systems, institutes, academic programs, and cocurricular experiences that are problem-defined. Everyone, no matter who they are, joins together to solve the problem," Susan says. "It is a hard culture change project to pull this off."
First Collaborative Strategic Plan
Over the last several years, Questrom embarked on its first-ever collaborative. strategic planning exercise. According to Susan, the collaborative part of that exercise meant involving all faculty and staff in articulating the mission of the school in a way that everyone is committed to it. The collaboration also determined the vision that would set Questrom on the path to excellence and frame focal strategic initiatives.
That exercise cemented the school's commitment to its the mission of "developing business leaders who create value for the world." Susan says, "Our mission is very much about recognizing the power of business to affect innovation and change and cultivating leaders who use the power of business to create value for the world. Our focus is on the social impact of business and the role of business in society – the role of business in creating value for the world. We recognize the power and potential of businesses and competitive markets to address society's challenges great and small, all the way down to the need for innovations that better humankind."
"The social impact piece of our strategy and our work has been growing, with many tentacles that have already taken hold such as Link Day, a day of free consulting for local non-profits. This emphasis will get even bigger and deeper because we are in the midst of developing a big umbrella around the social impact theme," Susan says. "We hired two new faculty members to oversee this effort and build on our leadership in the not-for-profit MBA space."
The Questrom leadership team is also trying to hire and build a different class of faculty beyond the lecturers and researchers comprising the team; a faculty that some schools such as Harvard Business School have already developed. These Professors of the Practice come into academia from successful C-level and partner-level positions at top Fortune 100 firms to take major leadership roles building institutional capacity and sharing their wisdom and experiences in the classroom.. Questrom also prioritizes their career infrastructure, and rolled out a new unit that brings together industry relations, career advising, coaching, and alumni relations to advance the career outcomes for their students. Feeding this is another mission critical strategic initiative: the Day-One Ready project for reimagining the undergraduate program. The goal of this project is to ensure that students leave the building with what they need to walk into a company or organization and make an impact on their first day. "The business world has changed, and students need to be prepared to excel in it. This is our commitment to excellence," Susan explains.
Importantly, the strategic plan also includes a "very sharp emphasis on collaborations that enable–the glue that brings together excellence in the classroom and impactful business research. Our teaching and research cannot thrive without a strong connection to practice."
"Doubling down on social impact, embellishing our faculty ranks, advancing a world-class career infrastructure, connecting better with businesses and alums, developing skills and capacities for technology-enabled learning –these are cornerstones of our strategic plan," Susan says.
What Is Next at Questrom?
Enhanced career services, making our students "day-one ready" and deepening our social impact offerings are among the big initiatives in development at Questrom.
To make this successful, the school requires a strong culture, and at the root of this are the school's values. The organization is hard at work "bringing these values alive" so that they "affect daily actions" and comprise the essential foundation for the work culture. Susan points out that launching the values is one thing; changing behavior and holding people accountable is another, more difficult task.
The future is bright for Questrom and aspirations for global recognition are high. Because of the online MBA, Questrom now ranks as the number one business school in Massachusetts: more students choose Questrom for their MBA than any other, as noted by Boston Business Journal in 2022. "We are not only global but also firmly established as a Boston-based school of excellence. So, you can do both – you can be global as well as be hyper-local," Paul Alexander adds.
Susan agrees. "We also increasingly recognize that we are inherently global; we have a portfolio of global initiatives including a global concentration of study, global field studies, coursework and internships dedicated to global skills and competencies." Questrom intends to build a system that recognizes the opportunities for careers and learning outside the United States, including multinationals and multi-lateral organizations in the for-profit and not-for-profit spaces. Susan and her team are working with the Pardee School of International Relations at BU and the College of Arts & Sciences to achieve their plans for a global future.
Students enrolling in social impact MBA can pick from 17 different vectors. If they want, they can go into energy, impact investing, nonprofits, mission driven organizations, and other varied fields. And under the social impact umbrella, there is a research program called IMAP, or impact measurement program. If one is trying to make a difference, the difference needs to be measured. To avoid bias the Social Impact Program is developing a new metrical measurement system.
The other thing that is underway is building a basic insight into the world of work today.
Finally, the focus is also on lifelong learning. Susan says that they plan to build a portfolio of offerings in the lifelong learning space, which will augment what they do in their programs.