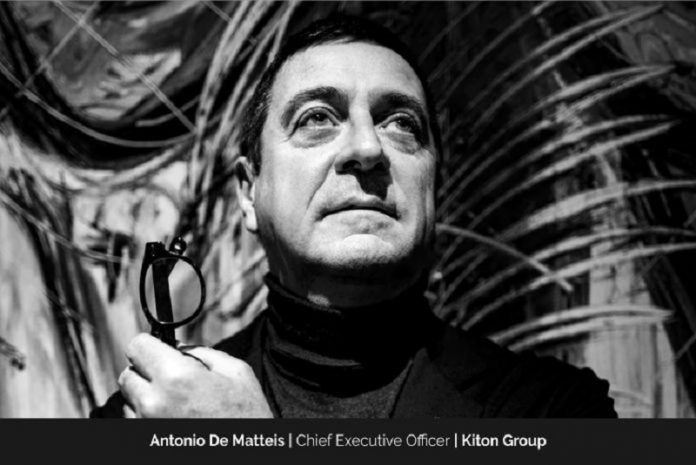 Antonio Matteis, Chief Executive Officer of Kiton, leads by example. He never asks others to take charge and execute a plan; instead of telling them what they should do, he steps up to show them how to do it. "And I'm always the first to do what is on my mind," Antonio says. "Leading by example is the best thing that a leader can show to everybody."
Antonio is the 2nd Generation CEO of Kiton, an Italian luxury clothing company. Since he took its helm in 2007, he has time and again demonstrated his exemplary leadership skills. He successfully steered the company out of two major crises of the 21st Century, and both times, it emerged as a much more profitable and stronger entity than before.
When the covid pandemic hit the world, Kiton, like other companies, suffered significant losses. For some time in 2020, almost 100% of their stores were closed around the world. "The year 2020 was difficult," Antonio points out. Under his leadership, the company's response was spectacular, which ensured its quick recovery in 2021. Now, in 2023, Antonio is hoping a repeat of their 2022 performance – which according to him was the best year for Kiton. The company closed the year with 25 percent growth, gaining around 162 to 163 million.
"The year 2023 looks good like 2022," Antonio says. "That means that we can have another fantastic year."
"Day by Day, step by step, door to door, we never stop!"
Working Together to Accomplish a Goal
One of the reasons for Antonio's success is his ability to take along his team, staff, and his family – Kiton is a family-run business – and ensure that everyone is working in the same direction to achieve a goal.
Antonio, however, does not define success in terms of his personal success. The success of Kiton holds more importance for him, and according to him, its growth is not because of one person's good work but is the result of an entire team's commitment and effort to accomplish a goal.
The real point of success, says Antonio, is when everybody is working in the same direction. "And if everybody has the same goal and everybody knows where they have to go, I think then success is much more easier to achieve," he adds.
Antonio points out that they have seen "unbelievable results" in the last three years – after the coronavirus pandemic – because of the way they have tried to achieve their goals. "I'm very happy about that because everything that is on my mind is happening. We are very focused on what we are doing, and the strategy followed by us is very precise," Antonio says. "95 percent of the time we are doing what is in our mind before the start."
Although he takes the lead and shows how to do it, Antonio does not give himself the credit for the company's accomplishments. He also doesn't claim to be the "leader" of Kiton as well. "We are five cousins, and we are working together hand in hand," he says.
He sees the success of the company as the success of his family as well as the employees and artisans who are working for them. "It is not just my success, even though I am the CEO," adds Antonio.
The Beginning in the Early 20s 
About 36 years ago, Antonio started working in Kiton. He was 22 years old. At the time, he didn't aspire to become the CEO, which according to him, happened quite naturally. And he was promoted to CEO a few months before the devastating global financial crisis. The challenging time offered him a "very good lesson." He learned how to drive the company in a good way in the future.
Antonio recalls that Kiton and its people, including himself, went through a very tough time because of the crisis. He handled the challenges in a positive way and overcame them. That positivity continues to be a hallmark of Antonio's leadership.
He considers his uncle, Ciro Paone, who founded the company, originally called CIPA, in 1956, his teacher. From him, he learned to work every day, step by step, day by day, and with a vision. Antonio continues to draw on his uncle's teachings even today.
"We do not make luxury: we create quality!"
All About Kiton
The vision of Kiton has always been the quality of the product, service, and relations with clients. "We are still working in this direction," Antonio says.
He also says that his uncle laid the road, and they are trying to make it better; however, the road he handed over to them is so precise and well-done that there is not much scope for improvements. "We can follow him and still do a very good business in the world," adds Antonio.
Ciro Paone brought together the family and ensured that everyone worked together to run the business. He also chose Antonio as the CEO of Kiton, a decision that everyone is still following – even after his demise in 2021.
Prior to founding the company, Ciro and his family used to sell fabrics to tailors. He soon realized that the job of artisans could disappear if someone did not do it in a good way. This realization led him to bring together around 15 of his clients and start a shop, which initially produced overcoats. Instead of selling fabrics, Ciro began to go around in the local market to sell the finished product. In the late 1960s, he decided to enter the rest of the European market, which for him was the international market as he was not fond of flying.
As the company's original name CIPA sounded like the word "cheap," he had to rebrand it, and thus Kiton was born in 1968. Antonio points out the inspiration for the name came from the Greek word khitōn, a kind of tunic worn during the prayer – the purest dress people could wear.
In 2000, Kiton opened its first store in Milan, and now, it has 60 stores around the world. Most of them sell the company's products directly. In the country, where things are a little difficult to manage, there are franchise stores. According to Antonio, in the next 3-4 years, they intend to develop their retail area.
Kiton stands out in the highly competitive, crowded market because of its uniqueness. And its strength is its quality – it's 360+1-degree quality. Once clients enter its stores, they can feel the quality around them – in the form of products, services, and relations with the employees. "That is what makes us different from other brands," says Antonio. "Kiton is the best of the best plus one." Plus, one means that Antonio and his team are never satisfied with what they are doing. They are always striving to do better.
He also points out, "What we're doing now, as the second generation, is amazing." The third generation has already started working in the company, and they are learning to drive its growth the same way that the current leadership is doing. Antonio points out that they are on top of everything even though they are very young.
Embracing Technology during Pandemic
As Kiton is a company of artisans, Antonio and his team do not see technology as a big support for them.  The pandemic forced them to leverage it to reach their consumers. Since 2020, they have been using a platform to show and sell their line. It enabled them to make their customers understand the view of the company and showcase their collection direction, Antonio says.
"The covid pandemic forced us to build a platform where all our consumers can see the full collection on top of our models," he explains. "They can see the idea that we have in our minds and how it is worked on at Kiton."
The response to the launch of the platform was "unbelievable," Antonio says. The company has seen unprecedented growth since the market opened in 2020. It grew more than 60 percent in the last two years. "It shows that this direction [the adoption of technology] has been a fantastic direction," says Antonio.
Role and Responsibilities
Antonio's regular day never looks the same. As the CEO, he gives direction to the company. He also offers his input to everybody – what he would like to do and what he would like to achieve.
Antonio does not work alone. He considers himself lucky that he has a fantastic team around him.
Also, he is able to perform his job at the top with much ease because his family and the people backing him have put their trust in him. "And, of course, the result is also helping us make everybody believe in what we are doing," says Antonio, who derives his motivation from the goal that they intend to achieve and the belief that they can achieve more.
"I always think that the market is ready for a company like us, and there is a much bigger potential for what we are doing. I'm very motivated to reach this goal," Antonio says.
As Kiton is a family company, people usually want to talk with Antonio and his team and be in touch with them. It means that he has to travel a lot and be far away from his family for a long time. Because of that, Antonio often fails to maintain a balance between his work and life. Luckily, his two sons are now working in the company, so he gets to spend more time with them. He hopes to soon see his youngest son, too, in the company. "Then, my wife can travel a little bit more with me," Antonio says.
Changing Landscape and Customers' Taste
The world is changing very fast. Antonio says that for him, the transition is every day. If a multi-brand store does not become modern and does not concentrate on the suppliers, in the long run, they will disappear, notes Antonio. Department stores, too, are changing a lot. There is also a big change in the way people are dressed today.
Antonio points out that there is a big difference between how men dressed five years ago and now. After the pandemic, people once again discovered comfort. "They want to be very well dressed but with comfort," Antonio notes. They no longer prefer to wear a dress suit and tie.
For example, Tuxedo had almost disappeared from the market, but it is now booming again.
"That shows that today customers are very precise, and they are wearing what they need," Antonio points out. "They are not buying always the same garment but buying for special occasions. That is also the reason why the men's business in the last two years is growing a lot."
He explains that five years ago, men could be wearing the same dress from day to night, and then go out to have dinner in the same dress. Today, it is "quite impossible" to see men having dinner with a client in the same business suit that they wore during the day at work. They would like to change their dress for dinner and look more casual, more sporty, and more young, Antonio says, adding, "That is helping our business."
Vision and Future Plans 
To see Kiton grow is Antonio's vision for the company. But, with the same DNA that it has today. And the goal is to ensure that everyone recognizes Kiton as a quality company.
"Growing with the same DNA means that we have to control the production of our products and quality of our service, and we have to be very careful to satisfy clients," Antonio explains. "It also means that we have to be very quality-oriented in everything we do because that is the only way to make the company look different from others."
Kiton is well-recognized because its DNA is precise and well-done. If it continues to remain the same in the future as well, the company has the "greatest future," says Antonio.
He has plans to expand Kiton's global footprint and usher in a big revolution in the retail business. Also, he expects to see a big evolution in their collection because of the addition of new products – just like the evolution of the shoe business. The company also launched its perfume business a few months ago. And around 10 years ago, they announced their women's business, which is now 20 percent of their total business. Antonio intends to bring it to almost 50 percent of the company's total business.
"There is too much meat in the fire in our minds," Antonio says. "Revolution can happen if we do everything in the right way." He believes that the next 3 to 4 years are going to be fantastic for the company.
And, for Antonio, it is very important that his family, staff, and everybody work in the same direction. "That for me is the only way we can reach our goal, and that is how I see the future. Without that it'll be very difficult," he points out.
Message to Aspiring Business Leaders
In his message to aspiring business leaders, Antonio encourages them to workday by day, step by step, always door to door, and without stop. He points that out that because of the evolution and the speed of the world today, one cannot predict the future in the very long run, especially if one considers the events of the last three years – there was the Covid and then after that, there was the war.
"But if you work every day, step by step, and with passion, I'm sure you can achieve everything you want," Antonio adds. "You can spend one year less if you are nice, and one year more if you are not so nice, but you'll achieve your goal for sure."