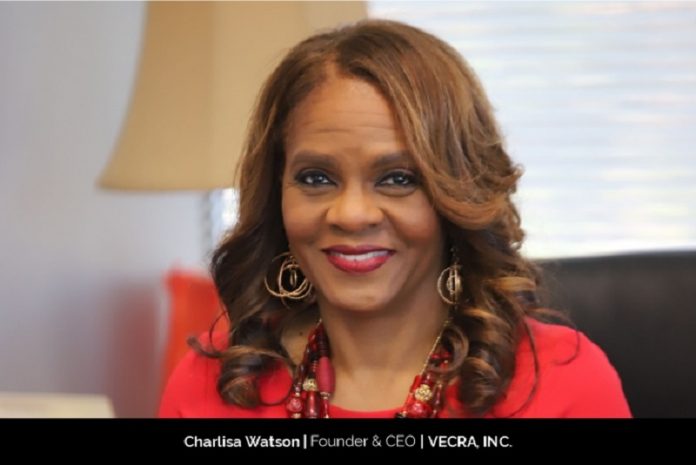 A woman of indomitable spirit, Charlisa Watson has built two successful companies from scratch. Over the years, she has demonstrated her ability to execute plans to perfection and accomplish business goals. She is not satisfied with just meeting the set goals but has a history of exceeding them.  This approach is in keeping with her mantra for success: "when you establish long and short-term goals, you must not only meet them but exceed them and be willing to take calculated risks."
Charlisa does not like to jump impetuously into any endeavor. "Intentional" is how she describes herself.  She likes to have absolute clarity of vision and is very intentional when aligning with her personal, professional, relational, spiritual, mental, and soul goals.
Currently, as founder and CEO of VECRA Inc., Charlisa focuses on business development and management of financial resources, ensuring that her company's operations run effectively and smoothly. She intends to grow VECRA and expand its business base in other regions.
VECRA: Founded in 2020
Following the acquisition of her company in 2020 after seven years in operation, Charlisa founded VECRA, Incorporated. VECRA is a CVE-verified, Service Disabled Veteran Owned Small Business (SDVOSB), certified woman-owned small business (WOSB), and certified minority and disadvantaged business enterprise (MBE/DBE) consulting firm within the Washington, DC Metro area. Based in Prince George's County, Maryland, and Sarasota, Florida, the company implements proven methodologies to help its clients drive growth, transform businesses, and innovate breakthrough ideas.
VECRA has extensive experience with innovative healthcare consulting, medical coding, health IT, reporting systems, facilities management, program management, and staffing support services that are always Vigilant, Efficient, Collaborative, Responsive, and Accurate.
Leveraging the applications and services of VECRA, clients can enhance their business environment. The company's software solutions empower end-users because of their simple interfaces that facilitate faster exchanges of information, streamline workflows, and improve communication across networks. Artificial intelligence and data analytics is also a key part of VECRA's operation. The company's team combines a deep understanding of process optimization and leading-edge technologies to detangle the current health cost structure by tracking performance, automating time-consuming tasks, and empowering patients to self-service whenever possible.
VECRA also efficiently develops custom solutions that can harmonize the workplace environment, drive efficiency, minimize risks, and guarantee long-term business continuity for organizations. In addition to that, it enables organizations to bridge skill gaps and offers health management consulting.
Charlisa is positive about her company's growth. She says, "I am very excited about our future and remain encouraged and faithful that we are on the path to greatness!"
Challenges Make a Leader Strong 
Charlisa firmly believes that challenges make individuals stronger and helps them improve their skills as leaders, "And, to me, roadblocks teach you that a delay is not a denial. When you understand this, you can learn valuable lessons in your professional journey," she says. "Roadblocks can actually turn into assets!"
Like most inspirational leaders, Charlisa, too, overcame multiple challenges. When she started her first company, CRW & Associates LLC (CRW), she knew that she wanted her primary customer base to be the federal government. She also knew that to navigate any initial challenges, she would have to secure various certifications to gain a competitive advantage and receive set asides. She accepted the challenge! CRW became a well-known entity for implementing nationally recognized programs and services for the federal, state, and local government as well as corporations, associations, and non-profits.
Charlisa has continued that strategy and leadership excellence with the VECRA model by ensuring the company enjoys the benefit of leveraging various certifications as well.  VECRA welcomes the opportunity to lead, prime, and partner on various opportunities at the federal, state, and local levels and encourages CIO Views readers to Partner With Us! We encourage the CIO Views readers to visit us at www.VECRAINC.com and contact us to join us on our path to success. By implementing this success model, VECRA continues to grow and keep Charlisa exceptionally busy.
As a CEO who is very much invested in her company's growth and success, Charlisa makes sure to balance her personal and professional life. "I try to be very intentional in carving out time for both," says Charlisa. She always wakes up motivated and in a positive mindset. She encourages her employees and motivates them by being transparent and letting them know that she appreciates and supports them.
Phenomenal Professional Journey 
A former U.S. Army Nurse and holder of a Master's degree in Health Services Administration from Central Michigan University, Charlisa's professional journey as a leader has been phenomenal. Prior to becoming an entrepreneur and founding her first company, CRW & Associates, LLC, she worked in senior positions at several renowned organizations that shaped her understanding of the importance of business relationships, collaboration, cooperation, and cash flow.
On the heels of her professional leadership journey that included the National Association of Black Accountants (NABA) as Chief Administrative Officer and Interim Executive Director; National Association of Health Services Executives (NAHSE) as Executive Director; and, the UnitedHealth Group as Executive Director for a Community and State health plan and her last corporate position as Regional Vice President for Community Development. She was working as a Southeast Regional Vice President for Community Development for United Health Care's Community and State health plan she found herself among those employees who lost their jobs to downsizing. "I found myself at a crossroads in my career," Charlisa says. "I had to decide the best new path, which would lead me to the next chapter of my life." So, after working for several years in corporate America, Charlisa took the leap of faith and started her first company.
When Charlisa's four children – who have now graduated from college – were young, she had undertaken a few consulting engagements as a sole proprietor. "I always wanted to do more, but at the time, I felt the time was not right for me to launch a full-time business with a young family," says Charlisa.
"Once I was downsized from my job, I thought what am I going to do now and where do I want to go?
A friend of hers who was a successful business owner inspired and encouraged her to start her own company. When the friend, who had graduated from the Small Business Administration (SBA) 8(a) business development program met Charlisa for lunch, she asked her, "Why are you working for another small business doing business development?" She pointed out that with Charlisa's business acumen and marketing skills, she could start her own company and the rest is history. Soon after its launch, her company had turned into a successful award-winning CVE-verified, service-disabled veteran-owned small business (SDVOSB), and woman-owned management consulting firm that specialized in health management consulting outreach and education, organizational development, information technology, and training as a certified member of the SBA 8(a), MBE/DBE small business programs, and Virginia SWaM certifications. The company had contracts with the Air Force, Defense Health Agency, Department of Education, Centers for Medicare and Medicaid Services, and the state of Maryland to name a few, and was one of only two woman-owned small business companies in the entire country awarded their largest contract set aside for a WOSB valued at more than 66 million dollars.
Recognition and Awards
Charlisa is a recognized leader in both the healthcare and nonprofit industries for her energized vision and keen management skills. She has also won several awards as an entrepreneur. In 2014, CRW was recognized as the Top 100 Minority Business Enterprises (MBEs) in the Eastern Region of the United States, and a year later, in 2015, Charlisa was one of the top four Minority Vetrepreneur of the Year finalists, recognized as a leading minority, a veteran entrepreneur by the National Veteran-Owned Business Association selection committee.
In 2016, Charlisa received the Woman Veteran Entrepreneur of the Year award, given by the Maryland Women's Business Center, for her continued commitment to excellence in healthcare management, creating healthier communities, organizational development, and more. In March of 2018, she was awarded the Maryland Governor's Citation during National Women's History Month, in appreciation of CRW's contribution to Maryland's economy because of the organization's hard work, commitment, dedication, and actions in pursuit of excellence. In the spring of the same year, Charlisa received a Certificate of Special Congressional Recognition during an awards luncheon, culminating the Maryland Women's Business Center's Five-Year Anniversary Celebration.
Advice to Aspiring Business Women 
Charlisa has almost 30 years of experience in management, healthcare, and consultation. And, as someone who has overcome several barriers and carved a special place for herself in the small club of inspirational businesswomen leaders, she has plenty of valuable advice for those who want to become part of that club.
She tells aspiring businesswomen leaders that they need to find a personal coach and organize a Corporate advisory board of those individuals they trust and who have their best interest at heart.
"Live deliberately and have a discerning spirit," Charlisa adds. "Make each day count towards your mission and vision. And be able to clearly articulate your mission and vision to your team." She also tells women leaders to tell their stories, both the good and the bad because you may be able to help someone else that wants to build a successful business.
"Keep the faith, believe, be focused, create a plan and work your plan," Charlisa tells women leaders. She adds that they need to begin with the end in mind, be prepared for peaks and valleys, long working hours, and some sleepless nights, and they also need to get a good attorney and accountant, build a solid foundation, use their resources efficiently, and take care of their work-life balance.
Women leaders also need to consider what they want people to remember about them and determine how they want to position themselves in the market, Charlisa says, adding that they need to create their own brand, look and feel to set themselves apart from other potential competing businesses.
Charlisa definitely puts her money where her mouth is and goes beyond expectations. In 2013 in support of her desire to give back to the community, she also founded NiaImani CHOICES, Inc., a 501(c)(3) nonprofit organization dedicated to providing healthcare resources to low-income women, children, and families in Maryland, Washington, D.C., and Virginia.
"Market yourself. If you don't feel comfortable doing that, work with someone who can do that for you," she says. "Find great teaming partners. Like speed dating, you may meet several before you find the right one with whom want to have a relationship." 
"You also need to be present and available – easily accessible. Build long-lasting relationships and deliver what you promise," Charlisa adds. "Be patient and don't give up."
Still, A Lot to Do
Charlisa believes she has achieved more than what she had dreamed of. But she has no plans of ending her phenomenal professional journey. "I believe I have exceeded my dreams, but I feel like there is still so much more for me to do," Charlisa says. "I don't want to put limits on my future successes."