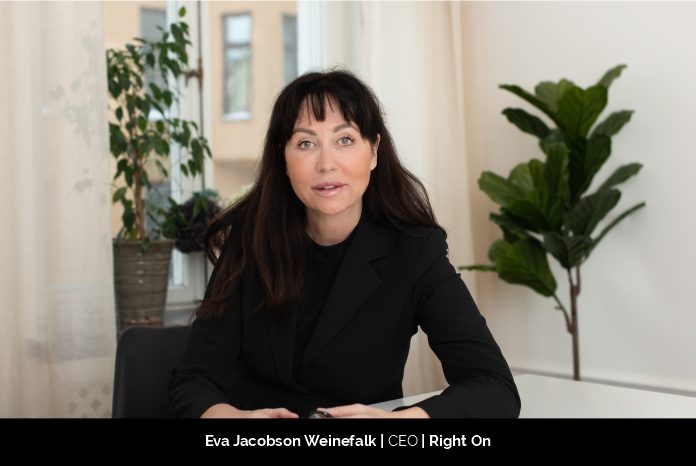 Eva Weinefalk has always been an entrepreneur. She founded her first business when she was just 20 years old, and since then has had four profitable company sales. Eva started working in the recruitment sector in 1997, and she held the position of CEO for 20 years, the first 5 years with Svensk Mediarekrytering and then 18 years with Human Search, a headhunting firm that she founded and expanded into 11 nations. She received the Entrepreneur of the Year award from the organizations in 2013, and she also had the honor of serving on a number of different boards and serving as an ambassador for Swedish business and the Agency for Growth.
Eva currently serves as the CEO of one business, a member of numerous boards, and a business network ambassador. There is little doubt that Eva is motivated by growth. She always keeps the business in mind and enjoys watching her clients grow. When Right On needs to find the right person for the right place, she can quickly become familiar with various business models and organizations in various industries.
Leading 'Right On'
Right On was founded in September 2021 and is growing rapidly. A great ambition of Eva's is the concept of growth. She loves to see her customers develop and always has the business at her focal point. Eva finds that her years in the industry allow her to quickly get acquainted with different business models and companies in different industries, which comes in handy when Right On is to find the right person for the right role.
For her, recruitment means so much more than simply finding a suitable candidate. It is about the personal meeting, putting the person at the center and creating understanding for all parties involved in order to be able to create the very best conditions for both the customer and the candidate. She states, "Inspired by the Human Search methodology and with the industry's leading recruiters, we create the best conditions for our customers to grow by finding the right skills for the right role."
As a leader Eva values high competence and skills and has therefore gathered, in her opinion, the best recruiters in the business—an important building block for Right On.
Normalizing Facing Challenges
Since she started running businesses at age 20, Eva is very accustomed to dealing with difficulties and obstacles. She believes that experiencing these setbacks can be just as beneficial as achieving the desired results, if not more so. Her experience with her previous company, Human Search, not only provided her with a vast network and experience that she now brings to Right On, but also with the knowledge and humility that hiring the right people is not always simple. She mentions, "It is through the experiences and challenges that I now know what to use when building the foundation for Right On." She further adds that it is fair to say all companies have their ups and downs, but through hard work and willpower, every obstacle can be overcome.
The Beginning
Eva started her first recruiting-related business at the young age of 20, and she has since had four profitable company sales. She started working in the recruitment sector in 1997 and has since worked for 5 years as the CEO of Svensk Mediarekrytering and later 18 years as CEO for Human Search, a headhunting firm that she founded and expanded to 11 countries.
She is extremely proud of the fact that she was given the Entrepreneur of the Year 2013 award in Stockholm. She has also had the honor of serving on a number of different boards and serving as an ambassador for both "Svenskt Näringsliv" and "Tillväxtverket," an honor that has motivated her to advance her career even further.
The Chair of CEO
As CEO of Right On, Eva is responsible for a variety of tasks. Simply put, it means she is in charge of the entire operation and makes sure every aspect of the company runs smoothly and effectively. She is responsible for finding new clients, managing existing ones, managing profit and loss, and managing all of the firm's headhunters. However, everyone at Right On works as a team. She says, "We set joint goals and work towards achieving these."
As was already mentioned, Eva was the CEO of several businesses prior to Right On. She had the desire to start a recruitment firm that specialized in finding engineers, specialists, and managers for the most challenging industries, such as construction, industry, technical consultants, and IT/tech, through her experiences and acquired knowledge. Eva had a vision for how this could be accomplished with real headhunting and motivated, senior headhunters, and as of right now, her vision for Right On is as real as ever.
 "The goal-seeking aspect of myself is, for me, what creates my success," say Eva. She chooses the word fearless to describe herself since she takes on challenges that comes her way without hesitation, something that more often than not leaves her with her desired results.
Personal and Professional Life
Eva has always aimed to have a lifestyle where she enjoys her job to the point where it does not feel like hard work. In all honesty, that is where she is at today. She says, "I make sure to take days off and spend time with family and friends, and on those days I try to be as committed to being "off-work" as possible. It is a fine balance, and I find that if I take the evenings and weekends off, I am able to maintain this balance."
At Right On, everyone works as headhunters, which means the job is very independent and self-fulfilling. Eva puts a lot of emphasis on individual time management and responsibility. This implies that each of Right On's employees is free to create their own work schedule, as long as individual- and company goals are being met. She believes this is the best way to retain motivation around work tasks as well as a genuine desire to do the job well.
Defining Success
For Eva, success means development; it means putting in a lot of effort before achieving success. She thinks that what is truly satisfying and a major source of motivation for me is seeing tangible results after putting in countless hours of work and effort. Eva genuinely enjoys being a part of finding the ideal fit for both her clients and the candidates. She says, "It is easy to have ambitions for whatever it is that you are doing, but actually molding the pathway and turning goals into reality is what creates a successful business leader." 
Eva believes she has accomplished all of her life's objectives. She enjoys her career, her job, and the love of her family and friends. While still being immensely proud of what she has accomplished so far, she still sets goals for herself and dreams of what she hopes to accomplish in the future.
Perspective on Right On's future
Future goals for Right On include continued expansion and change, according to Eva. She is pleased with the team's accomplishments to date and eager to see what lies ahead. She shares, "We have seen the demand for good headhunting in the industry, so the future of Right On looks very bright." Her hope for Right On is to make a deep imprint in the recruitment world, as well as, of course, in the industries of the clients we work with. She hopes Right On will become a natural choice for business leaders when looking into recruiting their new manager, engineer, or specialist.
Eva affirms that her individual goals are connected to Right On's objectives. Her passion is business development and entrepreneurship, and she hopes to be successful with yet another successful enterprise. She gives advice to aspiring business owners to dream big, establish specific goals, and put in a lot of effort. She asserts, "As long as you keep a clear vision for what you want to achieve and set goals accordingly, it will be hard not to succeed. Yes, you will encounter setbacks and roadblocks, but use these as lessons and then try again."