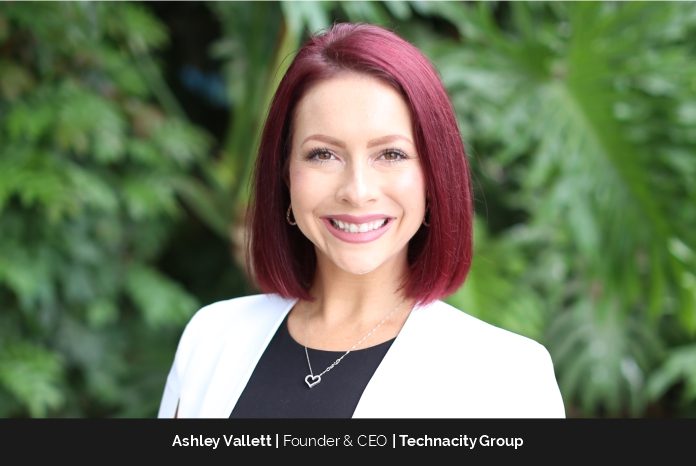 Ashley Vallett is a talent acquisition professional with almost a decade of experience working in the recruitment industry. After working for a variety of firms over the years, Ashley felt there was a gap between the services offered to both candidates and her customers. That led her to create and launch Technacity Group in 2019. In a competitive and saturated industry, the company has achieved tremendous year-over-year growth. Technacity Group's approach to this competitive market has been seen as an industry disruptor and changing the business of recruiting.
Ashley has always had a strong desire to serve others, particularly in industries where women and minorities are underrepresented. Her purpose is to assist these groups in advancing their careers and breaking down the hurdles that frequently stymie them. She is a strategic partner to a number of companies, ranging from start-ups to corporations, who rely on her unique skills to locate niche talent in today's market.
Ashley is the Corporate Partnerships and Alliances chair for Women in Technology International (WITI) and an Ambassador for Women in Games. Her tenacity makes her a great advocate for her candidates and clients alike, and she looks forward to Technacity Group's continued growth as a leader in the tech recruitment industry.
Experience that Led the Way
Ashley has experienced many "challenges" during her career, but she believes that they have made her the person she is today. She never felt she got it "right" in the corporate world. She states, "I worked for two companies that ended up closing and would join different organizations with the best of intentions, hoping I would stay there for years, and found out the hard way the company was not for me." Ashley's mentor always reminded her that it's not about the number of years you have, but about what you've done in those years. She had first-hand knowledge of the mistakes made by these firms that contributed to their demise, which enabled her to better navigate her own business.
Technacity Group
Technacity Group is a woman-owned recruiting firm that uses technology and tenacity to identify candidates with highly sought-after skill sets. The team specializes in hiring for all stages of the software development lifecycle across multiple industries but specializes in placing candidates in the game industry.
The team has years of expertise working with customers ranging from Fortune 10 to early-stage start-ups. They specialize in matching passive talent with opportunities that will help them progress their careers, while also assisting companies in reaching crucial milestones. Information technology and engineering are the firm's primary competencies. Since Ashley immersed herself into the IT industry early on, she had a solid foundation to build Technacity Group, understanding key technological principles and how they relate to business.
The team deals with businesses of all sizes who value diversity and want to expand their team with quality, productive people of all backgrounds. They respect the time of their clients and views each interaction as a collaboration. The organization wishes to comprehend its clients' businesses in order to deliver the best possible match for their environment. The objective is to be viewed as an extension of your hiring team, your go-to partner for locating top talent.
Ashley cites that Technacity Group has exceeded her expectations tenfold. She didn't establish the firm with the intention of becoming a multimillionaire. She observed how the industry had become so transactional and believed she could do it better. Ashley began with modest objectives to test whether she could meet them, then increased them when she exceeded them. In the previous two years, her revenue increased by 325 percent and 150 percent, respectively.
From Beginning to Leading
Like most people who end up in the recruiting industry, Ashley didn't set out to have a career in it. She was working for a large wine distributor and wasn't seeing a lot of career growth. Her former boss suggested she look into this recruiting company because her friend worked there and you basically "take people to lunch all day." She had to accept a huge wage reduction and work her way back up to sales by starting as a recruiter. This was not a decision she made lightly, but they convinced her of the earning possibilities, which she was unlikely to accomplish in her current position. That was the beginning of Ashley's career, when she had to take a step back in order to progress forward.
Today, the finest accolade Ashley has received as a leader is the employment of her first employee. She avoided it for as long as she could because she was concerned, she wouldn't be a good leader based on the bosses she had over the years. As it turned out, she had become the leader she had always desired, and hearing it affirmed by her employee was all the acknowledgment she needed.
Ashley, like many solo entrepreneurs, wears multiple hats at Technicity Group. She manages the day-to-day operations, which include recruiting, business development, finance and accounting, technical support, and forecasting. Life before Technacity was turbulent at times. She struggled to locate a job where she felt appreciated and couldn't understand why her roles didn't work out. Then she realized that rejection is only a redirection, and she finally learned to invest in herself. She states, "Now, it makes sense why those roles didn't fit; I was meant to run my own business. One word I would use to define myself is Tenacious."
Maintaining Work-Life Balance While Running a Business
Ashley is still working on achieving a work-life balance on a daily basis. Since COVID, it is difficult to have a shut-off button when working from home. She claims that there is no distinction between work and home for her, especially because she works from her dining room. It may be an implication from her former rigid environments, but she still feels guilty if she steps away to run an errand or work out. Ashley now prioritizes taking a break and focusing on herself, even if it's only for 15 minutes. She shares, "I am a very competitive person by nature, so that is all the motivator I need. Someone once asked me if I loved to win or did, I hate to lose, I hate to lose. Luckily, my employee is just as competitive as I am, so we make a good team. I don't require a certain number of hours behind a desk, as long as the work is getting done and we are delivering for our clients, that is all that matters." Ashley encourages her team to take time away and focus on their own mental health because ultimately, that will make for a more productive individual and employee.
Achieving Success
Ashley could not have imagined the success of her firm, especially when she was laid off back in 2019 and unsure of what to do next. It took her a while to build her confidence back up and she is so grateful for the support she received from those closest to her. Ashley feels like they believed in her before she did. She believes that she is proof that the greatest investment you can make is in yourself.
Her definition of success is feeling secure in her role and being validated by the people she works with when they send her referrals. She also considers being successful by seeing her company grow financially.
Breaking the Glass Ceiling
Ashley plans to continue to grow Technacity Group and surpass her financial goals. She says, "I would like to expand the business to other areas and eventually start a networking group for women in the game industry." She mentions that this is an industry the firm specializes in and is vastly underrepresented with women, nonbinary, and people of color. Being a woman-owned business, this is a cause that is very important to Ashley, and she wants to do her part to create more access and inclusivity for these groups.
Ashley's personal goals are to take more trips and spend time with her husband and her two bulldogs. Her message to aspiring entrepreneurs' is don't give up on yourself. She further adds "If you are not feeling fulfilled or valued in your current role and have thought about entrepreneurship, try it! I know everyone doesn't have the privilege of taking this journey and trust me, it is not for the faint of heart. But if you feel you can do it better and disrupt a saturated industry or create a new market, I encourage it." She also adds, "I would make sure to do your due diligence and speak to other entrepreneurs about their challenges and successes. Remember there will be roadblocks along the way, but the ones who pivot and adapt will thrive. I'll leave you with one last quote I learned from the wine company and have carried with me throughout my career, "Persistence Beats Resistance."