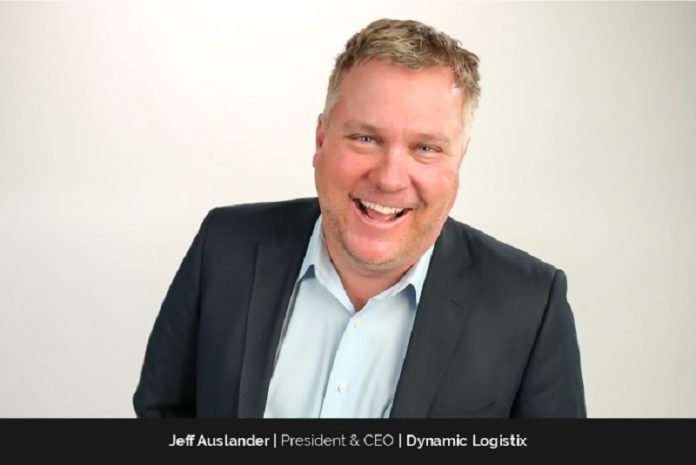 Jeff Auslander is an established leader in the logistics industry, serving as the CEO of Dynamic Logistix [DLX], where he leads the company in its vision, strategy, technologies, products, and overall growth. Since taking the helm, he has spearheaded remarkable progress for the company, with a staggering 300% year-over-year growth.
Under Auslander's guidance, Dynamic Logistix takes a 21st-century approach to shipping and freight solutions, distinguishing itself from competitors by prioritizing technology solutions over ineffective, old-school broker options. The TMS Partnership approach that Auslander champions has made Dynamic Logistix one of the fastest-growing logistics services companies in the United States.
Dynamic Logistix leads with innovation by offering actionable data insights to shippers through visibility and automation, delivering better service and results than its broker-focused competitors. Auslander's leadership has successfully combined a world-class technology platform with stellar personal service. The company prides itself on being an extension of each of its clients' team, working to understand the intricacies of each industry in order to provide the strongest shipping solutions that positively impact their partner's bottom line. As a result of Auslander's leadership, Dynamic Logistix has been recognized as one of the nation's fastest-growing companies and the best places to work.
"Technology integration has been the most significant contributor to the changing landscape of the logistics industry."
Lessons Learned Along the Professional Journey
Auslander has long believed that success comes from celebrating the small and big wins – achieving the goals and tasks a person or company sets on a daily, weekly, monthly, quarterly, and yearly basis. But more than just moving the needle in the right direction – success is providing people – whether they are employees, customers, family members or friends – with the tools and resources they need to achieve greatness, personally, professionally and everywhere in between.
And ultimately, providing an excellent workplace for employees is more rewarding than any financial success. When employees' families visit the office and see the company's positive culture, it brings the most satisfaction. "It's been really awesome to see the ripple effect – when a company is able to provide its employees with the necessary support, tools, and culture to succeed, they become happier and more motivated to help customers," Auslander shares. "But we aren't just witnessing professional growth, we're seeing the personal growth of our employees and their families and that means we're doing the job right."
Discovering the world-class services of Dynamix Logistics
As a leading third-party provider of shipping and freight solutions in the logistics industry, DLX's services are designed to provide seamless and efficient transportation management for clients. They achieve this by combining a state-of-the-art technology platform with exceptional personal service.
The company's flagship product, XTMS, offers a comprehensive transportation management system that streamlines processes, increases visibility, and provides real-time reporting, and it helps clients save time and money by offering greater control over their supply chain management. With over $1B in managed freight, clients are assured of their ability to control costs while improving customer relationships.
How has Auslander redefined the logistics and supply chain landscape?
From 2010 to 2015, Auslander pursued his passion for logistics by identifying challenges middle-market shippers face and through his research, he found a significant gap in the market. Middle-market shippers used outdated methods such as email, spreadsheets, and phone calls to manage their logistics operations. Unfortunately, it resulted in employees working long hours and juggling multiple jobs, leading to inefficiencies and a lack of real-time visibility.
With his extensive knowledge and experience in software, Auslander saw an opportunity to build a disruptive solution that could empower middle-market shippers and give them the same transportation management experience as Fortune 1000 companies. His vision was to revolutionize the logistics and supply chain space by creating an affordable, user-friendly software solution that streamlines logistical operations, maximizes efficiency, and ultimately drives growth and success for SMBs.
Auslander had the foresight to recognize a successful solution had to be cost-effective, easily approved by management, have low IT staff time commitment, and seamlessly integrate into their day-to-day operations – these small IT departments are already stretched thin and don't have the time or resources to manage a robust, time-consuming technology integration.
This solution was the beginning of Dynamic Logistix – a game-changing, customizable software that provides SMBs with real-time visibility, eliminating the need for emails, phone calls, and time spent on constant follow-up communication.
Dynamic Logistix has made it possible for middle-market shippers to compete with larger companies by providing them with the tools they need to streamline their logistics operations. By offering a disruptive and innovative solution that meets the specific needs of middle-market shippers, DLX is driving a paradigm shift in the logistics and supply chain space, empowering businesses to achieve greater efficiency, productivity, and profitability.
"When a company can provide its employees with the necessary support, tools, and culture to succeed, they become happier and more motivated to help customers. But we aren't just witnessing professional growth, we're seeing the personal growth of our employees and their families and that means we're doing the job right."
Navigating the Evolving Landscape of Logistics
Technology integration has been the most significant contributor to the changing landscape of the logistics industry," Auslander shared. "I remember reading a 2014 report from Carrier Direct that indicated that businesses that needed to incorporate technology into their business models by 2024 would become obsolete – and that's where we are now." Managed services (3PL and 4PL) offerings centered around technology and services will continue to make a significant impact.
Another shift observed in the logistics industry is aging out of road warrior drivers. Younger carriers, Auslander asserts, have different values and preferences; they want to be home at night and are less interested in long-haul driving. As a result, carriers are now in a more favorable position as they hold the keys to delivering the shipper's product.
As the industry evolves, staying updated with emerging trends and adopting a technology-driven approach is essential to remain competitive. Successful logistics companies should be able to adapt to these changing trends and provide innovative solutions that align with the needs of both carriers and shippers. By leveraging technology and providing exceptional service, logistics companies can stay ahead of the curve and thrive in the ever-evolving logistics industry.
Inside Dynamic Logistix: Unpacking the Company's Core Values
For DLX, their core values are the foundation on which the company was built and are the backbone of its success. The core values are designed to achieve greatness and guide the decision-making process, daily activities and accomplishments, and overcome challenges and shortcomings. Applauding and supporting others for success is expected, creating an environment of great camaraderie and healthy competition. Dynamic Logistix discourages egocentric actions, behaviors, and personalities – the words 'I' and 'Me' have no place in the organization. The company believes in winning and losing as a team with humility and respect.
The company encourages creativity, camaraderie, laughter, and team activities in and away from the office with the goal of getting employees excited every time they enter the building. Working hard and getting the job done is paramount, but doing so in an environment where employees feel motivated and supported leads to accomplishments and achievements at every level from the bottom up.
The stewardship of the company's business plan, people, and brand is essential. Building a better and more scalable company is a priority, never losing focus on how the business model and the people are critical to it. Dynamic Logistix values its brand and protects it. Management puts the people on a pedestal, understanding that they are the brand and can build it up based on how they are treated and supported.
Auslander's Advice for the Next Generation
In his quest to bring about positive change in the younger generation, Auslander believes in setting a goal for oneself each day and being accountable for it. This approach helps individuals achieve success that is earned, not given. He encourages everyone to live by the motto 'earn it' because earning what you've worked for brings a sense of fulfillment that results in a happier life and attracts like-minded individuals with similar values.
Of equal importance in today's technology-driven/app-dominated world, kids need to understand the importance of disconnecting from technology. Auslander shares that enjoying the outdoors, playing sports, and even mowing the lawn are pleasures that should never be replaced with a device. Experiencing the real world by building relationships on a field or on a basketball court builds character and provides valuable lessons that stay with a person forever.
Evolution of Auslander's Career Path
Before founding Dynamic Logistix, Auslander had a diverse work experience in the financial and digital marketing sectors. His first job after completing his college degree was with a brokerage in Chicago, where he discovered his flair for the profession despite not enjoying it much. He transitioned to the digital marketing field, where he worked for a software-based company based in Toronto and New York.
During this time, Auslander's interest in software and its ability to solve problems faster and more efficiently was piqued. This fascination led him to discover the world of Transportation Management Software and its extensive capabilities in 2009, marking the beginning of a new journey for him.
Auslander's experience in finance and digital marketing proved to be an asset in his entrepreneurial endeavors, and his passion for software helped him understand the unique challenges logistics companies face. His journey from finance to software and ultimately to logistics is a testament to his diverse skills and the ability to adapt and learn, which has helped him become a successful business leader today.
"Make sure your company is as healthy as it can be every day, every week, and every month. Because if you have a healthy company and happy employees, the ripple effect reaches pretty damn far."
Building People & Culture: Auslander's Leadership Style at Dynamic Logistix
As the CEO of Dynamic Logistix, Auslander is responsible for overseeing the company's daily operations, ensuring that the team is equipped to tackle any challenges that come their way. He works closely with his team to identify areas for improvement and find innovative solutions to meet the needs of their clients.
When asked to describe himself in one word, Auslander chose "tenacious." He explains that he and his team have faced many setbacks in building DLX, but their unwavering determination and drive to succeed have allowed them to overcome obstacles. They constantly strive to improve, find solutions, and ensure customer satisfaction, enabling them to thrive in the competitive logistics industry.
At DLX, this tenacity is a characteristic of their leader and a part of the company's culture. The organization is built on a foundation of resilience, and its commitment to excellence and customer satisfaction guides every decision they make. This approach has helped DLX establish a reputation as a reliable and innovative logistics partner, and their continued success is a testament to their team's hard work and dedication.
Work-life Balance and Motivation
At Dynamic Logistix, the emphasis is always on goal time rather than clock time. Auslander explains that the company's employees focus on meeting their goals and completing their daily work rather than adhering to a strict schedule. This approach enables the team to prioritize their personal lives and achieve a healthy work-life balance.
The company also places a significant emphasis on compensation plans to keep employees motivated. The company's culture thrives on healthy team competition, and compensation is tied to performance. This strategy not only incentivizes employees to provide the best solutions for customers but also enables them to earn more money for themselves and their families. As a result, the company's success directly reflects its employees' motivation and dedication to delivering exceptional service.
Auslander firmly believes that employees should not live to work but rather work to live. This philosophy extends to every level of the company, and it's an approach that has helped Dynamic Logistix establish a strong foundation for its success. By prioritizing work-life balance, the company can provide top-notch customer services while maintaining a supportive work environment.
Growth Strategy and Advice for Aspiring Business Leaders
Dynamic Logistix has big plans for the future. "The focus will be on attacking the market and expanding the company's reach to fully serve a wider group of customers. That requires continually adding solutions to their technology and core product to ensure they constantly evolve and find better ways to serve their customers and needs," he says.
As a business leader, Auslander has set a personal goal of turning Dynamic Logistix into a billion-dollar company within the next five years, with 125+ employees. He envisions the company becoming a staple in the Kansas City community and the wider Midwest, with a strong reputation and recognition.
For aspiring leaders, Auslander's message is clear: greatness comes from stepping out of one's comfort zone and tackling challenging situations head-on to move forward. He emphasizes the importance of finding a problem that needs solving or solving it better than anyone else, building a product or service around it, and finding efficiencies in technology and the right people to sell it. And finally, he stresses the critical importance of maintaining a healthy company and happy employees, as this will have a positive ripple effect that extends far beyond the company itself.
"Every year, there's a significant challenge we face – but none of those challenges are ever stronger than our will to make it. To get things done. To find a solution. And to be better for our customers. Our will to survive and to thrive is in our DNA – it's who we are."
Conclusion
Jeff Auslander is an exceptional business leader who has transformed his logistics company into a thriving enterprise. Through his unwavering dedication to innovation, employee satisfaction, and customer service, he has taken Dynamic Logistix from a small startup to a successful company with over 140 employees and an expanding reach.
Despite his many achievements, Auslander remains grounded and focused on the future. He understands that success is never guaranteed, and he encourages aspiring leaders to get out of their comfort zones, find a problem that needs solving, and build a team of people who can help them solve it.
He is a true inspiration to anyone looking to start a business or become a leader. His commitment to innovation, balance, and employee satisfaction sets an excellent example for others to follow. His story is a testament to the power of hard work, dedication, and a willingness to take risks, and he will continue to impact logistics and beyond. With his vision and leadership, Dynamic Logistix is poised for continued growth and success in the years to come.