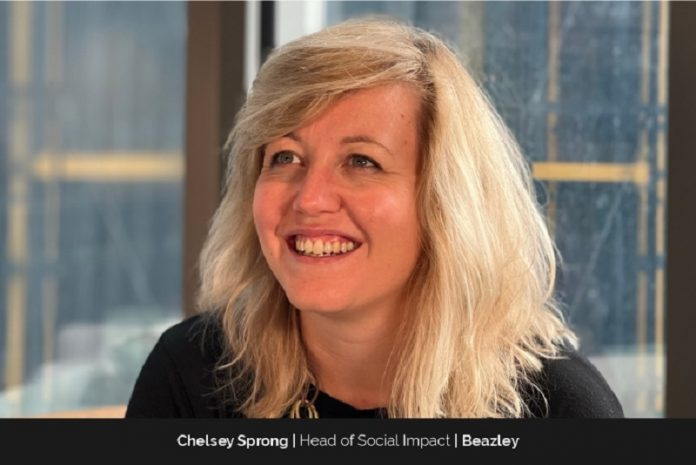 Chelsey Sprong is the Head of Social Impact at Beazley, a company that defines its culture through its brand and values of being bold, striving for better, and doing the right thing. She leads a team committed to promoting inclusion and diversity at all levels throughout the business.
It's no surprise that her innovative and transformative approach to promoting D&I with authenticity and vulnerability has earned her a well-deserved spot among the "5 Most Influential Women in D&I to Follow in 2023."
A Culturally Diverse Upbringing That Led to A Career In D&I
Chelsey was fortunate to have a culturally diverse upbringing that significantly shaped her perspective toward D&I in the workplace. She has dual nationality, English and South African, and grew up in Malawi, where she attended the United World College of South Africa, Waterford Kamhlaba, the first school in Southern Africa to educate black and white students together, a strong statement during the era of apartheid.
This broadened her appreciation of diversity and inclusion, as she was exposed to different cultures, religions, and ethnicities, giving her genuine insight into the importance of embracing diversity. "I remember international festivals and fairs, celebrating Eid with as much enthusiasm as Christmas," she recalls.
At University in the UK, Chelsey had a hard time fitting in until she discovered women's rugby – a team that was already breaking cultural norms and fighting for equality. Her favorite memories of university encompass the fantastic group of rugby-playing women she spent her time with. She even wrote her dissertation on the gender performance of women in male-dominated sports.
Then the pandemic hit and Chelsey felt that no one would be paying attention to D&I. "How wrong I was!" she says. "2020 and 2021 were pivotal years for individuals working in D&I, and for companies that recognized it was now or never in terms of stepping up."
Creating an Inclusive & Diverse Culture That Sets Them Apart
For Beazley, a leading specialist insurer, prioritizing diversity and inclusion is a longstanding commitment. They understand that innovative ideas in D&I can be a game changer for an organization's growth and vision, as a diverse workforce brings different perspectives, experiences, and ideas to the table, resulting in greater creativity, more effective problem-solving, and improved decision-making.
Beazley recognizes that their culture sets them apart from their competitors and that it is what makes them special. Fundamental to their culture is their people, and they promote inclusion and diversity at all levels. They're committed to recruiting, retaining, and developing people with diverse backgrounds and experiences, to thrive in a truly inclusive environment that operates zero tolerance to discrimination or harassment, and fully supports and celebrates differences.
"Our focus has always been 'progress over PR' – we don't want to be a company that makes empty promises or meaningless statements. Behind every commitment we make, there's a thought-out strategy and a process for how we're going to deliver change," Chelsey says.
Beazley has various Inclusion and Diversity Networks in place, each sponsored by members of the Executive Committee, including Beazley Proud (LGBTQ+), Beazley RACE, Beazley SHE, and Beazley Families. Their company values are to "Be Bold, Do the Right Thing and Strive for Better," and diversity of thought underpins their corporate strategy.
"This provides a great foundation upon which to build our approach to inclusion and diversity. We don't want to be behind the curve when it comes to making change, we want to be part of the leading pack, helping redefine what corporate culture means," says Chelsey.
Her role as Head of Social Impact at Beazley is to define what social impact means for the company and lay out the framework to make sure they continue to do the right thing for their local communities. She notes that the 'S' in ESG (Environmental, Social, and Governance) is a little less defined than the 'E' and 'G' and includes Inclusion, Diversity, charitable and community efforts, human rights, and ending modern slavery.
Chelsey also feels extremely fortunate to work with an amazing group of colleagues around the globe and credits her success to the hard work that other senior leaders, volunteers, and passionate employees put in to promote the importance of diversity and inclusion and hold themselves accountable to deliver change.
"Our employee resource groups are incredibly effective, made up of some of the most inspiring individuals I have ever met. I consider it a real privilege that I get to help amplify their work," she observes.
Building a More Neuro-Inclusive Workforce
Beazley has historically prioritized one demographic area at a time to drive forward-focused change and made good progress in terms of gender balance, and racial and ethnic diversity. They're working to build a more neuro-inclusive workforce and embracing neurological differences, such as autism or ADHD, to tap into the unique strengths and perspectives of people who think differently.
Beazley is also exploring how to gather and analyze demographic data to better understand how intersectionality contributes to different experiences and opportunities in the workforce. The firm also wants to work more with its peers and competitors to drive change.
"We want to ensure we're not just ticking boxes and that everyone has equal opportunities, regardless of their background. We can't possibly diversify Beazley and make the company fully inclusive unless the rest of the industry is moving in the same direction too," Chelsey insists.
Leaving the Workforce, a Better Place
Chelsey knows that as a white woman, she is in a more privileged position than some, so she takes her role seriously, working hard to raise the profile of underrepresented groups and helping raise awareness of systemic barriers. and working to dismantle them.
She believes the best recognition for the work she does is when other people are being recognized for their work. "I feel hugely proud when senior women in our company are given the kudos, they deserve for work well done, as I know I've played a small part in breaking down the gender barriers that might've stood in their way," she remarks.
In her role as Head of Social Impact at Beazley, Chelsey is keen to crystalize what the employees need from her, is committed to embedding social, inclusion, and diversity strategies within the company, and aims to raise the profile of those she leads. "I want to help springboard them into new and exciting challenges, and ultimately leave the workforce a better place than the one I entered," she maintains.
Leading With Authenticity, Vulnerability & Persistence
While Chelsey used to think that success in terms of D&I was being invited to speak and share her knowledge and impart wisdom, she now defines it as teams and leaders no longer needing her to facilitate discussions, because they're comfortable having difficult conversations around the challenges of succeeding in D&I themselves.
"My biggest success has been watching other leaders that I work alongside lead discussions on diversity without needing any input from me! We should be working to improve confidence in our peers and make our roles redundant," she reflects, while admitting that realistically we're a long way from that and need to continually stay on top of it.
As a leader, Chelsey encourages her team to speak openly and candidly and is not afraid to show vulnerability. She notes that people are afraid of saying or doing the wrong thing when it comes to D&I, which means we don't end up changing anything.
"I find leading with authenticity absolutely essential for my work in social impact. As a result, I've pushed myself to be the most comfortable showing vulnerability on subjects I don't know anything about. I always ask for feedback when I've held sessions or ask to be corrected if I say or do something incorrect or inadvertently tactless or offensive. I know that we won't ever make progress in this area if we don't make mistakes along the way, and if we aren't trying, we won't be making mistakes. I often tell people that this is supposed to be my specialist area, and I'm supposed to be the one who knows most about the topic in the whole company. But I share with them when I've got it wrong, so they know they can feel comfortable talking openly to me without fear of judgment," she explains.
Chelsey also believes that creating safe spaces, where people feel comfortable talking openly without fear of judgment, is essential to progress in D&I. She remembers the words of a former mentor, that most people come with good intentions, regardless of how their acts may seem, and encourages other people to think the same way.
"You have to create safe spaces as a leader where people feel they can be honest with you and speak candidly, and if they do happen to say or do the 'wrong' thing, you have to feel confident gently correcting and redirecting them. This is something I've got better at doing – but it's taken years of practice!" she insists.
Describing herself as persistent, Chelsey insists that you can't work in D&I without persistence. The more you discuss topics that people find challenging or taboo in the corporate world, the more they get used to it, and the more they realize we need to be discussing these things. And the more you discuss a difficult topic, the easier it becomes when you bring up the next uncomfortable topic.
"You have to be persistent in finding solutions. You can bring about D&I in many different ways and things that seem to work for other companies might not work for yours. Keep trying. Keep going. You'll break through soon enough!" she advises.
Chelsey believes in achieving a healthy work-life balance and leads by example, traveling to the office on some days, while on other days she enjoys working from home where she can have lunch outside in her garden and go running with her dog. She has a clear vision of what she wants to achieve – both personally and professionally. She's also an avid runner and signed up for her first 50-kilometer ultramarathon, aiming to compete in a longer, multi-day, ultra-running challenge in the future.
"Beazley empowers us to choose how and where we work best, taking into account our stakeholders and the work that needs to be done. I enjoy spending time in the office as find those 'chance' meetings are incredibly valuable in terms of sparking ideas, hearing feedback, or driving initiatives forward," she says. "I trust those I manage to do the same. We know what we need to do and what we need to deliver, and I'd like to think the people I manage will tell you I empower them to decide how best to do that. I'm always available to provide support."
Chelsey's parting message to women aspiring to leadership is to embrace what makes them different and use their authenticity, honesty, and vulnerability as their biggest strengths. "If that isn't respected or appreciated, you're in the wrong company!" she says.