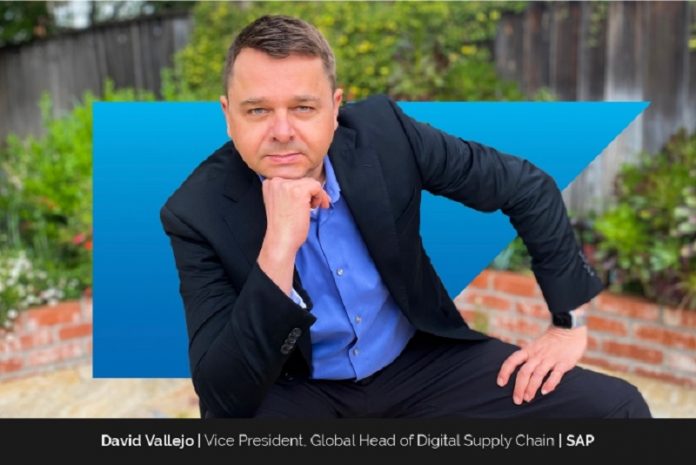 As the Vice President and Global Head of 'Digital Supply Chain' for Planning, Manufacturing and Logistics at SAP, David Vallejo has been instrumental in driving SAP's digital supply chain solutions to unparalleled heights of innovation. With a career spanning decades in supply chain, Vallejo's vast experience and expertise in the field have been invaluable to the growth and success of SAP's Digital Supply Chain portfolio, which encompasses the cloud-based flagship products such as SAP Integrated Business Planning (SAP IBP), Digital Manufacturing and Digital Logistics solutions.
Vallejo's decision to join SAP was fueled by the company's commitment to revolutionizing supply chain management through cloud-based solutions. Over the years, he has guided numerous global organizations in defining and implementing their supply chain planning and execution strategies. Furthermore, Vallejo is responsible for shaping SAP's digital supply chain solutions' future roadmap by closely collaborating with the Product & Innovation teams, ensuring a continued trajectory of groundbreaking advancements.
Before his current role, Vallejo held various leadership positions within SAP, also contributing significantly to the successful launch of SAP business network for supply chain. This initiative focused on direct materials collaboration across the extended supply chain. In addition, Vallejo was pivotal as an initial product owner for SAP IBP, spearheading the customer co-innovation program.
In 2014, the Supply & Demand Chain Executive Board recognized Vallejo's exceptional contributions to the field by honoring him with the prestigious "Pros-to-Know" award. Before joining SAP nine years ago, he held several global leadership roles in customer delivery, solution management, and product management at E2open and ICON-SCM.
Vallejo boasts a Diploma in Computer Science from the Berufsakademie University of Applied Science in Mannheim, Germany. As a globally recognized leader in solution management and go-to-market strategies for SAP's Digital Supply Chain portfolio, Vallejo's influence continues to shape the future of supply chain planning and execution worldwide.
How Vallejo Stumbled into the World of Supply Chain Management?
Vallejo's journey into the world of supply chain management was serendipitous. As a recent college graduate, he began his career as a software developer and soon transitioned to providing front-line customer support for a small supply chain software firm. During this time, he assisted supply chain end users with mundane tasks such as resetting passwords, pressing the right buttons, and troubleshooting data issues. It also led him to learn a plethora of industry-specific acronyms like VMI (Vendor Managed Inventory), JIT (Just-In-Time), EDI (Electronic Data Interchange), MPS (Master Production Schedule), and 3PL (Third-Party Logistics).
Eager to escape the confines of the back office, Vallejo seized the opportunity to visit customers on-site, assisting them with troubleshooting while learning about their businesses first-hand. Witnessing the vast warehouses and factories, he started to comprehend the crucial role that efficient supply chain software played in these operations. He worked alongside supply chain planners, fostering a deep understanding of their daily challenges and the importance of providing them with seamless user experience.
To this day, Vallejo's passion for enhancing end-users' lives through developing robust and effective supply chain solutions remains unwavering, propelling him to the forefront of the industry as a respected and influential leader.
Revolutionizing Supply Chain Innovations in the Cloud: Vallejo's Accomplishments as a Business Leader
Vallejo takes immense pride in SAP's daring approach to reinventing supply chain innovations in the cloud. The company's success is not merely due to modernizing software from the 1990s or 2000s but rather embracing cutting-edge principles to deliver world-class consumer-grade user experiences from the ground up. In addition, they have integrated embedded artificial intelligence (AI), scalable cloud deployments, and rapid customer adoption into their offerings, setting themselves apart in the industry.
Under Vallejo's leadership, SAP has transformed substantial categories like supply chain planning and manufacturing execution by moving them to the cloud. This bold move has enabled the company to challenge a crowded market and make significant strides, demonstrating the power of innovation and forward-thinking strategies in driving success in the ever-evolving world of supply chain management.
Success Beyond Selling Software: Vallejo's Mission to Drive Positive Impact
For Vallejo, the true definition of success lies in helping customers utilize their supply chains as an engine for sustainable growth. He understands that supply chains are a significant lever for economic success, delivering essential goods to consumers and reducing the environmental footprint. As a leader, Vallejo's mission is to inspire his teams to embrace this same understanding of success, shifting the focus from merely selling software to becoming ambassadors of value and driving a positive impact on the world.
Vallejo recognizes that every physical product people interact with daily has a supply chain behind it and a story of how it arrived at its destination. By aligning his teams with this vision, he ensures that the company's efforts contribute to a more sustainable and prosperous future for their customers, their end consumers and the planet.
Pre-SAP Journey: Vallejo's Life Before Becoming a Supply Chain Leader
Interestingly, Vallejo's journey with supply chains began long before his tenure at SAP. As a resident of Germany, he would drive past SAP's headquarters in Walldorf during his daily commute, never imagining that he would one day work there. At the time, he competed with SAP while working for smaller, specialized companies that he believed were better, faster, and more agile.
Vallejo's first foray into the supply chain industry was with a small start-up called ICON-SCM, based in Karlsruhe, Germany. This innovative venture allowed him to explore various roles, including managing support teams, IT, consulting teams, and sales. Through these experiences, he comprehensively understood customers' perspectives and learned to value their experiences.
When E2open acquired ICON-SCM, Vallejo was pivotal in integrating two distinct portfolios and global cultures into a cohesive value proposition for the market. Only in 2014, when he witnessed SAP's investment in innovation and its focus on the supply chain as a significant customer differentiator, he decided to join the company. This defining moment set the stage for Vallejo's influential role in driving supply chain advancements within the industry.
Combining Data and Storytelling: Vallejo's Lessons in Overcoming Challenges
Vallejo believes that overcoming challenges truly makes a person stronger. For example, one significant obstacle he encountered as a leader in the supply chain industry was obtaining buy-in from various stakeholders. It involved securing buy-in for a shared vision, convincing customers to adopt products, encouraging clients to invest in the right initiatives, and uniting his team to move in the same direction.
To tackle these challenges, he initially relied on data to drive change and behavior, as well as to make well-informed decisions and remain outcome driven. However, Vallejo soon realized that more than data alone was needed. He discovered the importance of pairing data with a compelling narrative emphasizing a higher purpose. He learned that people are driven by purpose and will not embrace change based solely on data.
Understanding the power of combining data with a strong story has been a valuable lesson for Vallejo. It has undoubtedly contributed to his ability to inspire and lead his team toward a shared vision and tremendous success.
Redefining Roles and Increasing Collaboration: Vallejo's Impact on Supply Chain Solutions
Vallejo has played a crucial role in transforming the traditional approach to supply chain management. Historically, supply chain management has been divided into distinct disciplines, verticals, and pillars, with companies organizing their departments into procurement, planning, production, logistics, and customer service. These departments would then strive for sheer perfection based on individual Key Performance Indicators (KPIs). For instance, procurement aimed to minimize costs, logistics sought to maximize truckloads, and production focused on capacity utilization.
However, Vallejo's work at SAP has contributed to breaking down these barriers by promoting a horizontal approach to problem-solving and a shared value framework. This innovative perspective has encouraged more customers to leverage SAP's integrated platform, redefine roles that span multiple disciplines, and establish centers of excellence that lead overall supply chain transformations. In addition, Vallejo's contribution to the supply chain space has been instrumental in driving more efficient and effective solutions for businesses by fostering collaboration and integration across different functions.
Building Resilient and Sustainable Supply Chains: SAP's Approach to Staying Competitive
Vallejo emphasizes that SAP's core value revolves around helping the world run better and improving people's lives. As a company that impacts 70% of the world's GDP and supports some of the largest supply chains globally, SAP plays a crucial role in shaping the industry. For example, in the realm of supply chain and manufacturing, the company deals with complex business processes that intersect across disciplines, such as engineering, supply chain planning, finance, and operations, as well as a vast ecosystem of trading partners, including suppliers, logistics providers, and asset operators.
Given the current state of global supply chains, which are constantly facing turmoil due to the post-pandemic aftermath, climate change challenges, political instability, and inflation, there is a pressing need for risk-resilient and sustainable supply chains. Moreover, as disruptions can arise from unforeseen sources, building resiliency into supply chain processes is crucial. Consequently, supply chains must adapt to cost, speed, profit, customer service, and risk.
To tackle these challenges, Vallejo advocates for a holistic approach to managing businesses, which includes:
Connecting supply chains to the entire business,
Contextualizing information during work processes to determine the relevancy of decisions,
Collaborating both within the organization and across networks.
Vallejo highlights that managing a supply chain strategy in isolation leaves an organization vulnerable to unnecessary risk. For technology companies to thrive in today's competitive landscape, they must deliver more than disjointed supply chain systems that address only a fraction of the business problem. Instead, they should provide comprehensive solutions that ensure agility, resiliency, and sustainability.
SAP Digital Supply Chain solutions are specifically designed to accomplish three key objectives:
First, they connect the entire process, from design and planning to manufacturing, logistics, maintenance, and service.
Second, they integrate the supply chain with the rest of the business and its contextual data.
Third, they foster connections with the ecosystem of partners.
Achieving these objectives allows businesses to transition from reactive responses to real-time predictions and from mundane automation to transformative, business-altering changes.
The flexibility of operating in a cloud environment allows organizations to address one part of the process or tackle it all simultaneously, transforming the supply chain into a strategic asset that safeguards the entire business from risk.
Moreover, Vallejo emphasizes that the supply chain should be viewed as an open ecosystem. SAP is committed to investing in valuable partnerships with innovative technology providers that complement and augment their core offerings, further solidifying its competitive edge in the industry.
Empowering the Next Generation Through Diversity and Inclusion Initiatives
Vallejo recognizes the growing presence of Generation Z in the workforce and acknowledges the wealth of knowledge they bring, particularly regarding technology. As digital natives, they anticipate a robust digital work environment and often serve as a driving force for change within an enterprise. Therefore, it is essential to balance the experience of previous generations with the fresh ideas and creativity of the younger generation, fostering a culture of continuous innovation.
In supply chain management, integrating the flow of information with the flow of physical goods offers a prime opportunity for cross-generational collaboration. A diverse workforce can contribute to solving tomorrow's challenges by drawing upon the wisdom of multiple generations. However, as a global organization with employees representing over 150 nationalities, the company must create an environment where individuals feel free to be authentic.
SAP is committed to becoming one of the world's most diverse and inclusive software companies. They actively promote diversity, inclusion, and social justice, working tirelessly to ensure that their workforce reflects the gender balance and demographics of the regions where their employees are based. By focusing on inclusivity throughout all stages of the employee lifecycle, SAP enables employee success, holds leaders accountable, and fosters a diverse ecosystem internally and among partners and customers.
Navigating Uncharted Territory: A Day in the Life of Vallejo at SAP
Describing himself in a single word, Vallejo chooses "dynamic." In his role at SAP, he is responsible for the overall solution strategy for the digital supply chain. Rather than merely directing a large ship, his position entails navigating thousands of smaller boats through uncharted territory. With the supply chain challenges and available technology constantly evolving, all days are different for Vallejo.
His work involves:
A high level of collaboration,
Connecting with customers, partners, analysts, and industry peers externally to form an understanding of what clients will need in the future,
Not just today.
Internally, Vallejo collaborates with development groups, marketing, business teams, industry, and partner teams to determine where investments should go, what to develop, where to partner, and areas that need to evolve. As a result, his days are filled with dialogue, often attending conferences and spending quiet moments documenting findings and creative ideas and ensuring execution aligns with the established direction.
Openness to new ideas and innovations is a crucial aspect of Vallejo's approach, which is why he sees himself as dynamic.
The Future of SAP: Industry 4.0 and Beyond
Vallejo believes that long-standing companies like SAP must reinvent themselves periodically to stay ahead of the curve. For example, SAP has revolutionized the world with real-time Enterprise Resource Planning (ERP) systems, such as R/3 and S/4HANA. ERP systems are used for managing and integrating various business processes, and R/3 was one of the first to provide a fully real-time integrated solution. S/4HANA is the latest generation of SAP's ERP software, designed to run on the HANA in-memory database for faster processing and real-time analytics.
SAP has also built the most extensive business network, led the charge with its Business Technology platform, and moved supply chains into the cloud with remarkable innovations. Vallejo eagerly anticipates the following levels of innovation, aiming to revolutionize enterprises with Industry 4.0 and integrate sustainable practices into the DNA of their customers through SAP's technology. However, despite the company's significant accomplishments, Vallejo acknowledges that they have just begun based on the future ahead.
Conclusion
In a world where digital transformation dramatically alters industries and supply chain management, David Vallejo emerges as an influential figure at the forefront of this revolution. As an innovative leader, he utilizes his vast experience and adaptable approach to bring about significant change at SAP, one of the most prestigious players in the software industry. Vallejo's perspectives and strategic insight demonstrate his ability to tackle complex business challenges and his dedication to constructing a sustainable future for the industry and the generations to follow.
Throughout his time at SAP, Vallejo has played a crucial role in fostering innovation and growth. His unwavering focus on streamlining supply chain processes has significantly influenced the company's achievements. By championing a holistic, interconnected, and collaborative method to supply chain management, Vallejo ensures that SAP remains a leader in the industry. In addition, his commitment to implementing Industry 4.0 principles and sustainable practices further solidifies his position as a pioneer in supply chain solutions.
Vallejo's leadership approach, characterized by receptiveness, teamwork, and versatility, has been instrumental in cultivating a culture of innovation within SAP. He values the diverse viewpoints of a multi-generational workforce, acknowledging that the fusion of knowledge and creativity from various age groups is essential in addressing tomorrow's challenges. By fostering a diverse and inclusive atmosphere, Vallejo enables employees to express their true selves at work, ultimately enhancing the organization's overall performance.
Under Vallejo's direction, SAP has successfully transitioned from conventional ERP systems, such as R/3, to cutting-edge solutions like S/4HANA, which leverage the power of in-memory computing for real-time insights and decision making. The company has also made significant progress in creating the most extensive business network and transitioning supply chains to the cloud. This steadfast commitment to technological advancements reflects Vallejo's recognition of the necessity for ongoing evolution in an ever-changing world.
As an industry expert, Vallejo's ambitions align with SAP's mission to reshape the business landscape. He envisions a future where the company continues to break new ground in innovation, transforming enterprises with Industry 4.0 and incorporating sustainable practices into the core of customers' operations through technology. His aspirational outlook energizes the organization and indicates that SAP's most significant accomplishments may still be on the horizon.
Vallejo's message is unambiguous for those looking to become leaders: welcome change, encourage collaboration, and remain receptive to new ideas and innovations. In addition, his flexible approach to leadership emphasizes the importance of adaptability and resilience in the face of uncertainty. Vallejo's capacity to draw lessons from the past while anticipating future requirements has undoubtedly contributed to his achievements as a business leader.
As the digital age progresses, the need for leaders like Vallejo, who can expertly navigate unknown territories and drive transformative change, will only increase. His unwavering dedication to innovation, sustainable practices, and inclusive leadership serves as an inspiration for business leaders across the globe. Vallejo's legacy at SAP is a testament to the power of forward-thinking, the relentless pursuit of excellence, and the impact of nurturing a diverse and inclusive workforce.
In conclusion, David Vallejo's impressive journey at SAP is a source of motivation for business leaders and aspiring visionaries. His unwavering commitment to innovation, sustainable practices, and cooperative leadership has laid the groundwork for SAP's continued success in the digital supply chain domain. Moreover, Vallejo's ability to balance past insights with future aspirations is a lesson in adaptability and foresight that transcends industries. Vallejo's insights and strategic prowess will undoubtedly remain indispensable for navigating the ever-changing supply chain management landscape and beyond as the world continues to evolve and accelerate.