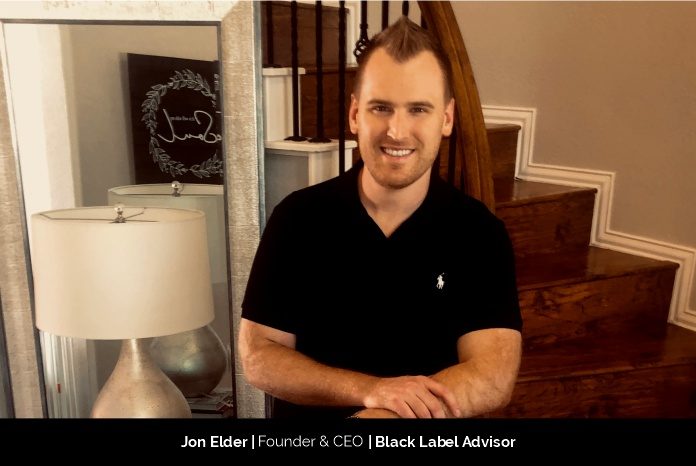 Being an expert in marketing on Amazon, eBay, Walmart, and Shopify, Jon Elder, Founder and CEO of the Black Label Advisor, has witnessed every element of the entrepreneur world closely and is consulting others to grow their ventures into huge successes. Condoning the "profit at all costs" approach, Jon always puts his clients first and believes that profits should never be achieved through dishonesty. Running his business ethically, he aims to create win-win situations for himself and his clients and feels rejuvenated, excited, and more knowledgeable by offering the highest quality of service to his clients.
Pivoting towards entrepreneur world
Prior to Black Label Advisor and selling on Amazon, Jon was blessed with a very fruitful career in the construction industry.  He graduated from the University of Washington with a degree in Construction Management and worked on some amazing mega projects out of the gate, including the San Diego Airport.
However, from a very young age, Jon always had an itch to build something besides a career. The spark stayed alive in him and allowed him to educate himself on Amazon FBA, specifically private label, and after things took an abrupt turn. He was thrilled with the excitement that came with building a brand from scratch. Tapping into his experience and skills, he built an 8-figure business and exited for mid-7 figures in late 2019. Over the course of these five years, he gained deep insights into the whole domain, and this inspired him to mark the dawn of Black Label Advisor to help other brand owners and new sellers and fill the need in the marketplace for authentic, transparent consulting.
Jon adds, "Each of my clients knows my story, my business failures on Amazon, my wins, and the amount of stress and obstacles one faces when running a business on Amazon.  I don't sugar coat anything, unlike a lot of what you see in the "guru" community out there."
Shifting the gears while climbing the ladder of success
Jon expresses that it is not at all easy when it comes to sell products on Amazon and develop a solid business. On his course to achieve success, he learned several lessons, but one of the toughest lessons was to never be over-confident when it comes to launching new products and maintain proper cash flow. He expresses, "I learned a lot from my experience and vowed to never "assume" that every one of my products would be home runs out of the gate."
The second vital lesson he learned was to never rely on Amazon for everything. It is wise to monitor everything when starting out the campaign and take certain precautions to avoid falling into challenging situations.
Nevertheless, Jon always came up with good strategies to overcome the obstacles and learn the hidden lessons that came with them.
Making a difference with Black Label Advisor
At Black Label Advisor, Jon provides one on one hourly consulting for business owners.
It typically takes the form of a call, screen sharing, or audits.  With each call, he makes it his goal to provide as much value as possible for his clients and ensure that they are continuing to grow.
He mentions, "My clients don't like large, faceless agencies.  They want undivided, exclusive consulting from someone who has done it all.  That's where Black Label Advisor comes in.  Unlike many other companies, when someone signs up, they are assured that they will be working with me and not an employee I've trained.  It sets me apart and really builds trust at the end of the day. Dramatic growth is why most people come to me."
He covers a wide range of content. For some, he helps them position their business in the most optimal way for a multimillion-dollar exit, while for others, he provides constructive feedback on their listing optimization and branding image. "I view myself as a sort of "solutions provider" for Amazon sellers.
If I can help someone grow their business and make their life a little bit easier, mission accomplished," he says.
From the very beginning, he wanted Black Label Advisor to be unique and exclusive. He expresses, "I want clients to never worry about being pawned off to another employee.  I want my clients to know they are getting the very best of advice when it comes to Amazon and other selling platforms.  I also want my company to be a strong resource for people who are looking for accurate information without any string attached."
To achieve this vision, Jon relies on a never-ending cycle of educating himself. Whether it's testing out new software programs or staying up to date on Amazon changes and news, he is at the forefront of the Amazon space. "If I'm not staying up to date, my clients suffer.  At many consulting agencies, their clients are just numbers.  At Black Label Advisor, they are relationships that go beyond business," he adds.
Life as the CEO
Being the founder and CEO of Black Label Advisor, he is the face of the company. With different agencies lacking the essence of personal touch, he tries to offer completely unique services and takes full charge for everything. He says, "When I speak to prospective clients, they love the concept of working hand in hand with someone who has had tremendous success on Amazon. I never want my clients to feel like I'm the one pitching them and then hand them off to an employee."
With the main job of succoring all clients to grow their Amazon business, branch out into new marketplaces such as Walmart, and then exit for 7-8 figures, he is a passionate leader who takes regular consulting calls with his clients, audits their existing business and product listings, and also lends his hand in acquiring existing Amazon brands. Additionally, he also works with different aggregators with venture capital and provides required assistance to their brand managers.
Overjoyed with his success of building an Amazon business from scratch with eight figures of business, he is highly grateful to his team, who has contributed to achieving that success. He is proud to have the knowledge of hiring the right talents at the right time and fostering strong values in them.
Sharing his viewpoint on valuing his team, he states, "When you have a team under you, you must delegate intelligently, but at the same time making sure each employee feels valued and is compensated to reflect this value! Relationship building is monumental."
Maintaining an apt work-life balance
For Jon, a perfect balance between personal and professional lives matters a lot. Feeling honored to have married his best friend and have two little boys, he values them and wishes to cherish every little moment with them.
"Years ago, I asked myself an important question. Did I want to be tied to a career that pulled me away from home all the time, or did I want the ability to create my own schedule?  I don't want to miss out on any memories, so everything is planned around this, including how I run Black Label Advisor.  In fact, from day one, I decided I would be an exclusive consultant and only take on a certain number of clients.  This has worked well so far, and I don't see this changing any time soon," says Jon.
His typical day involves rendering email support to his existing clients, taking consulting calls, and podcast/media interviews. He tries to finish these tasks as soon as possible so that he can spend ample time with his family.
Charting the future roadmap
With a laser-focused vision in benefiting clients, Jon is now pivoting towards establishing his blog and transforming it into a powerhouse of free information for sellers globally. With the constant updates in Amazon's rules for sellers, he is on the path to learn, adapt, and to strive hard to support his clients and make their business thrive.
He adds, "I also see myself being used in top-tier media as a source for Amazon-related stories.  I want Black Label Advisor to be known as the leading, authentic Amazon consultancy worldwide."