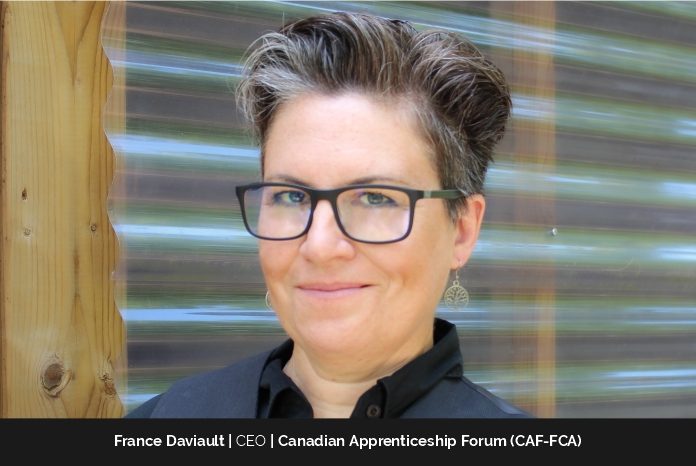 France Daviault, the CEO of the Canadian Apprenticeship Forum (CAF-FCA), is a highly experienced professional in strategic communications, government relations, and association management. With a Master's degree in Professional Communications, specializing in Intercultural and International Communications, France possesses a comprehensive skill set.
For France, success as a leader is defined by leading a thriving and dedicated team. Throughout her career in management, her primary objective has been to create an environment where individuals can flourish and take pride in their work. She values the importance of every team member, ensuring that they feel valued and have a voice within the organization. France actively fosters creativity and embraces the concept of learning without fear of making mistakes, recognizing that it leads to personal and professional growth. The ultimate sense of accomplishment and success, for her, is witnessing the team excel.
France's leadership philosophy revolves around hiring talented individuals and empowering them to utilize their strengths. She believes in stepping aside and allowing her team members to shine, as it is their success that truly defines her own accomplishments. The sparkle of achievement within the team signifies her ultimate definition of success.
Connecting Canada's Apprenticeship Community
CAF-FCA is a non-profit organization that connects Canada's apprenticeship community. Through CAF, stakeholders work collaboratively to support vibrant and innovative apprenticeship systems and policies with a view to developing a highly skilled, inclusive and mobile skilled trades workforce. Employers, unions, equity-seeking groups, educational institutions and the jurisdictions support CAF-FCA operations through membership. CAF-FCA is the only organization that brings together apprenticeship stakeholders from across trades, across sectors and across Canada to share information and promising practices, identify challenges and propose joint solutions. As a national voice for the apprenticeship community, CAF-FCA influences apprenticeship strategies through research, discussion and collaboration. Its research and events provide stakeholders with accurate, unbiased insights into apprenticeship challenges and barriers and illustrate the substantial benefits of hiring and training apprentices.
The organizational values of CAF-FCA center around collaboration, innovation, and leadership. As the CEO, France strives to embody these values within the team, reflecting them in their internal operations and by extension the membership. France expresses immense gratitude and considers herself fortunate to work alongside a team of competent and thoughtful individuals. The team consistently goes above and beyond, exhibiting a strong commitment to their work. This dedication has played a significant role in member retention and recruitment over the years, leaving a positive impression on both members and stakeholders.
Driving Positive Change
Whenever France has been given the opportunity to lead significant transformations, she has experienced a profound sense of achievement. As a business leader, she believes it is her responsibility to utilize her position and influence to create room for social progress. Being a woman and a member of the 2SLGBTQ+ community, she considers herself fortunate to possess a voice within influential and powerful circles. This privilege instills in her a sense of obligation to amplify the voices of those who are often marginalized or silenced in boardrooms or CEO discussions.
Whether serving as the Vice President in a sector that has historically excluded women or as the CEO of a national non-profit organization, France has effectively spearheaded the development of programs that have yielded and continue to drive positive change. She sees it as her duty to contribute to the betterment of society through her leadership roles, leveraging her platform to bring about meaningful impact.
Commitments and Responsibilities
As the CEO, France's responsibilities encompass ensuring the operational success of CAF-FCA while fostering relationships with stakeholders. Working in a remote setup from her rural hobby farm, her day typically begins with a coffee on the deck, weather permitting. The rest of her day is filled with a multitude of phone and video meetings. Additionally, she often receives invitations to speak at conferences and events, and with regular travel resuming, she frequently meets with stakeholders and members on the road. Travel constitutes approximately 40% of her time, getting back to pre-pandemic levels. In her spare time, France also serves as a Deputy Commanding Officer of an Army Cadet Unit near Ottawa, as part of her commitment to the Canadian Armed Forces Army Reserve.
France strives to use her platform as a business leader to uplift marginalized voices. CAF-FCA leads the charge in advocating for equity in skilled trades and apprenticeships. They have launched Canada's first National Leadership Development Program for Women in the Trades, with two cohorts already making strides in promotions and entrepreneurship. The recent Supporting Women in the Trades Conference featured keynote speakers from marginalized groups, providing them with a stage to amplify their voices. CAF-FCA is dedicated to fostering inclusivity and empowering underrepresented individuals in the industry.
Fostering a Culture of Innovation and Creativity
France fosters a culture of innovation and creativity, where taking risks and thinking outside the box are encouraged. She embraces the idea that courage in trying new approaches leads to innovation and improvements. As a leader, she takes calculated risks and supports her team wholeheartedly. By providing a voice to each team member, she cultivates motivation within the organization. Trust is also vital in their remote work environment. France fosters an atmosphere of trust and accountability, without monitoring her team's online presence. Instead, she focuses on their deliverables, believing in their ability to meet and often exceed expectations. When issues arise, even in a remote setting, it becomes evident. This type of environment serves as a significant motivator for her team and contributes to organizational retention.
Perspective on Overcoming Challenges
France acknowledges that overcoming challenges fosters resilience, which plays a vital role in maintaining good mental health. However, she recognizes that facing repetitive challenges can be incredibly challenging to overcome without assistance. While she has encountered obstacles in her own life, she expresses deep gratitude for the unwavering support provided by her friends and family throughout her journey.
Maintaining Optimism
Times remain economically challenging for many individuals, and France comprehends the impact of inflation and the gradual economic recovery following the pandemic. As an advocate for youth apprenticeships and a parent to two young adults in their twenties, she finds it difficult to envision a stable future for the next generation. The soaring cost of living and the limited prospects for homeownership in certain regions pose significant obstacles for most.
However, France maintains an optimistic outlook, recognizing that the country possesses essential tools to address the high cost of living and create opportunities for all who seek employment and homeownership. The crucial aspect lies in policy makers working together collaboratively, adopting a comprehensive approach to their endeavors. By considering various factors holistically, they can pave the way for a more promising future.
Dispelling the Myth of Work-Life Balance
France has learned, through the experience of raising two children while working full time, that achieving a perfect work-life balance is a myth. Instead, it resembles a pendulum, constantly swinging between the two aspects, and the outcomes, whether positive or negative, depend on its position. This constant movement requires making choices at all times. She understands the importance of caring for her mental health, and if it means taking a break, she does so without any guilt or shame. Often, she indulges in walks on her property with her dogs, finding solace in these moments. France firmly believes that work will be waiting for her upon her return from these peaceful interludes and that she will be in a better frame of mind to tackle any challenge. In fact, she encourages her team to follow the same approach, recognizing the significance of self-care in maintaining personal and professional wellness.
Building the Future of Apprenticeship and Skilled Trades
France envisions CAF-FCA as the foremost center of excellence for apprenticeship in Canada. She hopes that government and industry stakeholders will continue recognizing the organization's value, perceiving CAF-FCA's research as a driving force behind national policies. With CAF-FCA making waves on the global stage, France aims to enhance international recognition of their work and pave the way for global exchanges of best practices in apprenticeship and the skilled trades.
France's personal growth and learning journey remain ongoing. As long as her desire to expand knowledge and networks persists, she knows she is in the right phase of life. She expresses immense gratitude for the meaningful work she is able to do and the opportunities that come her way. Her advice to aspiring leaders is to invest time and effort in self-discovery. Understanding one's values and how life experiences shape leadership perspectives is crucial. France firmly believes that emotional intelligence serves as the key to success.