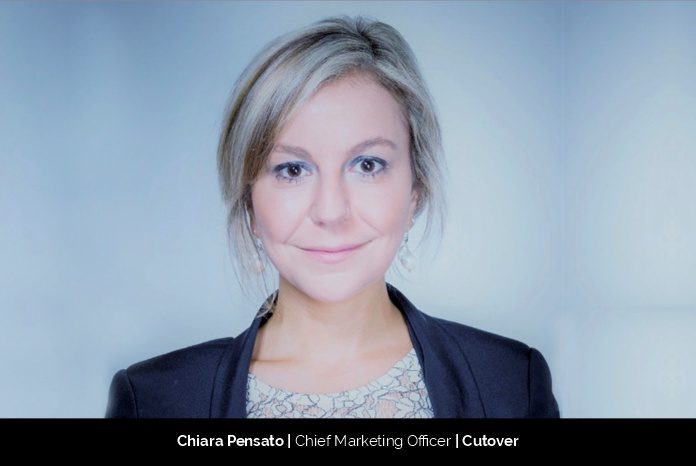 Being able to fill true colors in the concepts is the potential that you will find in the marketing field. No, doubt, technology has spread its roots in every aspect of the corporate market, but marketing has the power to use technology to offer tangible solutions for people.
Having a deep passion for the field and a spirit to make an actual change, Chiara Pensato is enabling people and organizations alike to make the impossible possible and fulfill their aspirations.
The exciting journey from IBM to Cutover
Chiara started her professional career with IBM as a Business School graduate. She adds, "I reckon being a leader that inspires others and drives positive change was always in my DNA. It's been such an exciting journey since then, and as a natural achiever, there's definitely plenty that makes me proud."
She worked her way up through different companies handling various roles in sales and marketing. All these opportunities allowed her to hone her leadership skills and gain crucial experience.
In Feb 2013, she became a founding member of Box's European team, where she built the Demand Generation function from scratch up to the IPO. After this, she joined Alteryx as their first marketing hire outside North America, and led their international expansion building a brand new team and global best practices for scale.
Most recently, in May 2020 she became CMO at Cutover, where she's been building the foundation of their marketing function from the ground up, and is now leading their next phase of growth after their most recent Series B funding round.
Learning from the setbacks along the way
Chiara states that learning to deal with setbacks in a positive way and building resilience to help overcome whatever comes next is very important.
She adds, "It's important to realize that you're not powerless. You may not be able to control everything, but the things you can control should be your focus and starting point. Making mistakes is human, and that is ok: being honest with ourselves and our teams and supporting each other to build resilience  will help us to be responsive, not reactive at the next roadblock."
Bringing change with Cutover
Cutover allows different organizations to move quickly with confidence. She adds, "We do so with a new model of working that orchestrates humans and machine automation in seamless collaboration. Our comprehensive platform enables teams to plan, orchestrate, and analyze complex work faster, smarter, and with greater visibility. We bring machine activity and automation together with human expertise in a unified platform for greater speed, control, visibility, and success."
The team believes in the power of humans and machine orchestration to unlock potential and expand human limits.
Making her mark as CMO
As the CMO of Cutover, Chiara is responsible for educating and aligning the organization on the best ways to deliver superior, personalized, and measurable customer experiences that turn into business results.
She acts as both architect and steward of the brand by telling engaging, distinctive stories that define their standing in the marketplace.
She creates and executes the plan to achieve sustainable, profitable growth. Moreover, she works to develop robust and scalable marketing capabilities that help the organization to compete in the longer term successfully.
She states, "I'm a strong believer in the power of diversity, inclusion, and equality to deliver bigger and better impact at all levels. Gender, race, or disabilities should not prevent individuals from fulfilling their potential and making a difference. I think all of us, and leaders more so should feel accountable for inspiring others to embrace this belief and drive positive change."
She further adds, "The "glass ceiling" should not be an excuse not to fight for our rights, but we need to be in this as a team. It saddens me to witness situations where women undermine each other, instead of forging bonds for the greater good, and I made it my mission to change that."
Achieving work-life balance
Chiara adds, "The first step is about recognizing that work is not just a way to pay the bills, it is a passion that can bring incredible rewards and personal fulfillment, which ultimately translate into a happier life for our loved ones and us. Never settle for the "good enough" and strive for better it's my motto, as your career can become a painful and unfruitful experience without genuine motivation to keep you going."
She is a firm believer in delegating the work to her team. She states that it is important to set boundaries and enforce time to recharge, look after your health and cultivate other passions, as nothing that is too intense can be sustainable in the longer term.
She further states, "Having the opportunity to be picky and choose employers (like Cutover for me) that make work-life balance a priority can help. But even then, when the deadlines build-up and the pressure are on, it's up to you to say no and set expectations for your colleagues and leaders before you burn out and compromise other equally important priorities in your life. It takes courage and risk, but remember that the world will still keep running after all, and a healthy mind and body mean that you can be better at your job too."
Changing trend of the industry and future roadmap of Cutover
Today's enterprise software market doesn't look like the enterprise software of the past. By lowering costs and removing adoption hurdles, the Cloud expanded the market from millions to billions of people globally, and in turn, businesses are using more apps than ever before. As a result, enterprise IT can no longer be controlled by just a handful of vendors.
She states, "Marketing plays a key role in educating organizations on how to embrace the adoption of digital channels, innovative technologies, and always-on analytics, to unleash human potential and deliver higher impact to employees and customers alike."
As for the future, the team at Cutover drives their mission to enable seamless human and machine orchestration. They are looking at growing their engineering and product capacity, building an evolving platform best suited to the rapid pace of change prevalent in today's economic environment.
The growth trajectory includes investment in continued hiring, building on an inspired team with rich experience across technology and the enterprise.