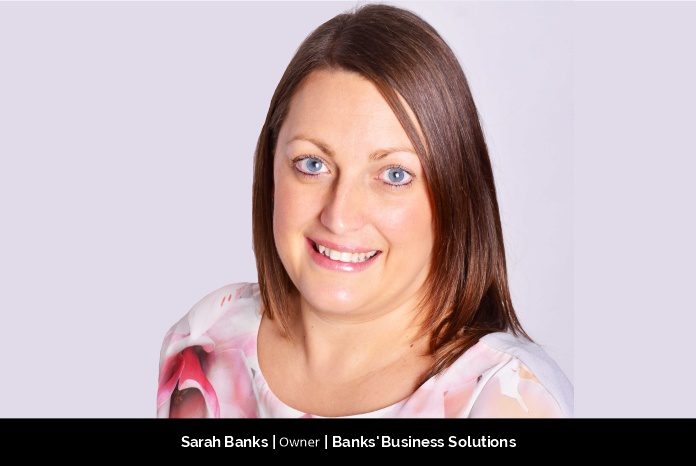 Digital marketing and online eCommerce services are the highlights of the market today. Such online platforms save time and are more diverse than brick and mortar shops. These factors steer them to where they are today.
Although these companies sell their goods online, technology comes into play and greatly impacts their existence. Many service providers co-existing with these digital markets have come into existence to bolster such enterprises and help them prosper.
Sarah Banks runs one such company providing business solutions. She operates the Banks' Business Solution, which is widely known for its quality and service consistency. This firm has emerged as the epitome of online businesses, making Sarah an admirable leader who continues to inspire many.
A Necessity that Tells a Tale of Passion
With a simple career choice in project management and education, Sarah has written a saga of life that asserts that destiny has its plan. It comes into play when you don't have any doors open. Had it not been her maternity leave that she took for her younger daughter, she would not have become the role model she is today.
Freelancing was never in her thoughts, but the necessity to stay around the family at all times demanded a flexible job. Banks' Business Solutions resulted from such a demand of time when Sarah could not pursue what she had been doing for a long time.
This change in her life proved fruitful for her and did wonders for the businesses in need of virtual assistance.
Stumbling Blocks on the Road Map that had to be Surmounted
Since she was new in this digital arena, the first roadblock in her path was to find out what she was capable of delivering to her clients.
She says, "When I started out, I wanted to offer a wide range of services as I wasn't really sure what I was actually going to do to support my clients! Virtual Assistants were very new in the UK, and therefore I figured that I would offer anything that the clients needed!"
After she realized where she was lacking and rectified it, a second challenge knocked at her door. It was the technical difficulties that made her efforts go in vain.
Unfamiliar with the software and functioning of a computer made her dependent on reliable IT support. This necessary support was lacking at the nascent stage when her business solution was in the making.
Evolution of a New Industry that Impacted Several Business Strategies
"Since starting my business in 2014, the VA industry has grown vastly in the UK, and there is a lot more support available for those of us working to support clients in this way." Sarah adds to explain how Virtual Assistance is growing with each passing day.
She also states, "The industry is now more professional, and clients are starting to realize the need to pay a far rate to their VA." She illustrates how this industry is changing and coming to the fore.
Sarah believes in delivering quality at an affordable price, which is why she tasted success so early in her career. She uses her strengths to address the most in-demand areas and to help the prosperous clients there.
The global pandemic has given her considerable opportunities to lend her support to vulnerable companies. The influx of online businesses has increased the demand of companies like hers, which positively impacts her business strategies.
A Substantial Vision to Attain the Prime Goal
Sarah plans to take her virtual assistance company to new heights in the years to come and fan its wings to the Far East. She aims to develop a large client base worldwide and cater to their needs with maximum efficiency.
Sarah's long-term vision has a promising outlook that will take her business to its milestone in no time. She is a role model for millions of women who strive to become prosperous entrepreneurs like her. Sarah continues to inspire them by her commitment to her work.
She explains, "My vision is to continue to support my growing client base, inspire other women and provide flexible working for my associates so they can continue to have the work-life balance I do."
The Backend Service that Simplifies Business Dynamics
Building her own business to support businesswomen out there is the greatest achievement of her life. Sarah also handles a YouTube channel to assist those in need and inspire and empower women to follow their passion and not worry about any shortcomings.
Her company operates on three fundamental values. These core values are loyalty, efficiency, and respect for the clients.
Sarah's Banks' Business Solutions offers services to women entrepreneurs so that they can focus more on their core business and leave technical aspects and other backend activities to the company.
Explaining her services, she mentions, "The business provides a range of services including online customer service, configuration, and management of technical systems and website creation. Specializing in MailChimp and WordPress, I provide 1-1 training and support so that my clients can utilize these tools better for their businesses."
Challenges Faced by a CEO Who Continues to Inspire Others
Sarah has many hats to wear. She is a mother of two and a CEO who runs a big firm to support other women who look up to her. As a CEO, her responsibilities are significant because she must keep her associates motivated and deliver the best services to her clients constantly.
Dealing with the existing projects and networking is the daily part of her job that keeps her engaged at all times. Also, she adds, "I don't have employees, but I do have some associates that I work with, and I want to inspire them by offering a flexible way of working that allows them to spend time with their families."
Being a woman brings with it many obstacles, one of which is maintaining a steady balance between work and home. Sarah successfully balances both with a lot of ease, even though she still faces tremendous difficulties.
However, amid these challenges, she does not hesitate to exceed the clients expectations and keep her family happy by devoting quality time to them, which makes her a versatile woman who has the capabilities to inspire other women like her to pursue their dreams while they have nothing to lose.