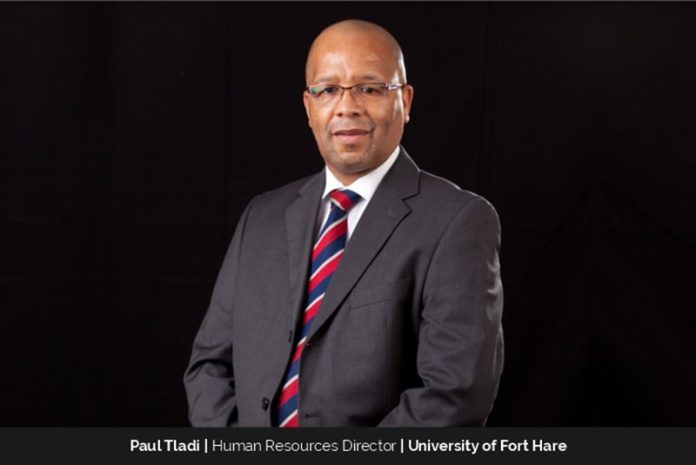 Meet Dr. Paul Tladi, the Human Resources Director (HRD) at the University of Fort Hare, recognized as one of "The 10 Most Influential HR Executives of The Year 2023." He is a visionary leader dedicated to shaping a workforce that attracts and retains top talent, fostering business growth, and cultivating a global work culture.
For Dr. Paul, success is an ongoing journey, a relentless pursuit of a destination yet to be reached. He likens it to ascending a mountain, always searching for the summit. It's a journey characterized by perseverance, the driving force behind accomplishments. While it may entail pain, he firmly believes that it should never deter us from pursuing our ideals, for within every challenge lies the growth potential.
Dr. Paul, the HRD at the University of Forte Hare, holds a multifaceted role within the institution. He is a key member of the Executive Management Team, tasked with guiding and mobilizing the staff to align with the University's strategic goals. His responsibilities encompass strategic HR management throughout the HR value chain, including aspects of transformation. He also oversees social transformation, organization development, and associated projects and interventions. Furthermore, Dr. Tladi is responsible for executive and critical talent acquisition, placement, retention, and executive succession management. He plays a pivotal role in creating an environment conducive to excellence in learning and teaching through HR programs and initiatives while providing world-class, sustainable HR programs.
He notes: "Most of my time is devoted to strategic people management matters and institutional governance matters jointly with executive colleagues to achieve the abovementioned roles."
On a professional front, Dr. Paul's personal goal as an HR leader is to elevate the University's HR function, processes, and practices to meet world-class standards. He is at the forefront of the University's organizational redesign and renewal project, aiming to re-engineer its structures to better align with its goals and purpose.
In this cover story, we will delve deeper into Dr. Paul's life journey, shedding light on the invaluable insights and wisdom he has gained over the years. Ultimately, this feature will offer aspiring HR professionals and business leaders a unique opportunity to glean precious advice from his experiences and expertise.
The Journey: From Passion for People to HR Inspiration
When asked about his journey into the world of HR and what fueled his decision, Dr. Paul candidly shares, "My being is filled with a passion for people and their well-being."  For him, it's like the perfect blend of people and business, like seeds meeting water, creating a synergy that propels success. He firmly believes that having faith in one's ideals is the key to achieving them. These belief systems play a crucial role here, and they've been a driving force for him as he has pursued his goals over time. HR, in its role not just in organizations but in communities, particularly within the context of South Africa's societal was robbed disparities, has been a strong inspiration for me to embrace this discipline wholeheartedly. Dr Paul grew up in a very poor community that was riddled with gangsters and as a child was robbed at gunpoint at least five times. He knew that this was not the life that he wanted for himself and others in a similar dilemma. This led him to participate in community groups that would endeavor to keep youth off the streets and teach them life skills, such as integrity that would later benefit them. The only thing he knew was that he can have everything in life that he wanted, if he just helped other people get what they want.
When Dr Paul started work as a floor sweeper, he was spotted by the Chief Executive Officer of the company who was totally blown over by his work commitment and impressed by his work ethic. The CEO took it upon himself to ensure the development of Dr Paul. When asked which area his passion is pointed towards, Dr Paul answered wryly that he wanted to be a Personnel Manager. Why: "For the sake of both the business and to the commitment of the people/workforce. Noticing that Dr Paul was somewhat intimidated and overwhelmed, he told Dr Paul that: "You don't have to be great to start but you have to start to be great." The rest, as they say, is history. Dr Paul applied the rule that in order to stand out in whatever that you doing, you have to put in and do more than everyone else in that space and always strive for superior conceptual insight in the discipline, being able to innovate.
Reflecting on the transformative years of South African democracy around 1995, Dr. Paul notes, "How do you get people and their tools to be valuable because they contribute to something ethical, something good, something that makes business better?" It was a period when many organizations, including higher education institutions and state-owned enterprises, had to adapt to the "new" South Africa, embracing the concept of ubuntu (humanity) and the cultural values enshrined in the Constitution of the Republic of South Africa. HR emerged as a guiding light, steering organizations, employees, and management toward these new ideals. It was a pivotal moment that captured his eye and kept him passionately engaged in the field.
Overcoming Challenges: Lessons from HR Director 
The University of Fort Hare's HR Director firmly believes that passion is the most potent driving force and motivator. In the pursuit of one's goals, adaptability, integrity and versatility become indispensable. It's crucial to remain unwavering in your focus; Dr. Paul has gleaned from experience that, as a manager, even amid intricate issues and intense pressure, losing sight of the objective is a luxury one can't afford. One must stay dedicated to their path and see it through.
Change, well, it's like that unexpected plot twist in our favorite TV show. It's essential for reaching one's goals, but it's rarely a walk in the park. Life and the journey toward success are chock-full of obstacles, but Dr. Tladi's core principles, beliefs, and faith have endured and triumphed over time. No matter how tough the going got, he leaned on relationships and teamwork to tackle those challenges head-on.
Overview of the University of Fort Hare
The University of Fort Hare is defined by its ambitious Vision, striving to establish itself as a distinguished African institution dedicated to advancing excellence and innovation across various domains such as research, teaching, learning, administration, and social engagement. Firmly committed to this Vision, the University is unwavering in its commitment to its Mission, which revolves around delivering high-quality education and spearheading pioneering research initiatives that focus on specific areas contributing to the advancement of socially and contextually relevant knowledge, with an overarching emphasis on the application of digital technologies.
Guided by a set of intrinsic values, including Integrity, Excellence, Professionalism, Social justice, Respect, Equity, Inclusivity, Student-centeredness, Service culture, and Accountability, the University of Fort Hare remains committed to upholding these principles in all aspects of its operations.
Under the inspirational guidance of its Council and executive management, namely the Management Executive Committee, the University is charting its course forward in its Strategic Plan 2022-2026: "Towards a Decade of Renewal." Embracing the fundamental concept of Renewal, the institution strategically positions itself within the academic landscape and among its various stakeholders, both locally and internationally. It has incorporated the core principles of transformation, equity, and socio-economic imperatives to facilitate this transformative journey.
Strategic Vision for the Future of the University of Fort Hare
The University of Fort Hare's future is outlined in its comprehensive strategic document titled "Decade of Renewal," as detailed above. Furthermore, the institution has established a strategic framework for execution in collaboration with the Council and the MEC, encapsulated in seven distinct Institutional Goals:
Pursuit of High-Quality and Innovative Teaching and Learning: The University is committed to delivering education of the highest quality and fostering innovation in teaching and learning methodologies.
Elevation of Research and Innovation Profile: Efforts are directed towards enhancing the University's research capabilities and fostering a culture of innovation, thereby contributing to the academic and intellectual landscape.
Enhancing Student Experience and Quality of Student Life: The University aims to improve student life and experiences by providing support and resources that enrich their educational journey.
Elevating Regional, National, and International Standing and Impact: A fundamental goal is strengthening the University's presence and influence at local, national, and international levels, establishing it as a significant player in the global educational landscape.
Emphasizing Good Governance for Effective Management and Leadership: The institution maintains a strong governance framework to ensure efficient management and exemplary leadership.
Providing Efficient and Purposeful Infrastructure and Support Services: The University is committed to offering infrastructure and support services that are both efficient and aligned with its academic mission.
Ensuring Financial Sustainability and Expanding Resource Base: The University's strategic vision includes securing its financial sustainability and diversifying its resource base to support its ambitious goals for the future.
Dr. Paul Tladi's Impact on the Advancement of HR Practices
He is a distinguished South African premium HR professional body member and serves on the SA Board for People Practices. His affiliation with the SA Universities' HR Executives' Forum is marked by active participation, fostering a platform for industry benchmarking and alignment. Together, they collaboratively forge HR strategies, frameworks, and agendas tailored explicitly to the higher education sector.
With a track record of occupying executive positions within blue-chip and multinational corporations, this adept director has wielded influence over executive teams. Notably, he has dedicated his expertise to mentoring and coaching HR professionals, enriching the HR landscape.
The Impact of Technology Trends on the HR Industry
From Dr. Paul's perspective, the HR industry is currently witnessing the influence of three distinct categories of technology. Robotic process automation (RPA) plays a pivotal role by automating repetitive administrative and essential HR tasks, liberating HR professionals to concentrate on more strategic and value-adding activities. For instance, RPA streamlines the labor-intensive process of preparing long- and shortlists for interviews, traditionally requiring manual review of individual resumes.
He considers the advent of virtual reality to have introduced innovative possibilities for HR functions. It allows for the simulation of HR processes and provides a technical and skills training platform spanning diverse areas such as firefighting and welding. Furthermore, virtual reality has become invaluable for facilitating HR programs like employee induction.
In artificial intelligence, software applications transform HR workflows, enabling more competent, efficient, and effective management of high-volume routines. These technological advancements are reshaping the HR landscape, enhancing productivity and impact.
Championing Integrity at the University of Fort Hare: Insights from HR Director Dr. Paul Tladi
In the world of academia, integrity stands as a cornerstone of excellence, a principle upheld with unwavering dedication at the University of Fort Hare. According to HR Director Dr. Paul, the institution's commitment to fostering a culture of integrity runs deep. This commitment finds its expression through the actions of the Vice-Chancellor and the Council, who not only talk but walk the walk by embracing a zero-tolerance approach to unethical conduct.
Accountability is the linchpin of this culture, with staff and management responsible for their actions. In instances where circumstances deem it necessary, perpetrators of unethical behavior are swiftly brought to justice or decisively removed from the academic fold through dismissals in cases of serious transgressions.
Reflecting on a Career Journey and Leadership Achievements
Reflecting on the journey that marked the inception of his career, Dr. Paul points to his initial appointment, subsequent promotions as an HR executive, and the attainment of his Ph.D. as pivotal moments that recognized his leadership capabilities. When asked about the most gratifying recognition he has received as a leader, he reflects on his profound impact on individuals' well-being while concurrently advancing business objectives. In his words, this transformative capability to influence the pathways that foster people's success is a "wow" moment. For Dr. Tladi, the most rewarding aspect of leadership is the appreciation he receives from those he has guided and influenced. These achievements collectively empower him to make a meaningful contribution to society by enabling and supporting individuals, thus reinforcing his sense of personal value.
He shares: "Interactions with a myriad of stakeholders and other interest groups shape us all to become better at what we do today and in the future."
Self and Team Motivation Mantra
This seasoned leader holds a profound belief that motivation is a deeply ingrained trait originating within each individual. As he dons his role, his mission is to foster an atmosphere where his colleagues find boundless opportunities, thereby empowering them to reach unparalleled aspirations.
Embracing Shakespeare's Stages of Life in HR Leadership
The accomplished HR Director at the University of Fort Hare fervently champions the enduring insights woven into the poetry of William Shakespeare. To Dr. Paul, Shakespeare's profound analogy of existence as a stage described in "All the World's a Stage" is more than a beautiful metaphor; it's a profound truth. He firmly believes that we all play our part in the grand theater of life, mere actors reciting our lines on this cosmic stage. He underscores the imperative of traversing the seven stages of life as depicted by the bard.
The iconic excerpt orates:
"All the world's a stage,
And all the men and women merely players;
They have their exits and their entrances;
And one man in his time plays many parts,
His acts being seven ages. At first, the infant,
Mewling and puking in the nurse's arms;
And then the whining school-boy, with his satchel
And shining morning face, creeping like snail…."
Dr. Paul finds in these verses a compelling call to fully engage with every phase of existence, from the vulnerability of infancy to the zeal of youth and onward to the wisdom of old age. For him, this literary masterpiece is a powerful reminder that we should embrace and perform our roles with unwavering dedication, leaving behind a legacy that embodies the richness of our diverse life experiences.
Navigating the Dynamic World of HR: Insights from Dr. Paul Tladi
In human resources, Dr. Paul offers a valuable perspective to aspiring HR professionals and business leaders. "Our challenge and excitement as HR professionals are inter alia," he says. This experienced director underscores the fascinating challenge in this field, where the canvas is painted with the intricacies of human behavior, far removed from the uniformity of producing tangible goods on an assembly line. HR professionals face the unique task of customizing solutions for a multitude of behaviors and scenarios devoid of standardized, one-size-fits-all remedies. Every incident and behavior demands innovative solutions and interventions, rendering HR an exceptional and exhilarating domain.