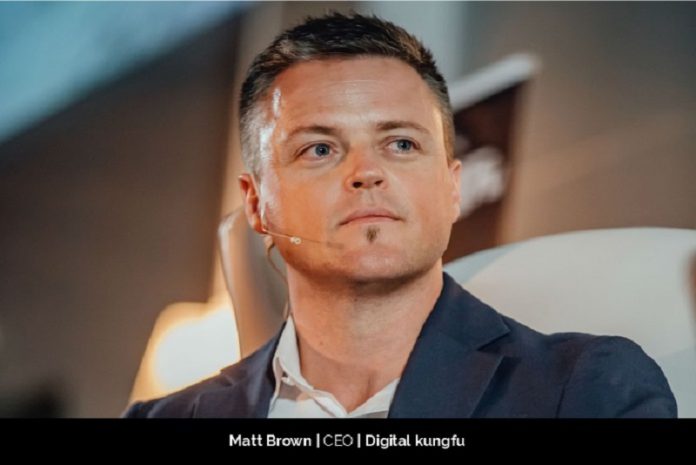 Ever since he can remember, Matt Brown, CEO of Digital Kungfu, has been captivated by technology. As a kid growing up in the 80s and 90s, he watched first-hand as arcade games shifted into Nintendos, faxes made way for email and home computers became a reality – not to mention the first Nokias and Motorolas to reach South African shores. In short, he was at the forefront of the first generation who integrated technology into their everyday lives.
This fascination would only grow as Matt started his first job at a management consultancy that focused on technology outsourcing. "It was the late 90s and I could already see the impact that technology can have on a business," he says. "The right tech deployed in the right way has the potential to increase revenue, reduce risk, and reduce expenses. It's a game changer."
Today, Digital Kungfu is the premier demand generation and pipeline acceleration partner to technology businesses, a niche that Matt believes is essential if his businesses are going to make a positive impact on the world.
"I've always recognized that technology has the power to solve the key challenges that businesses face. Our role is to support their growth into key markets so that they can have the biggest impact possible."
The Beginning of Something Big
Digital Kungfu is a subsidiary of Black Swan Technology Group, a holding company that focuses on three areas: demand generation, pipeline acceleration, and platform technology. Other brands under Black Swan Technology Group include TechLeadBay, FireSaleHardware, TechDealNetwork, and Pipeline Generator.
Digital Kungfu began life as a content production company, with a variety of clients in different industries. It wasn't long before Matt and his leadership team realized that about 90% of the business's clientele were technology companies. "At first it was just an observation, but then we started conducting customer feedback interviews and realized that we worked best with technology businesses because we really understood them. We understood their products, the challenges their customers faced, their lead generation challenges and their markets."
Based on these insights, Matt and his team took a big risk. Instead of widening their net, they niched down and focused exclusively on technology businesses. With top clients including Microsoft, Oracle, SAP, and other major technology brands included in their clientele, they haven't looked back.
Today, remaining niche, specializing in the technology sector and working with many of the world's top technology vendors, distributors and partners has given Matt and his team unparalleled insight into the value chain challenges that hardware and software businesses face.
"Digital Kungfu was the first solution we took to market because it solved the immediate need for sales qualified pipelines. Without deal flow, technology companies can't support the businesses they serve. Each new brand we launch solves a different problem, with our own proprietary technology forming the foundation of our solutions," says Matt.
Black Swan Technology Group focuses on reengineering economic possibilities for small, medium, and large technology brands, but before Matt found his purpose creating an early-stage monopoly and solving big problems for technology vendors, he was a serial entrepreneur who launched 12 businesses, both in South Africa and in London.
"Some of these businesses were successful and I sold them, others were less successful but taught me some important lessons, even if the failure hurt at the time. Each business also had a technology component, but Digital Kungfu has really brought everything together, and the extension of the problems that we can solve through Black Swan Technology Holdings is what really excites us."
Continued Growth
Matt has done a phenomenal job of rapidly growing Digital Kungfu since its inception in 2019. In its first year of business, Digital Kungfu was voted Africa's Best Tech Startup by Africa Tech Week. The start-up's claim to fame? Generating over £12 million in sales qualified leads for their customers in under twelve months. By its second year, Digital Kungfu's team had grown from ten employees to fifty employees, a steep curve to support the company's continued growth as new brands are added to the fold.
Matt has a clear vision of where he wants to take the company and how he plans to continue to grow. The 2024 Vivid Vision that the leadership team is working towards includes Digital Kungfu valued as a USD100-million company by the end of 2024. "You can't accomplish incredible feats as a team if your vision isn't bold and audacious," says Matt. "It must excite the people who work with you and those that are responsible for bringing that vision to reality."
Matt admits that he's also a better leader when there is a clearly articulated vision that both unites internal stakeholders and excites external stakeholders, such as the media, customers, and other commercial drivers.
"The only Key Performance Indicator I have is to bring our Vivid Vision to life. My team is responsible for the day-to-day operations of our various businesses," says Matt.
Although the group of companies is currently on track to make the vision a reality, it's a huge task that comes with a lot of responsibility. "We're growing rapidly, and our people have to grow at the same rate. I'm passionately committed to every employee at Black Swan, particularly because that rate of growth requires a lot of support."
While many people make resolutions at the start of the year, Matt started 2021 with a commitment to his employees. "This year, our goal is to double each employee's personal growth, as personal growth ultimately drives the overall growth of the business."
Failing Faster
The key to building a multi-million-dollar business is failing faster, which might sound counterintuitive, but according to Matt is the only way to change an industry from the inside out.
"Everyone fails. Failure is growth. You need to figure out what doesn't work before you can perfect what does. One of the advantages that we have always had over our competition is that Digital Kungfu fails faster. We fail, we learn the lesson, we adjust our offering and ultimately, we find success at a faster rate to stay ahead."
Additionally, Matt articulates that while anybody can copy the products that Black Swan Technology Holdings takes to market, it's far harder – if not impossible – to copy the culture of the company.
"You don't know what you don't know, which means you're often reaching out into new territory to figure things out, and when that happens, you're very likely to stumble and fall. That's okay – just make sure you get back up again.
"At Black Swan, we know that it's not about the ten thousand ways that didn't work. It's about the one way that does. Failing is part of our operating framework. While we may not always get everything right the first time, we know that if we don't let the failures stop us, we will be successful."
During a recession and the COVID-19 global pandemic, the company grew by 220%, testament to the business's solutions that continue to address real market challenges.
"We have a clear set of values that we incorporate into everything that we do, and a strong leadership team that we've been cultivating and nurturing for the last three years. I take a lot of pride in the fact that we've built a solid business that can run autonomously because the team is clear on what they need to do and how to do it, and they know that they're allowed to fail as long as they try."
In 2020, Matt was even able to take some time away, with minimal involvement in the day-to-day operations of the business for a month. "I call it the power of the four-week vacation. During that time, we achieved our second highest-grossing month," says Matt. "Our team is solid, built on the foundation of our core values."
The right leadership and employees, coupled with Matt's clear vision, will continue to allow the company to stay ahead of its competition and keep everyone on track to achieve their collective goals.
Staying Motivated
In addition to having a team that supports the company's clear vision, Matt has implemented and practiced several things to keep employees motivated each day. "We participate in appreciation rituals that encourage everyone to send a thank you or an expression of gratitude to each other before they begin their workday," he says. "We've found this has supported our culture and group cohesion during remote working as well."
The company also has an initiative called the 'Dream on Program,' which grants wishes to employees, such as paying for MBA programs or for travel to countries abroad. Additionally, the company is also building strong relationships with universities around the world. "Our goal is to allow students to take their ideas to market through equity deals and profit-sharing arrangements through an initiative called The Dreamers Dojo," says Matt. "How much game-changing technology never makes it to the market because of a lack of funds? We want to change that."
Looking Ahead
As Matt reflects on the technology industry, he notes that the business environment is more unpredictable than it was five years ago, and that change is accelerating.
"Accelerated change can be disconcerting for some, but we've always embraced the fact that with change comes great opportunities. We love change. The greatest businesses and teams in the world know how to adapt and take advantage of change."
It's a topic Matt has discussed often on his podcast, The Matt Brown Show, and it centers on whether people have a fixed mindset or a growth mindset. "Fixed mindsets can't look beyond their own challenges. They tend towards a victim mentality and aren't able to pivot or adapt.
"Growth mindsets are very different. They look at the world and ask, what do I need to learn and how do I need to adapt and change to make the most of my ever-shifting environment?"
While many businesses are going out of business or suffering due to COVID-19, Black Swan Technology Holdings and its subsidiaries are making the most of the gaps in the market. By recognizing that the technology landscape will always evolve, but that more opportunity comes with change, there is no choice but to take advantage of it.
"There are always opportunities that are missed completely or underserved in business, and that excites me as a founder. We encourage entrepreneurial drive across our group of companies and our diverse staff are well positioned to pivot and grow when needed."
International expansion is a critical component of the group's strategy to reach a valuation of USD 100 million by 2024. The business has grown tremendously in Africa, and in Q3 2020 expanded into the United Kingdom. In Q2 2021, the group will launch its various brands in the United States.
"From there, we're looking at Asia, specifically Singapore.," says Matt. "We never want to be defined by where the head office is. We're a global brand in the making."