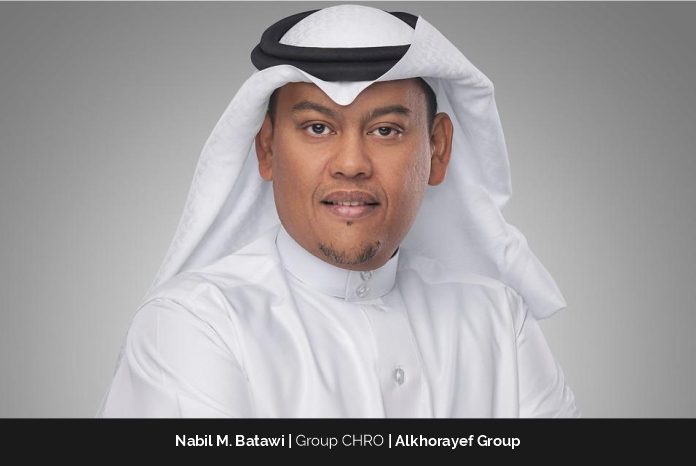 As Group CHRO at Alkhorayef Group, Nabil Batawi has had a profound impact on the Human Resources (HR) industry, fundamentally reshaping the methods through which HR professionals can connect with and attract top talent.
As an MBA holder from Wolverhampton University in the UK, Nabil has over 23 years of experience with multinational, local and joint venture companies. He started his career in Tetra Pak as Site Controller in Feb 1999, and he transferred to the Factory at the end of 1999. He worked in many departments in the Factory for 10 years (Production, Pre-Press, Graphic design, World Class Manufacturing and Education and Training). Nabil was responsible for a variety of critical projects, including recruiting, onboarding, and training new employees. Nabil quickly realized that he loved working with people and helping them succeed.
In Feb 2009, Nabil got an opportunity in GSK as HR Manager. He had the opportunity to work on a variety of projects, including developing employee onboarding programs, creating performance management systems, and conducting employee surveys. He also had the opportunity to lead two critical projects "GMP and Total Reward". Both projects have been awarded Globally – The ERA as Best Practice Award.
In 2012 Nabil got a promotion as Head of HR Operation in KSA, in 2014 he was promoted as Head of HR shared services for KSA and in 2016 he was the HR Director for KSA. Nabil was also the Head of HR with Aujan Coca Cola for KSA in 2017 and he was the Vice President for HR in GCC and Levant with Alsafi Danone in 2019.
Nabil has won many awards locally and internationally throughout his career, however, there are three awards that mean a lot to him as a leader:
CHRO of the Year in the Middle East 2020
Award for the most influential personality in the field of social responsibility in the Arab world for the year 2021
HR Team of the Year in KSA 2023
Success and growth are subjective.
Different leaders may have distinct definitions of success based on their personal values, goals, and aspirations. Some common themes that are often associated with success include achievement, fulfillment, progress, and the attainment of desired outcomes.
For Nabil, success is finding purpose and meaning in one's work and making a positive impact on others and society. He is one of those leaders who prioritize collaboration, empathy, and social responsibility, defining success in terms of making a difference in the lives of their team members, customers, or the wider community.
Nabil says that challenges can make you stronger but that depends on how they are approached, the support available, and the lessons learned from the experience. One must embrace challenges with a growth mindset, leveraging them as opportunities for learning and development. When faced with a challenge, one must dig deep and find the strength to overcome it. "This can be a very empowering experience, and it can teach you a lot about yourself," he affirms.
Taking a Leap of Faith: Joining the HR Industry
Nabil was inspired to take the step of faith into the HR industry because he believes in the power of people. He believes that people are the most important asset of any organization, and that by investing in people, organizations can achieve great things. Nabil also believes that HR professionals can play a vital role in creating a workplace where people can thrive.
Nabil was drawn to HR because it is a field that is constantly evolving. There are always new challenges and opportunities, and he enjoys the challenge of staying up to date on the latest trends. He also enjoys the variety of work that HR professionals do. "We are involved in everything from recruiting and hiring to training and development to compensation and benefits. This variety keeps the work interesting and challenging," he explains.
Nabil is passionate about helping people reach their full potential. Everyone has something special to offer, and Nabil wants to help people find ways to use their talents and skills to make a difference in the world. It is true that HR professionals can play a vital role in helping people achieve their goals.
Alkhorayef Group, and its services
Alkhorayef Group is one of the biggest groups in Saudi Arabi with a diversified portfolio of businesses in the fields of agriculture, energy, water, petroleum, printing solution, commercial, spare parts, investment and manufacturing. They also have a growing international presence, operating in over 40 countries and six continents.
The group was founded in 1957 by the late Sh.Abdullah Ibrahim Alkhorayef, and it has since grown to become one of the largest and most successful companies in Saudi Arabia. Alkhorayef Group is committed to providing its customers with high-quality products and services. The group has a strong focus on innovation and sustainability, and it is always looking for new ways to improve its operations and its products.
Alkhorayef Group is a major employer in Saudi Arabia, and it is committed to providing its employees with a safe and rewarding work environment. The group also supports a number of social and community initiatives, and it is committed to making a positive impact on the lives of the people of Saudi Arabia.
Contributing to redefine the Human Resources industry.
Nabil has been working in the HR industry for over 23 years and has seen a lot of changes in the way HR is perceived and practiced. In the past, HR was seen as a cost center, and its primary function was to ensure compliance with labor laws. However, Nabil worked hard in the past years to show the importance of HR in driving business performance. As a result, HR has become a strategic partner to business leaders, and its role has expanded to include a wide range of activities, such as leading digital transformation, employee development, performance management, culture change and business partnering.
One of Nabil's most significant contributions to redefine the HR Industry was the development of a new model for HR called "HR World Class Methodology." This methodology has been built on 6 pillars:
Center of Expertise
Digitalization focus
HR solation services
Kaizen – continuous improvement
Costumer services excellence
Professionalism at work
"It makes me feel very proud to have been the leader of this initiative, designing a very clear road map to help the organization reach world class HR practices," Nabil exclaims.
Change management and culture change is one of the most difficult roadblocks Nabil has faced. However, he claims to have learnt a lot from these roadblocks. He learnt that it is important to be patient and persistent. He also learnt that it is important to be able to articulate the value of HR in a way that business leaders can understand.
"I am confident that, with time and effort, I will be able to overcome these roadblocks and make a significant contribution to the HR industry," Nabil asserts.
"Never give up. It is important to never give up on your goals. If you are passionate about making a difference in the HR industry, you will eventually succeed."
Message to Aspiring HR Professionals and Business Leaders
Nabil's wise words of advice to aspiring leaders are:
Be passionate about your work: If you are passionate about your work, it will show in your work and in your interactions with others.
Be a good listener: One of the most important skills for an HR professional is the ability to listen to others. Listen to what employees have to say and be open to their ideas and suggestions.
Be a good communicator: HR professionals need to be able to communicate effectively with employees, managers, and other stakeholders. Be clear and concise in your communication and be sure to listen to feedback.
Be a team player: HR professionals need to be able to work effectively with others. Be willing to collaborate and be open to new ideas.
Be a leader: HR professionals need to be able to lead and motivate others. Be clear about your goals and be willing to help others achieve their goals.
Empowering The Workforce to Reach Their Fullest Potential
Nabil's personal goals as an HR leader are to:
Build a high-performing HR team: Nabil wants to create a team of talented and dedicated HR professionals who are passionate about helping Alkhorayef Group achieve its goals.
Create a culture of innovation and continuous improvement: Nabil wants to create a workplace where employees feel empowered to take risks and innovate. He also wants to create a culture of continuous learning and improvement.
Make a positive impact on the lives of employees: Nabil wants to help employees reach their full potential and achieve their goals. He also wants to create a workplace where employees feel valued, respected, and supported.