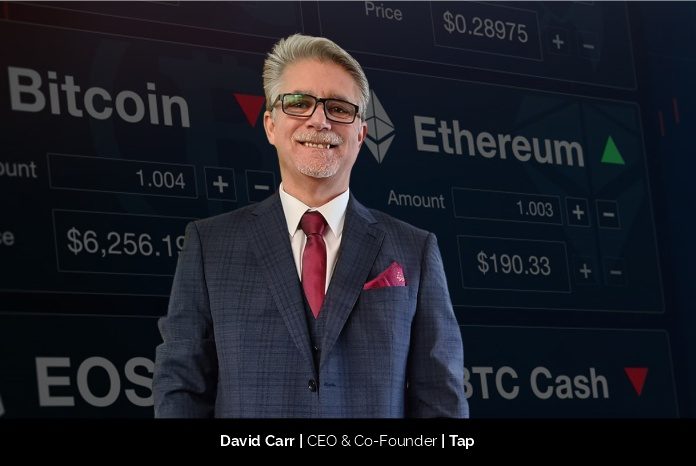 Each person's definition of success is unique to their goals and aspirations in life, but the first step to reaching success is believing in yourself and uplifting others to do just that.
David Carr, CEO and Co-Founder of Tap states that the definition of success is very personal to everyone, for him, success is the ability to define his own journey. "In doing this I can decide where my destination will be," he says.
Leading A Company To Success Requires A Leap Of Faith
In the early 1990s in Australia, David joined a bank as a junior, following some success in the role he was offered a transfer to London. After a few years in banking, he was asked to get involved in a "New Concept" that was making waves in the USA. This was the start of the Gift Card industry in the UK. Once gift cards started it was not long before he was involved in the first Prepaid Mastercard product in Europe called Cashplus. Following this product, David has been involved in the launch of 67 Card programs in multiple countries around the world. Tap is the first payments company that he has built that is partly owned by him, this was a leap of faith based on the belief that the product he was building was something people needed and wanted.
Challenges Make You Stronger
Challenges happen regularly in almost every industry, however, in the Fintech space some of these challenges can be both expensive and time-consuming. "Anticipating what may challenge you is not easy, especially when launching a brand-new product but being able to roll with the challenge to adapt and overcome the issues is a key to success," says David.
Tap And Its Services
Tap was a concept that came from David's co-founder Arsen Torosian. Arsen approached David about his concept of providing a "Crypto Banking" product. This was in 2017 and David believed that he was ahead of his time. The biggest challenge initially was the fact that neither Visa nor Mastercard was interested in providing a card that had a Crypto Currency element. Following a full product definition that was presented to them, Mastercard approved the product concept and Tap was born.
There were choices available in terms of whether to be regulated or not, in David's opinion regulation is an important part of any financial services product. Due to this belief and the fact that he believed every Crypto product will eventually have to be regulated they decided to become regulated from the start of their journey. Crypto regulation was not common when they started however there were a few choices of jurisdictions available.
After a lot of research, they decided that the regulation provided by the Gibraltar Financial Service Commission was the most comprehensive licence that they could apply for. The DLT Licence that Tap has provided with the regulated regime to offer all of the Crypto related elements they needed to offer a fully functional "Crypto Banking" product.
One of the key innovations of Tap is the middleware layer they provide. This middleware is connected to multiple crypto exchanges, the system looks for the best price and liquidity positions on each exchange to facilitate the best deal for the user. Effectively by joining Tap, users complete one verification which gives access to the "Best Price" option from all of the exchanges connected.
Tap provides both consumer and corporate users in Europe the ability to receive, buy, sell and trade 15 different cryptocurrencies today with more being added soon. Tap stores all user assets in a $100 Million USD insured secure cold storage facility but provides real-time access to the assets when required. All users within Europe are offered a GBP and or Euro bank account that is not named Tap but in the registered user's name. These accounts can be used to receive deposits in fiat in real-time and at zero cost.
The accounts can be used to pay almost anyone by bank transfer. Consumers are provided with a Tap Virtual Mastercard as soon as the account is approved, they can then choose to request a physical Tap Mastercard which arrives within a few days in the post.
This product with Mastercard was the time they had approved a Crypto related product to use their payment rails, and the Tap Prepaid Mastercard was the first live Crypto Card offered in Europe.
Redefining The Financial Services Industry
David believes that he has contributed to the enhancement of the way Fintech is used by designing products that have to enhance the usability of funds in both a cost-effective and accessible way. He launched the first "Travel Money" card in Europe which helped to define the way travellers can spend money when not in their home country. This product was launched when travellers' cheques were still a common way to access money when abroad.
From a consumer perspective, it was one of the easiest products to understand as they could see
these as a "Plastic Travelers Cheque" with the convenience of using the cards to buy almost anything anywhere that accepted card payments. All this with a better exchange rate than the traditional banks.
Innovation is always key to a successful product; without innovation, you can be seen as just another option. Innovating what users want even if they do not know it themselves can again be challenging however very rewarding. One such innovation was the ability to "Freeze" your card if you misplace it or left it somewhere that someone else could access it, in the start this was by sending an SMS from the registered mobile phone number with the instruction to freeze the card.  This could be unfrozen by the user when the card was safely in their hands again and ready for use. "Innovation is usually quickly copied by competitors; although sometimes it takes them a lot longer, the freeze your card is a great example as now most European banks offer this functionality but was 15 years afterwards. This can be annoying for the innovator but also fulfilling that your idea is then available to more people from more providers," explains David.
David's Vision For The Company
The Crypto space is still a relatively new industry, and it is David's ambition to make Tap a global brand. This requires the launch of local products in a lot of countries and regions around the world. By developing the local infrastructure in each region, the product will be fully functional almost everywhere.
This requires a lot of hard work, regulatory approvals, local partners and defining elements that may be unique to that region; that is the key to success. Tap provides an instant exchange of Crypto to fiat and vice versa so users are always in full control of their funds no matter what the form is.
Currently, Tap is in a beta test of a DeFi earn program which in effect will allow users to put their assets to work 24/7. Each available asset will earn a yield value, the yield is paid out weekly and there will be no tie in so a user can withdraw the asset whenever they need to but of course, they would lose the yield earning potential from then on.
This is quite attractive for users given a large number of fiat currencies are in a negative interest position from the traditional banks. By buying a stable coin the users can earn up to an 8% yield on their fiat without less fluctuation risk associated with some cryptocurrencies. Tap has already agreed on a road map for the launch in Australia and then in Southeast Asia. They are now in discussion with the US, Canada, LATAM, and the Middle East. They plan on rolling out the product to as many users as possible.
Achievements As An Inspiring Business Leader
In the mid-80s, David joined the Australian Army and became a non-commissioned officer in the Signals Corps. After around 6 years he retired from the Army and joined the banking industry.
During his time within the fintech space, he claims to have been lucky to be involved in the definition of products that have changed user behaviour and the way the industry interacts with them.
He was invited to join the Payments Association which is an industry body in London as an ambassador. This role allowed him to help people joining the industry to select the right path and avoid some challenges that will undoubtedly arise.
"Being a judge on the Pay 360 Awards which is now in its 12th year is an honour to be a part of as this allows me to help select winners for industry awards which is a great experience to work on," exclaims David.
Responsibilities As CEO & Co-Founder Of Tap
David, who describes himself as a 'Tenacious' person states that as the CEO of Tap his overall responsibility is to ensure that all elements provided are working efficiently. This includes recruiting the right people to provide the operational delivery and support that all Tap users deserve.
He also adds that security of the assets under management (AUM) is a key responsibility of the CEO, ultimately ensuring that the right partners are connected, provide the levels of service required and maintain the security of all assets is one of the most important jobs of any CEO in this space.  Tap holds a lot of the wealth of our users, we take the responsibility of ensuring these are secure as our highest priority,
Maintaining A Work-Life Balance
"Like most founders, balance is not always easy to achieve, especially in the early days of a product," says David.
Now that Tap has grown, the balance is slightly better as choosing the right team to make decisions and take actions without needing him to get directly involved has been really helpful. "Without the right team, it would be almost impossible to have any Work/Life Balance," he further states.
David's message to aspiring business leaders is: Ensure that the product you are building is solving a problem, not a product that is looking for a problem to solve. There are a lot of products around that think they are solving a problem, however, when you investigate the product the problem is not easily visible. Without solving a problem most products enjoy some short time success, but to really grow, you need to solve real problems for most users.