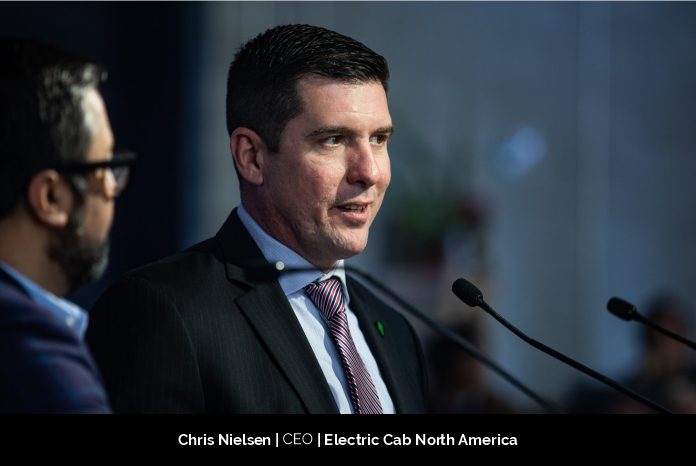 Microtransit is all set to be the next-gen mobility revolution that is all ready to impart on-demand, flexible and technology-enabled service. However, an emerging innovative leader Chris Nielsen, CEO of eCab (Electric Cab), came up with the idea of bridging the commuting gaps with low-speed vehicles that are quite environment-friendly since they are fully electric. Before founding eCab, he had always thought of pursuing his graduation from a Law School. For him, eCab was a way of supplementing his passive revenue stream that turned into a full-time occupation swiftly.
He is also a panelist and speaker who shares his inspiring story everywhere. Sharing his major achievements after he dedicatedly worked for the success of eCab; he says, "I've been able to share the eCab story at conferences and forums in the US, UK, Canada, and Norway as a thought leader in the world of microtransit for the last 5 years. This is my favorite part of the job."
Foundation of eCab
When Chris was in college, he worked at a hotel in downtown Austin where he witnessed a significant gap in the urban mobility that was neglected by their current providers. Many of the guests would need rides in the mile range, and no for-hire services were ready as it was a low fare opportunity.
He then conducted his research and understood that low-speed vehicles would meet the desired need perfectly, and that was when he decided to quit his job and get started on his mission to introduce eCab.
Conquering Impediments along the way
As the famous adage by Roy T. Bennett says, "Life is about accepting the challenges along the way, choosing to keep moving forward, and savoring the journey." Chris takes challenges as the medium to learn valuable lessons and progress ahead in a better way. He shares, "Life would be very boring if everyone bats 1,000. Every struggle creates character and this is true in all aspects of life."
The main challenge that they faced had no existing laws on the books that codified their specific service, which led to fighting multiple courtroom dramas with the City of Austin and catching media attention until they received a final nod for operating authority in 2011.
Innovative services of eCab (Electric Cab)
Being a micro-transit/last-mile mobility platform, eCab imparts efficient, zero-emission micro-transit services to denser urban cores, corporate campuses, as well as master-planned communities.
The best part is that their company encompasses services of both typical taxi and advertising space and are introducing a new commuting step called Microtransit by partnering with other companies. As their service is spreading wings ahead, they are on a mission to connect people to public transportation so that they can easily reduce traffic congestion, single-use vehicles, and carbon emissions. In this way, all commuters can be more productive while they are reaching their destination than spending solo time in their own vehicles.
Users can download the app via Android and iOS platforms to book and track eCabs in real-time and avail all the amazing benefits.
Revamping the automotive industry with eCab
As the new advancements in technology keep adding each day, it is crucial to keep adapting them in their solutions to have the edge over the competitors. Adding a dash of innovation, Chris states, "It's the Wild West out there with all of the competing emerging technologies and mobility platforms, and we stay on the bleeding edge of technology without getting bored."
Their innovation makes them stand apart from their competitors and keeps them pushing beyond limits. He believes that his non-stop innovation is the core of always uplifting the brand name one step ahead of their competitors. Thus, they will always blow others away with their creativity and out-of-the-box features.
Managing Roles on Professional and Private fronts
As the CEO of eCab, Chris knows that the micro-transit ecosystem is still budding, and no clear rules and best practices are in space. Thus, he is aware that he always has to wear multifarious hats every day. He adds, "One day, I'm presenting a governmental body with operational data; then on another day, I'm underneath a vehicle tracing a ground fault that the technicians can't locate. I run the full gamut in between and love every minute of it." Although his role is quite challenging, he never gives up and believes in giving his best to run the company.
Initially, he believed in having more staff; however, now he always prioritizes quality over quantity and is proud to have a strong team that shares a common goal and has stayed with him for a long time. They are all striving hard to grow this company together and are super-keen to tackle the post-COVID world without any hassle.
As far as maintaining a perfect balance in work and home is concerned, he always keeps his scheduled time off to spend with his family. He strongly believes in the saying that family brings the best out of an individual and thus, always finds it rejuvenating to spend time with his family without any work intervention. He further adds, "My calendar has time blocked out so that I'm unplugged and with my family."
Future Roadmap of eCab (Electric Cab)
COVID-19 pandemic has taken a toll over all the transportation industry, and eCab has also faced a considerable loss. However, carrying a positive approach, Chris shares that the team is aiming to recapture the market share that they lost owing to the pandemic in this short term. Further, in the long run, they desire to be in every nook and corner of the world wherever the last mile/microtransit is required.