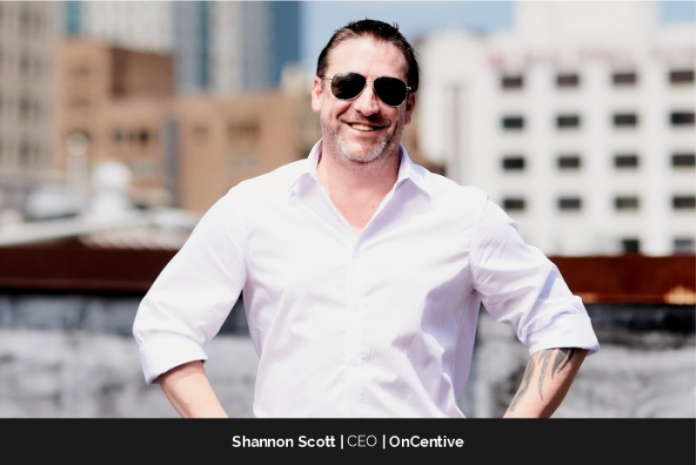 As the CEO of OnCentive – Tax Credits & Business Incentives, Shannon Scott, is not your typical businessperson. Having invested in over 15 enterprises in the last 20 years, he has held the CEO position in 11 of them.
But, instead of stock prices and board meetings, Shannon is all about people and visions. He excels at helping business owners learn about the unclaimed tax benefits and credits worth billions of dollars that are due to many of them. It's for this reason perhaps, that OnCentive is known as "the Robin Hood of the business world."
Mastering the Fintech and financial incentive space
Shannon is regarded as one of the leading tax credit specialists in the field, has advised some of the most prosperous companies in the nation, and assisted over 75,000 companies.
He notes that, while the OnCentive name is fairly new, the roots of this company were formed over 20 years ago. In other words, he has been building his experience and vision for the financial incentive / financial technology space for quite some time.
"I don't want to tip my hand on my age here, but that was decades ago. In the first company I owned at 19, I learned the importance of cash flow, and how that can be a make or break for any business," he says, remarking that he's been fortunate to have learned "the hard way".
Prior to OnCentive, Shannon owned a series of companies in the HR, compliance, and financial incentive space. While he had the opportunity to go into many different industries over the years, he elected to stay in the Fintech and financial incentive space, because he believes in being exceptionally knowledgeable about one thing, versus building disjointed knowledge and experiences.
"I want to be a master of a trade – not a jack of none, and I feel every company I have built has in some way inspired the next one," he observes. "Some say faith, others may say insanity. I do not think true leaders ever really 'chose' the path. It naturally evolves."
Helping business owners receive tax credit opportunities.
The US government provides more than 3,000 state and federal incentive programmes to commend business owners for doing fundamental tasks, including keeping employees, creating jobs, and improving internal procedures, among other things.
There are numerous federal and state funding opportunities to support small and midsize businesses as they continue to hire, retain, and expand their workforces, and OnCentive helps businesses become profitable by connecting them with government initiatives that boost their cash flow.
OnCentive works with clients as a true profitability partner, making it easy for business owners to find and qualify for the business incentives and tax credits that are due to them. The firm has also launched an industry-leading Profitability Platform for locating, calculating, and processing tax credits, recovery programmes, and hiring incentives.
OnCentive has processed billions of dollars in financial incentives and have never had a single dollar returned to the IRS. Shannon hopes to ensure that the company never loses the ability to say that or loses its exceptional level of service distinction.
"In reflection of my personal style and expectations of self, I will continue to demand that the company maintain the highest standards of integrity and compliance," he declares. "I also want to be a proactive participant in making sure business owners receive, and are offered, tax credit opportunities that help keep American businesses thriving and profitable."
While business owners are his customers, Shannon also see them as his peers, and his inspiration for why tax incentives are important. "We, as a country have always rewarded ingenuity and business gumption, and whatever role I can play in that, I want to," he maintains.
Building a business with focus, integrity & excellence
Shannon notes that if you start working hard, and believe in what you're doing, somehow, one person begins to follow you, and if you're lucky, you turn around, and there's a second, a third, and so on.
At this point, he has built many companies, and every time he turns around, and sees people following his path, he feels very fortunate, especially since the people that have chosen to follow him are people, he truly believes in.
"I believe watching that team walk with me has been the greatest inspiration to keep taking more steps forward. As for why I chose Fintech – the two cornerstones of business have always fascinated me – to get to build both together was really inspiring," he declares.
What Shannon likes about this industry and business landscape is the focus and excellence it demands. There are literally hundreds of tax credits, and there are compliance and legal implications for all of them.
He believes that the business itself demands integrity and myopic focus, and that technology has been one of the greatest facilitators for them, in terms of ensuring their standards of integrity and transparency are documented every step of the way.
"I think the ability to innovate – to create technologies that assist in maximizing financial opportunities, as well as compliance – is what makes us leaders in the industry, not fly by night companies," Shannon observes.
A talent for building fantastic teams.
Shannon believes that the growth of OnCentive goes back to the people walking beside him in the build. While it's tempting to attribute his companies and the success they have had to his expertise, he insists that would not be 100% accurate. "One of my greatest areas of strength, or expertise, is in building fantastic teams. I have learned to hire talent – and then get out of their way," he notes.
Shannon's primary responsibility is to be the core support system for the Executive team, and he believes that they can accomplish so much more if he's the wind at their backs, instead of trying to always lead everyone on every initiative.
So, first and foremost he sees his primary role as creating the stage for them to lead in their respective areas. Secondly, they all need a horizon line and a vision for where they are all marching. "I see it as my responsibility to maintain that vision, shift when necessary, and be the greatest navigator to our 'North Star'," Shannon maintains.
A dynamic CEO creating a shared vision.
As a dynamic leader, Shannon notes that his day is filled with a menagerie of activities that reflect being both, a visionary, and a cornerstone of support for his Executive team. He also insists that keeping himself motivated has never been an issue, as the opposite is true for him.
"I find it harder to stop or slow down! Fortunately, I feel my enthusiasm is contagious, or at least it feels so, because I have a passionate team around me. In fact, some of the talent I have recruited makes me feel like I need to pinch myself to be sure it is real," he states.
Shannon points out that many of his top leaders are considered the "top" of their industry, so they not only share in his vision – they add to it. He explains that when a CEO is open to share the vision CREATION, not just the IMPLEMENTATION, real magic and belief comes from the team.
Shannon notes that he doesn't really have one proudest moment that he recalls; rather he has proud moments every day. It gives him pride on a daily basis to walk around their offices and see their growth and the amazing staff they have put together. "I am proud of the people around me who elevate me and make me better," he declares.
Creating 'shareable success'
Shannon remarks that, while a lot of people will tell you that work/life balance, or making the most money, is what defines success, for him, success is far more esoteric. It is the ability to look at himself in the mirror every day, knowing that he's building a company he's proud of.
It is in knowing that he can be proud of the way he conducts himself during the act of building that company. It is in knowing that he's making decisions that not only create financial success, but better the lives of his employees.
And mostly, and most importantly, Shannon notes that if his team, his people, are not feeling successful and sharing in the rewards of the company – there is no true success. "If I do not create 'shareable success', I have no success at all," he insists.
Being present in the moment is balance.
Shannon is also not of the opinion that there is a true "work/life balance" for an entrepreneur. He remarks that, while it sounds great in theory, when you are deeply passionate about your business and deeply passionate about your family, you are always going to be at war with yourself.
At home, he strives to be the best father he can be, and when he's in the office, the best CEO. He notes that if you're, at least, mentally present in the spaces you're in, that's a huge leap ahead of where most people are.
"I try to remain present in the role I am in at the moment, and that creates a sense of balance. I am not at my son's soccer games reading my email. I am not in meetings, distracted and texting friends. I try to give the room all of myself, and that is the fairest way I know how to respect my equal passions," he explains.
Nothing is more important than finding your tribe.
Shannon notes that the greatest challenges in his life have been his motivators and believes that 'everything is personal.' For him, there's no such thing as a personal or a professional journey – it is one and the same.
"The challenges that come at us, regardless of their source, show us what we're made of. We often talk about the greatness of men that stormed the beaches of Normandy, not the beaches of the Bahamas. Without adversity we have no ability test of what we are made of," he explains.
For aspiring entrepreneurs, Shannon's advice is simple: Find your tribe. Surround yourself with people that believe in you, that you trust, that you can confide in, and work shoulder to shoulder with. Nothing will be as important as the people that comprise your business. Find the right ones… the great ones… and reward them well. It will only add to your shareable success.