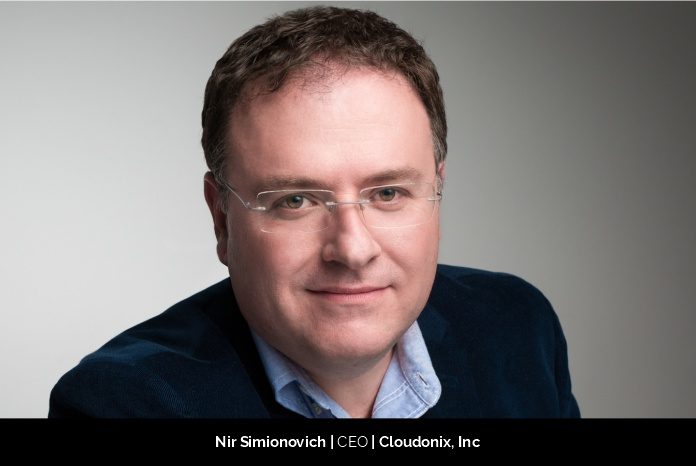 Technology is running at its fastest speed to change everything on this planet. Not new, Cloud computing is now prevalent in ways that were never considered in the past. People are crazy about it because they want to carry out all their tasks using this advanced, flexible, and cost saving technology. Nir Simionovich is one of those influential leaders who is now building the future of cloud computing.
Wearing the badge of the CEO of Cloudonix, Inc., Nir has a long way to go even after such astounding success. With this aura around him, he has now become one of the most innovative leaders with the potential to reshape the future.
Holding a Passion for Technology to Transform the Face of the World
Growing up with an electrician father, Nir found the love for science and technology at a tender age. Because of his deep love and enthusiasm for a domain so much in demand today – he calls himself a techno-geek.
What led him in the cloud computing direction was an obsession with mini-computer systems and other devices used by IT professionals in the 1990s.
According to him, cloud computing has existed since the 1990s. Those years laid the groundwork for what we now call cloud computing in the digital era. It was this evolution that intrigued him and allowed him to follow his interests.
He says, "Personally, I find the intersection between Cloud Computing, Communications, and Human Interaction to be most interesting and challenging. Analyzing data is important, machine learning is crucial, but at the end of the day – it's all about the people. Many businesses tend to forget that. This is where Cloudonix is and what we are passionate about – taking the customer and putting them back at the center of the business – as they should be."
Obstacles Seldom Obstruct the Horizon.
He believes, "A Day that passes without learning at least one thing that I didn't know the previous day – is a wasted day. The only challenge that exists is the 'I want to learn something challenge' – everything else is purely mechanical."
He is an individual who believes that to emerge victoriously, one must invest himself in the work that he does. He was able to create a prosperous empire of his own by reading and expanding his knowledge library. Because the niche he's working on evolves with every passing day, his journey has never been a cakewalk.
He read, experimented, and researched everything he could do to remain well updated on the latest developments and to achieve the position where he is today.
Efficient Strategies in Place to Stand Apart
Visionary leaders approach their actions differently, making them stand out from others. With this in mind, Nir has a unique strategic plan of action that distinguishes his company from the rest.
Even though the competition is highly intense, he leaves no stone unturned to take advantage of the opportunities and technologies available to achieve success.
Since every company has its way of functioning and a bag full of tricks, staying abreast is challenging but not impossible for our Inspiring leader. He first understands his duties and then sets out to search for the right partner.
To elaborate it well, he says, "I'm not saying that you should not learn the others, but I am saying that you should keep your mind open on a 'need to know' basis. Be informed – but don't go neck-deep on each topic."
Contributing with Vigor to the Evolving Landscape of Digitization.
Holding a keen interest in technology and its advancements, Nir always stays in close touch with the recent developments and inventions. This intense passion is skyrocketing his success and making him more prosperous.
He understands the changing technology better and works towards utilizing it to make human interactions better and more convenient.
While everything today is being replaced by its digital counterpart, he intends to leverage this cloud computing system and bring a massive change to shape the future for the better.
His company Cloudonix works towards the same to make human lives worthwhile. Several customers use his services that aim to enhance the user experience and make it frictionless, this was especially important during the pandemic lockdowns.
He adds, "Cloudonix is commoditizing communications, infrastructure, making it available to the public, at a fraction of the cost related to building or buying it."
A Leader Leading to a Bright Sunrise
Having started with a small consulting company called Greenfield Technology, Nir has now become a prosperous entrepreneur who has inspired millions of people out there with his outstanding work. His organization plays a vital role in making the contact mechanism even more convenient and seamless.
Now, as the CEO of a successful business, he has several characters to play. Anything that makes a successful venture has to be closely scrutinized by him.
"Hmmm…… As a start-up CEO, I wear many hats. Engineering, Customer Success, Marketing, Sales – you name it." He adds to outline his responsibilities as a CEO.
As a leader, he ensures that his team's efforts are not wasted. He also needs to keep track of all events and encourage others to affect other people's lives positively.
Besides being a hard-working CEO of a successful company, Nir also needs to maintain a perfect work-life balance. To pay equal attention to both sectors, he ensures that he works intensely on the weekdays.
By doing so, he gets the weekends to spend quality time with his family and give appropriate rest to his body.
He adds, "It allows me to take my mind off from work, concentrate on something totally different and let my mind drift to other places in the process."
A Promising Future with a Long-term Vision
To mold the future of cloud computing, Nir says, "Our vision is to become the 'network of networks,' sort to speak." Nir's goal is to build a global communications system that can change the meaning of communication. He aims to provide people with smooth communication such that no one runs into latency problems or has difficulty interacting over a digital network.
Performing a live demonstration to a potential customer by surprise has been the biggest accomplishment of his life to date. It's because there's a lot of uncertainty around such demos. He explains the uncertainties by saying, "It may be amazing, but it can also be a crash and burn."
Moreover, he has two plans to bring into action this year. Both include the expansion of internal revenues and the strengthening of the global network footprint. This year, Nir plans to expand the services of Cloudonix to more than 60 countries and boost its overall revenue.