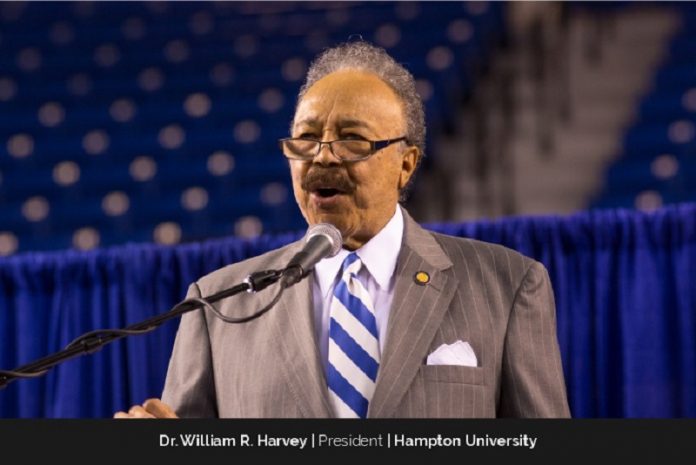 Few things are more significant than a life spent in the leadership, administration and service of one of the nation's premier educational institutions.
Dr. William R. Harvey has served as President of Hampton University since 1978 and has had an illustrious career as an American educator, academic administrator, and businessman.
A distinguished and visionary leader in the field of education, he believes that "Decency is as important as degrees."
A passion for education and service
A native of Brewton, Alabama, Dr. Harvey understood the value of education in bettering oneself and one's prospects at an early age. His first professional job was as a high school history teacher and the remainder of his professional career was spent in the higher education arena.
After graduating from Talladega College, he served three years on active duty with the United States Army. During that time, he saw duty in Europe and in the United States. Later, he earned a Master's Degree in History from Virginia State University, after which served as the deputy director of the Southern Alabama Economic Opportunity Agency.
In 1968, Dr. Harvey was the recipient of a Woodrow Wilson Foundation's Martin Luther King Fellowship which allowed him to attend Harvard University to acquire his doctoral degree. After obtaining a Doctorate in College Administration from Harvard University, he served as the Assistant for Governmental Affairs to the Dean of the Graduate School of Education at Harvard University.
Prior to becoming the President of Hampton University, Dr. Harvey took his first real stab at administration when he served as the Administrative Assistant to the President at Fisk University and Administrative Vice President at Tuskegee University.
Aside from his career as an educator, he is also an astute businessman and became the first African-American owner in the soft drink bottling industry when he and his wife, Norma Baker Harvey, purchased a Pepsi-Cola Bottling Company franchise together in 1986.
"I have always been passionate about education, as this was something my parents stressed to me early in life," says Dr. Harvey. "I enjoyed my educational experiences and wanted to contribute positively to others' educational experiences."
Overseeing four decades of growth at Hampton University
Over his journey spanning four decades at Hampton University, Dr. Harvey has managed to do just that, and is the longest serving president in the school's history. "As a result of my wonderful team, Hampton has had a multitude of successes during those 40 plus years," he says.
Some of those successes include the prestige of being the first and only HBCU (Historically Black College Or University) to have 100% control of a NASA mission. In fact, Hampton University currently has four satellites flying in space, and the first one was a $140 million NASA funded project.
The University has a giant antenna as part of the Severe Weather Research Center that can detect storms, tornados and hurricanes up to 2,000 miles away.
It is also home to the Hampton University Proton Therapy Institute (HUPTI), the largest free-standing proton beam cancer center in the world which treats prostate, breast, lung, ocular, pediatric, spine, head, neck and brain cancers and is helping to ease the misery of cancer patients and saving lives.
Under Dr. Harvey's able administration, Hampton University has introduced 92 new degree graduating programs, 12 of which are doctoral programs. It was classified by the Carnegie Commission as a 'High Research Activity' institution where faculty and students conduct cutting-edge research in various areas.
Recently, they also received a $17.7 million grant from the US Department of Education to establish a state-wide business incubator to assist with economic recovery resulting from the pandemic.
The beautiful Hampton University campus with water on three sides has also expanded to include 30 new structures, which blend majestically with the historic structures.
One of these improvements includes the Hampton Harbor Project, which brings in over $1 million a year, all of which goes directly to Hampton University, and has also benefited the city of Hampton by creating new jobs, new living accommodations, and a broader tax base.
In fact, the University owes much of this growth and development to Dr. Harvey's keen business acumen and skill in fundraising, as he managed to increase Hampton University's endowment from $29 million to over than $400 million over four decades of leadership.
In 1992, he created the Job Education Training Corps (JET) to prepare high school students for college life, in the community outside of Hampton University, by developing and strengthening their understanding of reading, communication, mathematics, and health issues.
Dr. Harvey practices what he preaches and, along with his wife, has personally contributed over ten million dollars towards student scholarships, as well as faculty and staff salary increase during lean financial periods.
"Decency is as important as degrees."
But what Dr. Harvey is most proud of is the fact that Hampton University attracts outstanding students with high SAT scores, who bring positive national and international attention to the institution by winning prestigious scholarships and competitions, conducting research, as well as engaging in prominent leadership and service activities.
"What excites me the most about Hampton University is our students," he says.  "We have some of the best and brightest students in the world. Our students go on to be leaders in their jobs and in their communities."
Redefining technological education during the pandemic
Early on in the pandemic, Hampton made a decision to shift to online instruction and closed their campus to visitors. They also instituted a vaccination mandate for faculty, staff and students.
"Leading the university in the midst of a pandemic has been different than any other time in my career because the health and safety of students, faculty, staff and administrators are threatened by the virus," says Dr. Harvey.
The University adapted quickly to the drastic changes in the educational arena and expanded technical training by redefining remote synchronous learning and instilling it into practice. Using technology is now part of each instructor's toolset at Hampton.
Whether they use YouTube to stream content, Blackboard Collaborate to post communications, or Apps to share data delivery, the faculty and students are more accepting of change and understand why technology must be incorporated.
"I agree that challenges make you stronger, says Dr. Harvey. "My personal practice and advice to others has always been to face challenges head-on and deal with the situation at hand."
Having found that the best course of action during challenging times was to make the best decision possible with the information available at the time, Dr. Harvey did not hesitate to adopt that philosophy in making the necessary changes at Hampton University.
"At Hampton, we make the best decisions that we can for the university with the information that we have at the time," says Dr. Harvey. "This has always worked for us and we continue to act in this manner during these unprecedented times."
Always the visionary, Dr. Harvey is future focused and believes that technology contributes to and redefines technical education because it better prepares their students to be employment-ready.
"Our effort to augment technical training by collaborating with industry partners like Cisco and Microsoft contributes to having stackable certified students for the future," he says.
Never compromise high standards and first-class values
Dr. Harvey believes that one should never compromise high standards and first-class values, that trust is the foundation for any positive professional and personal relationship, and truth is the cornerstone of trust.
He also believes that leaders and good managers should practice and teach the importance of vision, goal-setting, follow-through, openness, asking questions and results in their everyday operations.
"At Hampton, we have a moral urgency to promote character development.  There are those who may criticize our position on this matter, but we should not abstain from doing what is right and best — not just for today, but for future generations," he says.
"Never compromise high standards and first-class values."
A disciplined and distinguished life in service
As President of Hampton, Dr. Harvey is responsible for the overall functioning of all aspects of the university on a daily basis.
"My day is filled with making decisions about university matters," he says. "I would define myself in one word as a leader. I believe strongly that leadership and good management are the keys to success of any organization."
His typical workday begins around 7 a.m. Before even going to the office, Dr. Harvey reviews his calendar for the day and begins jotting down some of the things he wants to accomplish. Next, he begins making phone calls.
When he arrives at the office, he holds his scheduled meetings as well as other meetings as necessary. He writes and reviews correspondence as well as disseminates materials to administrators for action.
"Although I have a busy schedule, I always make time for my family," says Dr. Harvey. "I remain motivated because I understand that the work I do is important and I enjoy seeing its results, particularly as it relates to the success of our students and graduates."
In addition to being President of Hampton, he has also served on the President's Board of Advisors on Historically Black Colleges and Universities as well as the President's National Advisory Council on Elementary and Secondary Education, the Fund for the Improvement of Postsecondary Education, the Commission on Presidential Scholars, and the U. S. Department of Commerce Minority Development Advisory Board.
"I define success as producing results," he says. "People often set goals, but many never do what it takes to accomplish them. To me, the results that come from setting goals and working hard to reach them, whatever they may be, equate to success."
Dr. Harvey hopes to see the field of education, including higher education, get back to teaching basic subject matter content and encouraging different points of view. He recently announced his plans to retire as President of Hampton University by June 2022.
"I am in the midst of my final year as president of Hampton, as I will retire in June 2022," he says. "My hope is that the university will continue on its upward trajectory of graduating leaders and champions as well as impacting the community, the nation and the world."
There's no doubt that Dr. Harvey's monumental legacy of transformational, visionary leadership and exemplary service has made a momentous impact in the lives of everyone at Hampton University, transforming an institution of higher learning into a world-class research institution.
As he says, "Giving thanks exemplifies virtue and graciousness." For all the students who now have successful futures thanks to his administrative skills and generosity of spirit, it is to him that they owe thanks.