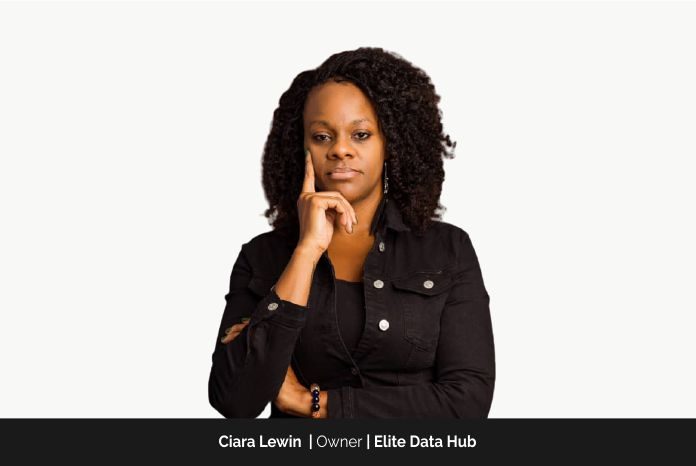 Being a woman in leadership has so many obstacles, both in the U.S. and in foreign countries. When you see the disparity in pay or recognition, many times it feels like an uphill battle. Ciara Lewin, Owner of Elite Data Hub, wants to be able to help those young female entrepreneurs find their voice and speak loudly about their passion.  She says, "In many countries that we serve, women's rights are still a hot topic and it's nice that we have been able to team up with women owned businesses to help them get ahead of their competition and do so proudly as women, mothers, wives, or minorities."
Ciara frequently speaks at all-girl high schools around Ghana at events and seminars, expressing how strong, powerful, and courageous they are as women. She emphasizes that women are born to be magnificent, and that, as queens and goddesses, they must claim their individuality and abilities. "It's been a blessing to see my words resonate in so many girls live and watch them take that torch and run with it," says Ciara.
Before Elite Data Hub, Ciara's first consulting firm, Elite Precision Consulting, focused entirely on working with US CEOs in the healthcare sector. She specialized in offering business and outsourcing advice and consulting services to executives and physicians in order to help them enhance their bottom lines and operate their businesses more efficiently. She says, "Starting my first consulting firm with no funding, staff or major resources and as a young woman was not easy, but with determination, positive energy and passion it helped propel Elite to where it is today."
The Vision Behind Elite Data Hub
Many corporations in the United States were outsourcing jobs to India and the Philippines at the time. However, all they could see were dollar signs and how they might profit financially. They didn't take the time to learn about cultural differences, communication difficulties, or even how to really collaborate with the offshore firm. When Ciara listened to the offshore corporations' woes in meetings and conference calls, it appeared to be one-sided. Ciara got the concept for Elite Data Hub in two ways: at a meeting and during her alone time. She recalls, "I got my inspiration during a very intense meeting with a U.S. executive and an Indian executive, where the U.S. person was nearly yelling at the team. The Indian vendor couldn't help but feel defeated knowing they 'needed' that line of business but ultimately couldn't satisfy the expectations of the U.S. executive." Ciara goes on to say that later that night, while meditating, she realized she needed to be the one who not only helped the Indian firm but also many others who could be in the same situation. Ciara, too, saw a clear image of how to achieve it at the moment and immediately set about constructing the Elite Data Hub from the bottom up.
Elite Data Hub 
Elite Data Hub was developed to help offshore enterprises succeed outside of the United States. It consists of two areas: business consulting to assist organizations in moving to the next level and achieving larger and more ambitious goals, and strategic planning. Second, to assist smaller businesses in better positioning themselves to take on additional work and clientele in the United States. The company's staff worked months customizing its advisory services into bite-sized, inexpensive, and powerful solutions so that more businesses, regardless of size or financial circumstances, could benefit. It provides marketing services such as website and social media content production, slide deck design, contract negotiation and assistance, and company presentations to customers in the United States. Ciara asserts, "We hold free strategy sessions dedicated to offshore companies twice a month where we share relevant insights about the U.S. markets and how they can be better equipped to serve those executives and teams." In 2022 alone, Elite Data Hub helped over 3,800 companies outside the USA, and as Ciara mentions, "We are just getting started." 
As the owner of Elite Data Hub, Ciara spends the majority of her time learning about new difficulties that the company's clients face, both domestically and internationally. She takes this time to ensure that she is providing relevant counsel to both her staff and the public who attends her twice-monthly meetings. Ciara also devotes time to developing new goods and services that she believes may benefit the company's operations in India, Pakistan, Sri Lanka, Egypt, or Ghana. Ciara is a manifestor who visualizes, meditates, and acts in the natural world.
Improving with Every Challenge 
Ciara firmly believes that challenges make you stronger, but only if you learn from them. As Ciara discloses, she has had her fair share of roadblocks, including not understanding how to convince her target clients that her team was there for them and not in competition with them. She recalls, "As crazy as it may sound, many believed that we were their competitors despite many efforts to prove otherwise. Then, once we established our position, we gained credibility in the Elite Data Hub market, despite the fact that our services were essentially unheard of, especially coming from a company based in the United States." She goes on to say that while many people were talking about the difficulties of outsourcing, few, if any, were doing anything about it. As a result, once Ciara and her team overcame these challenges, they figured out how to serve the individuals she wanted to help while staying loyal to her principles, vision, and ambitions. She believes that if she hadn't faced obstacles, she would have continued to operate in a state of comfort and, eventually, fear, and her clients would not have benefited from what Elite Data Hub had to offer.
Keeping Everything Aligned and Balanced 
Ciara claims that she involved her children in her company from the beginning, whether it was having them listen in on calls or explaining to them why they needed to help more people. This, along with a healthy schedule and routine, enables her to grow the enterprises she does today without feeling bad about missing out on important family time.
Ciara implemented a plan for her staff from the start, in which every person, regardless of their function or task, benefited monetarily if the firm obtained new revenue. Ciara believes that this, coupled with mentoring sessions, open and honest dialogue, and genuine appreciation, has helped her build such an amazing and devoted team. Even when times have been rough, Ciara can still count on her team to be there and work at their best. She says, "Without my team, we wouldn't be where we are today."   
Self-confidence Makes Things Possible  
According to Ciara, one of Elite Data Hub's earliest advisory customers was an Indian firm looking to expand into a new market. They had several executives and teammates with a demonstrated track record of accomplishment under other companies, despite their lack of experience as a corporation. They began to believe that Ciara's methods were not bringing them the outcomes they desired after working with them for a while, but she insisted on telling them to trust the process. She recalls that shortly after, they began to achieve aims and goals that they had never imagined possible, and that this, above all, gave them the courage to set even higher goals and dreams. This was all done remotely without ever meeting face to-face, and that showed Ciara truly how a great leader, great process, and passion can take you to new heights.
True Success Reflects Your Authenticity
Success for Ciara is being able to wake up in the morning with a sense of self gratitude, peace, and abundance. She opines, "Knowing that you are aiming to reach a point in your life where you feel like you are the best version of yourself, and that the world can further benefit from the good that you have to offer. That is what this is all about." She further adds that success is not money or fame, but an internal feeling that is seen outwardly only through the authenticity of yourself.
Ciara's personal goal is to continue to do what she loves and do so with passion, peace, and focus. She asserts, "As a women leader, you have to be fearless, driven and unwavering but also have a sense of serenity about what you do and who you are."
One of Ciara's quotes that she reflects on a lot is "I am creating an environment where my highest self can flourish." She thinks this keeps her grounded and focused on what is important in her life and those whom she impacts.
Aiming to Availing a Progressive Platform
Despite the fact that management consulting is a large field, Ciara and her team have found a niche by addressing issues that most, if not all, US and international organizations confront while trying to achieve their goals in a more cost-effective and sustainable manner. Ciara assists with company development, operational efficiency, and sustainability, but her greatest contribution is to enable firms to collaborate across borders and seas in a way that no one feels like they are receiving the short end of the stick. She says, "This is our mission to help build great companies that in turn will create better families, communities, and countries." 
Elite Data Hub presently assists clients in seven countries, and Ciara plans to expand the company's sister company, Elite Africa, to other Asian and African nations. She claims that there is a lot of untapped potential in many regions of the world, particularly in developing nations, and Elite Data Hub wants to help such enterprises shine.