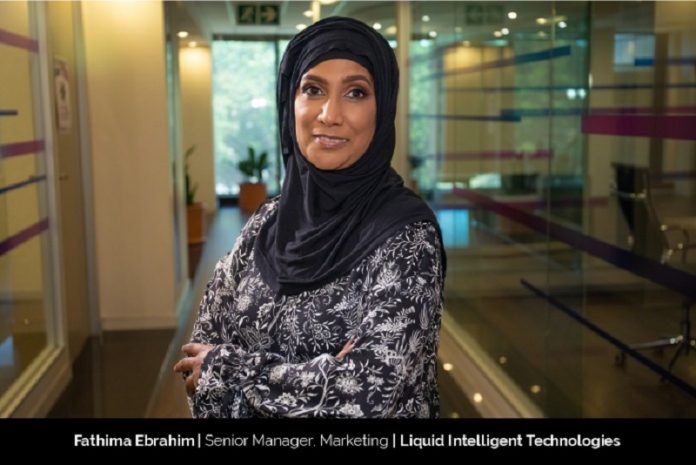 Placed among the top 50 leading corporate women in Africa, Fathima Ebrahim is an inspirational role model for her team and many aspiring women leaders. Fathima is a perfectionist. She is diligent. She rarely forgets something. And she does not mind failing and making mistakes.
And, as Senior Manager of Marketing (SA) at Liquid Intelligent Technologies, she is ensuring that all their plans are executed to perfection so that the company achieves its objectives and fully realizes its vision.   At Liquid Intelligent Technologies, Fathima oversees the management of the marketing department. Her responsibilities include crafting strategies and putting together necessary plans to ensure that her department meets its goals and objectives. She also manages the brand and brand reputation, specifically for South Africa. Budgeting and resource allocations are also an important part of her role. When it comes to resource allocation, she determines how they are assigned. Fathima also says that vendors and suppliers are very integral to her role in the company
Fathima wants to follow through on her South Africa CEO, Deon Geyser's vision. "And that vision is to make sure that our customers are at the heart of our work," she says. "Our customers for me are internal employees and then external customers. And your response and behavior play a role in making them feel that they are at the heart of the company's work."
Deon also stresses the importance of "operational excellence," Fathima says. So, she and her team try to continuously push the boundaries and come up with strategies to make things better. "I plan to ensure that I help him achieve his vision for the company," Fathima says.
Liquid Intelligent Technologies   
Liquid Intelligent Technologies, a business unit of Cassava Technologies, is a pan-African technology group present in more than 20 countries, mainly in sub-Saharan Africa. Founded in 1997, it has firmly established itself as the leading provider of pan-African digital infrastructure, with an extensive network covering over 100,000 km. Liquid Intelligent Technologies invests in strategic partnerships with leading global players, innovative business applications, smart cloud services, and world-class security. And as a result of that, it is redefining network, Cloud, and Cyber Security offerings in the African continent.
The company that started small has now metamorphosed into a comprehensive, one-stop technology group. Both private and public sector companies across the African continent have benefited from solutions offered by Liquid Intelligent Technologies. It provides them customised digital solutions through its several business units, which include Liquid Networks, Liquid Cloud and Cyber Security, and Africa Data Centres.
"We've invested heavily in our own network and technology," Fathima says. "We've created the largest single fibre network in the region, which stretches over 70,000km across borders to connect people locally, nationally, and internationally." Liquid Intelligent Technologies has no plans to stop at that achievement. "We're continuing to invest so we can connect people all over Africa," Fathima says.
Values and Vision of the Company
Fathima says that at the very core of their business is their belief that every individual on the continent has the right to be connected. At Liquid Intelligent Technologies we believe that the power of technology will create better and brighter lives for everyone and to make a difference in the lives of our customers.
Professional Life before Liquid Intelligent Technologies 
Before joining Liquid Intelligent Technologies in April of 2021, Fathima worked in the communications, PR, and media industries for more than 20 years. Her professional journey started at a very young age. She was only 20 years old when her father asked her to work with him to gain work experience. She had just completed her bachelor's in public administration, with a major in industrial psychology. Fathima jumped at the opportunity to work with her father.
Fathima's father was a taskmaster and also a perfectionist like her. And because of him, she got to learn about business, processes, and business ethics. After working with him for five years, Fathima moved to a different city to work as a principal at Rosebank College. She was 27 at the time. While she was at the college, Fathima says that she realized her passion for communications and media. So, almost seven years later, a new career in PR, media, and communications beckoned.
When she started in the media and communication field, Fathima dreamed of working for two companies, MultiChoice, which operates DStv and GOtv, and the British global, growth investor, Virgin Group. An opportunity to work for the former opened when an employee went on maternity leave for four months. And Fathima left her full-time position and accepted a four-month, temporary position at MultiChoice. She says that everyone thought that she was nuts to do that. But then her risk paid off, she ended up working at the company for ten years. "I used to say that I am not going to leave. I am going to stay, and I stayed for ten years," Fathima says. Prior to joining Liquid Intelligent Technologies, she worked at APO Group as Vice President of Media Relations.
While growing up, Fathima never envisioned where she wanted to be and her career choices were never deliberate. Now, she says, "I'm where I'm meant to be."
Success Can't Be Achieved On Your Own
Fathima believes in the phrase that "no man [or woman] is an island." When she says that, she means that no one can achieve greatness or success on their own. "So you have to surround yourself with those people who have different or complementary skills," Fathima says.
For her, humility is also part of being successful. "It is important to stay humble – just to remember where you came from, how you achieved that, and what you did to get there," Fathima says. "And you don't forget the people or the journey and the things that led you toward your destination."
Fathima also tells everyone, including those she mentors, that relationships are everything. "When you want to get done something in a hurry, you need to have these relationships where you can pick up the phone and say, 'I need help.' And people will help you because you have invested in building relationships," she says.
She also says that to be successful, one needs to be thankful as well as remain grateful. It means not talking down to anybody, Fathima says. "Arrogance has no place. You can be pretty successful and have done amazing things in your career, but if you are arrogant and talk down to people, that is how others will remember you."
Fathima also emphasises building up people, which in turn builds up relationships. Both are important factors when it comes to achieving success. And, personally, Fathima feels that she strives to be successful by operating out of the box. "I always tell my team the crazier the better," she says. "Dare to be different."
Additionally, when Fathima is thinking about success, she is also thinking about what people would say about her eulogy. She wants to leave behind a memorable legacy.
Challenges Make You Stronger          
Fathima believes that challenges make one stronger. "If you don't experience challenges, you don't have any frame of reference and you can't compare or measure your own growth," she says. "I don't know any leader who has said that 'it was an absolute smooth journey to where I'm today.'"
Perhaps one does not see that then, but challenges are also a blessing, Fathima says. She tells her team that if something is not looking that great or if they have a bad day, try to look for the positive in that negative situation. And, no matter how dire the situation is, there is always something to learn from it. And one also needs to bravely accept challenges and welcome them because of all the opportunities that they can bring for them, she adds.
Fathima also points out, "people will challenge you. And that is okay. That makes you grow. That makes you learn about yourself. It makes you learn more about your industry. And it pushes your boundaries."
It's Okay to Fail     
Fathima may be a perfectionist but she does not mind failing. One does not have to win all the time, she says. "It's okay to fail. And it's important to fail. It is because if you don't fail, you won't again have any frame of reference, but equally important not to fail the second time around."
But failing does not mean that one stops trying to win. "You need to make sure that you pick yourself up. And, next time, you need to make sure that you are on the winning side," Fathima says. "And, next time, you should know how to better deal with a situation or manage someone."
Strengths of a Leader
Fathima is the type of leader that others look up to. She never boasts about being a know-it-all. She is humble enough to accept that someone else might know it better than her. And she never shies away from asking for help or appreciating others' performance. She believes in providing ample opportunities so that others, too, can flourish in the organization. And if she is wrong about something, it is important to apologise or acknowledge the error. Initially, Fathima wanted to do everything on her own, and this was a huge learning curve. But then she realized that she was not offering her team an opportunity to learn and grow. "That was a hard lesson for me. I had to look into a mirror and realize that, 'Yes, maybe I could have done it faster, but I was depriving somebody the opportunity to learn," Fathima says. And she points out that good leaders are all about having hard conversations with themselves, knowing when they are doing it wrong.
Fathima likes to surround herself with people who probably know more about a sector or have a different skill set than hers. And she also feels that a leader should never be shy asking for help. "You won't know it all. And, even if you do, maybe you don't have the time to do it all."
When leaders allow others to handle things, they provide them the platform to grow. Fathima says that it is like mentoring. Along with being an inspirational leader, Fathima is also an amazing mentor. She is currently mentoring five people.   As a leader, Fathima's future goals include – to continue to give back, mentor, teach and guide.
Marketing Goal for the Company
Fathima plans to continue creating brand love for her customers – both external and internal customers. "I want to create exciting and proud moments for our team internally – the proud moments such as when they see a campaign come to life, and receiving great customer feedback" she says.
Message for Aspiring Women Leaders
Fathima tells aspiring women leaders that the world is indeed an oyster, but when they get an opportunity, it is up to them how they use it. "Don't wait for something to come to you. Find a way to get to that point when you are given an opportunity," she says. "Be authentic. Be true to your word – your word is your honour. When people know that you are authentic and you honour your word, they will remember you when an opportunity comes by."
"And don't be shy. Show people, you want to learn even if it is not something that is part of your comfort zone. Raise your hand for the difficult tasks," Fathima adds. Also, she says that they need to make sure that they are seen and heard, and people should know what they stand for.