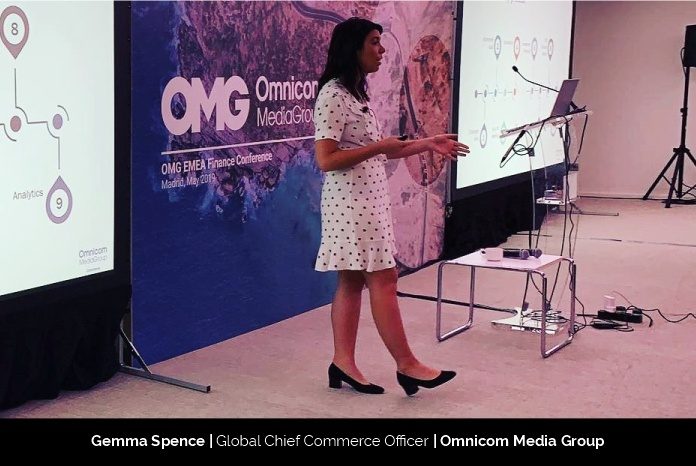 "Businesses are based on ideas that cater to the customers' needs. Every business has multiple stages from its inception through to the final product. It is multi-faceted and comes in many shapes and sizes, "says Gemma Spence. She is the Global Chief Commerce Officer at Omnicom Media Group and has 12 years of experience across clients, retailers, and agencies while working in eCommerce and channel planning. She has mostly worked within the FMCG and consumer electronics categories, covering the whole end-to-end value chain that is needed for eCommerce success.
Showing determination from the beginning
Within Omnicom Media Group, Gemma developed an award-winning ecommerce advisory unit (Transact) and a Centre of Excellence in London. Through the Transact network of +130 consultants, the company's techniques have helped numerous clients achieve considerable sales growth. Gemma was recognised as one of Management Today's 35 Women Under 35, a Mediatel's Future Media Leader, and has helped shape many of the ecommerce standards and awards together with some of the industry's biggest names.
Gemma has always been fascinated and inspired by business, and believes that success comes as the sum of all its parts. She states, "No department or individual can create success in isolation. It takes the full value chain in partnership and collaboration to generate growth."
Leading businesses through the eCommerce revolution
As per Gemma, challenges make people toughen up, and she thinks healthy tension is important. She says, "The questioning helps you refine your product, service, and approach. It helps you ask questions like, Can this be better, can it be simpler, can it be built cheaper, does it do exactly what we or the client needs it to do? I've had lots of setbacks over the years, many roadblocks both personally and professionally." She also adds that having someone ask difficult questions is important because it helps one toughen up and think differently to continually grow. She asserts, "I think it's important to have a steely determination, never say never, and have the ability to get up, take stock, and move forward."
For Gemma, eCommerce provided her with the chance to work throughout the whole value chain, assisting businesses in shaping and transforming themselves in order to boost development. She says, "To make the presence of the product prominent and stand out, businesses need to understand consumer needs and changes in buying behaviour." Given that this is the secret sauce to success, Gemma has entered the advertising industry, where Omnicom Media Group's services are based on understanding customer demands through behavioural insights. This is the foundation for developing a successful commerce expansion plan.
The Global Chief Commerce Officer of Omnicom Media Group
Every day is different as a Global Chief Commerce Officer. According to Gemma, creating a culture of integrity and creativity doesn't need to be complicated: recruit the finest people, allow them the flexibility to choose their own path, and let them make an impact. She goes on to say that making sure staff know that failure is all part of learning is important and will help develop an atmosphere that fosters large-scale innovation.
She says, "If I was to define myself in one word, I would say, curious. I am forever investigating something new and, as a result, am constantly building knowledge. No matter the situation, I can always find something interesting to explore, whether it is travel, work, or new hobbies. "
The Beginning
Gemma began her work as part of a commercial graduate programme, where she was chosen as one of ten graduates from around Europe, the Middle East, and Africa. She worked on all aspects of ecommerce success, including content management, eCommerce IT, product management, sales, supply chain, customer development, and commercial sales. She's worked in a variety of locations, including Rome, Warsaw, Amsterdam, and London. She opines, "Honing my skills within Amazon and DTC, running the operations for Philips Electronics, turning it into a large and profitable channel in its own right."
Between her employees and clients, Gemma has always had a high level of trust. For a long time, she has had the honour of working with many talented individuals and clients in a variety of jobs and enterprises. She's seen brilliant team members progress, develop, and be promoted to new roles. She says, "I like to think I am open and encourage others to push themselves to achieve their potential. Many of my team and clients have become close personal friends, due to the nature of our working relationship and the knowledge that they can rely on me and the business to do the right thing for them to help them achieve their ambition." For Gemma, there is nothing better than seeing both her team and client prosper, and she believes that this is probably the best recognition anyone could have.
Maintain a Balance in your Personal and Professional Life
It's important for Gemma to work hard and accomplish her goals. As per her, it's critical to remember to take care of yourself and loved ones around you. She asserts, "Life is busy, I run a business, I mentor, I play sports, and I'm studying for an EMBA at Oxford University, so planning is important." For Gemma, it's about playing to her strengths, being clear and not trying to do everything. She is ruthless with her time and sets time aside for work, home, and fun so she can maintain a balance.
"Motivation for me has never really been a problem; I am a very determined person. The way I manage my motivation as well as my teams is by setting collective goals that everyone can buy into. We check in on these regularly and discuss what might need to change to accelerate towards that goal, "says Gemma. She also adds, "I am an active mentor and I have mentors and coaches to help reflect on experiences and refine my approach. I surround myself with positive people and use exercise and art as a creative and physical outlet to maintain focus."
Planning for Rapid Transformation
Businesses are swiftly adapting to preserve healthy development from this new and immerging channel, and eCommerce is at a point of inflection. Gemma views her future as concentrating on helping companies accelerate their commerce transformation.
As a leader, Gemma's attitude will remain the same: open, honest, direct challenge, and genuine concern. Her objective is to create an environment where the team can accomplish excellent outcomes, and she believes that having a consistent leadership style, strong convictions, and steely resolve will help her do this. She believes that by implementing this in the workplace, the team will be better able to recognise limits, think creatively, take responsibility, and prosper.
Success; a Healthy and Mindful Life
Success, for Gemma, is constant evolving and changing. She says that one can measure it by how they feel and by the quality of their interactions with their team and clients. She says, "You know you are successful when your teams and clients are benefiting positively from their working relationship with you." For Gemma, that added value is the most important thing.
From Gemma's personal perspective, success is about generating freedom and space to have a balanced life. She advises, "Have fun, do and experience new things. Compose a healthy body and a smart and healthy mind. "
A Message to Female Leaders
Gemma advises women in business globally to "Aim high, back yourself, and preserve integrity. When the naysayers attempt to bring you down, get up, brush yourself off, and keep moving forward. You will be an inspiration to others and accomplish great things."