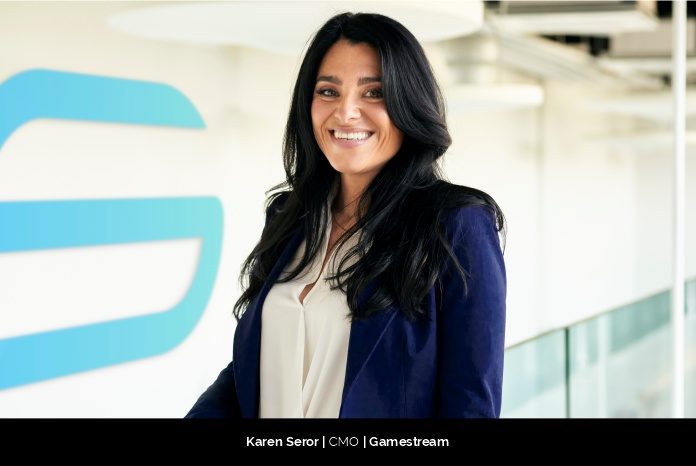 While women currently account for a sizable proportion of all gamers worldwide, there is still a lack of women working in the gaming industry. Karen Seror, CMO at Gamestream, aspires to leave a modest legacy in the video game industry by advancing development in terms of equality, diversity, and inclusion. She is an excellent communicator with amazing efficiency in creating and sustaining healthy connections at all organizational levels. Karen aims to encourage more women to work in this fascinating, fast-growing area by challenging that reality and the idea that gaming is a male-dominated field.
Karen encountered several challenges throughout her career, which is how she rose through the ranks to become the CMO for a diamond FrenchTech with 48 talents. Karen has spent her whole career in startups since that is where the difficulty is, as everything must be created and built from the ground up. She had to expand large and rapidly without a marketing budget in order to be a leader. She asserts, "This is how I discovered my full creative potential and my perseverance, creating new ways for business through partnerships."  She further adds, "I'm proud to say today that those French startups have become worldwide web success stories: the web hosting company Amen acquired for $20M by Dada Group, & Fotolia acquired for $800M by Adobe. I wish the same success to Gamestream."
Making People Happy
 "It starts with a belief, a vision, in which you identify yourself and helps give meaning to your work," says Karen Seror.
Gamestream was formed in 2015 with the objective of democratizing the joys of video games in an ethical manner. The CEO and creator, Ivan Lebeau, initially investigated the therapeutic possibilities of video games with 'Re-Mission,' a video game that allows young children with cancer to take control of their disease and emphasized the value of video games in society.
 "A world where we don't just play but learn and heal while having fun. From these values Gamestream was born."
Technological advancements have enabled the development of more stunning, immersive, and culturally inclusive video games over the last few decades.
The team at Gamestream thinks that technology should also encourage and facilitate the accessibility of these games in order to make people happy all around the world and improve togetherness by removing material or economic boundaries.
Gamestream
Wellness is another value directly inspired by the video game industry. Playing is as old as human beings. It's a primary need that makes us happy. Gamestream was launched commercially in 2019 with a mission to democratize the pleasures of video games with a responsible approach.
At Gamestream, the team believes in innovation. "We were born from a public research project, and technology is at the core of our value proposition," says Karen.
At the beginning of its adventure, the company approached the hospitality industry (Hotels, Hospitals…) and telecom operators, to offer them a turnkey white label solution integrating the entire cloud gaming value chain, including servers, streaming technology, game catalogue, and data analysis tools. In simple terms, Gamestream offers everyone the ability to play quality console games instantly and with unlimited access, on all devices (PC, tablets, SmartTVs, and set-top boxes) via an internet connection, without console, without download. This has earned us the nickname "the French Netflix of video games".
In less than two years, Gamestream's service has been deployed in Europe, Asia, and the Middle East, and its solution is now available to tens of millions of people, soon to rise to half a billion people with the opening of the Indian market, for which the price of a console or the cost of buying each title was too high to initially take part in it.
Gamestream is also committed to pushing R&D in order to make gaming accessible to disabled players in partnership with BePlayerOne, and it also works on therapeutic games with l'Ecole des Heros.
As per Karen, this success has been possible thanks to the company's great, involved team of passionate and multi-cultural people.
Defining Success through Creating Change
Karen defines success as creating change that benefits both the market and the firm. Even the most successful businesses have complicated obstacles, so one cannot succeed on his/her own. She feels that true success comes from contributing to the achievements of others.
Karen's moto has always been:
Communicate "why" instead of "what": sharing your vision will create stronger buy-in and faster mobilization for change. Including teams in decision-making early on strengthens their commitment.
Collaborate with acknowledgement: Bring people together to plan and execute change. That's critical. Successful leaders work through boundaries and encourage employees to step outside their comfort zones. I remember one of my mentors beginning a presentation with one word: "FAILURE" meaning if you have never failed, it's probably because you haven't taken any risks, and haven't learned anything.
Be honest and lead by example: Authenticity creates trust, and trust creates enrollment. Successful leaders have to set an example and demonstrate their beliefs through their own behavior to earn respect and inspire.
Karen recalls Tien Nguyen, Artistic Director at Adobe, with whom she worked for ten years, personally thanking her during a ceremony, saying that she was the leader who inspired him during his renowned career for Karen's ideals that had been "put to the test." She mentions, "I told myself at that moment that I had succeeded as a team leader."
The CMO of Gamestream
As the CMO of Gamestream, Karen is responsible for driving its global marketing strategy. She spearheads the go-to-market strategies for new clients across multiple geographies across the globe. She asserts, "I can't say that I have a regular day-to -day schedule, as each day brings new challenges. What is quite regular is the daily analysis of our data (subscribers, sign ups, churn, Daily Active Users etc.) and the KPI achievements to assess and improve existing initiatives and to create new growth drivers."  Her team and Karen review highlights (what works) and lowlights (what doesn't work) as well as team actions each month. She feels that it is a critical activity for obtaining vital lessons from one's own projects. "Know your numbers is one of my rules of engagement I teach my team," says Karen.
Because the firm operates on a B2B2C business model, Karen's function is unique in that she works with the company's B2B customers on customer acquisition and retention, as Gamestream is, as they say, the video game specialists.
As CMO, she is also in charge of corporate communications, and her responsibility is to "dress the bride" to look her best for the next fundraising event.
"Pick a job you love, and you won't have to work a day in your life," said Confucius. Karen's fulfillment at work reflects on her family, which makes them happy. She finds that sport also plays a crucial role in her life balance. She practices five hours of boxing per week. She mentions, "It's my breath of positive energy. Getting out of my comfort zone and challenging myself suits my personality of perseverance."
Achievements through Excellence
Through her career, Karen has successfully launched three brands (Amen, Fotolia, and Adobe Stock) that have become leaders in their markets. She is multi-awarded for impactful brand marketing campaigns.
Her accomplishments at Gamestream are:
Leadership: To have IT R&D people who did not believe in marketing, admit the value of her job
Team Spirit: Getting different sites and departments to work together toward a common goal. As Ryunosuke Akutagawa said, "Individually, we are one drop. Together, we are an ocean."
Brand Power: To have created, from scratch, a new consumer brand, Pleio (www.pleio.games), here in France, distributed by Bouygues Telecom that is already a huge success for several thousand satisfied users.
Value awaking: To have built strategic partnerships to help improve Gamestream's CSR commitments
The goal was exceeded: Triple-digit growth in subscriber numbers
The Upcoming Advancements in Gaming Industry
According to Karen, the year 2022 will be a watershed moment in the big cloud gaming business voyage. She explains that Gamestream is currently working on intriguing new initiatives with both publishers and marketers. The traditional ways of licensing for publishers are shifting. The move away from physical media has been ongoing for some time. According to the Entertainment Retailers Association, in the United Kingdom, entertainment sales are already 80 percent digital.
According to Karen, content is essential in the evolution of cloud gaming. Cloud gaming provides a new business stream for publishers, and they are adapting. Gamestream has already completed the conversion of 250 high-quality console games to its Cloud Gaming system, and it provides a quick and cost-effective alternative for any publisher interested in creating a streaming demo of a AAA game, as it did for Focus Entertainment with A Plague Tale: Innocence. It also helped Ubisoft in developing new streaming experiences.
Cloud Gaming is a real-time laboratory of economic models, with several models coexisting at the same time, with the variables being the ratio and control of technology and content used in this ecosystem. In terms of future applications, the Gamestream team is convinced that future gaming will be console-free, with no need to download game content.
The future of gaming will be more immersive and interactive & the metaverse will play a key role.
"We believe cloud gaming can be a real asset in leveraging the potential of entertainment brands. With SmartTV services, for example, the key is to complement their development of 4K services with the addition of gaming services, which makes sense when you understand the desire of gamers for the best possible graphic quality of the games they play," says Karen.
She also adds, "Broadcast groups (not only Netflix), are also demanding Cloud Gaming services. It's a logical progression for them after the success of classical streaming services such as Replay and dedicated streaming content."
The craze around the metaverse is also currently exploding, with the likes of Facebook changing its name to Meta. Cloud gaming technologies will accelerate the growth of this new reality.
The promise of the metaverse is to change our life in an interconnected world by extending everyday experiences into a new dimension of virtual and augmented reality. This future virtual world promises to redraw in 3D the contours of many activities such as social relationships, professional meetings, or shopping.
The world of video games is already experimenting with the metaverse in a limited way; with initiatives such as Roblox. But to be open and accessible to all, everywhere, anytime, and on all devices, the metaverse raises many technological challenges that cloud gaming technologies, such as those provided by Gamestream, will play a central role taking the metaverse mainstream.