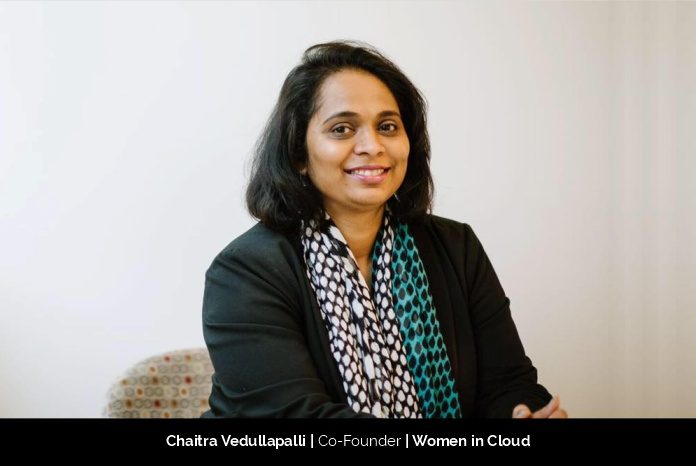 Being able to help the women and community and fill the gap of gender equality is a challenging road to tread. However, with strong determination Chaitra Vedullapalli, Co-Founder and President of Women in Cloud is leading the front with her proud venture. She adds, "Success is not determined by personal achievements; instead, I believe that being impactful equates to being successful." What started as a movement due to personal experience today impacts millions of women across the world.
Journey to success
Personally, Chaitra has always believed in trying to solve problems to serve the community leading to collective growth. Women in Cloud's inception was to find a solution to the gender gap in Corporate America.
She completed her Bachelor of Engineering from R. V. College of Engineering, Bangalore, in 1995 and stepped into the corporate world with Oracle in 1997. There she worked for eight years and attained the title of Global Director.
She states, "I have previously led executives' roles at Microsoft and Oracle in Licensing, Partnership, and Strategic Consulting for over two decades. In those roles, I led cross-functional, cross-boundaries, and cross-industries to build the company's infrastructure and economic development from the ground up, spearheading profitability and growth; and invested my time in board work and public policy efforts in the community."
Being a person born with strong creativity, the interactive interface and features of Microsoft caught her eye and drove her to the technological world. She adds, "However, the changing landscape in technology and marketing meant these traditionally parallel streams needed to be connected in the modern space. Digital marketing was my chance to bring a creative and bright side to technology."
Learning from the hurdles
During the early years of her career, in the midst of learning technology, she struggled with a lack of equity. The lack of financial, leadership, and relationship equity led her to contemplate her decision to pursue technology. Furthermore, this contributed to no invitations to certain conversations. As an Indian American woman, this experience had her question her capabilities as a technologist and a contributing member of the organization.
However, these roadblocks helped her to acquire and structure her leadership style and qualities. She states, "Over the years, I have made conscious decisions to serve people and add value. I function with clarity and am critical about analyzing a situation if I am invisible. I believe in understanding 'why I was not invited,' 'why do I lack certain equity,' and 'how can I do better to overcome challenges.' Some scenarios simply require the courage to walk away. More often than not, the answer lies within you. Your dedication and determination will unlock almost any door if a growth mindset is employed."
Revamping the industry with Women in Cloud
Women in Cloud is a community-led economic development organization taking action to generate $1B in net new global economic access for women entrepreneurs by 2030 through partnerships with corporations, community leaders, and policymakers. Women in Cloud is built on core values like Inclusion, Collective Action, and Economic Access to help contribute to the UN 2030 Sustainable Development Goals.
She states, "We are a powerful and inclusive community trying to build the next generation technology right! As an economic development organization, we are focused on driving change through collective action."
Some of their strategies to connect and advance the $1 billion-dollar economic mission are Virtual Events, Community Engagement, Digital Campaigns.
Women in Cloud is famous for bridging traditional borders through virtual events, where cross-border networking is a highlight.
She expresses, "In our mission to create global economic access, community engagement plays the most important role in collaborating. Community Engagement is our tool to enable systematic change in the industry. Women in Cloud's digital campaigns are well received and are highly impactful. #EmpowHERWithAccess 2020 campaign received 600,000 impressions from around the globe and created a massive impact in the industry."
She believes that value-based marketing, omni channel marketing, e-Commerce transformation, and community engagement are the four domains that will transform the whole landscape of the digital marketing industry.
Life as Co-Founder and President of the company
Wearing the hat of Co-Founder and President of the company, the role includes fundraising, taking major corporate decisions, managing the overall operations and resources of a company, acting as the main point of communication between all the stakeholders to drive the movement.
Being a natural problem-solver, Chaitra tries to find the best solution for everyone with her creative mind and skills. This has allowed her to fuel the growth of her career and company.
She expresses, "The best recognition in my career so far has been the Ideagen Global Leadership Award in 2019. This holds a special place because Women in Cloud's effort to serve the community to build an inclusive economy was recognized and honoured. Our work to build a women-led technology industry was praised and it is only a matter of time that we finish our mission."
She feels work-life balance is a crucial element to continued success. She states, "I often take time to disconnect during the weekend or holiday season by occupying myself with creative hobbies. Creative Arts and Calligraphy play an important role in helping me relax. However, Cooking is my sacred haven. I absolutely enjoy cooking for my family. As an Indian American household, we tend to experiment with food, and it brings me joy."
She is a team player and values her team in every aspect. She shares, "Infinite opportunities are created when you are dedicated to serving people daily. In my opinion, adding value to one's life is the biggest motivation there is. Our team is always thrilled to undertake any challenge since we strive to add value to others."
Next phase for the company
Women in Cloud is a mission to transform the industry inclusivity, hence they are developing sustainable programs and solutions to equip women to access economic opportunities. Optimization is also on the agenda going forward.
She expresses, "The Covid-19 pandemic allowed me to introspect and restructure the goals for Women in Cloud. Mostly, I am determined to add value to our existing members rather than just grow the community in number. We are building new models and creating new avenues to educate, nurture and accelerate the growth of women-tech entrepreneurs in technology across the globe. This is an exciting period of us to innovate and break through."
On the personal front, Chaitra is looking to serve the people who put their faith in the company's expertise and add value to their journey.