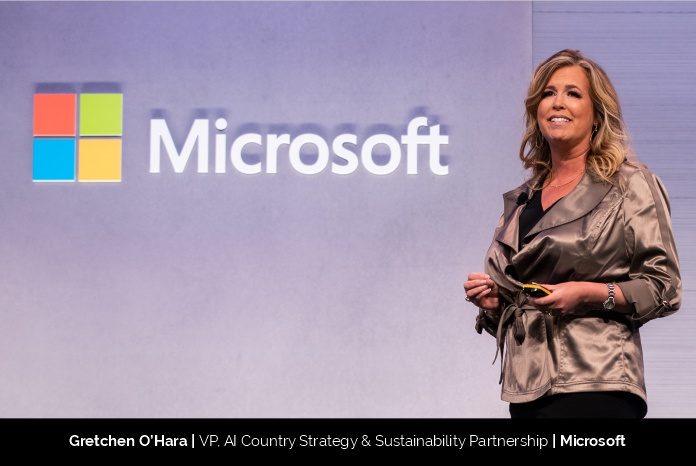 Ever since she can remember, Gretchen has been passionate and enthusiastic about technology. Early in life, she was drawn to innovation and the possibilities that technology could bring. Seeing the capabilities of technology to help people and businesses innovate at a faster rate brought her excitement. While this passion has always been with her, Gretchen believes her current at Microsoft as the Vice President, US AI and Sustainability will enable her to take that passion to a new level. Gretchen's vision is to live with passion and compassion, and technology is at the core of helping her do that each day.
Gretchen's Background
Gretchen started in the high-tech industry and has remained in the industry for her entire career. Her career started at IBM and then she served as Vice President of Marketing for a publicly traded independent software vendor. After that, she co-founded her own startup before joining Microsoft. What she treasures most about her career is the experience and understanding she has gained working with the diverse communities that exist in organizations large and small, developers, CIOs, marketing and business leaders and the end user. She brought all those experiences to Microsoft and states that her past experiences have taught her to put customers first and to be responsive and agile. Gretchen describes her journey as fun, and she often thinks about her roots and the experiences she had along the way to get her to where she is now.
Challenges of Being a Woman in Tech
While Gretchen has always been very passionate and has had a clear vision of what she wants, it has not always come easy. As Gretchen reflects on the challenges of being a female in technology, she recalls the lack of peer and female leaders in roles early in her career, making it hard to find female mentors. In a male-dominated industry, it was not always easy to advance her career. This resulted in the need to be over-qualified for any role, so she could compete with men in the industry. Through these challenges, Gretchen learned to practice grit and had to become courageous to go after the opportunities she wanted. As she worked on this and advanced in her career, she found it easier to go after desired opportunities and not let anything stop her. She also realized along the way that nobody is ever going to get everything right, so she had to understand toembrace failure, and grow from it, rather than let it stop her. As Gretchen worked hard to go after her goals and dreams and not let anything get in her way, she decided to take action to make it easier and better for females after her. She did this by going back into the community and creating female representation through various groups enabling women to engage with each other and lift each other up.
Women in Cloud
In addition to leading her team at Microsoft, Gretchen is co-founder of Women in Cloud, which is her side passion. She co-founded this organization to create an opportunity for female entrepreneurs to have access to capital to create businesses and build sustainable business models. This organization was founded on the idea that it would be a community-led economic development organization, with diversity and inclusion as part of its core. They are focused on getting global leaders, corporations, and policymakers to help women entrepreneurs create a billion dollars of economic access and opportunity by 2030. Once that goal is reached, they will continue to keep growing.
While the organization focuses on entrepreneurs, you do not need to be an entrepreneur to join. Women in Cloud provides access to community leaders and others that can support the goal of mentorship, connection, and community. The Women in Cloud organization is very specific on providing an outcome of economic opportunity while remaining inclusive so that everybody can participate. When the organization started, there was approximately 10% male representation, which has increased to 40% today. Initially, they came together as women talking to women, but they realized that if they want to build networks and grow, they need support from everybody and Allyship was a critical component.
Women in Cloud is all about women's empowerment. They seek to do this by providing access to mentorship and sponsorship for women. They also provide training and classes to help women become their best selves. They offer initiatives that allow women to receive free Azure credits, providing access to core platform capabilities along with support for building and deploying solutions in the cloud, free training on how to do your business pitch and services to support a strong go-to-market plan. Gretchen recalls how she had to learn to take risks and be courageous, which are things she now wants to teach other women, so they feel empowered to go after their dreams. Women in Cloud is there for women to feel like they have the support, network, and access to be a success in the tech entrepreneur space.
Women in Cloud started as a U.S. based project but has expanded to seven countries, and soon-to-be twelve. With the pandemic, they learned that they do not have to physically be in that country to roll out Women in Cloud. The annual Women in Cloud Summit is now virtual, allowing for global attendance which has increased the organization's reach. In each country, they are focused on building representation, finding mentors and sponsors, and getting access to capital. In terms of resources, community, and engagement, there are no borders. Women in Cloud has created an opportunity for millions of leaders, female entrepreneurs, and students to have access to technology, mentorship, and leadership. Gretchen explains how seeing this organization move from an initiative to a movement excites her each day and she feels fortunate to be part of something that is truly making a difference and will continue to impact lives in the years to come.
Roles and Responsibilities at Microsoft
At Microsoft, Gretchen's role is to change the US market holistically and inclusively to create opportunities for partners, customers, government, and communities. This includes strategic initiatives to create new lines of business and opportunity, democratizing AI (artificial intelligence), addressing societal needs, and providing the right skills to close the digital divide. Ultimately, the framework for sustainability is to ensure Gretchen and her team are creating sustainability solutions not only for today but continuing to build those sustainable businesses that will last for generations to come. Gretchen's team oversees everything from building, deploying, and scaling the technologies and programs.
Gretchen is a very active leader with a presence on social media, which allows her to follow news media, trends, and see what others are saying. She continues to talk with partners, customers, and community leaders and values their opinions, concerns, hearing what is on their mind, and understanding what is working and not working for them. Being able to stay current and listen and then take necessary action on the feedback she receives helps her stay ahead of the competition.
As Gretchen's team continues to grow, they are focused on ensuring they are democratizing AI for all and making sure that AI and digital transformation are balanced with a responsible approach and ultimately beneficial to societal and environmental impact. Under her leadership, Gretchen's team is focused on creating partners including technology partners, community, and non-profit partners, and bringing everyone together to create an ecosystem focused on the greater good. Gretchen's team has grown over the years, and they have learned they need to be agile and listen to market signals to continue to innovate and respond as the market changes.
Gretchen genuinely feels like she is working her dream job at Microsoft. She describes it as having the opportunity to work on things that she would want to work on in her spare time if she was not doing it as a job.
The Changing Landscape of Digitization and Cloud Computing
For companies trying to pursue digital transformation, the COVID-19 global pandemic has been a deterrent. However, it has also forced businesses to change the way they operate. Gretchen observes how they have seen an accelerated pace of digital transformation, with Microsoft's CEO confirming that they have made more progress in the last two months than the last two years. Microsoft is focused on creating digitization and cloud computing as a must to survive. They are seeing new ways of working, such as working from home, which has led to the need for more security. Every customer in every industry needs to serve their customers differently. Ultimately, connected customer experience is going to be necessary and that has become the center of many companies' focus. Gretchen sees artificial intelligence, cloud computing, and data at the tip of the sphere to make all these transformations a reality. Things are moving at an accelerated rate, so she is constantly considering how to make sure she and her team are creating responsible AI and not creating a bias in the work that is happening with customers. At Microsoft, they see responsible AI as a critical part of work. They work with coalitions, partner organizations, industry associations, and other groups to ensure they are developing the right policies, programs, and technology to create responsible AI.
Every industry or government is thinking about jobs that are being lost and/or replaced. Every person will be touched by digitization in some way, and Gretchen and her team want to close the digital divide and provide equitable access to all workforce transformation. At the same time, they are looking at sustainability. A major focus in industry is seeing more and more companies rally around the United Nations 2030 Sustainable Development Goals, which includes making lasting progress using technology. Gretchen's organization is at the epicenter of emerging technologies for AI, making sure they are building a path for accelerations for customers, partners, community, and ecosystem and that they are supporting the activation of their pledge of being carbon negative by 2030. They are focused on investing in technology in communities and partners to make sure they are addressing societal change.
Balancing it All
Gretchen believes that if you are always striving for a balance in your work and personal life, you will always be left feeling unfulfilled. There will be times when you need to put more time into work and other times when you will need to invest more time into your family, children, spouse, or personal life. Those priorities will continue to switch, and you will need to rotate where you are spending your time. For Gretchen, it is about the fluidity of both and making sure she carves out time and is unapologetic for the time she spends on her personal life. At the same time, she ensures that her family understands that there are times when she needs to focus on work. No matter where she is spending her time, she strives to make sure she is present in the moment. She also makes sure her team understands that they have permission to focus on things that are important to them in their lives.
Staying Motivated as a Team
Gretchen's motivation is people. Having an incredible organization with a purpose-driven mission gives her passion and energy each day. She wants to make sure her team is doing their very best and seeing that gives her energy. To motivate employees, Gretchen believes you must laugh and have fun. Having fun is one of the principles of her organization. Gretchen and her team spend a lot of hours together and they have a strong purpose, but they need to have fun and laugh together as well. She believes that is what makes people motivated and excited to come to work every day.
As Gretchen reflects on her role, she is reminded of how she has had roles in her career that were not aligned with her passion. In her current role, she and her team are continually motivated because she believes they have all taken this job because they believe in something bigger than themselves. Every employee on her team believes that the work they are doing with AI and sustainability will make a sustainable change. It is a morale builder when you have a purpose-driven mission on what you are trying to get accomplished.