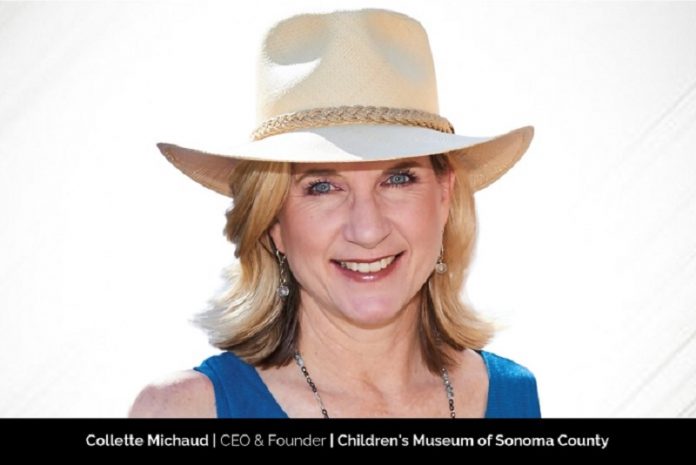 Children's Museum of Sonoma County (CMOSC) is a place where children can do the serious work of learning through play. Fred Rogers says, "Play is often talked about as if it were a relief from serious learning. But for children play is serious learning. Play is really the work of childhood." CEO and Founder Collette Michaud agrees with him and emphasizes that CMOSC is the perfect place for children to learn through play.
Confidence from Humble Beginnings
Ironically, Collette's first inspiration for starting a children's museum was her childhood. She spent many hours at the local Children's Museum of Science and History in Fort Worth, TX where she took art lessons for many years starting at the age of 10. She would often sketch items on display at the science and history museum, and then turn them into paintings back in the museum's classroom.
Her love of Museums, in general, grew out of roaming the halls of the science and history museum. Sixteen years ago, while raising her two boys in Sonoma County, CA, she noticed the need for a local cultural resource for young children and decided to start a children's museum.
She worked tirelessly with volunteers to build a few mobile hands-on exhibits, which they drove around in her minivan to various outdoor events and schools. From these humble beginnings, it has grown into a 45,000 square feet outdoor and indoor children's museum.
Previously, Collette has worked in software game design as a project leader, game designer, art manager and animator for more than 15 years. She was the first artist hired by The Learning Company in 1988 and then became a key innovator and manager for LucasArts Entertainment Company in 1990. In 1996, she helped launch Lucas Learning LTD, a children's edutainment software company. During her career in the software industry, she worked with teachers, scientists and young children to create award-winning educational software products.
Creating the game "Star Wars DroidWorks" marked a milestone in her career. In this software game, children get to construct droids out of various parts and pieces and then use them to perform tasks in a Star Wars-inspired world. Not only did it win a CODIE for excellence in pre-teen educational software, but it also won a British Academy of Film and Arts award for children's educational software. Collette and her team ensured that the game was educational and entertaining.
A Marathon
There are so many pieces to fit together and hurdles to cross in starting a non-profit – as there are with all new businesses. Often Collette felt beaten down and not smart enough to start a children's museum. The enormity of the task was overwhelming and at times dispiriting. Instead of looking at the huge mountain to climb towards her dream of opening a children's Museum, she made deliberate efforts to focus on the next step, however small or insignificant. By taking some action, she was motivated to keep going. She learned that if you never lose sight of your dream you will make it happen eventually. She surmises that a lot of people give up prematurely due to impatience or even a fear of actually succeeding. It's hard work creating something from nothing. She constantly reminded herself that she was running a marathon of sorts, and that it would take time and patience to reach her goal. She stuck with it knowing that if she failed, then her conscience would be clear knowing she had tried her best.
Learning Through Out-of-school Experiences 
Collette is a huge believer in out-of-school experiences that involve play and their ability to shape us. We all have the inherent and biological need to play to be fulfilled and happy.
Children are designed to question, daydream, pretend play, arrange block towers and dollhouses, wiggle, fidget, run, jump, laugh and above all to be different. Play is where children learn how to control their lives. They learn to get along with peers and develop empathy. It is through play itself that the benefits of STEM-based learning are manifested in the easiest and most profound ways. It also helps to build strong symbolic, mathematical and linguistic skills. Play is used every day at the Children's Museum!
Core values of CMOSC
Creativity generates new possibilities. At CMOSC, the entire team infuses their thinking with playfulness and imagination, by making new connections and by pushing ahead on what they know, they discover and solve problems originally and adaptively for all the visitors, the organization and the community.
Engage actively and respectfully with the community. Through their partnerships, programmatic outreach, stakeholder engagement and representation on their board, they foster participation, invite ownership, instill pride and promote transparency that strengthens the Museum and the community.
Access increases opportunity. They expand access to the Museum for learners of all abilities, children from every background and families from across the region.
Learning takes many forms. They recognize learning as an ongoing process that is informal and serendipitous.
Consistently demonstrate excellence. They promise to advance their vision and mission by pursuing the highest standards in all areas of their work: creating experiences, interacting with visitors, partnering with the community, communicating with stakeholders and managing systems and resources.
Pursue sustainable practices. They are committed to financially sound, programmatically compelling, and environmentally responsible practices that are responsive to a changing world.
Putting Down Roots
Collette's proudest moment was when CMOSC secured a $1.8m grant from the state of California to build an outdoor nature space on an acre of land at the Children's Museum. They got the grant while they were still a Museum-on-the-Go and without having a signed lease in place for the property they were hoping to develop into a permanent children's museum. The grant gave them the confidence to move forward on construction even though CMOSC was not a fully operating museum then. Collette proudly recounts creating "Mary's Garden" way ahead of schedule, and in 2016, it was named "Best place in the world for children that is not a playground" by Landscape Architecture online.
Systematic Growth
Faced with the distance to "out-of-school" learning experiences, coupled with increasing budget cuts to science and art programs within schools, a team of educated volunteers came together and established CMOSC as a Federal 501(c)(3) corporation in December 2005. Collette was the Board President before becoming the CEO.
CMOSC has been a leading provider of cultural and educational experiences for families since 2005.
During the early years, while raising awareness and funds, CMOSC operated solely as a mobile 'Museum-on-the-Go' until breaking ground on a permanent site in June 2013 when it became clear that the North Bay needed a local gathering place where parents, grandparents and teachers are inspired to support a child's natural craving for curiosity and exploration. Educated by research and visits to children's museums across the country, Collette studied all about starting, building and operating a successful children's museum.
Since opening its physical doors in 2014, CMOSC has become a regional destination and valuable cultural resource for children, welcoming more than 130,000 visitors annually. Designed to engage and inspire children of ages 10 and younger, the Children's Museum inspires curiosity and creativity through joyful, transformative experiences. In 2014, the Museum opened phase one of the permanent campus featuring Mary's Garden, a 36,000 square feet nature education garden, and Ella's Arts Studio, an interactive art studio. A Science & Imagination Gallery along with the TOTopia toddler space opened to the public in June 2015, doubling the daily attendance.
One of the goals of CMOSC has been to always blend the arts with science and nature. To this end, Collette has worked closely with local artists and craftspeople to create the exhibits found in the Museum, the majority of which are one-of-a-kind pieces. She ensures that the visitors enjoy an artful experience whether they be children or adults.
Good Listening Skills and Vulnerability
Collette ensures a culture of integrity and innovation at CMOSC by being a good listener and by being vulnerable. Everyone has a voice and a point of view that is valid and deserves respect. As the founder, she thinks there is the hazard of getting caught up in your own thoughts and ways of doing things. After so many years in businesses related to child development and managing people, it is easy to think that you know what is best. Over the years, she has learned to step back and humbly listen – truly listen to what others are trying to say. In the process, she allows herself to be vulnerable with her thoughts and feelings, whenever it is appropriate. She acknowledges that it is hard work to be open and receptive. Even now, she is constantly learning and striving to be better at listening not taking others for granted.
A Welcoming Destination
Collette's vision for CMOSC is for it to be first and foremost a welcoming place for all children in their community. The CMOSC volunteers have made a lot of great strides in access to the Museum and have raised hundreds of thousands of dollars annually to underwrite programs related to it. However, they still have a lot of work to do. Children from low-income families are most in need of the experiences offered at CMOSC. Deep bonds are naturally formed and strengthened when family members share time and experiences together in places like the Children's Museum. Family environments of young children are major predictors of cognitive and socio-emotional abilities and a variety of health and social behavior outcomes. By providing a place where families enjoy spending time together, the Children's Museum improves cognitive and socio-emotional abilities and the health of all visitors, but especially children that are viewed as disadvantaged, physically under-stimulated and recreationally deprived. Secondly, Collette envisions CMOSC becoming even more of a destination than it already is with visitors coming from miles around and from out of state to visit because they have heard that it is a wonderful and valuable cultural resource. They will accomplish this by focusing on their core competency, which is creatomg best-in-class exhibits and programs that challenge the mind and body.
Sharing Responsibilities and Recognitions
Collette accedes that it takes a team working collaboratively to build and grow a children's museum. She shares the accomplishment with everyone who believed in the dream of building it. She tries to get to know every team member personally and considers everyone as a contributor.
As a non-profit, people wear many different hats and are usually not compensated at the same level as they might be in the for-profit world. Collette does her best to offset this reality by offering team members the opportunity to use their imaginations and creativity daily.
For someone who gets bored easily, running a children's museum is enormously satisfying, but it requires empowering a team that embraces an environment of change. As Walt Disney famously said, "Disneyland will never be completed. It will continue to grow as long as there is imagination left in the world." Collette is constantly providing opportunities for all team members to contribute creatively. She strives to engage and help them feel invested in the future of the Museum.
A Strategic Visionary
As a founder and visionary, Collette believes that she represents the heart and soul of the Museum. She secures and cultivates strong relationships with investors. She reaches out to past board members and networks with other museum colleagues to stay abreast of best practices and current trends. She represents the Museum in the community. She hires people that are smart, talented and driven to excellence and then empowers them to do their jobs. Overall, it is her job to successfully follow through on the Museum's mission.
Collette envisions growth and change for CMOSC, they will continue to design and develop experiences for the youngest children, introduce new and exciting ones for kids aged 7 to 12 and expand their capacity to involve more children, especially from marginalized and disadvantaged families.
Reach Your Dreams
For Collette, success has been the daily opportunity to use her creativity and imagination to build exhibits and worlds children can playfully immerse themselves in – and getting financially compensated for it.
Her message to women in leadership is to never give up on your dreams, no matter how inexperienced or inadequate you may feel inside or others may make you feel. Just keep putting one foot in front of the other, keep your head down, and move forward, however small the next step. Forgive yourself for making mistakes along the way and embrace the journey more than the result. Be vulnerable in letting others be a part of your dream and always be sure to appreciate others for the role and gifts they bring to the table.