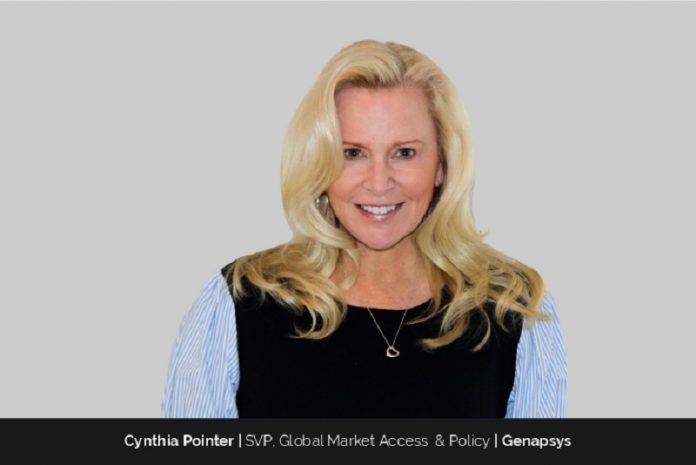 Cynthia Pointer is a confident and dynamic leader in the healthcare arena. Over the years, she has served in many leadership positions in pharmaceutical/biotech and diagnostic startups, and at each company, her work has contributed to the adoption and advancement of each technology. By delivering comprehensive commercialization strategies, she has helped multiple companies achieve impressive growth. Now, as Senior Vice President of Global Market Access & Policy at Genapsys, Cynthia is playing a key role in ensuring the successful launch of the company's sequencing platform in 2023.
Cynthia is motivated to be the best in her field. It is through excellent performance, and cultivation of new skill sets, that has allowed her to gain prominence in the biopharmaceutical and medical device/diagnostic space; thus, garnering the respect of her colleagues.  When asked if she is competitive, she says, "I am just driven by the challenges of getting a new technology or service successfully deployed so that patients have access.  I also have a hard time taking no for an answer, so that has helped me over the years."  Cynthia believes that she is at Genapsys because she has spent the past 25 years cultivating her craft and wants to assist Genapsys in achieving its vision to enable universal access to genomic sequencing.
Succeeding in her field did not require compromising her true self. A colleague once advised her that to be taken more seriously and excel in this field, that Cynthia should change her appearance and mannerisms so she would be taken more seriously by male colleagues.  Not only did she ignore that advice, it made her more motivated to excel and empower women to be themselves and not let a certain mold be the basis for a successful career.
Career Trajectory
Cynthia received her undergraduate degree in Sociology and a graduate degree in Clinical Psychology.  After her college graduation, she thought that she was on the path to becoming a "renowned psychologist," saving the world one patient at a time. She enrolled at Marymount University for a Master of Arts degree in Clinical Psychology.  While taking graduate courses in the evening, she was working full-time for a consulting company.  During her tenure at the consulting company, she was responsible for developing strategies and services to address oral and injectable pharmaceutical products prior to commercialization and upon market approval. She also managed multiple client-related payer management roles, including product launch coverage analyses, payer-specific coverage issue resolution, reimbursement optimization, and enhanced patient access.  "I actually got into the market access arena while I was obtaining a graduate degree in another field," Cynthia says.
During her time at the consulting company, there was one thing that continued to bother her. Once she had assisted clients with their market access strategy, they would go behind closed doors to discuss next steps. "I wanted to be part of those closed-door discussions and follow the project through to its conclusion."  Cynthia says. This curiosity and desire to be part of the decision-making process drove her to join her first startup in the pharmaceutical sector.
As it turns out, Cynthia became a startup enthusiast, never being unnerved by the uncertainty. During her tenure at various startup organizations, she has been able to expand her skill set. Specifically, Cynthia has directed and managed various market access teams that were solely responsible for policy collaborations with Medicare, Medicaid and commercial payers. She has established an efficient process for delivering payer value reimbursement dossiers and expanded her skill set by developing launch planning efforts in South America, Europe and Asia. She was also able to establish her presence in government policy by working on an initiative that allowed her to meet with the Senate Finance Committee, Office of Management and Budget, various health policy Congressional delegates, and national biotechnology organizations.
"I love new emerging companies with the opportunity for growth and advancement," she says. "Everyone is aligned and striving towards the same goal, which is to make that technology, and hence, that company a success." Four of her startup companies were eventually purchased by other larger companies.
At the end of 2021, Cynthia received a call from Genapsys CEO Jason Myers, who also hired her while previously serving as the CEO of ArcherDX.  She was asked to join Genapsys to assist in developing a commercialization strategy for its universal genomic platform.
Enabling Genapsys to Achieve Its Goal
Genapsys believes in "universal access" to genomic information. It may sound intuitive in the US, but it really isn't. "There are patients who do not have access to genomic information," Cynthia points out. "Then, worldwide, there is really an opportunity for Genapsys to provide a scalable, affordable and accessible genomic sequencing ecosystem to patients, physicians, and researchers."
The company is confident that it can attain its vision of offering access to genomic information worldwide. "I'm here to help them obtain that goal," Cynthia says. "And I believe it's attainable."
Cynthia has worked in market access almost her entire career. She identifies, evaluates, develops, and implements growth opportunities for organizations that strengthens the brand and expands revenue streams. This can be accomplished through market adoption at a payer level. "In order to be successful, you must not only understand where the market is going, but where it has been."  She devises strategies using historical data, "why are some health policies in place today, how did a policy start out, how has it evolved over the years, and where does it stand now? This will tell you where the field is apt to go" says Cynthia.
Cynthia acknowledges it is critical to stay abreast of the rapidly changing healthcare environment. She understands the nuances of global reimbursement, health policy, government affairs and how Medicare and commercial payers make decisions at a policy level. For example, it is important to understand the relevance of clinical trial data collection and how it translates to favorable payer policies.  Understanding the payer systems also enables her to formulate strategies to compete against existing technologies. "What has worked for a competitor and how can we do it better?" Cynthia uses that information to implement novel reimbursement initiatives that have the potential to change the treatment paradigm and become the new standard of care.
"In-depth knowledge of the global healthcare system and the varied requirements for technology adoption is what I bring to the table [at Genapsys] for successful strategic execution," Cynthia says.
Successful Commercialization
At Genapsys, Cynthia and her team are building towards successful commercialization of the universal genomic platform. To accomplish this, she is working with multinational cross-functional teams to establish a go-to-market playbook. This requires vetting every milestone and affiliated timeline associated with pre-launch activities to ensure alignment towards these goals. "We are working with collaborators, advocacy groups, key opinion leaders, consortiums, really doing everything possible to ensure that our company is fully represented," Cynthia says.
Discussions also entail creating customer offerings that are beneficial and different.  Cynthia says, "It is a key focus of mine to identify what can set Genapsys apart from other sequencing companies?"  Due to the ever-changing healthcare system at local and global levels, it is critical for Cynthia to have contingency plans in place to mitigate any barriers or hurdles following the launch of a new product.  "Even when it appears that there is no path for success, my team will find one. We never believe something can't be done, it just means we have to look harder for another course of action," says Cynthia.
Choosing Two Careers
Many professional women encounter the 'fork in the road' – do you choose home or career? Women can be made to believe that you must choose one or the other.  When Cynthia encountered the fork-in-the-road moment, she decided not to choose.
"I never chose one or the other. I went for both," Cynthia says. "It doesn't mean there weren't constraints and sacrifices. There were times when I was leaving the house at 5 am, and there I was sitting in the driveway looking at my dark house." Her kids were in the house with her parents, and she would think, "What am I doing?"
Guilt becomes the primary emotion for most working mothers. At one point, Cynthia was a single parent juggling for balance and the decision in whether to choose family or career was moot.  Financial needs removed the choice factor.  During that time, Cynthia thought, "I should stop taking risks and settle down at a stable company.  I even went to my parents to get advice and I remember them saying, 'you cannot make lifelong decisions based on the state of your life at this very moment'." That advice made her resolve stronger. "That time in my life was difficult as I was questioning all of my choices. I finally just relented and decided I would just take my life day by day, job by job." Cynthia adds. "Sometimes, I probably let my family down and sometimes I likely let my company down, it wasn't perfect at all times. However, I wouldn't change the decisions I made."
She did remarry and her husband currently supports her penchant for taking risks with her career. "He just trusts my instincts and supports my decisions no matter what," Cynthia says.
Blaming the Person, Not Herself
Like many other women, Cynthia, too, has experienced harassment and discrimination in the workplace. Instead of letting that intimidate her or stall her career, she used channels provided by the company's human resources department to address the situation. Never once did she think it was acceptable, nor did she ignore it. "If I couldn't address it at that moment on my own, then I would reach out for assistance." Cynthia also said, "I also realized it was that person who was to blame for their actions and not the company." She also kept her focus on the end goal, performing her job at the highest level possible.
When Cynthia experienced discrimination and harassment for the first time, she felt isolated. "It is easy to feel alone in those situations because you think you are the only person being singled out," she says. "As you mature personally and professionally, you realize that it is not a reflection of you, and you refuse to put up with that nonsense." Cynthia adds.
Cynthia hopes others do not allow workplace discrimination to hinder their career. One of the biggest takeaways from her experience is: "There will be multiple hurdles, but try not to let negativity impede your choices, especially when you are young and might be more susceptible to it."
Show, Not Just Tell        
In the past, Cynthia has been disappointed with some of her mentors, due to their words and actions being inconsistent. She tries to make sure she does not make the same mistake. "I believe mentoring someone is one of the greatest things you can do professionally. It is a selfless act that ensues trust. I hope my actions have proven that I take this seriously." It is probably this attribute of hers that makes individuals follow her from one startup to another.
"One of the things that I'm most proud of in being a leader is that many of the individuals I have worked with in the past continue to want to take that leap of faith and join another company with me," Cynthia says. "People experience many great managers along the way but when they choose to leave a company and possibly disrupt their lives to follow that manager, I think that speaks volumes."
Cynthia defines a great leader as someone who can listen, inform, and constructively change a pattern of behavior. She points out that a team or department consists of individuals who have different skill sets and varying personalities. When managing teams, you need to understand where everyone is coming from and assure them that they are being heard. "Even if you don't accept their ideas, you need to hear them out and let them know their opinions matter," Cynthia says. "I have left organizations in the past as a direct result of my manager and not because of the company's values or mission."
As a leader, she ensures that everyone feels a sense of respect on her team, and everyone has the same voice – it doesn't matter what position someone holds. "I treat everyone in the company, regardless of their titles, with respect," Cynthia says.
Vision for Future  
Cynthia wants to continue to grow with Genapsys.  She also wants to see her CEO's vision come to fruition – access to affordable genomic sequencing.  "This would be life-changing," Cynthia says.
From a personal standpoint, she hopes she is an inspiration to women. "I am hoping that anyone reading this article may feel a renewed sense of purpose, be willing to go out and take chances, realize that perfection is a joke, and we are all uniquely responsible to do what is right for ourselves," Cynthia says.
Advice to Younger Self
"I get my energy from being around other people and sometimes that can be negative. It took me a while to learn that there are people out there who enjoy putting others down and showcasing insecurities, all while doing it under the guise of being your friend.  That was a tough lesson to learn. Now, I am much better at recognizing those individuals." Cynthia says.
"Don't let hurdles, judgment from others, or negativity get in your way" is the advice Cynthia would like to give her younger self, which she already gives to her children.  Even though her children grew up with a 'working mom' it has only reinforced to them that you can have it all. "Being on the cover of CIO Views on International Women's Day makes me feel so fortunate," says Cynthia, "I think I am most excited for my children to read this. I hope it will be a reminder for them to always be true to themselves, to never succumb to unreasonable expectations, and maybe they might think their mom is kinda cool!"