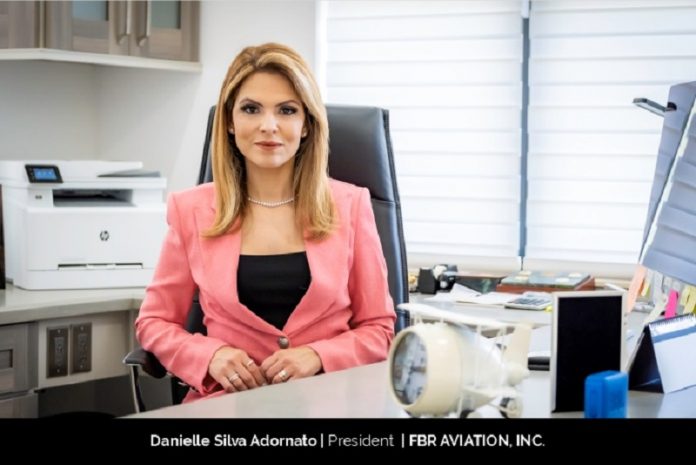 Danielle Silva Adornato loves a good challenge. When she was 26, she uprooted herself from her familiar Brazil, where she was born and raised, and moved alone to the U.S. with her eight-year-old daughter. At the time, with limited knowledge over the language, she had no base grounds in her new country. Without wasting a day, she plunged into the choppy waters of starting a new company. Often faced by many challenges, Danielle had days when success seemed elusive. She, however, endured the hardships and built from scratch the very successful FBR Aviation INC, a global aviation company which specializes in the sales of Special Mission Aircraft to various governmental agencies in Brazil and is the exclusive sales distributor of Diamond Aircraft for that country. The company also provides aircraft parts, special equipment, supplies, logistics, AOG and accessories.
In a short time, Danielle has carved out a special place for herself in the aviation industry and her intense leadership as President of FBR Aviation has made her one of the most impressive women leaders of recent times. Last year, IEra WomenLeaders Magazine listed her among the 10 Best Aviation Women Leaders of 2021.
As a successful businesswoman, Danielle's personal goal is to become an inspiration for those women who want to develop their own businesses. By creating a foundation, similar to a networking group for women leaders, she wants to encourage them to embrace entrepreneurship, share their experiences, as well as contribute to their growth stories.
Nothing has ever stopped Danielle from realizing her dreams. Now, she intends to support other entrepreneurs so they, too, do not give up on their dreams.
Inspired by Purpose  
Danielle has always loved aviation. This love stems, in part, from her family's long history in aviation – she is the fourth generation in the family of aviators. Her grandparents were pilots. Danielle's grandmother was the second women to hold a pilot's license in Brazil, while her grandfather, now 88 years old, was an active pilot until he was 82.
At the young age of 14, Danielle started working in her father's company in the aviation industry. "I was surrounded by inspiration, and as I grew up and saw technology providing aviation with more resources and innovations, I became even more interested in the aeronautical market," Danielle says.
After earning her degree in International Business in Brazil, Danielle had an easy path laid out in front of her — continue working with her father. She chose to take the unpaved path as she had big dreams and ideas.
"I always wanted to go further and have my own company and develop my own business philosophy with my own values ​​and visions" Danielle says. "I was a very young mother and motherhood encouraged me, even more, to build my own company and leave a legacy."
Danielle's decision to start a company in the U.S., after working for ten years in Brazil, also came from her eagerness to face a new challenge. In the U.S., everything was different for her. It was a new journey, but she still took a leap of faith and established FBR. "Purpose inspired me," says Danielle.
Success is a Consequence of Work 
For Danielle, failure has never been an option. When she started her company, she was determined to succeed as keeping her legacy going was important to her. So, she armed herself with perseverance and faith, worked diligently, day in, day out, and completely dedicated her efforts and energy to establish a solid, well-recognized company. Danielle now attributes the success of FBR Aviation to her years of dedicated work and drive to find the best solutions for their customers.
In her point of view, success is a consequence of her work. "It is doing what you love and having a greater purpose that doesn't allow you to give up or give in to doubts," Danielle says. "When you have a purpose, you dedicate yourself and keep the faith regardless of the challenges, in this the outcome of your actions will only lead you to succeed."
Facing Countless Challenges
FBR Aviation did not become a successful entity overnight. Danielle describes the countless challenges that she encountered and surpassed as her biggest inspiration.
When she started her company, she was alone doing all the work. The day-to-day operational, financial decisions, contracts, bids and even cleaning the office, Danielle was doing everything and, in the initial years, one of the biggest challenges that she faced was finding financing.
"The company was growing beyond its projection and credit or financing capacity, which resulted in a constant need for credit to finance bigger projects and to execute contracts," Danielle says. As they were a relatively new company, she found it hard to get credit greater than what their books showed. She felt frustrated, especially when she was turned down [declined] the first time.
Danielle heard "No" more than a few times. "But giving up wasn't an option, either I closed the company or kept trying until I exhausted all resources possible," she says. "These "decline" gave me the greatest motivation: Each decline I received, brought me closer to a YES (approval)."
Instead of wallowing in failure, Danielle improved her English to better communicate her business, learned how to improve her application, and equipped herself with the knowledge needed to fulfill the funding requirements on the US market. "Eventually, it finally happened; I heard a "YES," (approved) which changed the company's history and trajectory forever," says Danielle.
For her, the other big challenge was starting a company in a highly competitive Aviation industry, which is still a male dominated market. Even though she knew it was going to be an uphill task, she found it inspiring and exciting. And it is her perseverance and dedication that have enabled FBR Aviation, the woman-led company, to gain a sizable market share.
Danielle recalls that there were times when even her team doubted whether they would succeed or not. She continued to encourage them to keep the faith that they always had and to look forward with a positive outcome in mind. "As business progressed and new opportunities appeared for the company, my team became even more committed to walking alongside me," Danielle says. "The challenges steered us to solutions so we could prevail today."
3 Points that Changed Company's Fortune 
Initially, FBR Aviation focused on the resale of aeronautical parts, a very saturated market. After approximately two years in, Danielle realized that her margins were getting crunched due to the clients' easy access to competitors and the ever-growing e-commerce. That was when she focused on three points.
Seeking a differential – the goal was to provide an excellent service, surprising clients from the first service contact to the post-sales.
Find a way to do more for the long-term of the company while taking advantage of occasional opportunities.
Build partnerships to add and create new services.
In 2014, after a lot of dedication on these three points, Danielle saw the results of her efforts, with the company's revenue growing by about 700 percent compared to the previous year. This was a direct result of delivery of the company first ISR (Intelligence, Surveillance and Reconnaissance) aircraft delivery (operated by the Federal Police in Brazil) and being selected as the supplier for all equipment used on and ISR project to equip 33 law enforcement helicopters in preparation for the Brazil for the World Cup in 2014. Both major programs were possible due to a partnership with a Brazilian company, Aeromot Aeronaves e Motores S.A. set-up in the previous years.
Those projects were the turning point for the company to place it on a growing path leading to other successful projects, such as the supply of special mission aircrafts and helicopters for law enforcement, EMS and ISR for several Brazilian state forces. FBR also got involved in the private aviation market in Brazil as the Diamond Aircraft exclusive distributor for that territory.  FBR is currently delivering 3 fully customized helicopters with specialized mission equipment to the federal government of Brazil, that will be donated to the State of Rio de Janeiro for use in ISR, law enforcement and EMS missions.
Today, FBR Aviation focuses on the special mission market, working with integration and supply of special mission equipment and on spare parts supply for government agencies. On the civilian market, the company is focused on the sales of Diamond Aircraft in Brazil.
In the last three years, FBR Aviation has sold and delivered the highest number of new aircraft to Brazil in its history. Danielle points out that their greatest achievement is being able to work with different aircraft and helicopter manufacturers to serve its customers. All due to the proven track record the company has developed over its fourteen years in business.
Products and Services of FBR AVIATION
FBR Aviation creates solutions and options that allows its customer to fly high. It offers products and services in four market segments:
Multi-mission aircraft sales: FBR supplies law enforcement agencies with multi-mission aircraft, based on Textron platforms for fixed-wing and Leonardo Helicopters for rotorcraft.
Diamond Aircraft Sales: FBR is an exclusive distributor of Diamond Aircraft for the Brazilian market, with more than 35 units sold in the last 6 years.
Parts & Components Sales: FBR is a regular supplier for customers outside the USA for aeronautic parts and components, based on a sound partnership with different OEMs.
Logistics Support (Military CLS): FBR is a CLS supplier for military aviation outside the USA, providing parts, consumables, and specialized repair to a variety of platforms.
Result of a Dream
Danielle says that her company is the result of a dream, with a lot of faith, perseverance, many challenges, and teamwork that every day proves everything is possible when one does not give up. She feels it is a privilege to be amongst the very few companies that operate in several areas simultaneously. Supporting government forces with the supply of special mission aircraft and equipment, sales of civil aircraft, becoming the exclusive distributor of Diamond Aircraft Industries in Brazil, managing all export logistics, being under contract to supply materials for the Brazilian Air Force, all in just 14 years in the market – this is a great victory.
"Being a woman, mother, businesswoman, wife, friend, and conquering all these different markets is the result of dedication and a lot of effort," Danielle says. "This legacy I believe will inspire many women to fight for their dreams and show that everything is possible."
Maintaining Work-Life Balance as FBR's President 
Danielle is actively involved in all areas of the company in some way. But currently, her biggest role is in financing. As her responsibilities entail attending meetings and meeting clients and partners, she travels a lot. Also, she leverages technological tools to optimize her work and get her results, such as video conferencing and group calls. Danielle says that she has regular meetings with her teams in different areas of the company to make sure that they are delivering the best to their customers.
Her busy professional life, however, does not make Danielle ignore her personal life. She considers both of them important and has learned to optimize her time and set her priorities. "I do everything possible to maintain a balance between the two areas of my life," Danielle says.
Once, she was dedicated to working long hours. But, today, that doesn't make sense to her anymore. Danielle says that it was necessary at the beginning for her own growth, but today she considers "time" her greatest treasure.
"I don't give up spending time with my husband Joe, my daughters Melina 22, Sophia 5, and Tiffany 1, my stepson Alex 21, and my family." she adds. "They are my fuel to be even more productive during my time dedicated to working."
Since the last 10 years, she has also started to dedicate some of her time to reading, personal development, and self-knowledge seminars, meditation, and physical activities. It calibrates her life and inspires her to be a better person every day. "I increase my goals according to my growth and results, and today I know that my results are enhanced when we are in balance between personal and professional life," says Danielle.
Vision and Plans for Future
FBR Aviation operates in several aviation segments and wants to expand this ability, continuing to establish partnerships and provide its customers with excellent service and the best solutions for each project.
Also, FBR Aviation foresees that air mobility has a huge changing potential in the coming years. And these changes are mainly driven by energy efficiency and automation. Danielle points out that despite a lot of disruptive technologies coming to life, there are market opportunities in regard to energy efficiency that hold large immediate profit potential. In another spectrum of technology, there is a potential revolution on the remote sensing application, to an industry strongly dependent on reliable information, supplied on adequate timings. "FBR Aviation is fully aware of those trends, and it is catered in the company strategic plan, with the action already being implemented to be under this stream," Danielle adds.
On the horizon, there is a project underway at FBR AVIATION, which is expected to bring exciting opportunities for its customers. A new airport in the south of Brazil will also be an international investment of the company.
Danielle informs that they intend to partner with other companies to manufacture parts and components. New partnerships are already under negotiation, and FBR is "undoubtedly" working to add and bring to its customers, increasingly effective solutions, and better conditions.
This year FBR Aviation will have a new headquarter. It has more space, and a larger inventory Danielle says that it will enable them to serve their customers with greater agility.
Message to other Businesswomen
Danielle has always been a woman who never took "no" for an answer easily. Her desire to go beyond what is expected came from her childhood. This fueled her dreams in search of always wanting more and being able to one day be proud to say that she contributed to improving the life of this person, or this family; and that she inspired a person, especially women. "Many people tell me that I am lucky, I would say yes, I am blessed, but I have strength, persistence, and perseverance," says Danielle.
So, her message to other businesswomen is, "Never give up on your dreams, do everything with love, and success will always be just around the corner."