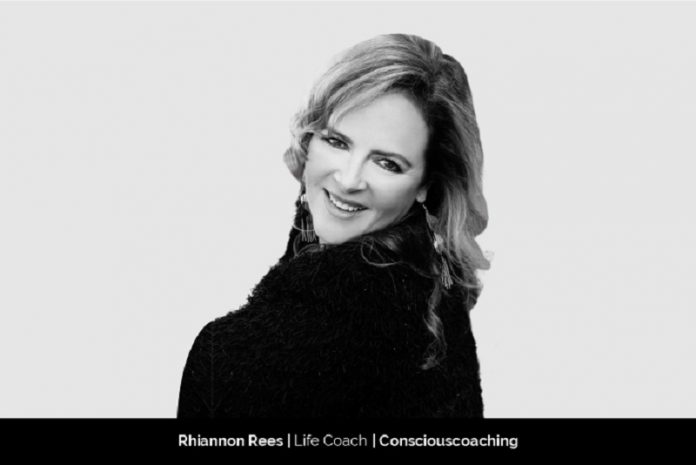 Rhiannon Rees thrives on solving problems. Known for growing businesses by thinking outside the box, Rhiannon was destined to be an entrepreneur. Before starting the Conscious Coaching Collective, Rhiannon founded five other companies. Twelve years ago, Rhiannon was doing well and had grown her business to 35 staff, when one day she lost everything – her home, her business, her marriage, and her mind. Despite this devastating loss, Rhiannon persevered and went on to become a successful Business and Performance Coach at the Conscious Coaching Collective.
Living a Heart-Centered Life
Rhiannon's ability not only to overcome profound life-challenges but ultimately, to thrive, can only be regarded as the epitome of success.  When asked about success, Rhiannon explains that success is about unlocking people's potential for them to live a happy life. She goes on to explain how so many individuals go to work and do what they think they should be doing — which often includes working a 9-5 job to make a living.  What they are not taking into consideration, however, is their true purpose in life. It is not until people move into a heart-centered space, that their true purpose and greatness are revealed, Rhiannon explains. Success, according to Rhiannon, means people consciously living a heart-centered life, where the depth of happiness is so great that it has a ripple effect and changes the world. Rhiannon emphasizes that the focus of life should never be about mere survival but, rather, we should be thriving. Success starts from a personal view, as everyone must ensure their own chalice is full before pouring into the lives of others. Rhiannon helps individuals unlock their inner greatness by transforming self-limiting beliefs. She explains how the world would be a completely different place if everybody was living their life from a heart-centered place.
Getting Started
Rhiannon believes that there is a solution to every challenge or problem we face and that we are all just limited by our mindset. This viewpoint affords her the ability to solve problems that others often view as obstacles.
After she had lost everything, people often asked Rhiannon how she came to start her previous businesses.  Then, one day, someone suggested she become a coach so that she could help others. At the time, Rhiannon did not even fully comprehend what coaching entailed, but decided she had nothing to lose by investigating this opportunity.  At that time, Rhiannon was living in a tent and surviving on food bank handouts, so if she was going to pursue coaching as a career, she had to excel at it in order to make a good income. Once Rhiannon embraced coaching as her new calling, she was determined to work her way to the very top. That process included interviewing the ten most successful coaches so that she could understand how they got to where they were. Rhiannon dedicated three years to learning her craft and working hard, spending the equivalent of three house deposits to get to where she is now.
Using Challenges for Good
Rhiannon says she has been blessed to have gone through the challenges she has experienced. After losing everything, she used to cry herself to sleep at night, feeling forsaken, and questioning how she ended up with nothing. Rhiannon realizes now that this period of difficulty was the most fertile soil to catapult her to greater things. She firmly believes that without journeying through all the pain, she would not have the life which she now enjoys.  When faced with overwhelming pain, Rhiannon knew she could use it constructively — or destructively. Despite how forsaken and desperate she felt, Rhiannon knew she still wanted to be loving and kind to others.
Every time Rhiannon made progress in her coaching journey, she would hold onto that achievement like a life raft until the next opportunity to catapult her forward presented itself.  Rhiannon then invested a significant amount of money into a two-week course, which was equivalent to 5 years' worth of her income at the time. Rhiannon explains that, quite miraculously, she managed to raise the money for the program.  She was so desperate for change, that Rhiannon was determined to invest in herself and be successful. Attending the course, was Rhiannon, who was living in a tent, and 21 CEOs from 21 different multinational companies. At the end of the two weeks, the participants were asked who they thought was the most inspirational person, and they unanimously voted Rhiannon. This meant the world to Rhiannon, and she held on to that achievement and used it as more motivation to grow her business. After completion of the course, Rhiannon spent the next four months trying to attract a client, so she could put food on the table for her son. There was a local restaurant owner Rhiannon repeatedly tried in vain to get a hold of by phone. Finally, she went in person to the restaurant and saw the owner sitting at a table covered in papers, which included a big tax bill that he did not have the means to pay off in full.  Rhiannon got on the phone and was able to negotiate a 24 month payment plan to enable him to discharge the tax liability. The restaurant owner viewed Rhiannon as a lifesaver and hired her to help him grow his business. And so Rhiannon secured her very first coaching client, which gave her hope, and motivated her to continue to build her clientele.
A Look at the Company 
The Conscious Coaching Collective is about the greater good of all and raising the level of consciousness on the planet. Rhiannon explains how there is such a great divide in the world right now and, therefore, we have never needed togetherness more than we do right now. Rhiannon emphasizes the fact that everyone must fill their heart first, move from a placing of feeling content and full as only then will they be able to give to others. (From a place of fulness).
She believes every person can make a difference and leave a legacy if we focus on a cause that means something to us.
Currently, the world is witnessing too many people committing suicide, losing jobs, and feeling disunited. Rhiannon strives to bring people together, consciously choosing us as one, as opposed to an "us" vs "them" scenario.
She explains that it is about each person waking up and examining how we can each make a difference. It starts with one person. One life.  One movement.
A Loving and Kind Environment 
Rhiannon describes how filling your chalice is about feeling good and being happy — because then, and only then, are you able to really look at how you can best serve others. Rhiannon believes that this philosophy extends beyond how we live our daily lives, to the culture we create in business as well. She keeps an open-door policy and is solutions-oriented, focusing on regular communication. Rhiannon believes communication extends beyond the workplace, which is why she regularly checks in with her staff and is there to listen to what they have to say about their personal lives and interests too.
Rhiannon explains that operating a business is not about being right, but about being happy and she strives to make sure her staff is happy. Rhiannon goes on to explain that we are always our own worst critics, and that it is important to let go of our egos.
Moving away from a "me" focus and thinking more collaboratively in terms of a paradigm shift in mindset.
We need to be able to release our greatness and understand that it is okay to shine. Rhiannon believes in celebrating success, being honest, and having each person take responsibility for themselves. When there is a problem, Rhiannon instructs each person to own it, and ask for help if needed. She believes in creating a loving and kind environment. Kindness is the foundation her business is built on. The work Rhiannon does with her clients can at times be challenging and difficult for them.  But at the conclusion of their time together, Rhiannon's clients are consistent in their expression of gratitude for her generosity, and the way she cared for them.  This is a testament to the kind of culture Rhiannon has fostered at Conscious Coaching Collective.
Learn how to create a wealth mindset against a great vision and plan so that you can harness a variety of crypto mechanisms to free your life and catapult your wealth.
https://www.multipreneurs.online/wealthmastermind
For anyone learning about becoming sovereign and enjoying the benefits of becoming your own bank with Cryptocurrency and digital assets –
Discovery calls as follows:
10.30am Friday 29th October AEST.
ALSO Monday 1st November 8am AEST
Please use the following link:
ZOOM ROOM
RHIANNON
Join Zoom Meeting
https://us02web.zoom.us/j/2515654545
Meeting ID: 251 565 4545
Passcode: 161632
Significance of Innovative Ideas
There are many many coaches in the world, but Rhiannon does not consider them to be competition. Rather, she is focused on her own coaching business, continuously looking at how they can be the best. Rhiannon is always looking at issues in the world and how she can help and address those issues. She believes that every problem can be resolved with the right solution — it just takes creativity and lots of brainstorming. Rhiannon is always open and willing to grow and learn and to educate herself on topics she isn't familiar with. For example, Rhiannon does not have a background in cryptocurrency and digital assets, but she has been involved in it now for three years.  Rhiannon has a knack for recognising success in people and systems and she believes it's all about adopting those systems and being open to change. Rhiannon is also known for adopting out-of-the-box ideas and helps her clients to do the same. She lives according to the philosophy that the way to solve a problem is to get a bigger one.
The Life of Rhiannon Rees
Rhiannon describes herself as inspirational, as each day she aims to inspire others. A regular day is a series of back-to-back coaching sessions. Each week, people want to partner with Rhiannon in her business because of how her mind works. That said, she also recognises the need to make time for herself, which consists of working in her garden and practicing yoga. Coaching has taught Rhiannon to value her time and preserve it. So, as she begins each coaching call, Rhiannon starts a timer and, when it hits zero, she ensures that she has finished the call.
Before the COVID-19 global pandemic, Rhiannon lived on planes, flying around the world to give keynote speeches. Now, she has more time to focus on herself and her interests and hobbies. Rhiannon is also able to help more people in different ways.  With the COVID-19 global pandemic, our lives have been shaken, allowing people to see through a different lens.
Rhiannon says she learned a long time ago how elusive happiness is, and how important it is to be happy. Rhiannon's morning ritual consists of looking at what she is grateful for, mediation, yoga, a walk, and saying her "I am" statements — which is who she declares herself to be to the universe. She then asks herself strategic questions such as "what is the greatest use of my time?", putting open-ended questions out to the universe to see what inspires her.
Rhiannon has also learned to enjoy moments of happiness and not rush them or end them abruptly. If she is driving to see a client and there is a good song on the radio, even if she is a little late, Rhiannon will let the song finish. She is honest with the client, admitting why she is late. Rhiannon has learned to be happy, enjoy the moment, and appreciate the time. Before COVID, Rhiannon did not have much time to relax, but now, with more time at home, she takes the opportunity to relax in a bath or do other things she enjoys. Rhiannon does not compromise her happiness or trade it for anything else. She holds it dear, nurtures it, and then moves into the next moment when she is done with the current one. Rhiannon explains how doing this has resulted in a profound transformation for her.
Rhiannon has been fortunate to receive numerous awards during her coaching career including #1 Global Visionary, being on the Global Coaching Guru list for years, and currently listed as #6 on the list.  She has even written a best-selling book, entitled "How to Climb Mount Everest in Sandals". Despite all her accomplishments, Rhiannon considers Motherhood to be the best recognition she has ever received. She explains how her son has brought spectacular color into her life.   Although Rhiannon is grateful for all the awards, they hold little meaning unless you use the platform to create change for people.
Motivating and Inspiring Employees
To help keep her staff motivated, Rhiannon believes the most important thing is to create a massive vision – allowing everybody to see where they want to end up as a company. When you share a story or journey as to where you want to end up, people want to buy into that vision and journey. People are more likely to be inspired when they see where they are headed. 80% of Rhiannon's current team have remained with her over the last decade, which is a real testament to the nurturing nature of the relationships she creates with individuals. Rhiannon also ensures her team has fun and she encourages her team to make mistakes and then learn from them by making the necessary adjustments. She strives to make her business relationships a win/win for everybody.  By creating a healthy environment for these relationships, Rhiannon reaps the benefits in terms of the loyalty, longevity of service — and the amazing things people want to do for her in return.
Continuing to Grow and Inspire
Rhiannon's vision for the company is to take the coaching they have been perfecting to those places — such as Africa and India — where it would be of the most profound benefit. She plans to build 1,000 schools and hospitals around the world, using her coaching to teach others how to fish, not give them the fish.
Rhiannon has recently partnered with a former Miss Universe who has already generated vast sums of money for charity, as well as helping thousands of children in Africa.
The goal is to ensure EVERY CHILD is taken care of. Not one child is left behind in terms of Rhiannon's vision is to take her coaching from first world countries to third world countries, where it is needed most. As she continues to work towards this goal, Rhiannon plans to continue to create a conscious community around the world.
On a personal note, Rhiannon aims to have fun and inspire others. If she could provide advice to aspiring business women, Rhiannon would tell them that you are far more powerful than they realize. You can do anything you want. Don't be afraid to dive in, and don't concern yourself with what others think.  There is always someone who has already forged the path you are following and can help you progress further. As an entrepreneur, you can create whatever you want. You are capable and can do so much and there is always help available. Do not wait until things are perfect before you get started. You can get feedback as you go, so start now! Make sure you do not have a fixed mindset; you must allow your mindset to keep growing. Surround yourself with people who say no to you, as you will benefit from receiving different perspectives. Educate yourself by getting a great mentor or coach, and do not forget to enjoy the ride.  If you are looking to make a difference in your life, in the lives of your loved ones — and in the world at large, then the time to do so is now!  Rhiannon is currently working with entrepreneurs who are looking to unlock a wealth mindset and to create generational wealth through multiple income streams and you can join too at https://www.multipreneurs.online/wealthmastermind?r_done=1
Here is a link so you can stream your presentation to all your channels.
https://app.restream.io/new-event-invitation/ck01TUc2b-hjP8dWu0rpkB-HLD8e9G0/email