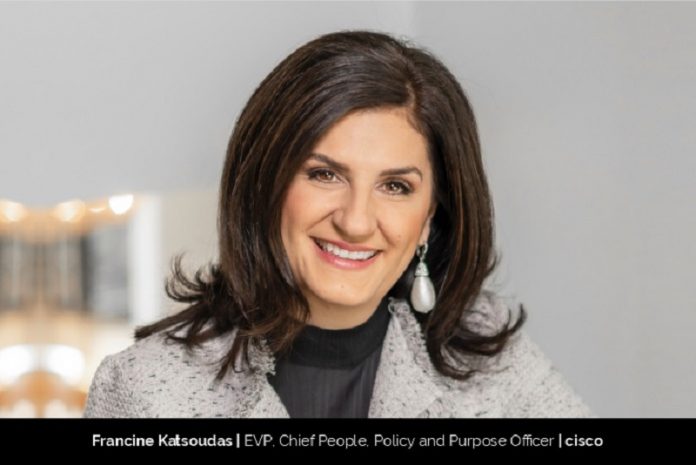 For Fran Katsoudas, Executive Vice President and Chief People, Policy & Purpose Officer at Cisco, it's all about people.
In her role, she leads by centering on the needs of people, which means overseeing the functions and practices that foster Cisco's conscious culture, ensuring people are cared for so they can do their best work and contribute to the company's overall performance, and advancing Cisco's purpose to Power an Inclusive Future for All.
People are also at the core of the causes that Fran champions. As a board member of Americares, she works to ensure healthcare access for all, and as co-chair of the Global Citizen board, she campaigns for action focused on ending extreme poverty, and addressing climate change and inequality around the world.
She is also an advocate for children, homeless youth, and the Latino community, and as a woman leader, she works to lift up other women, pushes for equal pay and opportunities, and strives to bring more women to the table for their voices to be heard.
Powering Purpose
Cisco's purpose is to power an inclusive future for all, and Fran's team is focused on operationalizing that purpose and working across the company to integrate it into every aspect of the business strategy.
This means working to address issues like the digital divide — ensuring everyone has access and connection through broadband that allows them to get the education or healthcare that they need and work in the way that they want to, creating more opportunities for more people.
Pursuing Cisco's purpose also means ensuring that employees work within a fair and equitable company, that they are empowered to create career paths that are individualized and meaningful, and that everything they do as a company drives towards sustainability, economic growth, and inclusion and diversity.
"That is what the people, policy, and purpose organization does. I think something we have learned is that when we come together in purpose, not only are we stronger as a team, but our business thrives, and a really beautiful cycle is created," she notes. "More and more, I think we'll see organizations with Purpose Officers, because it takes a bit of work to align, coordinate, and ensure that initiatives that really help us drive towards our purpose are captured and measured."
A Journey to Leadership
As a 25-year veteran of Cisco, Fran has extensive experience leading organizational transformations, driving large-scale growth, cultivating successful leaders and teams, and building an employee-first culture.
On her journey to becoming the Chief People, Policy & Purpose Officer, she served as HR business partner to the Engineering leadership team and held positions in the Service Provider, HR Operations, Customer Service, Acquisition Integration and Services groups.
"I've been at Cisco now for 25 years, so there isn't a lot of life before Cisco," she says. "I had a couple of jobs as I was coming out of college, and what I learned from those experiences was what I didn't want to do. They helped me to understand that I wanted to be in an environment that was entrepreneurial, that was innovative."
Prior to joining Cisco, Fran worked in both the financial and professional services industries with a focus on customer service and operations. She recalls wanting to work for a company that had an amazing culture, where she could be part of a team.
"My experiences before Cisco, in some cases, showcased what work would be like if you didn't have those elements," she recalls. "When I joined Cisco — as cheesy as it sounds — it didn't feel like work anymore! It felt bigger, and it was something that just fueled me, and I think that's so important. I think we have to look at some of the experiences that we have early on as just pointing us in the right direction from a career perspective."
Having always believed that careers are personal, Fran knows that having a company that is there with you and supportive as you walk, pause, or run in your career is incredibly important. Her message to women is to keep pushing.
"As women leaders, I think we have a most amazing ability to lead with inclusion and thoughtfulness," she says. "Because of some of the experiences we've had, to ensure that every single person has a seat at the table, and that their voice is heard, our experiences make us innovative. We can lean into that and have a lot of pride in the fact that we will drive impact — in some cases exactly the same way that the rest of our peers do — but our experiences make us truly innovative and impactful."
Over the years, Fran has also learned to wrestle with the notions of balance and being clear with priorities — both from a family perspective and a wellness perspective.
"For a long time we talked about work-life balance, and it almost made it feel like there was this division between the two. The way that I view it is that there's just life," she says. "It's the people closest to me that matter the most. My family is my rock. From my two kids and husband to my three siblings and their families, there are 17 of us in total. I think there are trade-offs that we make every day and every week, so the focus is just on ensuring that we're being thoughtful about how we use our time."
Early in her career, balancing speed and proximity to the customer were some of the challenges that made Fran better in her current role. Fran believes that challenges make us stronger and better, but leaders must figure out where to step back and let their teams learn, and where to step in and clear the path.
She points out that leaders are in the position of serving as role models to their people and how they take care of themselves, which has both its challenges and opportunities. And at times, leaders may set examples that are not the best as it relates to the extent to which they work, or some of the sacrifices that they make in their personal lives.
"I think viewing it as something that we continually adjust and learn from is a great state of mind. Being kind to ourselves and understanding that it is a challenge," she says. "If it were easy, we wouldn't be talking about it! There's always something to learn around how you can best manage all of the different elements of your life."
The Evolving Definition of Leadership
Looking back to early career experiences, Fran had some examples of some great leaders and some not-so-great leaders.
"In both situations, I felt like I learned. And there was a point in my career where I wanted to take some of the experiences that I'd had, and step into a leadership role where I could grow and develop a team early in career," she says. "I remember spending a ton of time with members of a team on their own development. From an early stage, this was something that I cared a lot about."
Fran's definition of leadership success has been evolving, and while historically a leader would be assessed by whether they met their business results or goals, today she would look at how they lead the team. She would also ask whether they have followers, if they are building a lasting team that works towards its goals, and whether the team members are learning, developing, and inspired by the work.
"I think my definition of success from a leadership perspective has to include both the 'what' and the 'how'," she says.
Fran also believes that it's very important for leaders to bring their teams in on opportunities, to include them in defining those opportunities, and creating the space for their teams to bring about the breakthroughs themselves.
"When we do that, the motivation and the inspiration happen," she says. "If we share with our teams the challenge or the problem that we're trying to solve, I think our teams are inspired to find new and different ways to solve those issues. It's also really important to let our teams figure out the how, and if we do this, we'll be really surprised and impressed with the different ways work can get done."
Strategic Shifts
Cisco is redefining what it means to be a people-centric organization, which requires some thoughtful shifts in its approach and new tech tools to facilitate new strategies.
"From a human resources perspective, traditionally, there was such focus on compliance, programs, and risk," says Fran. "And I think now — while you still have to focus on those areas — there is a much bigger focus on the experience that we're driving. There's a much bigger focus on our alignment to the strategy."
Some of the key shifts are related to how technology can improve their people programs, like embedding wellbeing within leadership training and leveraging analytics to provide a more customized experience.
When it comes to nurturing future leaders, Fran emphasizes the need for organizations to address both the systems and the individuals.
"From an individual perspective, doing everything that we can to ensure that our women — and men — have the opportunity to rotate, and to try new roles, and to build new skills, is incredibly important and part of a successful career path," she says. "I think that succession planning and development paths, and having mentors and sponsors for our women, is incredibly important."
She also points out that research shows that once someone has a sponsor, it truly impacts their career trajectory. "When I look back on the sponsors and the mentors that I've had, I think they've given me a lot of confidence at moments where I could have wavered in my next steps," she states.
From a system perspective, Fran believes the organization has to ensure that succession planning includes all of the demographics of the workforce, that they continue to lean into the full spectrum of diversity, hold leaders accountable to having diverse slates, and continue to get creative around how they provide people opportunities to try new things as a part of their learning path.
"The level of change and agility is absolutely a challenge," she says. "I think over the last couple of years, we've also seen challenges with how we lead organizations through such a dynamic time, and ensure that our people are okay and that their wellbeing is healthy, as they worked so hard for the company."
Lessons from the Pandemic Era
The past few years have challenged everyone, but Fran has also relished the opportunity to come together with the broad team to address difficult topics and achieve things that hadn't been done before.
"As I look at the last couple of years and I think about the impact of the pandemic, or as I think about the reckoning regarding social injustice, and now the war in Ukraine, all of this points to amazing bodies of work that our teams are doing to help our customers and to protect our people," she states.
She also highlights Cisco's social justice beliefs and actions which were established over the past two years – as an important body of work for driving inclusivity and impact.
"The team has established powerful accountability and sponsorship. To me, it stands out as an example of how we will leverage and manage our teams for tremendous bodies of work," she states.
She also notes that, before and during the pandemic, some of the work they did from a mental health perspective truly impacted the lives of their employees.
"I hope it has had a positive impact on breaking the stigma regarding mental health and seeking help — that's another body of work that I think is incredibly important," she says. "As we move forward, this focus on mental health, wellbeing, fairness, and equity are critical to the workforce of the future."
Powering the Workforce of the Future
Transformation and innovation are in Cisco's DNA, and they are leveraging these foundational elements as they look ahead to the hybrid world.
"We will absolutely continue the work that we're doing on technology that securely connects our customers, and ensures that they can have an amazing experience within their companies. Cisco will be there to help our customers around the globe figure out how they can absolutely be their best," says Fran. "And similarly — inside of Cisco — you can expect that our people will have an amazing experience within a differentiated environment, where they feel there's flexibility and choice, not just in how they work, but in what they do, and the ability to have the type of career that is incredibly meaningful."
Over the years, Cisco's portfolio has evolved to meet the needs of their customers — from the trust that they have built, from a security or cyber security perspective, to the broadening of their portfolio.
"As an example, the focus that we've had over the last couple of years on hybrid work is a combination of our infrastructure and our collaboration technology — these are important expansions — and these are important areas of growth for the company. And they, in turn, create amazing opportunities for our people as well," says Fran.
From a people perspective, these areas of growth then translate to new skills and capabilities that the organization needs to have. There's a direct tie between these areas and the culture that Cisco wants to have as a company.
"We're leveraging assessment tools to ensure that we understand the skills and the capabilities of the candidates we're talking to, moving away from traditional elements like resumes and titles over time and putting that focus on skills and capabilities," notes Fran. "I think these are some of the ways that we're going to challenge some of the current processes within the industry."
The more they want their people to innovate and to stay close to customers, the more they have to ensure that everything that they do from a culture perspective reinforces that.
Fran and her team are working to make sure the workforce of the future is focused on empowering employees to leverage their strengths and life experiences in their career journeys. Cisco has aligned the right people to make this happen in their People, Policy & Purpose organization.
The organization is focused on ensuring that its people know the company is comfortable with them taking bold steps and risks in service of its customers — that innovation is something that should live in every single function and role within the company.
"We should always be thinking about ways for us to do things differently," says Fran. "And so, I think the magic for us is when the clarity around the business strategy shows up very strongly in your culture, in your people programs, and your offerings."
Looking Ahead
With Fran's leadership, Cisco will continue to drive incredibly hard to power an inclusive future for all. Defining herself as a learner, Fran's goal is to stay in a place of curiosity and learning, to continue to push on the impact that Cisco can have in every aspect of people's lives, and to do everything that she can to ensure that Cisco delivers on its Purpose.
"People are the backbone of what we love, what we do, what gets us out of bed in the morning, and what stirs our passions," says Fran. "That's part of why Cisco was named the #1 World's Best Workplace two years running. And there's more to come."
From bridging the digital divide and taking a stand on social justice issues to ensuring the future of work is inclusive and caring for the health of our planet, embedding Purpose into overall strategy means Cisco will continue to play a role in positively impacting everyone, everywhere.
"By bringing together our people leaders, our policy leaders, and our corporate social responsibility leaders, we've created an ecosystem perfectly situated to execute on our purpose and ensure that the work we do is in service to our people, the business, and the world," says Fran.