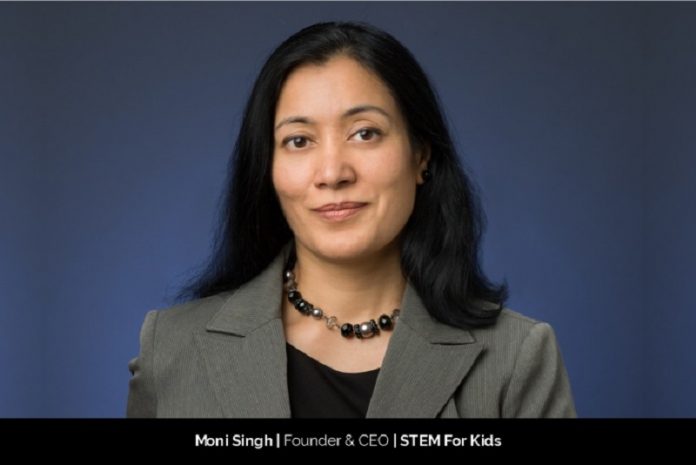 While many leaders find success in winning laurels and accolades, there are some rare leaders who prioritize leading a happy and fulfilled life above everything. Moni Singh, Founder and CEO of STEM For Kids, believes that "Happiness is a Choice. It is important that we choose to be Happy!" She realized this when she got fed up with her monotonous and hectic corporate life and went on to seek that happiness treasure by creating an innovative spark in young minds with the STEM For Kids initiative.
With STEM For Kids, Moni could draw a pathway for success with a quadruple win model that empowered people like her to transform their careers from being employees to becoming successful business owners living a fulfilled life.
She further adds, "People can now strive to be the best version of themselves while helping others do the same, helping educators engage with children in a fun and realistic way, and enabling school-age children with life- and career-ready skills in all communities that we serve."
Laying the Foundation Stone of STEM for Kids
Moni's corporate career did include a handsome salary, a great title, a strong team, and business travels all over the world. However, none of them made her happy from within, and she constantly felt stuck longing to create a significant impact rather than just increasing the shareholder value. So, she began participating in a plethora of community volunteering opportunities to succor women, children, schools, and teachers and could experience utmost satisfaction in those true moments of happiness!
After some time, things started to turn around at her workplace, and her last corporate position was eliminated. This helped her to become proactive in her pursuit of happiness. Her search finally ended at founding STEM For Kids® in 2011.
Students understand and learn faster when things are explained in a fun and interesting way. Just like the movie-watching experience has transitioned from being one-dimensional with silent black and white movies to two-dimensional with audible and colorful movies and further, adding layers of contextual depth in three-dimensional movies to pushing the boundaries to imagine being a part of the movie with four-dimensional effects, Moni wished to create a similar multidimensional STEM education structure.
She knew that this approach would bring forth the core concepts of science, engineering, coding, and technology blended together with diverse career connections and practices, interdisciplinary concepts, as well as social-emotional learning in the most engaging manner.
Empowering students with the best learning experience, she says, "We call it our 4-dimensional learning methodology, and we have been doing this for 10 years. We were ahead of the times when we started with our multidimensional approach. As we have seen lately, social isolation due to the global pandemic has put a limelight on aspects of social-emotional learning."
Knocking down Impediments on the way
Moni's endeavor of becoming a spearheaded technocrat and setting up a global franchise has been a voyage of learning valuable lessons and improving everyday. For her, Problems and Roadblocks = Opportunities. Being brought up in a backward rural community of India where girls were considered a liability, she feels lucky to have parents who thought differently and motivated her towards a path of deliberate education. Although she stumbled on many demotivating people along the way, she never gave up.
While pursuing her Engineering in Computer Science from the Indian Institute of Technology, Roorkee, She adds, "I still remember a professor from my first year in college. He never missed his chance to remind me that engineering was not the right place for a girl. I came out crying from almost every one of his classes. I channeled the negative energy from such "anti-mentors" to strengthen my resolve to persist and show the world that I belonged."
As she progressed in her engineering career, she understood that she lacked the training to work effectively with others and enrolled herself in Duke University for her MBA. Over the years, she learned several skills, and these experiences became the building blocks for STEM For Kids' unique 4 Dimensional learning, where the curriculum involves learning both the hard skills of science and engineering and the soft life skills of collaboration, communication, and perseverance.
Creating a revolution with STEM For Kids
STEM For Kids proffers franchisees and independent business owners all the comprehensive set of tools, training, and know-how so that they can run STEM For Kids classes, camps, afterschool, and other enrichment programs in schools and centers. Their cutting-edge curriculum is loved by all parents, educators, school administrators, and community stakeholders as they incorporate an eclectic mix of concepts such as engineering, coding, bio-medicine, and business to school-age children using an interactive learning paradigm. School-age children of ages 4 – 14 years find immense joy in learning all these things easily.
The company has even implemented STEM WayTM that encapsulates all the core values since the beginning of its operations. It is even considered as a crucial segment of their business conduct policy.
STEM For Kids is on a mission to make STEM super-fun and real. While initially, they had an emphasis on organic growth and enriching the educational methodology that subsumed hard skills as well as soft skills. Moni understands that technology keeps on evolving and thus, the company has implemented a culture of innovation so that kids can keep up with technological advancements in the best ways. Moni states, "All this requires an organization that is quick in sensing industry changes, agile in learning, nimble in devising and implementing fresh ideas. Translating complex technological advancements into child's play and continuously innovating our business processes are in our corporate DNA."
Being the trailblazers in the STEM education enrichment industry for a decade, STEM For Kids constantly works hard to impart industry-relevant skills to students. From bringing computer science education to elementary and middle school students 9 years ago to starting programs covering relevant biotech content for young children after a few years, they always dedicatedly shared necessary information to help them understand today's needs and needs of the future. Three years ago, after Industry 4.0 introduced Big Data and the Internet of Things, STEM For Kids launched fresh programs in those fields as well. Even at the time of the global pandemic, they shifted online in just a few weeks to keep nurturing the young minds with the instructor-led experience.
Their customers and franchisees observe this first-hand as they keep a fresh children-centric curriculum without compromising on business process innovation. These qualities distinguish them as one of the technology-centric product companies and not merely a service-based company.
For Moni's persistent efforts in establishing STEM For Kids, she received several prestigious titles such as Enterprising Women Honoree by Enterprising Women Magazine (2014), Leader in STEM – Women In Business Award, and 40 Under 40 Award by Triangle Business Journal (2015).
STEM For Kids: The Most Affordable franchise Network
When STEM For Kids gained the attention of parents, teachers, principals, school administrators, businesses, and organizations from all over the world, they became interested in integrating STEM into their communities and children as well. Moni says, "That's when I decided to franchise the STEM For Kids business model to enable other business aspirants and entrepreneurs to take STEM For Kids to their markets."
After that, they formed a rock-solid foundation and started working rigorously in perfecting their methods, processes, and curriculum. If something didn't work right or if it was inefficient, they discarded it or ameliorated it until they got it right. Later, they presented the STEM For Kids franchise for all aspiring business owners and passionate entrepreneurs who want to make a difference in children's education in their communities.
However, as soon as they declared the program, they needed to filter out the best ones from a deluge of franchise candidates. Finally, in the fall of 2015, they awarded the first franchise and by the end of the year, rolled out the second franchise.
Today, STEM For Kids programs are running successfully in 5 countries, enlightening children of 120 territories. They are operated by some remarkable business owners coming from all walks of life. To understand the deep impact of their franchisee's growth, she shares the exact words of Donna Curtis, Multi-Unit Franchisee, Wisconsin – Illinois Stateline, who stated, "STEM For Kids has been quite an adventure! We have gone from just three of us to a staff of 25+. We have grown from free camps for our friends to 25 locations with 27 weekly after-school programs serving and inspiring hundreds of children. We are so excited for the future."
STEM For Kids franchise renders a remarkable opportunity for parents, corporate workers, and educators to invest in their own future. This acts as a ticket to turn their stagnant and boring life into a well-balanced career that offers higher fulfillment and growth. Some of the key features that they offer include:
Greater flexibility and control over your work-life balance
Permission to bring your own kids to your work
Getting instant gratification from your work in the glittering eyes or happy faces of your students
Creating a local profile that showcases you to others and brings you recognition
Impact the future readiness of children in your communities in a meaningful way
Feeling excited to learn new things, tinkering on varying innovative subjects of STEM
Embrace the joy of making huge progress
She further shares, "Progress requires moving forward with conviction. Conviction comes with experiences gained from good and bad decisions over time. We provide our franchisees the benefit and distillation of decades of our experiences to fast-track your learning and growth and finally, Be the best version of you."
STEM for Kids: Shining in the Spotlight
Explaining the little secret that keeps things going smooth for her, she states, "Keeping it fun and real for our employees! The quadruple wins we create in the communities we serve – growth of our franchisees, learning for educators and employees, and impact on the young minds and igniting community-wide engagement in support of STEM initiatives are great motivators to push harder."
Moni is proud to witness growth in all aspects and is happy to share expansion in their curriculum line-up that now covers more than 45 different courses encompassing several engineering topics such as mechanical, aerospace, civil, environmental, and sustainability, followed by unique innovation topics like computer programming with Python, Game Making, robotics, Internet of Things courses, bio-medicine, entrepreneurship, and financial savviness courses.
Over the years, STEM For Kids has been recognized with numerous awards and titles. Currently, it is ranked 173 by the reputed Entrepreneur Magazine in its highly competitive Franchise 500 Rankings. Moreover, the brand name has become a top global franchise opportunity for education.
Such victories showcase the true brand strength and indicate the exceptional quality of services and programs that have made a huge difference in the lives of learners as well as franchises.
Promising Future For STEM For Kids
Planning to bring a huge metamorphosis in the industry, Industry 4.0 is the new hue in which computers are connected and are capable of communicating with one another to ultimately make smart decisions without human intervention.
This shift from the 1st revolution that involved mechanization through water and steam power in the 1700s to the 2nd revolution comprising of electricity-driven mass production and assembly lines in the 1800s and then, from the 3rd revolution that marked the emergence of computers and automation in the late 1900s to today's fast-changing 4th revolution that is empowered by Internet of Things (IoT) is witnessed in everything they do. Today, technology is an amalgamation of Artificial Intelligence, the Internet of Things, biotechnology, etc., which is now opening new horizons for learning a myriad of STEM skills for the future. Watching school-goers get hands-on experience in learning such skills is what the company desires to achieve globally.
Moni adds, "Our future entails bringing more innovative skills to children and delivering them through a broader and stronger network of franchisees and independent business operators worldwide. We continuously strive to be the best at what we do. The best version of STEM For Kids is yet to come!"