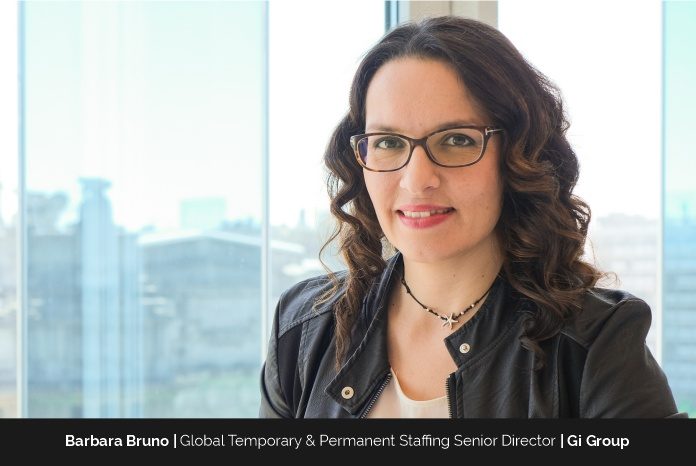 Temporary Staffing is mostly a commodities sector within the HR industry's diverse universe. It's simple to follow the volume-based pricing strategy. It's far more difficult to set up the conditions for your service to succeed, to convince your clients that you can deliver actual value.
Barbara Bruno's mission in Gi Group is to contribute with her work to the evolution of the labour market, and in this perspective, staffing can play an important role. She says, "We can change the value provided by staffing by acting like real HR business partners. This approach requires building skills within the organization, keeping a high level of focus and professionalism in the resources, and a high level of commitment: your people need to overperform, to go beyond the pure execution of service, to do the last mile."
Barbara is the Senior Director of Global Temp & Perm at Gi Group. Gi Group is one of the world's largest providers of human resource services. It provides Temporary, Permanent, and Professional Staffing Services, as well as Outsourcing, Training, Outplacement, and HR Consultancy, as well as Search & Selection and Executive Search.
Barbara claims she had the good fortune to join Gi Group while it was still a tiny firm in Northern Italy with only a few hundred workers. But even back then, Stefano Colli Lanzi, the company's founder, had an ambition of creating an international corporation, the first Italian multinational in staffing and HR services, with the goal of contributing to the evolution of the labour market. That dream was challenging but inspiring, and Barbara decided to jump on board and become part of the construction of the cathedral.
Barbara has over 20 years of expertise in the staffing and HR services industries. In her present position, she is in charge of the practice's business model and its global implementation. She is in charge of coordinating strategic choices such as methodology, procedures and operating techniques, as well as adapting them to different local markets. She is also responsible for creating the worldwide Temp & Perm strategy with the Global CEO, as well as assisting the regions and nations in determining how to transform the global plan into a local one. She has also served on the International Management Board of the Gi Group for the past nine years.
She says, "Every day I spend most of my time videoconferencing with different countries or with my team to make projects progress."
Beginning of the Career
Barbara is constantly hands-on when it comes to handling business prospects, having relevant experience in many nations' marketplaces, and combining a strategic approach with a strong focus on operational efficiency.
Barbara began her work at one of Gi Group's Italian offices as a recruitment consultant. She then moved on positions managing staffing services, monitoring branch operations, and creating corporate customer solutions, first at a regional level in Lombardy, then at a national level, and eventually at a worldwide level, contributing immediately to the Gi Group's internationalization effort. The launch of the international department provided her with the opportunity of becoming Gi Group's global point of contact for operations and solution design.
Barbara worked on customized solutions for multinational business customers all around the world from 2012 until 2017. In 2013, she was promoted to Head of Operations in Germany, where she was tasked with resurrecting the staffing business line. It was a difficult task, but she eventually succeeded, bringing to the country the perspectives and experiences of many other countries as a benchmark while also taking into account the unique characteristics of the local market; in 2018, she was promoted to Talent & Candidate Director, and since January 2019, she has been the global Head of Temp & Perm Staffing practice.
The Gi Group
Gi Group is involved in a number of complementary operations, including temporary and permanent staffing, advanced outsourcing, search and selection, training, outplacement, and HR consultancy. It operates in over 58 countries spanning Europe, America, Asia, and Africa, thanks to its direct presence and strategic partnerships. The firm has established significant knowledge and competence in worldwide multinational staffing demands, for which it has implemented specific solutions and divisions, allowing it to service a wide range of clients.
Barbara states, "We promote respect for human rights and for diversity and inclusion; we support all legislation that provides greater protection to workers and takes an active role in eradicating corruption and any form of abuse or illegal behavior."
Success; a Content Mind
According to Barbara, success is first and foremost a mental condition. "More than any outward acknowledgment, success is looking back at the start of the road and recognizing that everything you dreamed about is now a consistent part of your life," she says. She also adds, "In terms of my professional life, I am performing the work that I wished I could do when I was a student. From a personal standpoint, I am blessed with a family that includes two wonderful children who fill my heart."
Mistakes make You Mindful
"A plain road makes you probably quicker to reach the goal, but a rough one makes you for sure stronger. You learn along the way while making mistakes, and catching business opportunities, especially in uncertain times, causes risks. Not all the decisions that we have made along the way were good ones in retrospect, but I have learned many valuable lessons from my mistakes, "says Barbara. As per her, the first lesson is to recover from a mistake. She says, "It is essential to realize that you are wrong as quickly as possible and to change the road as soon as possible. Waiting will not change the situation, changing it will change it." She finds that the other important lesson is to listen to everybody, but then, above all, to listen to her own instinct. She asserts, "It might not always be right, but it will tell you something valuable if you dare to listen."
What makes Gi Group Unique?
"One of the meaningful intangible achievements I can mention is the shift of the company from a sale driven company to a service driven one," says Barbara. She further adds, "For an HR Services company, selling is crucial, but it is just the first step. You cannot sell your catalogue, since we provide a service that is made of people, it is made with people and it is made for people. We can sell our methodology, skills, and tools, but what makes the difference is designing a solution that fits the needs of the customer, that is easy and enjoyable for candidates and customers, and is sustainable from the candidate market point of view."
Care, passion, constant learning and innovation, cooperation, sustainability, and accountability are the six fundamental principles of Gi Group. In a fast-changing environment, the firm is driven by curiosity and a genuine desire to learn, sharing its professional and personal expertise to help its organisation and stakeholders develop and evolve.
Barbara asserts that Gi Group occupies a distinct position in the competitive HR Services industry. It is significantly smaller and younger than the top five worldwide competitors. Gi Group was formed in 1998, and while its primary competitors are 50 years older, it is fast gaining ground. Barbara says, "We have to look at the big ones' lessons being followers on the one hand but bringing our own view and creativity and leveraging on our position at the same time. From this perspective, being small, privately owned, and having a rather flat hierarchy helps us make strategic decisions and make investments quickly. And then, we work hard."
Adding more Value to Staffing Services
The teams at Gi Group take great pleasure in what they do and think that their work should always be done to the best of their ability in order to provide value to individuals, organizations, and the environment by delivering simple and obvious solutions. Barbara says, "In my business line, Temporary & Permanent Staffing, my will is to build a real global team of talented people, sharing the same goals and enriching with their own experience our business model. In this way, we can really move staffing from a commodity to a value-added service."
As a result, Barbara has launched the "Build the Future" programme within the business line, which is a commitment for everyone in the Gi Group's global community of staffing to be aware of the company's purpose in the labour market, to develop their own skills and expertise, and to play their part in meeting the needs of customers and candidates.
Gi Group's management has set a target of reaching €6 billion in its three-year plan, and this considerable expansion will be fueled mostly by the expansion of its market share in staffing. This expansion will include a significant volume acquisition strategy, both organically and through acquisitions of country-based staffing firms. Barbara says, "We want to strengthen the synergy and integration with the other business lines of the group far more."