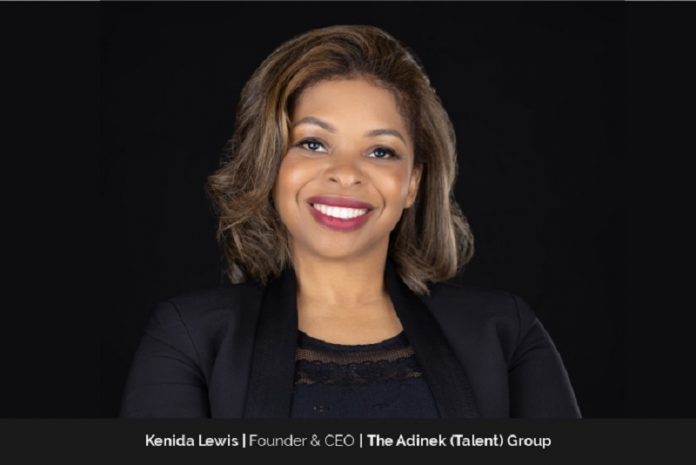 What delighted Kenida Lewis about the staffing industry was that few other industries have the potential to change someone's life with a single interview. As Founder & CEO of The Adinek (Talent) Group, she provides innovative recruiting solutions to help organizations win with talent.
Developing and enhancing talent acquisition process and creating award winning recruiting processes focused on expanding diverse talent pipelines through strategic partnerships, events, and key sourcing strategies for 27 years, Kenida is truly a force to reckon with as an entrepreneur and specialist in strategy development, driving process, creating a cohesive team, contingent workforce management/VMS solutions, and executive recruiting.
In addition to having led a project resulting in the successful implementation of an enterprise-wide contingent workforce solution with an annual cost savings of $400K, Kenida also garnered experience in strategy development and execution for contingent workforce (contract workers/W-2 employees, SOW and 1099) solutions in the financial services arena.
She has successfully managed contract negotiations and contract analysis for staffing suppliers, vendors, and independent organizations as part of the contingent workforce solution.
Discovering the perfect job in the staffing industry
So how exactly did Kenida get into the staffing industry? As she recalls, "After relocating to Michigan, I went to a job fair where I met a woman from an employment company and she offered me an opportunity as a staffing specialist.  I didn't have experience in staffing at the time, but it turned out to be the catalyst for my career. It was the perfect job for me because it tapped into my strengths."
Kenida admits that she loves working under pressure, and gets to meet all types of people, and help them find jobs. She also loves the instant gratification of being able to change someone's life in a single interview.
"I got to work with people and find opportunities that provided them the financial resources to make a significant impact in their lives and provide hope for a better future. I knew then that I was in the right place. I've had much success along the way, not always as dramatic, but the impact remains the same," Kenida reflects.
In terms of recognition, she has received several awards and been featured in the media. However, Kenida considers her best recognition as having come from a co-worker. She explains that it followed a situation where a woman came into the staffing agency very upset about an issue with her paycheck.
"She was very disgruntled and confrontational. I calmly spoke with the woman, showed empathy towards her and diffused the situation. I was able to expedite her needs and she left with a completely different outlook. Our receptionist commented about the way I handled the situation and treated the woman with dignity and respect. That type of acknowledgement from a team member goes a long way," recalls Kenida.
The dream and destiny of achieving success
Kenida notes that success is a feeling you get when you've accomplished something that you've dreamed about.
"Our dreams show us a glimpse of our destiny without effort. We get the distinct privilege of seeing the possible with no inhibitions. It's about having options, the privilege of saying no without thoughts of regret or negative consequences, the power to negotiate hard, and the result being a mutually beneficial partnership for all," she observes.
For Kenida, success is also about having people who may not always agree, but really respect you and who would continue to support the vision you've crafted because they believe in your ability to lead, support, and elevate them so they'll be better than when they started. She appreciates having a team of talented people that can and will anticipate the best course of action that will elevate the cause and the team.
"I would like to reiterate it is not easy, but what has helped me to keep going is fulfilling a long-term dream of mine, being a subject matter expert in my field – which leads to tremendous credibility to clients, an infectious passion, and innovating existing concepts for sustained value that helps others want to help and be a part of something authentic, needed, and tangible," Kenida remarks.
She notes that the essence of what she does can be commoditized, but not the way in which she does it. "To be completely candid, being thrust into a situation of survival mode, when the option to quit is not really an option, is a tremendous motivation. At one point my corporate position was compromised, and being a driver, falling to a scenario that I did not create is not an option for me," Kenida declares.
She used her downtime, as others did, and followed a lifelong passion for entrepreneurship. It kept her focused, made her feel productive during a time of great uncertainty, and allowed her to totally focus on learning to be a business owner.
"I started to get small wins and realized this could really go somewhere. But as with anything, just as you get grounded, something comes in and stirs the dust under your feet," Kenida observes. "For me it was choosing to re-engage in a more traditional job, and I did that. It ended in having to make a personal choice and a professional ultimatum – I chose me. I could finally embrace a versatile way of engaging clients and talent."
Following the dream of entrepreneurship
After deciding to commit 100 per cent to Adinek, her new startup, Kenida admits that she had her doubts and walked around in a daze, reflecting doubtfully on what she had done. Then she got laser focused on tasks, and figured that if she just worked a lot, it would come together.
As she expected, it did – but it wasn't just through hard work. It was the result of relationship building, consulting with advisors, support from family, and a consistent exercise of being purposefully committed to her entrepreneurial dream.
Today, the Adinek (Talent) Group has a proven track record in finding talent in the manufacturing, financial and hospitality sectors. Their consulting arm, partners with private and nonprofit sectors to build much needed talent infrastructure, and most recently they have expanded their Recruiting Process Outsourcing (RPO) group for companies with a limited recruiting function with highly capable engineers. Its flexible solutions model and virtual capabilities help them provide broad services to organizations all over the globe.
From short-term hourly engagements to permanent, full-time, and executive searches, Adinek is always ready to find the right solution for its clients. The company partners to find diverse skill sets in a wide array of industries that seek to build a better environment for all. The firm's services include:
High Volume Recruiting – Internships/Programs/New Ventures/Start-Ups
Recruitment Process Outsourcing – Manufacturing
Recruiting Consulting – Org Structure, Process Enhancement, Diversity Partnerships, Education/Training
Contingent & Retained Search
Kenida notes that finding people is more than just placement; it's about helping them find purpose through work. She takes great pride in ensuring that the candidates she works with are whole, through their lifecycle of employment. This approach not only helps them find alignment with the roles they're pursuing, but also results in the organizations receiving the best talent.
Kenida's primary responsibility in running the company is to ensure that they have the right people in the right position to drive the organization forward. She also sets the example, as it relates to the company's vision, to demonstrate a culture of excellence consistently and effectively.
"My focus is to operate in both a current and future state, as we're ever evolving and growing to keep up with customer demands. I'm continuing to find ways to optimize service levels and develop partnerships for the long term," she says.
But Kenida's focus is not just on the placement to make money; it's also on being dedicated to the well-being of the candidate. She remarks that this is something she has always wanted to do, and it's where her motivation comes from.
"I follow them through their careers to ensure they're growing professionally, being promoted, and offered opportunities to take on special projects," she states. "I take great pride in offering a service and obtaining the trust of my clients. I'm focused on the goals I've set with a 'no fail' option. I don't measure success by financial gain. Although it is important, it is not as important as my reputation in building trust from my clients and getting the job done."
In addition, Kenida has created Adinek Give, a component that supports individuals being their best selves in the workplace, with free resume writing workshops for those interested, as well as instituting Wellness Wednesdays.
She notes that these resources, while not typical of recruiting agencies, are a creative way to build community and collaborate with others to provide work wellness, a key part of a candidate's journey.
Great leadership is not about titles
Kenida agrees that challenges make us stronger and can be the best way to gain the insight needed to succeed. She admits that her biggest roadblock is that she sometimes tends to go into situations being a bit naïve.
"I tend to have my blinders on and don't necessarily realize that I'm facing a challenge. I'm so focused on the situation that I get tunnel vision, and at times don't realize this is a storm with great learning opportunity. After a few bumps, I quickly become conscious on my actions and what I'm up against," she remarks.
Kenida also feels that she can be hard on herself and less aware of the actions of others. She tackles that challenge by consulting with advisors that she knows and respects and seeks advice and guidance from them.
"These advisors help me get grounded and figure out how I can get from point A to point B. I try and replicate this best practice as I encounter other challenges, with the goal of moving through more effectively. I'm continuing to learn how to improve, be the best, and provide the highest level of service that I can give. I also take my learnings and look to inspire others to do the same," she elaborates.
Kenida sees her journey as one of learning, self-discovery, and discernment. One of her biggest learnings is related to gaining titles on the road to leadership.
"I have found, throughout my journey, that titles don't exclusively make a leader, although many people feel that way. Rather, it is more about demonstrating specific behaviours," she observes.
Kenida's philosophy is that great leadership is executed through one's support of others, the willingness to improve oneself, and the pursuit of excellence in whatever form works for each person. She believes that her team is motivated by her drive, and she also offers lots of flexibility in their jobs.
"They can do the job from the beach or a coffee shop, as long as they're competent and capable individuals who are good at their jobs and can deliver the level of service I strive for," Kenida declares.
EMBRACE EVERY CHALLENGE AS A NEW OPPORTUNY AND MOVE FORWARD WITH COURAGE, CONFIDENCE AND CURIOSITY TO CREATE A WORLD OF ENDLESS POSSIBILITES! – KENIDA LEWIS
Bringing creativity into the business and work
Kenida points out that having been on her journey in the talent acquisition and recruiting space for a number of years, she's had a lot of time to reflect on her experience as a Black female professional, and she admits that it has been drastically different from those outside of her demographic. But despite her challenges, she's achieved much success, and her path and unique experience helped her get to where she is today.
"Most importantly, I can provide guidance to others currently going through the same experience. I can share that they're not alone. It is possible to use adversity to your advantage, if you understand what you're up against. Never forget that others have gone before you and were successful," Kenida notes.
She considers her creativity to be one of her greatest strengths, which is reflected in both, her business, as well the activities that she pursues outside of work. The contribution that she makes in redefining the industry is that she has the privilege of being able to bring that creativity into the world of recruiting.
"When I started my company, I was determined to approach my business differently by incorporating a creative-first approach," says Kenida. "What's great about this is that I'm able to take the passion I have for using my creativity into every job and every project. With that, I bring a fresh perspective, which includes allowing others to dive into their creativity and provide those I work with the opportunity to bring their ideas to the table."
The potential for technological innovation in the recruiting industry
Kenida feels that the recruitment landscape has a lot of innovation, but the industry has yet to fully embrace it. Artificial Intelligence (AI) and video interviewing is being used to better screen candidates and facilitate the selection process.
While many organizations are being innovative and are using these tools to aggressively draw from the candidate pool, there's still a void to be filled. For instance, Kenida points out that the paper resume still remains the primary vehicle for job search, even though digital media is the primary mode for communications.
In addition, the industry has not quite bridged the gap with tech and recruiting. She notes that the recruiting world needs to bridge the technology gap between the ways that candidates apply for jobs with the way organizations conduct the hiring process. "I am hopeful that the Metaverse will offer for cutting edge insights and options for recruiting and what makes it great. I would love to have a brainstorming session with the (Meta) verse team to advocate for integrated, reality tools that elevates recruiting.", she adds.
"That being said, innovation is not always technology driven. At Adinek we've continued to focus on the human element of recruiting. That's why we take a white glove approach to working with our candidates. The initial placement is the conduit, and our brand is synonymous with full service," Kenida states.
She also values her candidates as much as she values the organizations that retain her firm and observes that a staffing and recruitment model that holds organizations accountable for a candidate's growth and development is not the norm.
Prioritizing self-care & balance for long-term success
Describing herself as driven, Kenida maintains her work-life balance in a variety of ways. She considers multi-tasking as very important for her, because she has very dedicated goals that she has outlined. While she typically finds a way to prioritize what's important at work and at home, it's not necessarily a 50/50 split.
"I take the opportunity to make time to take care of me. I work out and spend time with friends. You must have self-care. It allows you to maintain your mental wellness. I encourage everyone to do it. It will help you be successful in anything that you do," she recommends.
Kenida recalls that before she started Adinek, she was laser focused on her roles at the Fortune 500 companies and organizations that she worked for and implemented recruiting very effectively within the guidelines of their operations. She also had the opportunity to work with a variety of candidates from all types of backgrounds.
"I developed a solid reputation in the community for bringing cultural awareness to the process and being a champion for equality. I was also, as I do today, balancing that with my family life, which is near and dear to me," she states. "Setting up my family for long-term success; focus on me and the things I have put off, like continuing to grow my relationships with friends and family; it's the little things for me."
For Kenida, the icing on the cake would be to position Adinek as a national or even world-wide leader in the recruiting space. "I want my brand to be synonymous with helping organizations achieve their goals by being that authentic partner for recruitment," she concludes.