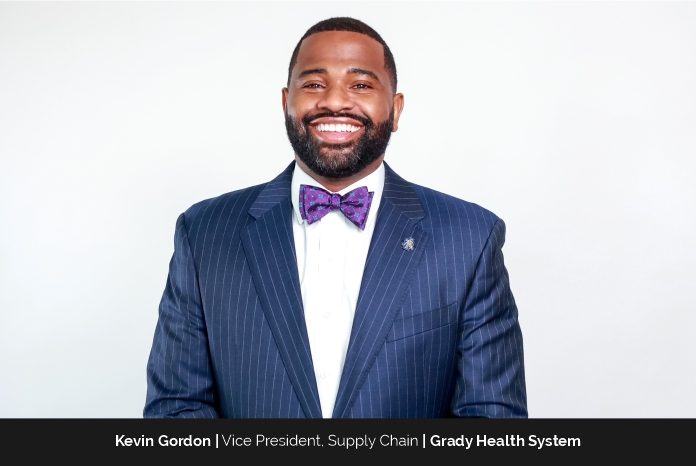 In today's rapidly changing healthcare industry, having a skilled supply chain executive can make all the difference. Kevin Gordon, the System Vice President of Supply Chain at Grady Health System, who has a proven track record of driving results and achieving organizational goals.
With a comprehensive background in operations, strategy, and logistics, Kevin is a results-producing executive leader who has managed multimillion dollar projects and implemented sustainable process improvement initiatives. His expertise in leading cross-functional teams has helped Grady Health System streamline operations and improve profitability.
Kevin's leadership, analytical, and problem-solving skills have been instrumental in driving Grady Health System's success. He understands the importance of balancing cost efficiency with quality care and has implemented strategies to maximize profitability while maintaining high standards of patient care.
Under Kevin's leadership, Grady Health System has seen significant improvements in its supply chain operations. His strategic vision has enabled the organization to stay ahead of the curve in a rapidly evolving healthcare landscape. With his proven track record of success, Kevin is a valuable asset to the Grady Health System team and a respected leader in the industry.
Diverse Work Experience in Healthcare and Beyond
Before becoming a part of Grady, Kevin gained extensive experience in the healthcare industry by working in various health systems, such as Ochsner Health System, HCA/HealthTrust, and CaroMont Health. With his valuable expertise, he has contributed to the growth and success of these organizations.
In addition to his experience in the healthcare industry, Kevin has also worked with several companies outside of healthcare, such as Lowe's in their corporate supply chain, UNFI, Pepsi, and Cargill. His diverse work experience has enabled him to acquire a broad understanding of business operations across various industries.
A Leading Safety Net Health System
Grady is one of the largest safety net health systems in the United States. Grady consists of the 953-bed Grady Memorial Hospital, six neighborhood health centers, Crestview Health & Rehabilitation Center, and the new Correll Pavilion.
With its nationally acclaimed emergency medical services, Grady is the only nationally verified adult Level I trauma center in the Metro Atlanta region and serves as the 911 ambulance provider for the city of Atlanta. Grady's Walter L. Ingram Burn Center is the leading adult and pediatric burn center in north Georgia. And the Marcus Stroke and Neuroscience Center is a Joint Commission designated Advanced Comprehensive Stroke Center.
Other key services/distinctions include Grady's Regional Perinatal Center with its Neonatal Intensive Care Unit, Georgia's first Cancer Center for Excellence, the Georgia Comprehensive Sickle Cell Center, and the Ponce de Leon Center, one of the top HIV/AIDS outpatient clinics in the country. Grady is one of an elite group of hospitals to earn the Baby-Friendly USA international recognition as a Baby-Friendly Designated Birth Facility. Grady has also earned the prestigious Stage 7 on the HIMSS Analytics Electronic Medical Record Adoption Model, becoming Georgia's first adult acute care hospital to earn the highest rating for improving patient care and safety through health information technology.
Grady Health System's supply chain has received several accolades in 2022. The awards include the Georgia Minority Supplier Development Council's Buyer of the Year, Supply Chain Advocate of the Year, and Local Corporation of the Year. Grady was also recognized as a top corporation by the Greater Women's Business Council in 2023.
Additionally, the United States Pan Asian-American Council – Southeast presented Grady with the Pioneer Award. Grady was also honored with the Environmental Excellence Award (Silver Award) from Stryker Corporation in 2022. These awards showcase Grady's commitment to excellence and dedication to providing high-quality care to the community.
Transforming the Supply Chain by Fostering Community Contracting
Kevin has made significant contributions to Grady Health System by spearheading the Supply Chain Transformation initiative, which aimed to restructure and optimize the organization's supply chain space. He prioritized employee engagement, providing education and leadership opportunities to more employees to enhance their skills and competencies.
Kevin also collaborated with a group purchasing organization to increase Grady Health System's spend with local suppliers, highlighting the organization's commitment to supporting local businesses and fostering community contracting in Georgia. He played a leading role in initiating conversations around community contracting in the state, making Grady Health System a thought leader in this area.
Furthermore, Kevin's efforts in establishing a supplier diversity partnership and engagement have been instrumental in creating an inclusive procurement environment, ensuring that diverse suppliers have a meaningful role in the company's supply chain. His approach has promoted equity and diversity in the business world and has helped Grady Health System build strong relationships with a range of suppliers.
Putting Patients First with Kindness, Safety, and Excellence
At Grady, the company has a higher calling and a deep sense of pride in delivering essential care with humanity, compassion, and kindness. Regardless of role or level in the organization, treating colleagues and coworkers with kindness is essential to upholding these values.
Kevin believes in putting patients at the center of everything Grady does. Delivering care with humanity and kindness is what sets Grady apart from others in the industry. Safety is also a top priority, and everyone owes it to themselves, their families, their colleagues, and their patients to take the necessary steps to be safe.
Serving others with excellence is a core value that Kevin believes in owning, personalizing, and elevating. Doing the right thing is essential and it leads to the right outcome. Finally, doing right and doing good are key fundamental values that Kevin strives to uphold every day.
Kevin believes that his positive spirit can be contagious and inspire others to do good and make a positive impact in the community. Through his leadership and guidance, he encourages his team to uphold these values and make a difference in the lives of those they serve.
Building a Diverse and Inclusive Workplace
"The two most important days of our lives are the day we are born and the day we find out WHY." – Mark Twain
Kevin recognizes the importance of diversity, especially in the field of supply chain management in healthcare. He wants to encourage more black and brown individuals to pursue this career path and perfect their craft. He understands that diversity is key to creating an inclusive and equitable workplace that reflects the patients and communities served.
Kevin also believes in the importance of morality and values in the workplace. He wants to amplify the Grady values of doing right and doing good, making it "cool" again to have a strong ethical compass and uphold these values in all aspects of work.
In addition, Kevin advises individuals to take the road less traveled, as the easy way may not be the best route to achieving success. He emphasizes the importance of earning whatever one's heart desires and striving for excellence, as the reward is far greater. Through his leadership and guidance, Kevin hopes to inspire and empower individuals to achieve their goals and make a positive impact in their communities.
Leadership Style at Grady Healthcare
"Leadership is not about being in charge. Leadership is about taking care of those in your charge." – Simon Sinek
As Vice President of Supply Chain at Grady Health System, Kevin is responsible for overseeing several critical departments, including Supply Chain Operations, Procurement & Strategic Sourcing, Diverse Business Affairs & Economic Inclusion, and Value Analysis. He takes a strategic planning approach to guide these departments in achieving their goals and maximizing their impact.
In addition, Kevin is a fiscal steward and ensures that resources are allocated efficiently and effectively. He understands the importance of creating a transformational environment and continuously seeks innovative ways to improve the organization's performance. With his leadership, these departments are empowered to drive positive change and provide value to Grady Health System and its stakeholders.
A Unique Approach to Business Success
Considering himself a servant leader, Kevin does not view success as his own accomplishment. Rather, he sees it as a collective achievement of the team he leads. As per Kevin, leadership is not about exerting authority; rather, it's about taking care of the people under your guidance. In the words of Simon Sinek, "Leadership is not about being in charge. Leadership is about taking care of those in your charge."
"I expect to be great. I expect to do what hasn't been done. I expect to provoke change."   – Coach Deion Sanders
According to Kevin, his most significant achievement as a business leader is his engagement in Supplier Diversity partnership. He has strived to create an inclusive procurement environment to ensure that diverse suppliers have a meaningful role in the organization's supply chain. He believes that by partnering with diverse suppliers, the company can achieve greater success and promote equity and diversity in the business world.
Taking Small Steps
Kevin believes in providing a true work/life balance for team members by giving them the autonomy to do their jobs effectively. This means trusting employees to manage their workload and schedule, while also ensuring they have adequate support and resources to succeed. Kevin understands that a healthy work/life balance is crucial for maintaining productivity and reducing burnout.
Dr. Lawrence Sanders, Grady's SVP of Utilization & Care Management, often reminds Kevin of the importance of taking things one step at a time. He has learned through his 30+ years at Grady that tackling large tasks can be overwhelming, but breaking them down into smaller, manageable steps can make a significant difference in achieving success. Kevin takes this advice to heart and applies it in his leadership style to help his team members achieve their goals effectively.
Embrace Challenges and Opportunities
Grady aims to achieve best-in-class supply chain processes, matching its renowned clinical team, as the organization completes its supply chain transformation. The goal is to expand supply chain throughout the health system, centralize the function, and introduce innovation.
"The ultimate measure of a man is not where he stands in moments of comfort and convenience, but where he stands in times of challenge and controversy." – Dr. Martin Luther King, Jr.
Kevin advises aspiring leaders to take the less traveled path, as the easy way may not be the best route. He emphasizes the importance of earning whatever one's heart desires, as the reward is far greater. Aspiring leaders should also continue to prepare themselves for opportunities, as the intersection of preparation and opportunity can help them seize the moment. In life, there are choices, and individuals should choose to be extraordinary.