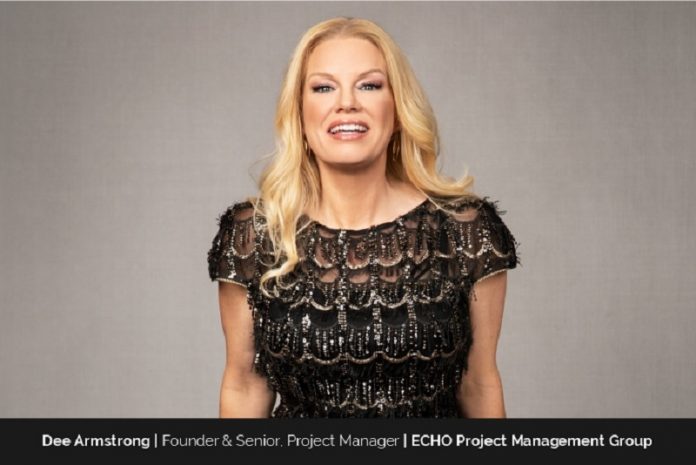 Sometimes a personal loss puts one on a path to build an entity that has the potential to change the world. Dee Armstrong's founded ECHO Project Management Group may not reshape the world, but it is certainly changing the patient healthcare services for the better.
Dee thought of doing something for patients, especially those suffering from a mental or terminal illness, following the death of her grandmother and uncle. Dee's Grandmother died after battling Alzheimer's disease. Her Uncle Don suffered from severe schizophrenia. Both of them failed to get proper care from their healthcare providers. So Dee promised them, on their deathbeds, that she would change the way healthcare service providers treat their patients. This promise led to the establishment of ECHO.
In this exclusive interview, Dee, who is also the Senior Director of Project Management & Operations at ECHO, talks about what motivated her to start a medical research company, the start of her career, and her future plans. She also talks about what makes ECHO different. And Dee also shares her unique views on challenges and success.
Every leader has a unique definition of success. Tell us about your thoughts on success and why you feel that way.
Success to me is creating an environment of passion and respect and treating the people you see more than your family like you would your family or best friend.  Having the mentality that you 'get' to work, not that you 'have' to, is a saying I like to throw around as much as possible. I never liked the mentality of working just for a paycheck, as I feel there is so much more to life than that.
This vision rings true through the ECHO team and the quality of work and services they generate. They welcome everyone with open arms and treat everyone as a family member, building long-lasting relationships.
Leading a company to success is not an easy road to take. What inspired you to take the step of faith? What laid the foundation of the ECHO Project Management Group?
I founded ECHO to advance patient-centered medical research by recruiting people who are willing to share their experiences with rare diseases, health conditions, and mental illnesses. As part of their connected community, they have the opportunity to be heard.
The valuable information they provide about their diagnosis and treatment, which will be used by physicians, pharmaceutical companies, and other medical institutions to improve patient services and further the healthcare arena. They are no longer just a number. Armed with these strong values, I incorporated ECHO.
While growing up, I watched my uncle suffer from severe schizophrenia. When my grandmother was later diagnosed with early onset Alzheimer's disease, it took such a terrible toll on my family. Medical professionals did little to help at the time and we felt powerless in the ability to assist either beloved relative the way they needed to be taken care of. They were just a number.
Challenges make you stronger. What is your take on this? What were the roadblocks that taught you valuable lessons in your professional journey?
I welcome challenges, as they test you and force you to grow and adapt, or to revert and stagnate.  What fun is life if you can't learn and grow?  Here at ECHO, we love challenges, as we are known for our hard work to recruit rare medical conditions and disease audiences.  To be able to get a rare audience of people heard is life changing for them, us, and for the healthcare industry.
Tell us about the ECHO Project Management Group and its services
We go the extra mile to create an environment of care and sympathy, where we refuse to let rare diseases and conditions within healthcare define a person or their life, and we get them heard to further the healthcare arena.  We recruit for many medical conditions and diseases specializing in mental health and cancer. We offer a variety of study methodologies, which utilize a number of data specific options.
TDI's – Nationwide telephone interviews, where patients are invited to share their experiences through telephone and web-assisted telephone interviews. They are asked pertinent questions relating to their diagnosis and asked to provide individualized insight regarding how to better help those with their medical condition.
IDI's – In-depth interviews face-to-face with experienced strategists
In-Facility – Patients are invited to join one or more interviewers at a medical facility to share their healthcare story. They are encouraged to share additional feedback and expertise regarding their respective diagnosis.
In-Home Ethnography – Patients consent for an interviewer to come to their home for an in-depth personalized interview regarding their diagnosis. Patients are given the opportunity to show in greater detail how their chronic condition has affected their life, including what they have done to improve their overall daily wellbeing and what tools and assistance is lacking.
Online Forums – Online Focus Groups allow for free-flowing conversation between the moderator and all participants. Patients are invited to share their stories, as well as offer feedback and insight. Different aspects of the diagnosis may be explored to better understand the patient experience.
Additional Avenues – Some studies utilize alternative research collection in order to better understand the patient's journey. Some examples may include short home video descriptions, video blog diaries, or written stories in an essay form
Hybrid Methods (Two or more study options)
The foundation of the company is more of a personal inspiration for you. Tell us about your contribution in redefining the healthcare industry and the growth of the company with your experience and expertise.
What sets ECHO apart is that we care about every panel member. We work hard to maintain relationships with all of our patients, caregivers, and healthcare professionals. We aren't your traditional medical research company. We go the extra mile each and every time whether it be growing our panel organically or simply maintaining the strong relationships we have formed within our panel.
Many times, we find ourselves having 45-minute conversations with our panel members. They crave that human connection when it comes to the medical field. The difference is WE CARE and WE WANT to make a difference in each person's life for their future healthcare needs.
How do you wish to influence a change in the generation as a woman in leadership?
Women have come a long way.  We are now able to dream our future desires and make them happen! We can do anything we set our minds to do. This was not always the case, as we all know.  Women are now being heard, and in a big way.  We are a women-owned and operated company.
Share with us your strengths as a leader and your views on leadership.
One of my biggest passions is helping others achieve their dreams, and I ensure that women in their surroundings can hone this same passion. My advice to everyone is to learn what it takes to not run a company and do the complete opposite. Treat your team how you would want to be treated within a company, is the golden rule. The team at ECHO works with me, not for me. Appreciation, gratitude and trust go a long way. This is a great recipe for a strong team. Always stay humble!
Tell us about your life before ECHO Project Management Group.
Watching my parents grow successful companies throughout my childhood inspired me. It instilled in me two very important values—work ethic and integrity. These two values have helped create the foundation for my continued success. I never set out to be a great or inspiring leader. I set out to make a difference. It's always been about the vision, the goal and about each person's story influencing another.
As a successful woman leader, what are your thoughts about women empowerment and how do you support it?
Empowering anyone is an amazing gift, especially a woman, as we face such criticism to just be ourselves and not be what society deems fit. Seeing a person's light igniting in their eyes is immeasurable! Hearing the passion and excitement come back into their voice completely makes my heart skip a beat.  Knowing what they had in them all along and seeing them bloom into that – well now that is the good stuff of life!
Tell us what marked the beginning of your career? What has been the best recognition that you received as a woman leader?
The best recognitions are the emails or text messages that I receive from my team, telling me how I have changed their lives and inspired them. It is also very rewarding to see a woman enter the company and slowly come out of her shell and bloom. Watching her confidence exude from her every pore – that is what inspires and touches me.
What are your responsibilities as the Senior Project Manager of ECHO Project Management Group? Walk us through your regular day at work. Also, define yourself in one word. 
To motivate and instill passion daily is my main role here at ECHO.  We all have good and bad days and we are all very different people. We take time on weekly team calls talking about personal issues that we all go through, and we are able to offer each other advice as we have all gone through the same things as women, wives, mothers, daughters, and sisters, at some point in our lives.  We aren't just coworkers, we are also each other's biggest supporters and mentors.
How do you maintain a balance in your personal and professional life? How do you keep your team and yourself, motivated to deliver the best services?
Work, like life, is a delicate balancing act.  On one hand, you deserve a break, and on the other hand, you feel guilty not working when your eyes are open as a business owner. You eat, sleep, and drink your company. You take it from a concept, a baby if you will, and teach it how to eat and walk on its own.
You have to relinquish control as you pass it off to the babysitter, aka coworkers, for care. I had to learn that you must stop and recharge on your days off and this is a MUST.  I also drill this into the team as well.  Rest when you can as everyone needs to recharge and reset, and you must have time for self care, family and friends.
What are your plans for the future of ECHO Project Management Group? Also tell us about your personal goals as a leader. What is your message to aspiring women leaders?
Rethinking how we reach medical patients with rare conditions has been our biggest accomplishment with implementing referrals from the healthcare arena. We have found our niche within connecting physicians and our end clients with quality pre-vetted respondents. We have many wonderful plans in the works. We are adding services that will connect patients across their conditions to offer support and feedback. I guess you will have to stay tuned for the reveal!
We are a small but powerful company that is making huge strides in the future of healthcare whether it is medication, devices, or simply feedback to healthcare professionals on how to better a patient's experience.  WE are not another number. WE are human. WE need to be HEARD!