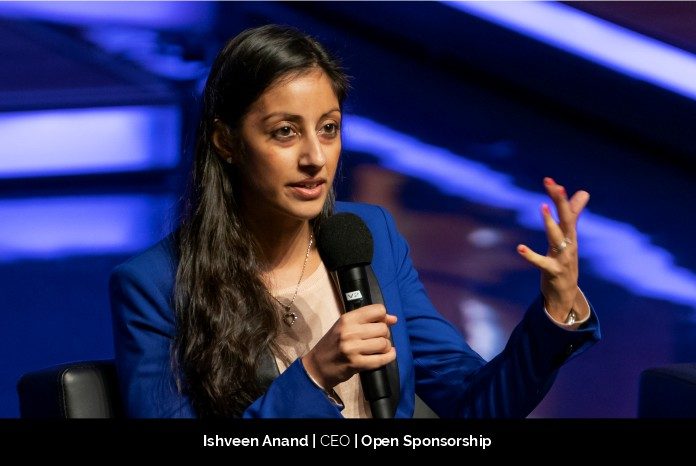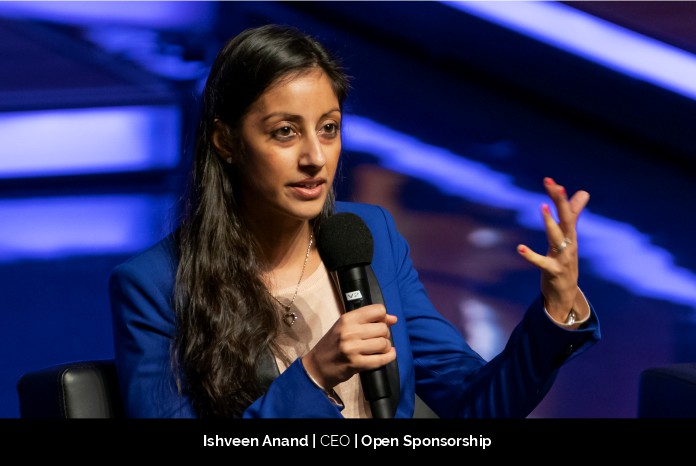 Many people embrace their childhood love and passion in a field and turn them into successful careers. From being aware of nothing about a Sports career to creating a well-known platform for dealing with athletes and programs, Ishveen Anand, CEO of OpenSponsorship, changed her life completely by becoming a successful name in the sports marketing industry. Her roadmap includes being in Forbes 30U30, raising six figures from NBA All-Star Baron Davis, getting listed as one of INC magazine's top 100 female founders, and hitting $2 million annual revenue. All this proves that she never gave up on herself or her career.
Foundation of Reaching Success
She did not even know in her teeny age that there was an actual career option in sports, but she loved being in the sports world since she was just a preschooler. Ishveen later graduated from Oxford University in London with a degree in economics and management. She just realized that this is the finest degree she was going to get but this was not what she wanted.
She changed her whole stream and worked under a sponsorship company and got a brilliant idea that came through uniquely. She adds, "In my personal life, I was using technology platforms such as LinkedIn, Airbnb, and Uber, and thus, wondered why a similar portal was there for our $60B sponsorship industry; somewhere buyers and sellers could find each other and transact easily".
Once she found success, she knew the road ahead was tough yet possible. She says, "Of course, founding OpenSponsorship was the start, however, I'd say that earlier than the company I realized that I had a duty as a female sports agent to act different to men, i.e., working harder and being smarter to make an impression and to be given responsibility."
About OpenSponsorship 
In OpenSponsorship, sports players search for a plethora of campaigns or programs which provide them with specific jobs or promotional product work, and that repays their company with popularity and image. Also, she made it convenient for folks to grab these kinds of opportunities because it could all be done by just creating a profile online where both parties could meet and chat about their mutual interests.
She says, "Our clients love the time they save, the results they get, and the money savings given, have transparent pricing on our platform." The company mainly forms its pillar on Transparency, Accessibility, and valuable Education. They proffer a best-in-class software platform that has numerous sponsorship opportunities with high ROI.
She has plans to expand and work in different industries like music, entertainment and already has secured a partnership in the UK which she is going to announce soon. She always has a 1 to 2-year roadmap to achieve worldwide success.
Facing Pandemic Crisis Boldly
COVID situation had blown out every single business or industry in the market but she did not get scared by any of this. She started with her plans and put them into action and did not get along exactly as she had imagined but she didn't stop at any point. As we all know, in today's market everything is digital which has its pros and cons.
So, she faced complications like hiring, budgets, connections, funds, etc. which almost every business goes through. Nevertheless, being in a situation where almost everything was seemingly impossible, she didn't want to settle for anything less for her company. She spent hours interviewing, acquiring finance, and on everything where she is standing right now.
Like she said, "We went through 500 startups accelerator in San Francisco, which was a major support in our raising $1.5 million". She didn't stop, wait or give up on her idea. Her undivided focus became her biggest strength. She moved on, continued working, and got what she wanted from every single minute she spent on her company and her passion.
Smart Marketing Strategies to build a brand
Nowadays, it's all about building a brand as people need to rely on such marketing tactics to stay ahead. They commenced with having an interactive session between the brands and the athletes. They made them promote each other over social media or via famous applications such as TikTok, etc. Further, influencer marketing and content marketing were also quite trending at that time.
Making deals with the athletes and brands was helping her company's growth and popularity in the industry. Even though she knew that everything will work at a measured pace she did it anyway and that's how now her company's name is like a brand in the Sports industry.
She also works hard in empowering women by getting a diverse team representation with an equal male-female ratio and making sure that female athletes get good sponsorship deals as well.
Balancing private and professional life
Handling everything at the same time is not easy but she had to multitask and work for her career, for people who work under her, and for everyone who helped her build this company. She adds, "My biggest role and responsibility is to make sure that everyone else in the team has no roadblocks to get their job done and hit their targets. The team and I love what we are doing, the mission, and the fact that we are helping athletes and brands enter into better sponsorship deals. It's really rewarding, and this helps us to work hard, challenge ourselves and keep innovating."
She believes, engaging in sports, exercise and workout are her keys to a healthy body and mind. She also spends time with her family and friends and she likes to keep the other life out of it at that moment which is exactly what an industrious woman would do.
She has a special message for all budding businesswomen. She says, "I'd say the journey to build a company is long, everything takes much more time than you initially imagine, so be sure you are passionate and motivated by the company mission and pace yourself, so you don't burn out."