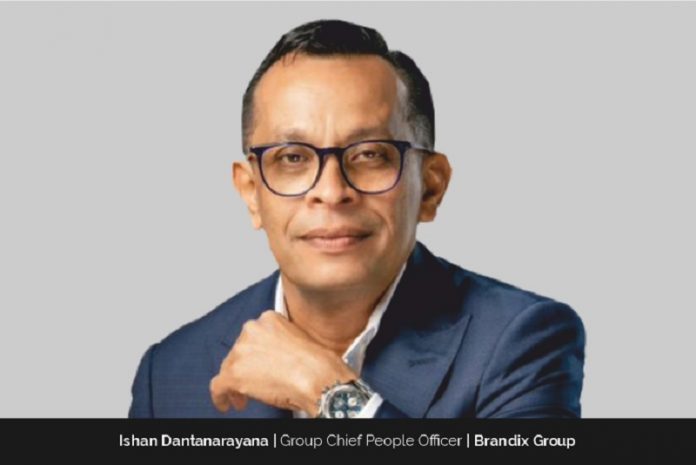 As the Group Chief People Officer of the sustainable apparel manufacturer, Brandix Apparel Ltd, Ishan Dantanarayana finds his greatest inspiration in making thoughtful and lasting impacts on stakeholders and society.
Although his initial professional qualifications were in Marketing and Finance, prior to his Masters and other studies, Ishan was led to HR early in his career, as he realized that the highest contributor to organizational growth is its people.
Ishan got his MBA from Edith Cowan University in Australia. He also has a Postgraduate Diploma in Marketing, FCIM status of CIM (UK), a Postgraduate HR qualification (SL) and is a Professional Certified Coach (International Coaching Federation). He also completed the U21 Leadership program offered by a unison of 21 top global universities.
"Starting my career in the tea industry, and due to my boss falling ill, I had to overlook the HR & Administration of a large Group at the age of 20. Thereafter, I was in the startup team of Sri Lanka's first private radio and TV networks, a joint venture of Singapore Telecom, followed by holding the position of Country HR Head and Acting Country Manager at DHL Keells, the global courier company, where I also overlooked the transition of IT operations to Kuala Lumpur," Ishan recalls.
Thereafter, he joined Virtusa Inc., a leading global IT service provider, and set up and led their HR operations in Asia and Europe. In addition, he led their Global T&D and the Knowledge Management team and created and headed the Global Data Processing / Analytics Centre. Ishan has also been a Regional Trainer and trained in over 40 countries.
Happy employees create happy customers
Ishan observes that success is the self-fulfillment of achieving your vision with goals aligned to your personal values, yet the delight that you experience when you have contributed to the success of others is possibly the most gratifying aspect of it.
He points out that today's HR professionals are everything from coach and counsellor to business strategist and employee advocate. Transformation opens the opportunity to change the trajectory of the lives of the individuals they work with, and to make a thoughtful and lasting impact on society, which is where he finds his greatest inspiration.
"With a personal passion to engage with and develop people, I was driven to connect and mold the strengths of employees to align with business goals. The adage, 'Happy employees creating happy customers' cannot be stressed enough, and for this, we must enable our people to excel," Ishan affirms.
Noting that managing people is a consistent challenge, with its many types of ebb and flow, Ishan offers the comparison of expensive machinery to elaborate on his point that if we invest in expensive machinery, we will ensure a lot of attention and maintenance. Human beings, however, require a much higher amount of attention as they're the ones who can adapt, be flexible, and optimize benefits from the constant change we live amidst.
"When they are cared for, inspired, and encouraged to upskill, we will harness the full potential of diversity, creativity, and innovation, which are key to the success of any organization. Their loyalty and team alignment with a truly heartfelt love for the organization is what will make this difference, and drive talent retention," states Ishan.
He observes that the top and line leadership, with the engagement of HR, plays a pivotal role, as they hold the greatest ability to motivate people. "Appreciating employees will hugely motivate them, and the lack of it has an opportunity cost of output from employees that may not be seen," he maintains.
Delivering Inspired Solutions through Inspired People
Ishan notes that Brandix has a purpose to deliver Inspired Solutions through Inspired People to world renowned fashion brands. It has a team of over 60,000 employees across nine countries, including a 1,000-acre state-of-art Apparel Park in India, and more facilities in Bangladesh, Haiti, Cambodia, UK, USA & Canada. In Sri Lanka, it is the single largest apparel exporter and employer, with over 30 facilities across the country.
"In my role as Group Chief People Officer and a member of the Board of Brandix Corporate Campus, I play a versatile role," Ishan says. "At Brandix, care for our planet, the community in which we serve, and our people is sewn into the very fabric of our business – as such HR is also heavily engaged in the Group's many social and environmental sustainability initiatives."
Ishan further clarifies that Brandix's key areas of focus include providing access to clean water for drinking and household needs, and multiple scholarship programmes to support youth. Their work in medical security has seen Brandix Sri Lanka as becoming the largest corporate blood donor for over ten years; and in India, their flagship community healthcare initiative extends to free eye camps that provide spectacles and perform eye surgeries.
"With environmental sustainability in our DNA, I am humbled to say we were awarded the World's 1st Net Zero Carbon apparel manufacturing facility for our factory in Batticaloa, Sri Lanka, in 2019, and we're on a journey to have all our facilities in Sri Lanka certified as Net Zero Carbon by 2023, followed by India in 2025," Ishan declares.
Reshaping the work culture of the company
Ishan overlooks the entire HR function at Brandix, including strategy and operations. His focus is on the employee life cycle, including employee branding, promoting the Brandix culture, talent attraction, goal alignment, talent management, competency enhancement, compensation and benefits, and HR operations.
All this is driven through a professional HR team, that's committed under their people vision of Brandix – Inspired Employees coming together as 'One Brandix'. The team supports Brandix to drive their vision and achieve their long-range plan (LRP). They have made tremendous strides in positively influencing the company culture and DNA with their RITE values of Respect, Integrity, Teamwork, and Excellence, which are sacrosanct to all of the personnel at Brandix.
Ishan's plan for the Brandix Group is to collectively achieve their LRP for the business. For HR, it is to further drive digitalization, continuous excellence in all that they do, and diversity practices, including overall employee well-being. Additionally, to promote agility, strengthen their eco-systems, and promote their coaching framework with their large set of certified internal coaches.
"In my daily routine, the time most treasured is the work my team and I do to support our associates, their families, and the communities. Through these many efforts, I would balance the demands of a world class corporate, side by side with the need to be 'humane' at the very core of myself," Ishan states.
He explains that they have many initiatives in place that embrace equity and diversity, so that everyone can become the best version of themselves. To achieve this, they have streamlined their structures, transitioned into a space where the respective functions collectively come together to achieve organizational goals, and developed new levels of leadership.
"We have also enhanced our people related policies, practices, and processes, and driven digitalization to enable critical people related insights. To tackle retention, we place a keen focus on local and global mobility of our people," says Ishan.
Under his leadership Brandix has also partnered with a large global organization to manage their back office in HR, where AI and robotics-based interventions have been introduced and measured against global benchmarks and KPIs with related audits. He notes that Compliance and Risk & Control to support business continuity has gained much momentum too.
Ishan points out that today, as 'One Brandix', their people have a value driven and safe working environment which has been reflected in their various employee surveys. Their policies include the Abuse & Harassment Free Workplace, Speak Up Policy, and Code of Conduct.
They have also created independent councils (ICs) at several levels, strengthened by the independent Ombuds Office and Audit Committee. "We are humbled by employee delight ratings in the 80's, and this is also reflected by the low attrition percentage," says Ishan.
Resilience is critical for overcoming HR challenges
Ishan notes that, in HR and partnering with business, the challenges that you face are constant. Perceived roadblocks are created as a result of change. These include the need to review structures and systems, and the hire to retire cycle, including the impact of external factors. He points out that geographically, there are many differences too, and requirements impacted by consumer behavior create constant challenges.
"Leading is a challenge, with a spectrum of rewards along the way. In a rapidly changing business landscape, HR continues to see transformation at every step. This was speeded up further with the pandemic. The enemies that you can't foresee are the biggest challenge to fear, like we experienced with COVID," he admits.
Ishan note that, while some of these challenges can be managed through Business Continuity Planning (BCP), resilience is critical. All these factors impact the people of the organization, and successfully managing them makes one stronger.
"Facing challenges and overcoming them gives us lessons in life. It tells us the importance of attracting the best talent, gearing them with personal and social competence, aligning under a vision, and the ability to be nimble and agile, all coupled with high emotional intelligence. With this, roadblocks can be progressively overcome," Ishan observes.
The future of HR technology will combine human beings and machines
Ishan notes that the HR industry is significantly changing in the VUCA world of the global pandemic and economic downturn, and that today's new ways of work, including work from home, to gig and flexible work, have created many challenges for HR. He believes that upskilling and reskilling is needed at an unprecedented speed.
"There is also much focus on the need to care for the mental well-being of our employees, and here I'm supported by our dedicated Counselling team at Brandix. HR also has to increasingly work with the Organisational Health & Safety (OHS) teams to create healthy employees, and a healthy working environment," he notes.
Ishan predicts that, in the near future, the use of technology will be a mix of human beings and machines, with the use of AI, micro learning, and features such as chatbot.
"Interestingly, investment in the HR tech industry, in spite of all the economic challenges globally as per research, has attracted USD 14 billion last year, and over USD 9 billion in the first half of 2022 (as per HR Tech Singapore). The highest investment has been talent attraction, which shows the criticality of the same for the future," he remarks.
Ishan believes that HR will have to focus on the emerging trends of the softer side of people, and that the topmost emerging skills for 2022 are communication, emotional intelligence, self-motivation, and teamwork.
"When times are challenging, everyone will have to contribute towards creating positive vibes and a growth mindset to drive organisation strategies. Additionally, we must learn quickly from mistakes and rebound. Execution excellence will turbo-charge growth when the collective strength of your team is stronger than you," he maintains.
"Execution excellence will turbo-charge growth when the collective strength of your team is stronger than you." – Ishan Dantanarayana
The proudest moments & achievements as a successful HR leader
Ishan has received international recognition for his significant contributions to his organization, country, and the world, through innovation and entrepreneurship. So, what does he regard as his greatest achievement and proudest moment as a successful HR leader?
As he notes, from a people perspective, it is developing a set of great leaders who today are trailblazers at Brandix, and even other prominent organisations in Sri Lanka and overseas. From a business perspective, one of the things which is very close to his heart is the digitalization that they executed in record time at Brandix, to enable a future-fit workforce.
"I am also delighted that, at Brandix and with my past employers, we have elevated our HR practices to be recognised with 'Gold' awards for overall HR, as audited by the Society for Human Resource Management (SHRM-USA) and Hewitt's," he remarks.
Ishan notes that Brandix has also been recognised with the Southeast Asia HR Excellence award and also as best in the country for Learning & Development and Performance Management., and Also by the 'Women Friendly Workplace Awards' by CIMA (UK) & AICPA (US) under the outstanding category.
"Additionally, I take pride that Brandix has been quoted in the book 'Work Rules' by Laszlo Bock, former Senior Vice President of People Operations at Google," he states.
Ishan admits that he is also delighted to have held the role of President for the Association of HR Professionals (AHRP), which is the single organisation that represents the working HR professionals in Sri Lanka, and also for the contributions that he has made, to various organisations and to academia, by being on their Board of Directors.
Ishan was also awarded the Achievers and Leaders Award for Excellence in Talent Management at the first Sri Lanka, India, South Africa, and Singapore (SIAS) Partnership Summit in Colombo on December 5, 2010 and was invited to be one of the 18 top leaders to address the SIAS Summit, confirming his position as a regional HR leader. Additionally, he was also recognized as the 100 Top Global HR Minds.
A firm belief in positive thinking & doing the right thing
So how does a successful HR leader like Ishan maintain his work-life balance and motivation?
"I try to maintain work life balance as much as I can and dedicate the weekends in particular to my lovely wife, who keeps me in touch with the most meaningful pleasures of life, and I also spend a lot of time with my family. I invest keenly in mindfulness, and mental and spiritual well-being. Additionally, I enjoy listening to music, have a penchant for watches, and am an avid traveler," Ishan elaborates.
Very much a believer in positive thinking, Ishan observes that to be motivated, he thinks positively, and believes that creative solutions can be found for any problem, especially when coupled with a 'can-do' attitude.
"I firmly believe that if you do what is right, where you can answer your conscience, your mind is clear, and that is the highest motivation I have," he states. "My thinking is that we must create a shared vision where there is engagement, contribution, and commitment from the team. Transparency, honesty, fairness, and sincerity displayed by the leader are important. I have been blessed with a wonderful team who truly are the wind beneath my wings."
Embrace the roller-coaster ride of the new world of work
Ishan's parting advice to aspiring leaders in the human resource industry is that the exponential times they will have to face will be a roller coaster ride. "To face this, you must strengthen your resilience, be courageous, embrace your team, and improve your emotional quotient. Close and meaningful interactions partnering with the business, employees, and stakeholders will also be critical," he maintains.
Ishan also recommends investing in digitalization to drive speed, execution excellence, and become cost efficient. "Most of all align your actions to the fact that a new way of work with a multi-generational workforce, will require a new way of thinking, where talent will be the differentiator," he advises. "It helps to think of the legacy you want to set for yourself in your career. Your values, principles, actions, and the resulting personal brand you create will influence this tremendously."
"A new way of work with a multi-generational workforce will require a new way of thinking where talent will be the differentiator." – Ishan Dantanarayana