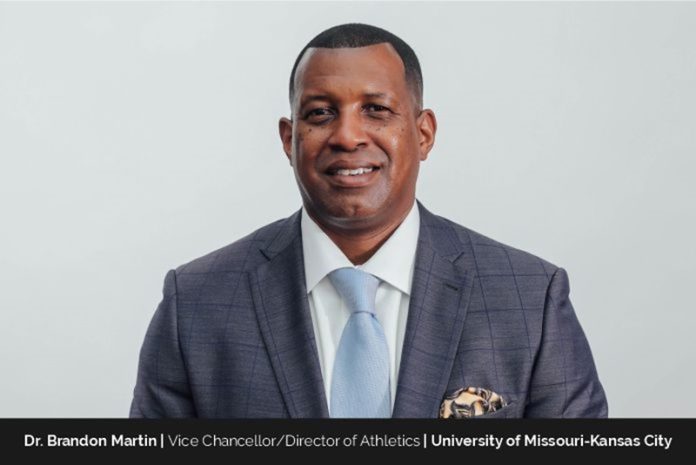 As the Vice Chancellor/Director of Athletics at the University of Missouri-Kansas City, Dr. Brandon Martin has a unique perspective on success. In his view, success is all about recognizing one's innate talents and strengths and using them to serve others.
He firmly believes that this service should involve motivating and inspiring individuals to cultivate self-awareness, consciousness, and a lasting sense of fulfillment. For Dr. Martin, success is not a fixed destination; it's a continuous journey marked by a commitment to truth and a connection with both oneself and a higher purpose.
The Path to Leadership and Overcoming Challenges
Growing up, Dr. Martin's dreams and aspirations revolved around becoming a beacon of hope for his community. Hailing from South Central Los Angeles, he was driven by a desire to empower young people, combat prevalent issues like drug and gang violence, offer solutions to under-resourced schools, and challenge the prevailing narrative of inferiority among the less privileged. His belief in the transformative power of change was deeply rooted in his upbringing.
Reflecting on his path, Dr. Martin acknowledges the profound impact of his time as a professional basketball player overseas and his subsequent graduate assistantship at USC. These experiences provided a behind-the-scenes look into the inner workings of universities and athletics administration. They fueled his fascination with the multi-dimensional nature of leading a successful Athletics Department and ultimately led to his full-time position as Assistant Athletics Director for Administration before completing his Master's Degree.
Throughout his professional journey, Dr. Martin encountered various challenges that contributed to his growth as a leader. One of the most significant challenges was realizing that hard work alone isn't always the panacea for success. True success, he learned, often requires an invitation into the systems, networks, and cultures that can propel one to greater heights. He contends, this takes a level of humility and discernment that is only design for the wise.
Transitioning from a more privileged and highly-resourced Power 5 Athletics Department to a resource-challenged environment for his first job as Athletics Director was another pivotal experience that forced him to confront his own limitations, inner struggles, and self-deceptions. In essence, the transition was a cathartic experience for him both as educator and athletics administrator.
A Distinguished Career in Athletics Administration and Higher Education
With 23 years of experience as an athletics administrator and higher education executive, Dr. Martin brought a wealth of expertise to the University of Missouri-Kansas City (UMKC). Before his role at UMKC, he held prominent positions, including Director of Athletics at the California State University—Northridge for five years, and Senior Associate Athletics Director at the University of Oklahoma for three years.
His journey in athletics administration commenced at his alma mater, the University of Southern California, where he served as a Senior Associate Athletics Director for a decade. Since his arrival in Kansas City, Dr. Martin demonstrated a visionary commitment to achieving comprehensive excellence. In less than a year as Athletics Director, he has implemented a series of transformative initiatives.
These include introducing a new logo and brand identity, successfully securing multi-million dollar gifts for Swinney Center facility renovations, launching the Roo Athletics Fund, and leading an ambitious conference realignment project to bring Kansas City Athletics back into the Summit League Conference, effective as of the 2020-21 academic year.
Beyond his achievements in athletics administration, Dr. Martin takes pride in his 17 years of university teaching experience, where he made a significant impact on students outside of athletics. He also considers his 13 years of working at two "Power 5" institutions, USC and Oklahoma, to have provided a solid foundation in championship-level operations and excellence.
Dr. Martin's accomplishment in authoring the book "Leading in the Unknown: A New Paradigm for Leaders in College Athletics" during the challenging times of the COVID-19 pandemic holds special significance to him, as it contributed to his personal and leadership growth in a time of chaos and uncertainty.
A Multi-faceted Leadership Journey in Athletics, Strategic Initiatives, and Academic Contributions
In his current role as the Vice Chancellor/Director of Athletics at the University of Missouri-Kansas City, Dr. Martin not only oversees the Athletics Department but also takes on a broader role involving strategic initiatives on campus. This includes co-leading a task force dedicated to improving retention and graduation rates for underrepresented, first-generation, transfer students, and students of color at UMKC.
Dr. Martin's responsibilities encompass providing strategic leadership in all Athletics Department matters, including fiscal affairs, personnel, strategic planning, facility management, public relations, and general operations. He also establishes and maintains essential relationships and communication with various stakeholders, including faculty, campus administration, students, alumni, donors, and the Kansas City community. A significant part of his role involves securing major gifts to address the priorities and needs of the Athletics Department.
Furthermore, Dr. Martin takes on the unique responsibility of overseeing and leading the Men of Color Academy (MOCA) on campus. In this capacity, he identifies challenges and implements strategies to provide academic and social support for male students of color. Dr. Martin also plays a key role in developing co-curricular initiatives aimed at enhancing racial, gender, and cultural understanding, aligning with the work of faculty.
In addition to his leadership in athletics, Dr. Martin serves as an Executive in Residence in two academic departments on campus — the Henry Block School of Management and the School of Education. In these roles, he contributes to the strategic vision, course development, and student recruitment. He also teaches various courses related to higher education administration, sports leadership, and diversity and social issues in college and professional sports.
Dr. Martin emphasized, "In my opinion, courage is the most important attribute a leader can possess in college athletics or higher education." He believed that a leader must have the courage to "define reality and respond accordingly." Based on his experience, he admitted, "Most of my unsound decision-making, impulsive responses, mis-communications to staff and coaches, and unregulated frenzies have come when I'm consciously ignoring the truth about a scenario, crises, or opportunity." He further emphasized that ignoring the "elephant in the room" could lead to deleterious outcomes, particularly when it concerned matters of "a person's character, aptitude, loyalty."
Unlocking Team Excellence Through Emotional Intelligence and Authentic Leadership
Dr. Martin shared his approach to keeping his team motivated at the University of Missouri-Kansas City. He emphasized, "It's definitely not a one-size-fits-all all approach." According to him, emotional intelligence played a crucial role in this endeavor. He stressed the importance of understanding each team member's mindset, including their "triggers, ambitions, fears, strengths, spaces for improvement, and purpose," as this knowledge was essential for motivating and inspiring the team to achieve excellence.
Dr. Martin also highlighted the need for a keen sense of "time and score" when working with his staff. He explained that this involved knowing when to empower them, recognizing when they required time to recover, and understanding when they needed both praise and challenge.
Authenticity was another key principle he emphasized. As a leader, he believed in being true to one's word and making decisions in the best interest of the team or program, even if these decisions weren't always the most popular. According to him, this approach would lead to earning respect from the team.
Discovering Balance in Life and Divine Motivation Beyond Self
Dr. Martin shared his approach to maintaining a balance between his personal and professional life and staying motivated. He expressed, "Balance is somewhat overrated and to a degree misunderstood in my view." He drew an analogy from basketball, explaining that for him, balance meant "understanding time and score and understanding my spots on the floor of opportunity."
He clarified that this approach was all about situational awareness and making the most of moments to maximize time with family, dedicating time for self-care, and following a daily process that involved intentionally spending time with loved ones. Dr. Martin believed that the most crucial aspect was committing time to self-care to ensure the ability to take care of those who mattered.
In terms of motivation, Dr. Martin revealed that it stemmed from his understanding that his "divine assignment is outside of himself." He recognized that there were people, both known and unknown, depending on him to pave the way for success. He firmly believed that his God-given talents and strengths were meant to inspire and serve others.
The Importance of Abandoning Entitlement and Teaching Resolve and Resilience
When it comes to making a difference in this generation, Dr. Martin emphasizes the importance of abandoning entitlement. He believes that today's youth should not expect success to be handed to them without encountering challenges, adversity, and disappointments. Teaching toughness and resilience is crucial, especially in a world where constructive criticism is often met with fear and fragility.
Dr. Martin is concerned about the reliance on external sources, such as social media, for motivation, confidence, and purpose. He sees a pressing need for this generation to rediscover self-empowerment and find genuine motivation and purpose within themselves.
Dr. Martin had a clear message for aspiring education leaders. He conveyed, "My message to aspiring leaders is the following: 'Make fear your friend,' be willing to be 'uncommon' in your beliefs and convictions, don't lead from your 'rear-view mirror,' have the courage to take the 'shots' of opportunity, stay true to your mission and guiding principles, select your advisors and mentors carefully, and prioritize emotional intelligence in all of your endeavors.
Dr. Martin's inspiring journey through athletics, academics, and leadership at UMKC underscores his commitment to holistic excellence. His work on and off the field, from transformative athletics initiatives to fostering resilience in the younger generation, reflects a visionary leader dedicated to making a lasting impact in his community and beyond.