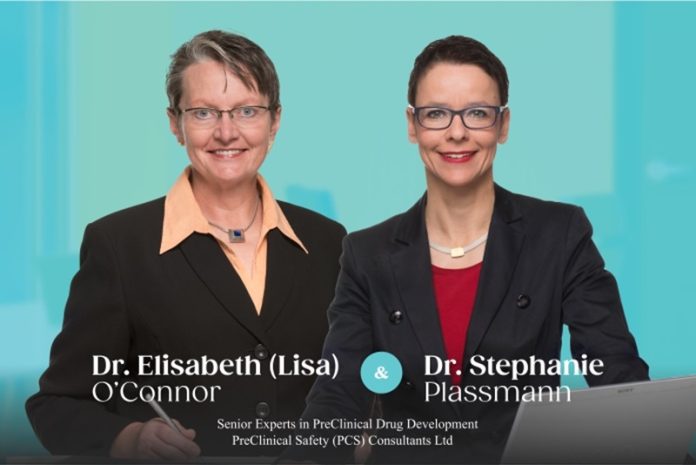 PreClinical Safety (PCS) Consultants Ltd is the home of a team of senior experts led by Dr. Stephanie Plassmann for many years. We had an opportunity to interview her and one of her senior colleagues, Dr. Elisabeth (Lisa) O'Connor. Both went from humble beginnings over 30 years ago, to building highly successful careers at PreClinical Safety (PCS) Consultants Ltd, one of the top drug discovery and development solution providers today.
Offering Integrated Preclinical Drug Development for Over 30 Years
PCS was founded in 1989, and at the outset, the company focused on delivering consulting services in the core safety disciplines of histopathology and toxicology. This was an innovation at the time, but only marked the start of the journey because preclinical drug development includes much more than safety aspects. It truly is the bridge from bench to bedside and one of the cornerstones for successful clinical drug development.
Today, PCS provides independent expert advisory services, and pharmacological and preclinical safety evaluations to the pharmaceutical, agrochemical, chemical, and food industries, to academic institutions engaged in science and research, and to business investors and CROs.
The expertise of PCS includes the areas of pharmacology, toxicology, toxicopathology, drug metabolism and pharmacokinetics, quality assurance, clinical pharmacology, and regulatory services including the preparation of regulatory documentation such as IBs, INDs, Briefing Books, and CTDs, covering a broad range of indications.
PCS has long-standing hands-on experience with the full range of test items used in drug development, including small molecules, herbals, or biotechnology-derived products, but also with other materials such as food supplements, chemicals, impurities, etc. Successful operational implementation through testing programs to ultimately build up a comprehensive basis for a robust risk-benefit assessment and quality assurance are integral parts of its services.
PCS offers sound preclinical development that links the operational aspects, which are mostly covered by Contract Research Organizations (CROs), with the underlying developmental strategy for a given pharmaceutical drug, both of which must be based on a robust scientific concept to be successful.
Its dedicated team of senior experts in the field offers solutions to companies that require this unique expertise, which is lost or much less available in many places today, in a broad range of indications and all relevant areas of preclinical drug development. That includes DART (developmental and reproductive toxicity) and juvenile animal studies (JAS), where only a handful of scientists worldwide have senior expertise, which the PCS team offers, based on hands-on experience of well over 30 years.
Providing Clients with Established Hands-On Expertise and Experience
As a Senior Expert in Preclinical Drug Development, Stephanie is a veterinary surgeon, a board-certified specialist in veterinary pharmacology and toxicology and a Eurotox-registered toxicologist. She has come a long way in her professional journey. She finds the most valuable experience is to contribute hands-on, ever and ever again, to drive significant progress in areas of high medical need, and to make a change for patients suffering from clinical conditions for which no or insufficient treatment options are available.
She notes that devastating diseases can affect any one of us and we're lucky when there are effective drugs available to support recovery. However, for many patients in need, that's not the case. Therefore, they must rely on sound research and development by experts in this field.
"I was extremely lucky in that I found teams and opportunities where I could make a real difference, and this is driving me beyond measure. The people I met along the way share that mission, and you can achieve a lot when you perform together based on the same vision and values. You can make a change for those in desperate need," says Stephanie.
Since she took over in 2011, she has developed the company further in the areas of drug metabolism and pharmacokinetics, preclinical pharmacology, quality assurance according to GLP (Good Laboratory Practice), and later to include even clinical pharmacology on a case-by-case basis. As a result, PCS is now recognized in the field as The Integrated Drug Development Company, integrating all disciplines involved in the process of preclinical drug development, including the transition to clinical development.
Stephanie recalls that when she took over PCS, she had already been working with the company for many years, first as a client herself, and later she became independent and joined the team. "I could see strong potential in the company. Today, our team offers expertise in all areas needed for integrated preclinical development, with established hands-on expertise and experience of over 30 years, to provide integrated support for the projects of our clients," she explains.
As a Senior Expert in Non-Clinical Drug Development, Lisa is a postgraduate agricultural engineer and a veterinary surgeon with a Diplomate of the American Board of Toxicology (DABT). She was involved in the entire process and learned the business starting in the laboratory, from supporting projects as a team member to taking the lead of non-clinical drug development teams. She has also worked in different countries (Switzerland, Japan, and the U.S.) and has learned how to adapt to different cultural influences and team interactions.
Providing Education & Training to Overcome the Drain of Preclinical Expertise
Both Stephanie and Lisa are very proud of the success of PCS as the company continues to develop further. Over time, more independent expertise was needed in the field, since in the last 20 years, the landscape of preclinical development has changed dramatically resulting in a loss of senior expertise in the pharmaceutical industry. On top of that, the biotechnology sector has developed very dynamically and many innovative products were invented, often by small and midsize companies with a focus on research rather than development.
However, the drain in preclinical expertise also affects major pharmaceutical companies, since many of these players outsource operational activities rather than hold resources and, therefore, expertise in-house. Taken collectively, the demand for senior expertise in the field of preclinical drug development continues to increase.
PCS is further expanding as a team because of the increasing demand for its services. It is actively involved in the scientific advancement of preclinical drug development, which continues to face emerging challenges, through workshops, training, publications, and interactive communication with other scientists in the field.
In addition, as there are only a handful of people with good quality experience, PCS is not only contributing as a consultancy, but also engages in the development of fellow scientists in the field, by passing on their expertise, both as a company, as well as by voluntary education and training.
As an example, PCS contributes to the PharmaTrain certified Introductory Course in Exploratory Medicines Development, offered every year by the Association of Applied Human Pharmacology (AGAH – www.agah.eu), as well as by other regular lectures and publications, and publishes these activities on its website at www.pcsconsultants.com.
Competition Sparks Innovation and Fuels Success
Although drug development is a massive industry with great competition, Stephanie believes that competition is a fundamental element for driving achievement and an opportunity for innovation. She insists that challenges fuel success, and for her, these elements are complementary, not contradictory.
She points out that PCS has been a front-runner in providing integrated drug development services using digitalized formats since the beginning of the company. Because PCS involves the most senior experts, its team members work from different areas of the world, including Europe, the USA, and Canada.
PCS has never believed in the concept that people can only work successfully as a team when physically sitting in one building. Not only does that allow the organization to expand its services on a need basis, but it can interact with international clients and partners and benefit from time differences.
In addition, PCS's group of experts goes back a long time from collaborations over many years. So, they work as an established team, from both a professional as well as personal perspective, which they consider a key factor to success.
The Professional Journey of a Veterinary Surgeon
Stephanie observes that, for a veterinary surgeon of her generation and even today, the professional road she took is very unusual. Veterinary medicine is one of the most complex professions one can choose. The academic studies are very broad and the professional education to become a veterinary surgeon is quite tough, so you have to be determined to complete it.
In Stephanie's country and generation, there was a severe limitation of spaces available to study veterinary medicine, even less than in human medicine, with seven applicants competing for just one university place. However, veterinary medicine fascinated her more because it looks at so many different species, from mammals, to fish, to insects like bees, which are so important for humankind.
Stephanie notes that one of the key subjects is epidemiology – infections from viruses, bacteria, and fungi, but also parasites. These areas are critically important for human health since, as seen with COVID-19 or influenza, most pandemics are zoonoses that spread between animals and humans. Veterinarians are at the forefront of these areas of knowledge, and also the ones who are most exposed in their daily work. Because of global warming, this knowledge becomes even more important.
Veterinarians don't only learn about medical conditions in animal species compared to humans but also study para-clinical topics like chemistry, biochemistry, physiology, pharmacology, and toxicology. Vaccine development during the pandemic showed us how these areas fuel each other and led to spectacular success in medical development.
Stephanie notes that veterinarians are required to sit exams in over 30 subjects, providing an array of options for professional development, much more than just becoming a general veterinary practitioner. A fully-qualified veterinarian can specialize in various ways, such as getting board certified in pharmacology and toxicology, which requires further education over five years comprising all the areas in this field, offering even more options to specialize further. Unfortunately, most veterinary students know very little of this when they begin their studies.
Stephanie's journey was inspired by a presentation given by a big pharmaceutical company working in the same business that she specialized in later. She offers the following advice to aspiring veterinary students, "Enjoy the options veterinary medicine gives you, get to know yourself on the way, and don't specialize too early. It may not be what you want to do all your life!"
Stephanie's original plan was to become a practitioner, but she realized over time it was not for her, because only while studying this complex subject, did she learn that the daily routine did not challenge her in the way she needed and that her drive was fuelled by exploring new areas. She wanted to learn the hard way every day, discover new areas, overcome obstacles, find solutions, define objectives, develop a roadmap to achieve them, and accomplish the mission. Ultimately, she found drug development the ideal fit for her ambition to help as many patients as possible.
Most of Stephanie's projects concerned the development of medications for human use which involved a cross-species approach, but she also worked on veterinary products. She notes that most diseases in animal species are treated with medications that were initially developed for humans. Similarly, drugs for veterinarian use must be developed in clinical trials for specific patient populations.
There are many additional considerations for both human and veterinarian drug development, such as environmental impact. Taken collectively, Stephanie concludes that veterinary medicine is a field rich with challenges that allow us to make a change for the better.
Saving Lives with Responsible Preclinical Drug Development
Stephanie's role at PCS is to take the scientific lead on projects, grow the company, and implement its vision on a day-to-day basis characterized by the development and hands-on operational implementation of testing strategies, evaluation and interpretation of data, writing of scientific expertises, communication with multidisciplinary teams, problem-solving, and project management aspects, to name a few.
She acts as the interface for her colleagues and clients and streamlines the processes hands-on. "Hopefully, I will never achieve all I have dreamt of! Dreams develop as you achieve things and make some of your dreams come true. So, you should always have a vision to guide you. However, I am very proud of PCS's success to date," Stephanie proclaims.
Lisa points out that dedication, hard work, teamwork, and customer focus are the core values of the company that bind the team together, and no matter how much experience you have, there's always something new to learn and a new problem to solve.
"We've worked on very interesting projects and hope to continue bringing new medications to patients in need. I like to optimally support our clients, who often work in areas of high medical need. If our clients succeed, then patients in need will have a better future," she observes.
Stephanie maintains that they are – on purpose – a small and dedicated team because they want to provide high-quality rather than "high-throughput" advice.  The team members all make significant contributions to the success of PCS and are recognized by its business partners, clients, and colleagues in the scientific community.
"Each one of us is dedicated to improving the health of patients suffering from serious medical conditions. We take the mission of responsible preclinical drug development to heart, to make a difference in this important field. Not only is that an intrinsic motivation driving us as scientists but also an ethical commitment," Stephanie insists.
Perseverance Pays in The Field of Drug Development
Stephanie points out that not every drug can succeed, as it is a very complex area, and many promising molecules cannot be developed because they are not efficacious enough, or have prohibitive side effects. The risk-benefit profile must be favorable, so one must choose the most promising drug candidates, and a key objective of successful preclinical development must be to select those options early on to make the right choices for a company's portfolio.
From a scientific perspective, preclinical development builds the bridge from bench to bedside, and success means bringing effective drugs to the market in the shortest possible time while maintaining the highest quality standards, to make helpful medicines available to patients as soon as possible.
As Stephanie's take-home message states, "In preclinical drug development, expect the unexpected! Every day, there's a possibility of unexpected findings which may have a direct effect on clinical development and need to be addressed proactively. Any emerging finding may have an immediate impact on human safety. It's an integral part of a sound process to react flexibly and responsibly to any challenge along the way. Therefore, challenges are inherent in preclinical drug development, and if you want a quiet life, you should not engage in this field."
She notes that she and her team have faced many situations where unexpected findings meant a major concern for further drug development, requiring immediate interaction with all parties involved, including regulators. While each case is different, it sometimes means the end of a project. In other cases, the project can proceed because the findings can be addressed, risks can be successfully managed and mitigated, or it may be established in the end that a particular observation does not present a risk to human patients.
This assessment, and the actions resulting from it, are always addressed case by case and require not only experience and expertise but also senior managerial skills to act on them successfully. Stephanie explains that failures in drug development occur for many reasons and we must learn from each one of them.
"Every failure is a motivation to succeed next time, and every success contributes to patients' health. To succeed, it is important to enjoy any challenges along the way so that they can catalyze the process! When you see a drug reaching the market, saving lives, there can be no greater motivation to keep going, despite the long journey with many obstacles in the way. We take success personally for the sake of our patients' health. Perseverance pays!" she declares.
Take the Lead and Serve as a Role Model
Stephanie believes that the best way to influence a change in the industry is by taking the lead and serving as a role model. Her ambition as a leader is to inspire fellow scientists to do what they believe in, and she insists that nobody should stop them from achieving their goals, just because it may be unusual or nobody else has done it before.
Her parting advice to aspiring leaders in drug development is as follows: "Do it on solid grounds, fact-based. Challenge yourself. Question yourself. Invite critical feedback. Stay determined to reach your goals and do it with your team! Build a team that challenges you and contributes in ways you're not the best at. Build your teams on trust and competence. Learn from errors. Success is always a team story and true leadership participates in achievements, which can be major. Success means to achieve. And true achievements make a significant contribution to a turn for the better. So, keep going and enjoy!"
For more information please visit: