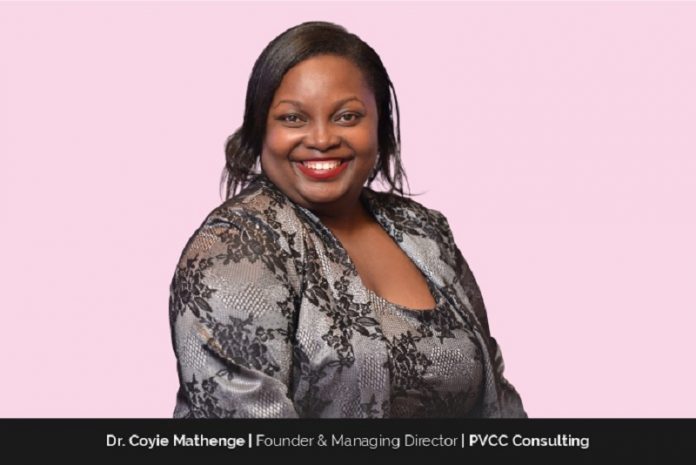 Dr. Coyie Mathenge, Founder and CEO of PVCC Consulting, is someone who leads by example, and is renowned for her inexhaustible levels of energy and enthusiasm, great sense of humour, and wisdom.
Drawing on a wealth of experience and expertise in safety sciences, pharmaceuticals, and the healthcare sector, Coyie is the heartbeat of PVCC, the lead consulting firm offering outsourced Pharmacovigilance & Drug Safety services in the Life sciences industries.
Through her clear focus, drive, and ever-growing leadership skills, PVCC continues to grow and expand in response to a broadening client base in the African region, providing holistic, quality, and innovative solutions for Pharma, Medical Devices, Cosmetics, and Cannabidiols – CBD products marketed in Africa.
A love of travel & experiencing new cultures
Early on, Coyie chose to pursue a career that would allow her to interact with people from all walks of life, while serving with excellence, compassion, and allowing her to travel, either for work or pleasure.
"I have always tried to be a studious, all-rounded, compassionate, and fun-loving person. I love travelling and experiencing new cultures by trying out different cuisines and meeting new people," she says. "The first seven years of my career saw me work and travel widely all across Kenya, as a clinical pharmacist within the public sector, and I loved every bit of it."
As she advanced in her career, Coyie looked for opportunities that would provide her with similar experiences, and as a pharmacist specializing in Pharmacovigilance Regulatory affairs, she still loves that her work allows her to travel extensively all around the world.
Laying the foundation of PVCC Consulting
Armed with a B. Pharm Degree (UoN) and an MSc Degree in Pharmacovigilance & Pharmacoepidemiology (EU2P, Bordeaux), Coyie founded PVCC with the aim of providing Pharmacovigilance & Drug Safety services to the Pharma industry, with the ultimate goal of achieving access to safe, quality, and efficacious medicines in Africa.
"Personally, I have always had the desire to create an impactful change in Africa by an African. The fact that there were no experts of my caliber readily available to support the Africa pharma industry was my biggest motivation," says Coyie.
When she started her pharmacy career as a clinical pharmacist in public health, the biggest challenge she faced was what appeared to be a lack of accountability by the pharma industry, with regards to their medicines distributed and offered to patients in public health.
As a result, if there were any product complaints, including drug safety, there was no mechanism to reach these companies directly and inform them of these issues.
Coyie also notes that the communication and distribution pathways of medicinal products were extremely linear, meaning the flow would start from top to bottom as follows: the pharma companies, to health authorities, to distribution and marketing agencies, to health care providers, to patients.
Very rarely would there be mechanisms to support the flow of communication in the reverse manner – that is from the patients to the pharma companies, or any other concerned parties.
"This concept truly frustrated all my efforts in offering quality pharmaceutical care to my patients, and I really wanted to do more, but my options were greatly limited," Coyie recalls.
The fact that there were no independent experts and service providers that could offer Good Pharmacovigilance Practices up to par with global standards, and with the understanding of the African regulatory landscape, was what laid the foundation of PVCC Consulting.
"In other words, there was a poor showcase of PV expertise in Africa and I wasn't happy with that, and so I founded PVCC to fill that glaring gap," says Coyie.
In an effort to create change in pharmaceutical care, she joined the pharma industry and started championing patient-centric pharmaceutical care, and this led to positively change the flow of communication and distribution of medicinal products to the patients, as the center of interest.
"That means my efforts, and those of other players, have empowered the current patients to reach out directly to any party concerned with their pharmaceutical journey," she states.
Championing patient-centric pharmaceutical care in Africa
Presently, Coyie continues to advance patient-centricity in the African region through PVCC Consulting, which currently supports the pharma and other life sciences industries in 47 African countries.
PVCC consulting, fully known as Pharmacovigilance Competence Center Limited, is a rapidly growing pharma consulting firm offering Pharmacovigilance and product safety regulatory services in Africa.
Its mission is simply to provide wholesome, quality, and innovative product safety using technology solutions. PVCC's services match the global standard of practice, with a crystal clear understanding of Africa's needs and challenges, and include:
Advisory safety services
Consultancy safety services
Competence safety training and capacity building
Outsourcing safety services
PVCC's clients cut across the following industries;
Human Pharma
Animal Pharma
Medical Devices
Cosmetics
Medical cannabis
Vaccines
Clinical studies
The challenge of generating sustainable & authentic solutions
Despite PVCC's success, the path to entrepreneurship was not easy for Coyie, and she had to overcome a number of obstacles. However, she believes that challenges make one stronger and help unravel a situation in depth.
"I believe this is one of the best ways to generate sustainable and authentic solutions," she observes. Some of the roadblocks that influenced her leadership included:
Coyie recalls that at the time she was starting her career she had already identified her passion and desperately desired to advance in that specialty. However, there were no institutions, both locally and globally, that offered qualifying studies in pharmacovigilance.
For five years, she searched and waited, until she discovered and enrolled in the European program of pharmacovigilance and pharmacoepidemiology in Bordeaux, France, in 2013.
To date, there are only a handful of institutions globally that offer this specialization. Additionally, there are still very few drugs safety resources, in terms of publications, media coverage, academic curricular, social media campaigns, and other forms of awareness.
Coyie points out that there are still very few qualified drug safety / Pharmacovigilance experts, and most are either based in the developed markets like EU and US regions and/or are direct employees in large foreign based pharmaceutical companies.
This continues to leave a huge gap for the African patients, who remain served by local pharmaceutical and/or small-scale biotech/pharma companies.
Till date, the healthcare sector in Africa that also taps into the pharma industry is largely paper-based, with a few exceptions where uncoded or unverified online files are used on a day-to-day basis.
Nonexistent transfer of knowledge
Coyie notes that there is still a huge gap within the African pharma industries, where personnel from the large foreign based pharma companies are more advanced in knowledge and practices, as compared to their local pharma company counterparts.
Subsequently, the pharma industries established in Anglophone speaking countries are more advanced, as compared to their Francophone and Lusophone African speakers. Such disparity has continued to be a hindrance towards enhancing universal and quality drug safety in Africa.
"In my current leadership, I have not only created awareness of these gaps and their impact on our African patients, but I am now also in a position to influence and shape policies around this topic," says Coyie.
In her professional capacity through PVCC consulting, she is now offering homegrown solutions tackling all these individual hurdles, including the development of innovative, environmentally friendly technology solutions.
"I consider success as being able to achieve sustainable solutions as you continue to fulfill your own personal goals. And if that achievement can go further and impact positively on people and the community supporting your journey, that is a bonus," states Coyie.
"We live our lives forward, connecting the dots backwards."
– Steve Jobs.
Dealing with gender bias as a woman entrepreneur
Coyie observes that it has definitely not been an easy journey navigating through the industry as a female leader and entrepreneur.
She recalls that, way back when she worked at the hospital, it was very easy to be stereotyped by patients, despite being in a white lab coat with a name tag that clearly spelled her name and 'Dr.' Title.
"Patients would address us female doctors as 'sister' or 'nurse', and every male colleague, even the janitors, would automatically be referred to as 'doctor'," she recollects.
Coyie notes that even as an African business owner, something as simple as conducting or confirming a banking transaction, or a presentation at a travel visa application interview, would be met with unnecessary hurdles where without even reviewing the documents provided, she would automatically be asked to provide evidence of legality and/or further authorization from the company's managing director, whom they presumed was a man.
Although this would eventually be followed with some awkwardness and attempts of apologies, in every essence these occurrences have continued to repeat in her experience, both locally and globally.
"I am sad to evidently state that most of the issues I face that impact my day to day, are actually systemic based biases that have nothing to do with me as a person or a professional," she observes.
Coyie also describes some of the major challenges she faced, including the lack of respect she experienced, when she started her career and launched a fully black-owned, female-led company like PVCC to provide support across the wider African region to a number of global life-sciences companies.
One of these challenges was that PVCC continued to be rewarded with "simpler projects," despite bidding and proving that they had ample experience in handling bigger and more complex projects that were up to par with global standards.
The other challenge was that the projects that were awarded either paid way below the market standard, and hence were not commensurate to the value they had invested in the project, and/or the payments were made much later than the stipulated timelines.
Coyie noticed that these issues significantly "improved" only when she had male colleagues participating in such business engagements, and it became clear to her that gender, just like race, still heavily influences business decisions in the corporate sector.
"The fact that these issues are still ongoing, and they are not just affecting my company, is a common phenomenon that I have continued to witness, even with my fellow black female-led company owner/CEOs," she states.
Coyie is now highlighting these discrepancies in business and policy making forums, boldly and without hesitation, with the intention of positively advocating for equity and fair inclusion, when it comes to pay and business opportunities in Africa.
"As someone who has always been in the minority groups in corporate sector i.e., a female black African leader, and with a peculiar name, I know how much representation mattered to me, back when I was starting my career and to date," she observes.
Coyie points out that, in the present time in Africa, diversity and inclusion (D&I) has called to action its representation and implementation, not just in global based corporations, but in local public sectors. However, there are still a lot of improvements and strengthening required.
"I have chosen to no longer be apologetic for my femaleness and femininity, and I want to be respected in all of my femaleness, because I deserve to be."
– Chimamanda Ngozi Adichie
Building a culture of quality & integrity at PVCC
Coyie states that PVCC has developed a culture of quality and integrity, where one is empowered to do the right thing all the time, even when no one is watching, especially during the pandemic season, where they are working remotely from home.
She also notes that the openness amongst the team members at PVCC has positively influenced ownership and accountability practices in their day to day tasks. Some of the ways in which they have implemented these include:
Creating policies and standards that guide on how one conducts themselves both internally and externally during PVCC business affairs. Hence the reason PVCC is pursuing the ISO certification awards in the following 5 standards; Quality Management Systems, Information Security Management Systems, Business Continuity Management Systems, Environmental Management Systems and in Occupational & Health Management Systems before end of 2022.
Respecting everyone's contributions in the day to day, regardless of how "small", "big", "pointless" or "powerful" a contribution may appear.
Implementing an open-door policy, meaning the team is freely approachable to brainstorm or support in solving hurdles that a team member may be challenged with.
Being vulnerable enough in asking her team to contribute ways and ideas that they can implement to make a process more efficient, and genuinely following through on suggestions given.
Creating a culture of rewarding and recognizing innovative ideas.
PVCC has instituted a work from home (WFH) model which is further compounded by the fact that employees work a 4-day-week. Coyie points out that these two things have been responsible for significantly boosting staff morale.
Additionally, the WFH model significantly contributed to the company saving on its resources targeted towards the maintenance of a traditional brick-and-mortar office. These funds were redirected to increase staff remuneration and compensation, and add more staff members to the team.
Outside of these measures, Coyie has also been instituting leadership values that include:
Simplifying complex tasks into simple achievable deliverables
Encouraging and supporting individual contributions and collaborations
Creating a culture of respect by offering considerations and courtesy to one another, thereby abolishing toxic traits such as shifting blame, back-stabbing, and malice in the workplace.
Navigating the industry as an entrepreneurial woman leader
Having received recognition throughout her career, Coyie shares two special occasions that saw her accept the recognition with great emotion and gratitude in her heart.
The first occasion was when she was elected, by her professional peers, as one of their leaders at the International Society of Pharmacovigilance, overseeing Africa affairs.
The second occasion occurred last year, when her own family, who she has the special privilege of working with, recognized and celebrated her team leadership when the company hit its 5-year strategic milestone in 3 years, and achieved its annual (2021) business targets in August, instead of December!
"These two occasions build confidence in me and in my leadership. To date, I recognize them as my most significant leadership recognition," she reflects.
As someone who describes herself as having an entrepreneurial nature, Coyie outlines her responsibilities as the CEO of PVCC Consulting as follows:
Communicating on behalf of the company with stakeholders, clients, the public, and all other government entities. This entails generating, reviewing, approval and submissions of publications (prints, electronics and digital) indicating the company's position.
Leading and driving the company's strategic goals, especially with PVCC transitioning from a startup to an established micro-small-medium enterprise (MSME).
Maintaining awareness of the market landscape, expansion opportunities, and industry affairs with PVCC in perspective.
Continuously creating a conducive and rewarding working environment for her team and support suppliers.
Generating and maintaining compliance standards, in line with local regulatory authorities' requirements, and as per industry practices.
Coyie's main goal is to ensure that she brings the tools that will give her teammates a space conducive to generate solutions to problems brought to PVCC.
Her future plan is to ensure that PVCC is recognized globally, as a sustainable, agile, result-oriented, compliant, and environmentally-conscious outsourcing firm fully based and operated in Africa.
Empowering the women of Africa economically & socially
Coyie's personal goals as a business woman are to ensure that fair and equitable resources and opportunities are freely available to Africans, especially the women of Africa.
"On a personal note, I recognize that the successes I enjoy today are because the women who came before me stood up and walked, so that I can run. Every day, I am reminded that I live in an era where my achievements, who I am, and the freedom of choice I have, reflects my own grandmothers' and my mother's wildest dream," she reflects.
Coyie's call to action is to bring dignity to African women by empowering them economically and socially. She believes that the majority of African women are economically crippled and socially inhibited from occupying and influencing change in their communities.
It is inherently ingrained in them that they are powerless, because they are women, poor, less educated and/or have no exposure in how to run their economies. Coyie notes that, sadly, this notion has further contributed to a poverty mentality and an oppressive culture.
"With the success of my work and my actions today, it is my hope that, one day, my future daughter will say that she is, because she stood on her mom's shoulders!" she declares.
"If I could just say one thing that would be: trust the process, believe in yourself, and empower your people!"
– Dr. Coyie Mathenge