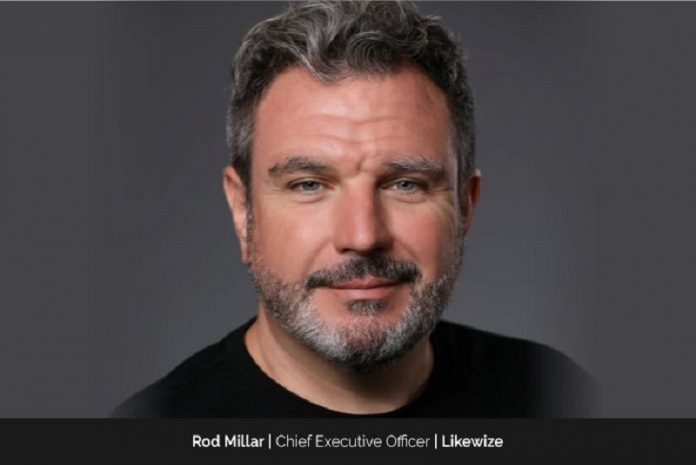 In the fast-changing world of technology, customers can't afford to be disconnected because their productivity plumets and they feel disconnected from their loved ones.
Rod Millar is the Chief Executive Officer and a board member of Likewize Corp, a global leader in the tech protection and support industry. Likewize is trusted by some of the world's biggest brands, telco's, retailers and banks to ensure their customers have continuous connection to the technology that makes their lives easier and richer.
Rebranding to Likewize
Millar's association with the company, which rebranded from Brightstar to Likewize in 2021, goes back over 20 years, when he served as the first President of the European business. He followed Marcelo Claure to Sprint where he was SVP of Product & Supply Chain, and Likewize was a key service provider for after sales care. Following Sprint's merger with T-Mobile, Claure invited Millar to return to Likewize as CEO.
"I didn't just join Likewize, I rejoined Likewize," says Millar. "An element that attracted me back is that we've always been a disruptor, we've always challenged the status quo and made things better. It is part of our DNA. This is a core strength within our culture. We have always looked at where the market is moving to, and the problems that will arise. We then set about devising solutions to them. We always look at the things which customers don't like about the market, and we try to irradicate all the pain points. We don't believe in accepting the status quo. We reinvent the norm."
Taking on the role in 2019 marked his homecoming to the company. "I saw that people were more reliant upon their devices than ever before and no one was able to resolve all of their tech problems in the same way we could. So, I saw a real benefit in what Likewize was doing for people," he says.
That was an important realization as Millar knew it was fundamentally important for his company to redefine its mission. "We had become distracted. We were trying to do too many things, and we didn't have clarity about our purpose," he adds.
"So, we defined our core reason for being as making every tech problem painless. If someone's tech went wrong, we make it right." says Millar. "People cannot live happily or function productively without their devices. We protect end-users against every eventuality. Whether their tech is lost, stolen, malfunctioning, in need of an upgrade, or the user does not know how to do something – Likewize has the solution."
Cementing our core purpose in this way made Millar realize that they needed a new brand, a new identity. "Due to the market and our company changing fundamentally we knew it was necessary to change the brand to accurately reflect this profound shift," says Millar. "Likewize offers a much a stronger sense of our identity and what we want to accomplish. We needed people to change the way they look at us, because we wanted people to see that we had evolved."
Explaining that there's nothing more profound than a name change, Millar offers the example of Muhammad Ali, who changed his original name, Cassius Clay.
"He changed his name because he wanted it to reflect his new religion and end his association with his slave name. This shows how a name can transform the entire narrative around a person, place, or thing," he explains. "For us, it showed our customers, and potential customers, that we're a tech protection and support company. We solve all our customers' problems painlessly."
Millar chose to rename the company to be 'Likewize' for a few reasons. Millar recounts that one reason they liked that name was that it was made up of two important words, "like" and "wize". "We want our customers to like the way we engage with them, making the task of getting reconnected effortless. We also wanted them to see that we brought intelligent solutions to help resolve things as quickly as possible. So Likewize encompassed two core elements of how we wanted to be perceived. This is very important to us and is a key element in our employee training. We stress the importance of customers liking how we treat them and also ensuring that we offer them intelligent solutions."
Keeping customers always connected
Likewize recognizes the importance of technology and their customers' reliance on their tech.
To ensure their customers are always connected, Likewize offers an array of comprehensive products; focusing on four core services: protection, tech support, repair, and upgrades.
"We look after about half a billion people and resolve 250M problems each year," says Millar. "We are obsessed with customer satisfaction scores. We see ourselves as a company that sells the promise to quickly resolve end users' issues when they arise. Our satisfaction scores are our metric for how well we are keeping those promises. We try to ensure that we operate in a culture where everyone in the company looks at every single issue logged as a promise we need to complete."
Millar describes Likewize as a tech safety net that protects their customers and stops their life from being interrupted.
"We can only truly care for our customers if our employees know we are a company who cares," says Millar. "We've looked after our employees by upgrading their work environment, providing state-of-the-art new offices, excellent benefits and the provision of health and wellness facilities, and we are constantly looking at ways in which we can do more."
"But the real thing that drives people on to solve customers' problems, is because they realize they're doing important work. They know people can't live without their tech and they see how anxious people get when they are disconnected," states Millar.
The core values of Likewize
Likewize saw rebranding as an ideal opportunity to instill new core values into the company, values that embodied the enhanced service culture that Millar was keen to develop further. "We were conscious that it was as much an internal rebrand as an external one. If we want to be Likewize on the outside, we have to be Likewize on the inside," he stated. Likewize used this event as an opportunity to define and communicate new and contemporary values appropriate for the type of services business they have transformed into.
"This was the moment when we left no one in any doubt about who we are, what we do and how we make the world a better place," says Millar. "We were very deliberate about the values we chose and how we trained our people on these. We raised the service culture element from being highly important to absolutely imperative."
He lists the core value of Likewize as:
Agile – In a fast-paced and changing world we need to bring solutions to customers at speed, and with a flexibility that sets us apart.
Always Learning – We're curious, always learning, progressive in our thinking and always challenging the status quo. Those are the characteristics that enable us to keep innovating. We enjoy taking on big challenges and seeing them through.
Optimism – We are optimists; we bring positive energy to every situation in the belief that we can achieve whatever we set our minds to.
Fair – We must be straight up and honest with everyone. We should treat people equally, be impartial, diverse and inclusive, and show respect to all.
Empathy – We often communicate with people when they are stressed, so we must show empathy. We should always look at things through the eyes of others, as well as our own; understanding their point of view and being sensitive to it.
Personal Best/High Effort – We are passionate about what we do. We believe in giving our personal best every day and in continually seeking to do better. We are committed to high effort, because people are relying on us.
Building a culture through a period of great change
Likewize has gone through significant change in recent years, a change in business focus, a new name and brand identity, plus a new home for its corporate HQ in Dallas, TX. Often changes of such magnitude impact culture in a negative way, yet it appears to have been the opposite for Likewize who are seeing stronger sense of cultural dynamics.
Millar attributes this improvement to the attractiveness of the new direction and the clarity that it brought. "Change can often have a negative impact on a company because it brings uncertainty, but for us it brought clarity. We communicated the change clearly, explained the impact and implications, and showed employees what the new world would look like. The vast majority of employees liked what they saw and very quickly got onboard." The new name and brand identity was welcomed by employees, they liked it freshness, its vibrancy, its tone of voice, the clarity that it brought and the fact that it was centered on some core values that resonated with people.
Likewize has always benefitted from a can-do attitude amongst its employees, that means that when things get tough people become resilient and find a way to make things happen. But Likewize realized that the most vibrant cultures are built on a carefully selected (and trained) group of values that attract, shape and guide all the employees.
"We need to build our business on a strong and unique set of behaviors that help to give us all a sense of purpose, engage our colleagues, inspire performance and loyalty across our business." Says Millar.
Culture is how Likewize does things. Culture is founded on a set of core values that define the proper way to behave within the organization. "We don't always live up to every value, every single moment of the day – but we are trying. It's a work-in-progress, and it always will be, if you set your bar high enough."
While Likewize trains new employees about their core values and teaches them ways that these can be introduced into the workplace, they believe it is often easier to hire for values and train the necessary skills rather than the other way around. So Likewize has started to include in all their new hires an assessments against their stated company values.
All of the brand values are perceived as being equally important, although we suspect Millar has one favorite as he talks eloquently about the value 'always learning'.
Millar had originally chosen innovation as a core value, but he realized that innovation is the output, and the value to be honed is one of always learning. "It all starts with being curious, looking at things as they are and wondering how they could be better. So the value we want people to embrace is one of always learning. We want people who will ideate, who ask 'how could we make it better?' who are constantly searching for better," he says.
As a result, Likewize looks for people who are going to question the current narrative and come up with new ideas and processes that will find new ways that allow customer's problems to be resolved better, faster, more easily and more caringly.
Success is always changing
Millar does not believe that success has one single definition, as there are many different stakeholders, and success for shareholders looks different than it does for customers or employees.
"I believe success is a multitude of things," he says. "Success is about growth – both top line but especially bottom line. Success is about taking market share. Success is about creating great products and delivering great services. Success is about building a talented team that operates in a positive culture. But ultimately success is about making a positive impact to people, and we do that for our customer's customers, by getting them re-connected as fast and as painlessly as possible when their tech goes wrong."
Having seen businesses become far more complex with things changing and evolving faster than ever, Millar believes that you constantly need to be reviewing your success metrics and your benchmarks of what good looks like.
"The world is different than it was 2 years ago, a year ago, or even 6 months ago," he says. "As a leader you have to be flexible, constantly changing with your market, evolving your messaging to set the right context and framework for your staff to operate by."
Leading with belief
Millar is a leader who is always pushing to be bigger and better. A phrase he regularly comes out with is "Think, Believe, Become." Think of what we can become or what we can achieve; Believe that it is possible (which is often only possible once a plan has been constructed) and then Become, by executing on that plan. It's a phrase that requires the optimism to dream about what is possible and then the realism to execute a plan that makes it a reality.
For Millar, Likewize's greatest achievement is that every year they solve about 250M problems for customers around the world and get them re-connected to the things that matter most to them. "It is an immense honor that we are trusted by many of the world's biggest brands, telco's, banks and retailers to look after their customers, and we don't take that responsibility lightly." he says.
Another area that makes him very proud of Likewize's impact is in the trade-in and re-commerce arena. "We have traded in and recommerced 40 million devices, keeping them out of landfills and giving them a second life. Likewize is a very green, sustainable company. We strive to keep devices functional and useful throughout the entire life cycle," he states. Most people believe that the majority of traded in devices are headed for a landfill, but Likewize is amazingly able to rehome 95 out of every 100 thanks to their state-of-the-art automation, and of the 5 which are beyond repair these are responsibly recycled. With e-waste an ever-growing problem, Likewize looks set to prosper in this area of their business.
With no plans on slowing down, Likewize intends to continue growing through acquisitions, new services, and winning new customers.
"People are reliant on our services, and without sounding too arrogant, we believe we provide the best products and services in the industry," states Millar. "However, if we want to stay ahead of our competition, we have to do three things; we have to innovate faster than our competition, so we are continuously looking to find new and better ways to help our customers. We have to be able to easily accommodate our growth – we know we can do this as we built a platform that is hugely scalable, so we will not be hindered due to capacity shortages. Finally, we need to keep our promises to our customers and get them reconnected fast – we can put in place all the systems and processes in the world, but we are a service business, and it always comes down to our people delivering. So, we will continue to build our culture and celebrate our people who deliver every day for our end users."