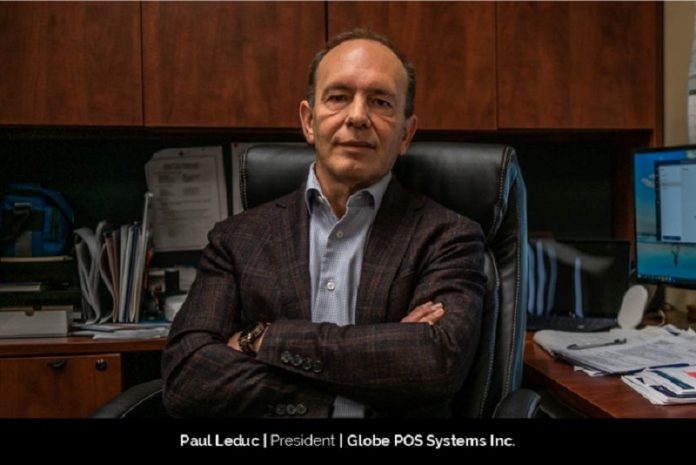 When Paul Leduc, President of Globe POS Systems acquired the company twelve years ago, the company had already been around for almost 31 years. Previously Globe Cash Registers, Paul rebranded it when he acquired it, to Globe POS Systems to reflect newer technology. Paul has spent the last twelve years rebuilding the brand name and growing the company into a recognized name in the industry.
Analysis of the Industry
Globe POS Systems services two major parts of the industry: Hospitality and Retail. When reflecting on the industry, Paul states that he is noticing a shift in technology, as technology is getting more and more importance. Many owners and operators of these businesses are beginning to see more value in the technology and the data they can receive. Unless they are a major enterprise, there is not a lot of time to review the data and information, Paul explains, as they do not have the manpower to do so. However, with newer technology, it is allowing them to receive data that has been nicely analyzed and compiled without taking up too much precious time. The investment made in understanding the customer count, hourly ups and downs, what item sells the most, especially with produce and prepared food, what sells more in the morning vs. the afternoon, is all crucial information to help a store run efficiently and profitably.
With the COVID-19 global pandemic, retail stores experienced a lack of resources with staff that were not comfortable working, staff that could not work, and staff that lived with elderly parents whom they did not want to expose to COVID. This meant that there were not enough employees to change the price for specials, or they were short a baker or butcher. The information the retail stores can collect becomes even more critical in these scenarios. This information can help a store that is short a butcher and is not selling as much meat in the morning, change the schedule to make the most out of the resources they have available.
Hospitality has had a different experience during the pandemic. With lockdowns and restaurants unable to open, many restaurants had to shift tactics to survive. Sit-down restaurants had to adjust and become quick food services, offering pick up and/or delivery. This resulted in a shift in their technology priorities and their operations. Restaurants needed to look at times they were open, how to deliver hot food, and other things they did not have to previously consider, to be efficient and continue to make money during the pandemic. Five-star restaurants were no longer able to operate as sit-down restaurants, causing them to utilize similar technologies as quick-service restaurants do. Both retail and hospitality, embraced the new normal and the information they received became so much more critical.
For Globe POS Systems, the pandemic catapulted their growth. Since retail customers make up about 85% of their business, most of their customers had a positive impact due to people continuing to grocery shop and overbuying. 15% of the company's customers, which consists of hospitality, had a negative impact.
The Significance of Innovation
Technology is ever-changing, which means Globe POS Systems needs to be innovative and evolve with the trends. Paul recalls how five years ago; electronic shelf labels were becoming popular in Europe but were not yet common in North America. Now, not only do bigger chains invest in it but also the smaller ones are looking to put money into it. Additionally, Wi-Fi marketing was pretty much unknown up until about three years ago. Debit and credit card machines went from swiping the card to inserting it, to now tapping the card. As new technologies come out, it forces the company to stay current for their customers to provide those types of solutions. Continuing to innovate forces the company to stay current and ahead of the curve as much as it can. Innovation is one of the key components of the company, as they want to be able to educate their customer and deploy the newest and best technology.
When asked what continues to keep Paul motivated, he says it is the technology and innovation. The business motivates him as well, as he has dreamed of owning a business since he was a child. However, technology and the drive to learn new things holds an overwhelming fascination.  Since Paul comes from the technical side, his heart is in the technology and he truly gets excited thinking about how he can apply new technology to the industry.
Learning Through Challenges
Although challenges may not always seem like an enjoyable experience, Paul explains how they allow him and his staff to discover flaws in the company processes and challenges the team to overcome them together. New technology is fun and excitingbut there are always hurdles to overcome to perfect the products and services they offer.
Before the pandemic, Globe POS Systems had limited online selling solutions. Grocery stores were doing some online selling and pickup and a few companies specialized in it, but suddenly, everybody wanted to be able to do pick up but did not have solutions to achieve that. The company would receive calls from stores saying that they need an online presence and needed integration between their POS (point of sale) system and online to update their products. It took Globe POS Systems two months to find the right partner, find the right solution, and create the integration and test it. For many of their competitors, it took 6-7 months to have a more generic grocery-related solution. Globe POS Systems spent a lot of hours during nights and weekends to be able to deliver in such a quick turnaround and embraced a few vendors who worked with them on the project. Because they put it together so quickly, in the first months of the pandemic, some hiccups needed to be resolved, but these challenges forced the company to re-evaluate the processes they have in place and come up with solutions.
Embracing Failure to Succeed
Paul describes himself as a hands-off leader. When something needs to get done, he assigns someone the task and guides them through the process, but he lets them grow through the process on their own by showing them what he needs and where they need to get to but letting them work through the process themselves. Whether it is personal growth or a customer challenge, he allows the employee to get there on their own after they agree on a path together. Paul is very involved but remains hands-off to allow them to learn. He explains that overtime he learns that some challenges are not for the right person and he utilizes each employees' strengths when assigning them tasks and appropriate challenges.
Paul admits that there is always margin for error when a leader is hands-off. However, he believes that is when his team can learn best. He encourages constant communication and expects team members to come to him if a problem does arise. However, he realizes that sometimes plans fail and you need to go back to the drawing board, but you must allow yourself to fail to succeed. Paul recognizes that at times, someone may take a wrong turn, but it is their responsibility to communicate, make it right, and learn from it.
A Family-like Team
Every Friday Paul and his team have a company-wide meeting. He tries to make it a fun environment, encouraging laughter and humor. Before the pandemic, if nothing specific was going on, they would order pizza and stick around for a while socializing. Additionally, a few times a year he would host company outings. Over the past 18 months, they have not been able to enjoy time together like they used to. However, he continues to try and make the company feel like a family. Each team member has their unique personality, and they have their challenges, but they can still hang out together and have fun. He tries to make the work environment fun, not rigid.
Although the company relies heavily on sales, the focus has always been about service. Everyone on the team contributes and works closely to ensure they are providing excellent service to their customers.  Additionally, the service they provide brings them together as a team, as they work together when a customer has a challenge that they cannot figure out or if they need to go back to the drawing board to come up with a solution. Vendors also come in to help them find a solution when needed. Everything the company works on is always focused on customer-driven service.
The Effect of the Pandemic
When looking back on years past, Paul  thinks that five years ago was the time when the brand became established  in the Ontario area, where the head office is located. However, about a year and a half ago, they expanded the business into The Maritimes region, so it is a constant evolution as they continue to establish their brand. As the company entered The Maritimes, nobody knew who Globe POS Systems was. The pandemic also slowed them down as people were not reading as much in the market or opening their eyes to competitors or other products because they were too busy trying to deal with a situation that no one was prepared for. They continue to work on building brand recognition in The Maritimes and plan to expand further later on this year.
With the global pandemic, the focus of the company has not changed, but it did shift its roadmap slightly. Prior to the pandemic, Globe POS Systems had more retail customers than hospitality customers. In 2019, they decided to focus on growing their hospitality customers. However, in March 2020, that changed as hospitality was hit hard during the pandemic. As some provinces in Canada begin to reopen, they are beginning to put more focus back on hospitality. At one time, Paul was hoping for a 50/50 split of retail and hospitality customers, but he is glad that is not where they were at before the pandemic. Although they did not expand like they thought they were going to into hospitality, it is starting to slowly come back, allowing them to slowly focus on hospitality once things start reopening.
Looking at the Big Picture
Looking back over the last 12 years since Paul bought the company, he is very satisfied with how the company has grown and where they currently are at. He had a three-year financial target, and he explains that they are close to hitting that number. The company remains on the path to grow to where he wants it to be. Although some projects have been delayed due to the pandemic, he is grateful that they are still on track financially. Operationally, he is also satisfied, although he explains there is always more work to do, and more room to grow.