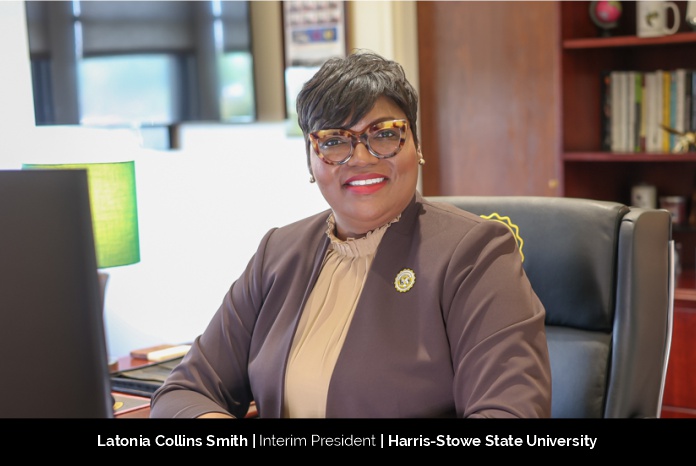 Dr. LaTonia Collins Smith, Interim President of Harris-Stowe State University, is a renowned education leader with innovative leadership expertise in administration and program creation. She serves as the chief advocate and leader of Harris-Stowe State University's mission.
At the university, Dr. Collins Smith develops and maintains an appropriate administrative organization to ensure effective and efficient management of its resources. She has more than 20 years of progressive leadership experience with an extensive background in administration and program development that enables her to provide effective internal and external communications, including keeping the Board of Regents informed, being the university's chief spokesperson, and representing the university to the general public.
At Harris-Stowe State University, Dr. Collins Smith also recommends policies for Board action and implements those policies adopted by the Board. In addition, she provides oversight of the university's quality of the academic and support programs and all its components. She says, "My vision is to provide opportunity and access to education for those who are under-resourced and underserved." 
Glimpse of Dr. Smith's Early Life and Work
Dr. Collins Smith had always seen herself as a teacher since she was a child. However, as she studied more, she realized that what she truly desired was to help others. Dr. Collins Smith's first career was in social work and public health. She was always enthusiastic about education in general, knowing that it was the key to unlocking the door to success.
Dr. Collins Smith holds an EdD in educational leadership from Maryville University in St. Louis. She graduated from Saint Louis University with a master's degree in social work and a master's degree in public health. She holds a bachelor's degree in social work from the University of Central Missouri.
Professionally, Dr. Collins Smith served as a social work and public health practitioner for 21 years in the Greater St. Louis area. Through the years, she developed an extensive background in program development and management, which impacted the lives of many, especially in the areas of adoption and foster care, health, legal, education, and juvenile justice. She married her best friend, Kip M. Smith, and raised her three younger cousins, Alderman John Collins-Muhammad, Jasmine Collins, and Missouri State Representative Kimberly-Ann Collins, who affectionately call her mom, Ma, and Madre'.
Dr. Collins Smith stumbled into higher education through the White House Effort on HBCUs' public health initiative. According to Dr. Collins Smith, the project was sponsored by a SAMSHA grant to educate students at HBCUs, MSIs, and HSIs about HIV/AIDS, Substance Abuse, and Hepatitis. She developed her interest in higher education while working with college-aged kids. "My students were the catalyst for my career shift, which prompted me to seek a rewarding career in higher education," she says.
Joining Harris-Stowe State University
Dr. Collins Smith began her career in higher education at Harris-Stowe State University in 2010. She was only supposed to be there for nine months in a grant-funded, part-time position. Now, it has been 11 years. She recalled, "After the first nine months, our grant was renewed for two additional years." She then became the part-timer that worked full-time and helped fill in gaps in the counseling service department. She volunteered on the scholarship and student conduct committees and began teaching first-year student seminar courses.
Dr. Collins Smith helped wherever and whenever needed to gain knowledge and experience, even if there was no monetary compensation. Even though she had no intention of pursuing another degree, she returned to school to earn a doctorate in higher education leadership. She says, "I believed obtaining this degree would offer me the opportunity to help my students and the institution on a much larger scale."
After the SAMSHA grant funding ended, Dr. Collins Smith was asked to develop a retention program for students enrolled in the Science and Mathematics Academy. This was another part-time position but in the Division of Academic Affairs. After a year in this role, she was hired full-time as the Executive Director of the Center for Career Engagement. Over the next four years, Dr. Collins Smith was promoted to serve the university in several different leadership capacities, such as Assistant Provost, Associate Provost, and Provost and Vice President Academic Affairs, prior to being named Interim President in June 2021.
A Renowned Leader
Dr. Collins Smith is Chairwoman of Missouri's Dr. Martin Luther King, Jr. Statewide Celebration Commission and a member of Greater St. Louis, Inc.'s Downtown Advisory Board. She was a member of the University of Central Missouri's Alumni Board of Directors and Alumni Foundation Board. She is a member of the American Association of State Colleges and Universities (AASCU) and the National Association of Colleges and Employers (NACE).
Dr. Collins Smith has been recognized locally and regionally for her leadership and service. Honors include the Equal Education Opportunity Group Pioneer Award, the NAACP Ben Hooks Community Leader Award, NAACP Excellence in Education Award, and the AKA Central Region's Outstanding Educational Advancement Foundation Captain Award. In addition, she is a Protégé of the 2019 Millennium Leadership Initiative, a Fellow of the St. Louis Business Diversity Initiative, and a Fellow of the Higher Education Leadership Foundation.
Pandemic's Effect on Education
"Without question, COVID has had a major impact on how we deliver education," says Dr. Collins Smith. She further states that the COVID transition showed the University that change could happen quickly in higher education if the circumstances call for educators to respond. She promises that she will continue with a strong distance education program now that faculty and students have some experience with remote learning. The University is in a better place with its online programs because this crisis forced the management to be more innovative, adaptive, and think outside the box to survive.
Keeping Balance by Listing Priorities
As per Dr. Collins Smith, there isn't a "regular" day of work in her leadership role. However, one of the things she likes most about serving in this role is the fact that no two days are the same. Some days can be spent in back-to-back meetings with on-campus and community constituents. Other days can include attending student events and/or events in the community.
Dr. Collins Smith is extremely diligent about self-preservation and family prioritization when balancing work and life. She has asserted that she will spend at least 15 minutes alone each day in meditation and thought prior to beginning work and upon her return home from work each day. She is careful not to overcommit herself on special occasions. Even if it is difficult to resist becoming a Superwoman at times, she has learned the gift of guilt-free "no" and that she cannot be everything to everyone.
She keeps an open line of communication with her husband. They are intentional about date nights and days. They also participate in planned activities together, including traveling. She is also intentional about spending time with her extended family members and children.
She opines, "I stay motivated by surrounding myself with a phenomenal sister circle of achievers. I also set meaningful and intentional goals to achieve."  
More Initiatives for Improvement
Dr. Collins Smith plans for the future of Harris-Stowe State University is to be a standard of excellence in transforming lives through academic, personal, and professional development. According to her, Harris-Stowe will be a premier, public HBCU recognized for academic excellence, innovation, student success and leadership to improve the lives of individuals in this changing global society.
Dr. Collins Smith's personal goal is to continue to inspire change in the underserved and under-resourced populations by helping them to realize the power of their potential through educational opportunities.
Success: Where Purpose meets Passion
For Dr. Collins Smith, success is where one's purpose and passion meet and being able to operate in them both. She refers to Colin Powell's describing success in one simple line: "There are no secrets to success. It is the result of preparation, hard work and learning from failure."