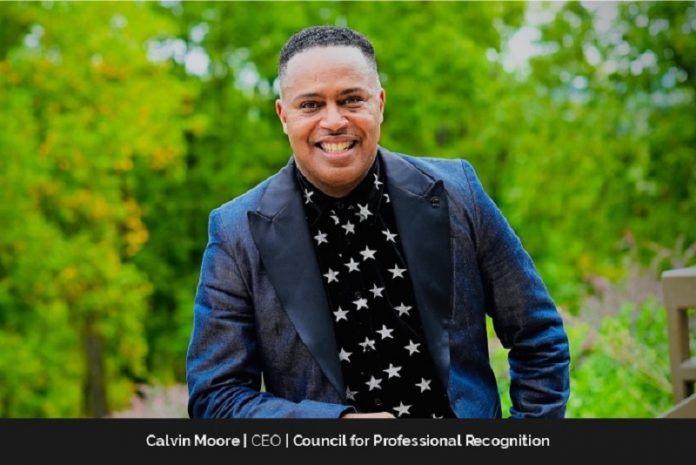 The Council for Professional Recognition is a name synonymous to early childhood education. And the man behind steering it to the pedestal it enjoys today is its CEO, Dr. Moore. A former Air Force cadet, and then a teacher by profession, Dr. Moore is the first CEO of the Council for Professional Recognition to have earned its flagship credential (the Child Development Associate or CDA), which means he brings a unique perspective to the work that truly reflects those the Council works with every day. "Now that inspires me!"
And, for good reason! After thirty years working in the field of early childhood education and training, Dr. Moore took over the reigns as the CEO of the Council for Professional Recognition.
The birth of the Council took place in the early 1970s when a group of early childhood educators gathered to find ways to improve the quality of early care and education. The concept for the CDA® Credential was born out of those meetings. It was initially funded by what was then called the U.S. Department of Health, Education, and Welfare, Administration on Children, Youth, and Families (ACYF). After several years of development, the first CDA was awarded in 1975.
A decade later, ACYF entered into a cooperative agreement with the National Association for the Education of Young Children (NAEYC) to create a separate nonprofit organization to administer the Child Development Associate® (CDA) Credential. That organization, the Council for Professional Recognition, began administering the CDA on September 1, 1985. Nearly 1 million CDA credentials have been issued to date.
"We set the Standard for ECE Competence. The Council for Professional Recognition is a leader in the credentialing of early childhood educators worldwide. We ensure that candidates who earn our Child Development Associate® (CDA) credential are well prepared to foster the social, emotional, physical, and cognitive growth of young children. Having a CDA® doesn't just help educators bring out the best in children. It also advances their careers and contributes to the status of our profession," said Dr. Moore.
For more than three decades, the Council has pivoted to respond to evolving best practices in early childhood education, advances in technology, and the growing diversity of individuals who are pursuing early childhood education (ECE) as a career. The Council promotes improved performance and recognition of professionals in the early childhood education of children ages birth to five years old. It also recognizes and credentials professionals who work in all types of early care and education programs, including Head Start, pre-k, infant-toddler, family child care and home visitor programs.
"I view the Council as a thought leader in the field. We are also a learning organization that is constantly looking for innovative ways to advance our mission and serve the early childhood educators working with young children. The fact that so much of our activities are designed to improve the practices of educators I would think that is in many ways how we redefine our profession," says Dr. Moore.
As CEO of the Council Dr. Moore has the overall responsibility for creating, planning, implementing, and integrating the strategic direction of an organization. This includes responsibility for all components and departments of the Council.  "I also ensure that the organization's executive leadership and Board of Directors maintain a constant awareness of both the external and internal competitive landscape, opportunities for expansion, customer base, markets, new industry developments and standards.
He welcomes each day with a set of planned activities, whether that is meeting with department heads and engaging with external stakeholders. Like most of his peers, his day 'can be fluid'. "In that sense, priorities change throughout the day so a certain amount of flexibility is needed or you would become quite frustrated or feel that you haven't accomplished much during the day. That is why I usually start and end each of my days with a leadership quote and 10 minutes of meditation."
"We have been fortunate that the Council is the only place where you can be credentialed to receive your Child Development Associate Credential. But even though we are sole source in that way we are committed to providing the best customer service to our stakeholders. In fact, superior customer service is my main focus as a CEO. We must be responsive to the needs of the CDAs!"
More often, we hear of women struggling or facing challenges in a man's world. Dr. Moore speaks from the other side. "We all have challenges along the way—personal and professional. I am no different. I think the most persistent challenge I experienced is being a male in a female dominated profession."
However, these challenges were only minor obstacles in the larger scheme of things, and Dr. Moore was not one to shy away from driving to excellence. Taking on the role as the CEO of the Council, he soon made changes that honored the staff and demonstrated his commitment to making the Council 'a great place to work'. "I believe once people see that you are working on their behalf, with them in mind, they trust your leadership and will be productive contributors to the mission. I think it's working. If you talk to anyone on my staff, I would be willing to bet they would say the Council is a great place to work."
A Look Back at a Fulfilling Life
Dr. Moore began his professional journey as a teacher in 1991. "Like most men I left the classroom and became an administrator.  I have worked in Head Start programs on both coasts and held important state and federal positions. For more nearly 30 years before coming to the Council I devoted my life to serving young children and their families."
His move into this field, however, was almost by accident.  After serving in the Air Force for four years, he received  an honorable discharge and decided to return home and finish his degree in education. "My aunt suggested that I apply for a job at the local Head Start program while attending school. She thought it would be a great way to gain some experience while finishing my degree. Well the rest is history."
Once he started working with young children back in 1991, he never stopped. He soon earned his CDA, went on to finish his BS degree in early childhood education from the University of Alabama at Birmingham, then Masters degree, and finally earned a PhD in early childhood education in 2004 from Walden University.
"As a new teacher I caught fire. I wanted to learn everything about working with young children and their families. I also think that is the best thing about being a new leader at the Council. I am the first CEO who has earned the CDA, which is a testament to just how far you can go in a career if you put your mind to it. I not only went on to earn higher degrees, but to become the leader of the Council, which is an incredible honor and I am thankful for the opportunity."
While many successes have taken him to new heights through his journey, his measure of success is entirely on how well his family and children are doing. "Family matters above all else and that is the true measure of a person's success. I really do believe in work/life balance and try to be an example of that. It is hard because I do believe I am very passionate about my career choice. My family life has to be a priority in order for me to continue to devote so much to my career. We are a team and they have been on this journey with me. I have worked on both the east coast and west coast and in the private sector as well as in federal and state government. The constant was my family. They supported me along the way. So, I have committed myself to having family time, taking vacations, and including them in major decisions that may affect the family. I encourage my staff to do the same.
"It can be fleeting for someone who is driven to achieve the goals they have set for themselves (which is the basic definition by the way), but what I have found in my life is that my success isn't connected to those work goals I set because as soon as I achieve one set I am already on to the next one," he explains.
From Here On Forward
Dr. Moore hopes that the Council be remembered for the care they show to their stakeholders. "I want every person who calls our office to remember the unique sense of concern and compassion they experienced—even when there are difficult issues to face. I want us to face them with grace and a superior customer focus."
As an organization, the Council for Professional Recognition is currently engaged in an initiative to improve their service delivery called Reimagining the CDA Process initiative. "We hope to make sure that everyone who wants to achieve their CDA has access to our system and that we are responsive to their needs during the process." While the Council's focus is on early childhood educators in this country, they strive to be an important thought partner globally considering the CDA credential an important lever in delivering high quality early childhood education.
"We want to leverage what we have learned to help others as opportunities present themselves for us to do so. The Council's future is bright, and we are grateful for the attention being paid to the many early childhood educators in our field amid a global pandemic. We have always known how essential early childhood educators are to our society and our mission is to recognize them," Dr. Moore concludes.