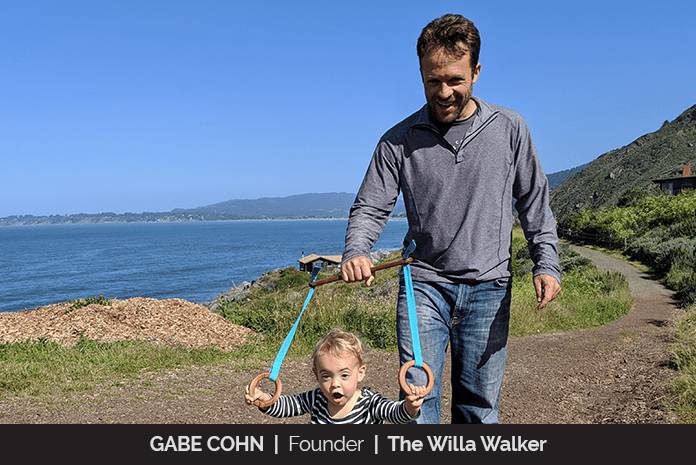 It is very rare to find a product that is amazing not only for a parent and a child but also for the environment. The Willa Walker is one such gadget helping children to walk. It is basically created using two characteristic materials, i.e. wood and cloth. The tool happily boasts their impressive reputation for making high quality, useful and attractive product that limits its carbon impression. At the same time, it helps children to begin making their first steps without directly depending upon parents. A creative brain behind the creation of this innovative tool is Gabe Cohn, Founder and CEO, Playful Nature, LLC, and this is his story.  
An inspiring & unexpected beginning
A Mechanical Engineer by trade, Gabe invented the Willa Walker in his garage after babysitting his cousin's daughter Willa. The first prototype was very simple: A piece of Bamboo, some string and 2 sticks for handles. Years later, Gabe along with his wife Haley spent a year travelling around the world. While they were living in Indonesia, Gabe had some early Willa Walker prototypes made. Not long thereafter their daughter, Poppy was born. Eight months since the birth of her daughter, Gabe had perfected the design and Poppy was ready to be the first Willa Walker beta tester. When Haley (Gabe's wife) started taking Poppy out to the park using the Willa Walker, the reaction was phenomenal. Everywhere they went, Poppy and the Willa Walker kept turning heads. People started asking where they could get one for their baby. So joining forces with four childhood friends, Gabe created Playful Nature, LLC and started producing Willa Walkers for others.
As eco-friendly as it gets
Gabe has always loved to play and create and most of all he likes to watch others benefit from his efforts. "It could be something as simple as building a small bridge to cross a stream or inventing a game and watching people laugh as they play it. I never thought to commercialize any of my ideas, but after I came up with the idea for the Willa Walker, so many people were excited about it and asking where they could buy one, that I thought it was worth trying out," Gabe asserts.
Everything that's ever been created has always had a few hiccups, external or internal. Similarly, the main challenges for Gabe and the team were self-imposed. "Because we make products for kids, we want them to be extra safe and high quality. Because we care about our world, we promised that we would only make something that did more good than harm. This meant, finding (and paying extra for) sustainable manufacturers and eco-friendly materials. We ended up making our parts out of scraps from a sustainable furniture factory. Can't get much more eco-friendly than that," Gabe adds.
A wooden handle, two ropes and two wooden rings. That's it.
One of the two products from Playful Nature, the Willa Walker is a simple yet smart tool that makes learning to walk even more fun for toddlers while saving adults the back-pain from always having to bend over to help them. It is not only good for babies learning to walk, but it also helps children when they are walking on uneven ground. It turns out the Willa Walker is a great accessory for active outdoor parents. With the support of a Willa Walker, a budding walker can tackle rough terrain with ease. There are now around 6000 Willa Walkers out there with budding walkers acting as the beta testers. The other product Gabe has created is Benji Blocks – sustainable, beautiful, hardwood building blocks and planks.
Gabe is proud of the fact that Playful Nature is the first and foremost an Earth-friendly company that strives to give back to the earth more than it takes by following the most sustainable business model possible. Willa Walkers are made from scraps of woods left over from the Masaya Furniture company. Masaya manages and operates tree plantations — helping to create jobs and return damaged land to its natural state in Nicaragua. Continuing with this earth friendly approach, Playful Nature partners with two amazing environmental charity partners, Eden Reforestation Projects and the Lonely Whale Foundation. For each Willa Walker sold Eden plants 10 trees and $1 is donated to the Lonely Whale Foundation. An impressive thing to boast about, to say the least.
The joy of creating effective tools
The best part about starting Playful Nature for Gabe is that now when he is talking to his friends (who work with him), he get to call it a meeting. He also says that he enjoys being a benevolent dictator. He is generous and listens to his colleagues with the utmost respect, but he also gets the final word and get to make the decisions. Maintaining a fine balance between personal and professional life gets tricky for Gabe as he is on my phone a lot, so he tries to keep boundaries and set hours where he leaves his phone on a shelf. Gabe proudly says that one word that best describes him is 'Open.' "So many things inspire me, but whenever I see someone finding a way to be fulfilled and happy in a difficult situation that might be the biggest inspiration," he says. He also mentions that the team will continue to creative and effective products as long as they are enjoying it. The biggest achievement for him, however, are his 2 year old and 5 year old daughters.
Finding ways to promote the products
Talking about growth, Gabe says, "Our growth will skyrocket when we have a video go viral as it has a few times, and it will be stagnant when we are too busy to promote it. Our plan has always been to let the business grow naturally, rather than trying to get a ton of interest generated at the start, and I think we are doing well." "Eventually, we'd like to make our site into a curation of our products and a few other products that meet our standards so that it becomes a boutique on line toy store with the focus on interactive, ultra-sustainable products. Competition doesn't seem to be the issue. For us, it's finding ways (and time) to promote our products," he concludes.