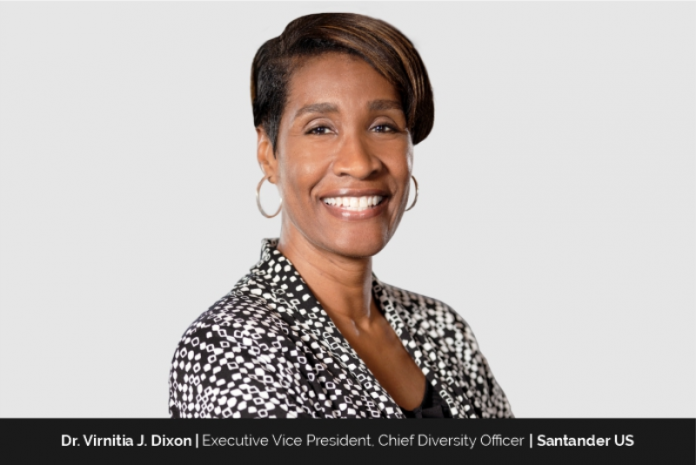 Dr. Virnitia J. Dixon advocates for Diversity, Equity, and Inclusion (DE&I) as the Executive Vice President, Chief Diversity Officer at Santander US. With over 25 years of corporate experience and recognition as one of Connecticut's Most Powerful & Influential Women by the National Diversity Council, Dr. Dixon transforms and empowers institutional cultures to be more inclusive. In 2020, she became the first senior executive in charge of DE&I at Santander Consumer USA and made great strides in incorporating DE&I into the company's culture and practices.
In 2022, Dr. Dixon expanded her role to lead Santander's DE&I efforts across the USA and partner with businesses to develop scalable DE&I strategies. In addition, she works with Santander US' Board of Directors and the US Leadership Team to establish equitable programs throughout the organization.
As the Chief Diversity Officer of Santander Consumer USA, Dr. Dixon provides strategic leadership to help advance commitment to diversity, equity, inclusion, and social innovation. Her team works hard to listen and boldly develop approaches that facilitate sustainable change. Throughout her career, her passion for transforming institutional culture has allowed her to motivate people to show up, creatively lead, and leave organizations better than they found them authentically.
In her corporate experience, Dr. Dixon learned how vital building an inclusive culture is to be competitive. Inclusion yields equity which results in diversity. Before joining Santander Consumer USA, she proudly served as a Principal Consultant and Executive Coach with Quotidian Group. She used energy leadership and pursuit of passion concepts to help her clients raise awareness and develop realistic plans to achieve their goals.
Dr. Dixon's pragmatic approach to transformation also helped to bring success in her roles as Corporate Vice President of Strategy for New York Life Insurance Company and as Vice President of Operations for Travelers Property Casualty Company. She has been featured in Fortune, Forbes, Working Mother, and Black Enterprise magazine marketing campaigns. Still, her most incredible honor is the many talented people who, through her work, have found the courage to live their true potential.
Dr. Dixon's Definition of Success
Dr. Dixon views success as a personal determination rather than an external validation. She holds that success is rooted in one's values and individual goals and can only be achieved through unwavering commitment and sacrifices. Throughout her career, Dr. Dixon worked with highly talented individuals who have triumphed over difficult obstacles and achieved great success in their respective careers.
For Dr. Dixon, success is the celebration of achievements and the ability to learn from failure and make mistakes. She believes true success can only be attained by taking calculated risks and striving towards advancements that benefit oneself and others.
Dr. Dixon's Journey from Executive Coach to DE&I Expert
When Dr. Virnitia Dixon first entered the world of diversity, equity, and inclusion, she needed to be better versed in the concepts and topics related to the field. As an executive coach and consultant on organizational culture and development, she is often approached by clients seeking support in their DE&I efforts. Instead of shying away from the challenge, Dr. Dixon saw it as an opportunity to make a difference in an area she was passionate about.
Determined to become an expert, Dr. Dixon immersed herself in DE&I and developed her philosophies in detail. In 2020, she joined Santander as a consultant for the Santander Consumer USA auto division, bringing her knowledge and expertise to the company.
After George Floyd's murder, organizations across the country renewed their commitment to DE&I. To support these efforts, Dr. Virnitia Dixon was brought in to work with leaders and help advance the DE&I efforts at Santander Consumer USA. She recommended that the company appoint a Chief Diversity Officer and establish an Office of Diversity, Equity, and Inclusion to accelerate its efforts.
To her excitement, Mahesh Aditya, CEO of Santander Consumer USA, was fully supportive and actively engaged as the DE&I executive sponsor. Under their leadership, the company made significant progress in achieving its DE&I goals. In recognition of her efforts and success, Dr. Dixon was appointed as the Chief Diversity Officer for Santander US in 2022.
Overcoming Roadblocks in Advocating for Change
Throughout her career journey, Dr. Virnitia Dixon had to develop patience and the ability to help others recognize the value of change. Despite facing challenges and roadblocks in gaining support for innovative approaches, Dr. Dixon learned that it's essential to meet people where they are and help them understand the benefits. Achieving success requires setting a common goal and exhibiting courage, resilience, and agility. Transforming organizational culture is a long-term and dedicated process that cannot be accomplished by one individual alone.
Building a Strong Culture: The Santander US approach to DE&I
At Santander US, the work done by Dr. Virnitia Dixon, and her team is a source of great inspiration. Across the organization, leaders and colleagues are finding innovative ways to reinforce the company culture. For example, as the cornerstone of their DE&I commitment, they emphasize psychological safety, reflected in their corporate behaviors of Think Customer, Embrace Change, Act Now, Move Together, and Speak Up.
Intending to help people and businesses prosper, the Santander US team aspires to be visionary leaders in their industry. Rather than viewing DE&I as a mere HR necessity, they recognize it as a business imperative. By focusing on making deep human connections that lead to increased empathy, improved relationships, and stronger communities, they believe they are gaining a competitive advantage that will benefit them both now and in the future.
The Evolution of Diversity, Equity, and Inclusion in the Workplace
In the past, organizations have viewed inclusion as a sense of belonging and achieved results by focusing on inclusion as the starting point and recognizing that diversity is the outcome and equity is how they get there, thus labeling it as Inclusion 1.0. Inclusion 2.0 then saw many organizations support their employees through organized advocacy groups, giving employees a voice and platform to highlight commonalities and barriers to success. These inclusive actions became increasingly important, particularly following the onset of the pandemic.
As we move into 2023 and beyond, organizations must adopt a new mindset around inclusion. To effectively achieve this, they must shift away from the legacy of DE&I programs and their focus on vanity metrics and buzzwords. Instead, inclusion 3.0 should prioritize human connection and promote psychological safety, allowing employees to feel secure in speaking up, learning, and contributing to the workplace.
DE&I at Santander US is a Collective Responsibility
At Santander US, the promotion of integrity is at the forefront of the organization's culture. The principles of authenticity, vulnerability, and adaptability are valued as essential elements of strong leadership. Shared accountability and recognizing everyone's contributions toward progress are also emphasized. The company regularly conducts a quarterly engagement survey which consistently places it in the top quartile among financial services companies for diversity, equity, and inclusion (DE&I) engagement.
Nevertheless, Santander US goes beyond surveys to understand the employee perspective on their DE&I efforts. A sentiment analysis conducted in the past year revealed that the employees trust the company's commitment to DE&I, which is reflected in its diverse representation. At Santander US, DE&I is a collective responsibility, whether through the seven Business Resource Groups, community involvement, or serving customers. The focus is on listening, learning, and making a meaningful impact.
Leveraging DE&I Efforts for Organizational Transformation
With a background in insurance and financial services, Dr. Virnitia Dixon spent 25 years working in corporate America for companies such as Travelers and New York Life before venturing on her own. Driven by a passion for shaping organizational culture and encouraging leaders to embrace change, Dr. Dixon found herself often consulted by CEOs and senior leaders of Fortune 500 companies regarding diversity, equity, and inclusion (DE&I). Yet, despite investing millions, in some cases billions, of dollars and years into DE&I efforts, these leaders expressed frustration at not seeing progress.
Dr. Dixon's research indicated that a revolution was needed in the DE&I space, as traditional approaches had failed to bring about good change. She believes DE&I is a subset of culture and has made it her mission to leverage DE&I to transform organizations.
Making a difference: Employee Recognition
As a leader, Dr. Virnitia Dixon receives recognition through the voices of her employees. They express gratitude for her impact on the organizational culture, making it even more diverse and inclusive. She has been recognized as a transformational leader, receiving and appreciating accolades throughout her career. However, the most incredible recognition she receives is in witnessing the growth of her colleagues, whom she plays a significant part in supporting.
Encouraging Future Generation of Women in Leadership
As a leader, Dr. Dixon recognizes that challenges often lead to growth and sees being "the only" as both a privilege and an opportunity. She strives to be a role model for future generations, encouraging them to take risks, focus on making positive change, and believe in the potential for success.
To open doors of opportunity for those who come after her, Dr. Dixon is dedicated to paying forward the support and opportunities she received and motivating others to go above and beyond.
A day in the life of Dr. Virnitia Dixon at Santander US
In her role as a member of the US leadership team at Santander, Dr. Virnitia Dixon, while reporting to CEO Tim Wennes, plays a crucial role in shaping the company's business strategy. In addition, she provides insights on Human Resources and people strategies with a focus on further embedding diversity, equity, and inclusion (DE&I) into Santander US' business capabilities.
Dr. Dixon likes the quote by Albert Einstein, "Don't listen to the person who has the answers; listen to the person who has the questions."
As the head of the DE&I Office, she leads a team of passionate professionals who strive to create tangible outcomes for employees, customers, and communities. A typical day for Dr. Dixon involves analyzing data to identify opportunities, collaborating with various teams within the organization to develop new strategies, and working with her colleagues to drive change in a fun and positive environment. Dr. Dixon feels fortunate to be in a position where she can help bring about a new era of DE&I.
Cultivating Work-Life Balance
Balancing work and life in today's fast-paced world can be daunting. Dr. Dixon strives to keep her priorities in perspective. She begins each day with a positive outlook and embraces surprises. Recognizing the importance of overall well-being, Dr. Dixon dedicates time each day to her mental, physical, and spiritual health, and she encourages her team to do the same. To promote balance, she implements a monthly wellness calendar that enables various activities to increase mindfulness.
As a leader, Dr. Dixon takes a hands-on approach to engage with her team. With empathy as the cornerstone of her leadership style, Dr. Dixon prioritizes self-awareness and strives to be both direct and respectful when giving and receiving feedback. In addition, she places a strong emphasis on creating a safe and comfortable work environment for her team.
She also recognizes that meeting their basic needs for inclusiveness, safety, and the ability to contribute and share their ideas, is critical to increasing their motivation and performance. In this way, Dr. Dixon aims to help her team reach their full potential and deliver their best work.
Envisioning Santander US' Future
As the leader at Santander US, Dr. Dixon has exciting plans for the organization's future. Despite already making significant progress, she sees plenty of opportunities ahead for growth and development. For example, to enhance the experiences of Santander US' employees, the organization will focus on engagement and use data and analytics. Additionally, Santander US will partner with other organizations to launch social innovation programs that promote digital and financial inclusiveness. The company will prioritize diversity, equity, and inclusion (DE&I) by emphasizing deep human connections and psychological safety. This approach aims to create the necessary paradigm shift to tackle future organizational and societal challenges.
Personal Goals and Advice for Aspiring Women Leaders
Dr. Dixon strives to inspire others to cultivate trust and foster cultural curiosity as a leader. She intends to share valuable insights and lessons from her experience at Santander US; she endeavors to encourage organizations and individuals to commit to diversity, equity, and inclusion. She sees DE&I as a powerful tool to enhance organizational culture and wants to initiate a movement that transforms DE&I rhetoric into tangible progress.
To all aspiring businesswomen, she imparts a powerful message: to be intentional, set aspirational goals, believe in themselves, and leverage all available support and resources. Dr. Dixon recognizes that challenges are growth opportunities and encourages others to embrace them with determination and resilience.
Conclusion
Dr. Dixon drives organizational transformation with a practical approach to elevating inclusion, equity, diversity, and social impact. She aims to make Santander US a preferred employer, a shining example in the community, and a company that people are eager to do business with.
Dr. Dixon leverages her knowledge of energy leadership and pursuit of passion as a tool for guiding clients in increasing their awareness and creating achievable action plans to meet their objectives. Her passion for people, expertise in creating inclusive cultures, and pragmatic approach make her an ideal Chief Diversity Officer for Santander US. With a proven track record of success, Dr. Dixon is poised to continue delivering results for the company. Her appointment reflects the company's commitment to an inclusive culture where every customer, colleague, and community partner is valued, heard, and has equal opportunities to succeed.
Dr. Dixon's life mission is "to be a blessing to the lives of many, one person at a time."