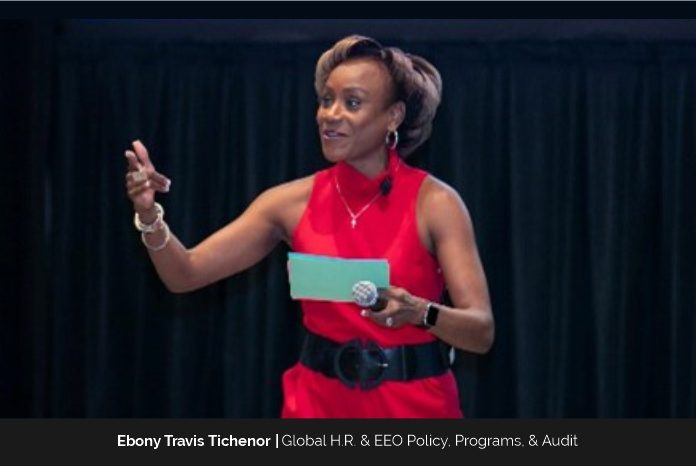 Promoting accountability and awareness around diversity, equity, and inclusion is Ebony Travis Tichenor's passion. She has over 25 years of practical experience managing all facets of workforce development, including outreach, inclusion training, diversity, equity, and internal policy and practice evaluation for effectiveness and equality. She has experience running diversity initiatives and programs that promote awareness, inclusion, and the retention of diverse talent. She has assisted top executives in enhancing their, team effectiveness, and corporate success by acting as a trusted adviser, mentor, and consultant. Ebony is committed to advancing and making sure that equity, inclusion, and diversity are top priorities within the work she does. She is skilled in many areas and enjoys changing lives because it's all about people for her.
A Long Journey of Commitment and Compassion
Ebony began working in corporate America in 1997 as an administrative assistant assisting the field sales team, which numbered over 500 people. She began as a contract employee for two and a half weeks before being hired full time on October 20, 1997, which served as her first full working day. One objective remained constant: she wanted to pursue her passion for helping others and inspire others to be their best selves. In her wildest fantasies, Ebony could never have dreamed that she would work for the same firm for 25 years. She states, "This job gave me an opportunity to do what I love, and that included a broad range of activities and supporting employees in the sales team by helping to make their already busy jobs a bit easier." She is always reminded of the Mayo Angelo quote, "I've learned that people will forget what you said, people will forget what you did, but people will never forget how you made them feel," which always hits positively with her. This saying has a lot of significance for Ebony since, even now, she enjoys helping others feel joy when she can. She believes in leaving people feeling wonderful while creating a lasting relationship that begins with a good first impression.
As a senior manager for diversity, equity, and inclusion from 2016-2020, Ebony has held positions in a variety of divisions throughout the years, including sales operations and support, global compliance and legal, employee relations, and human resources. Her road to success, though, wasn't a straight one. She asserts, "As I navigated my career in these departments, "I took lateral moves and steps back from being a manager – twice – to get the foundational skills, such as strategic thinking, people management, and policy development, that were needed to continue to be successful, especially in my years as a Senior Diversity, Equity, and Inclusion (DEI) Manager and today in the Legal and Compliance Department as a Director, Global HR & EEO Policy, Programs, and Audit. I love working for a company that sees me for me."
The 4 years Ebony was a Senior Diversity, Equity & Inclusion Manager, she played a key role. She worked closely with management and staff to create employee resource groups across the world, inclusive training, and many other initiatives. She cares deeply about DE&I since, to her, it personifies who she is. Ebony appreciates that she may carry out DEI work in whichever position she fills. She opines, "As a Black-Hispanic woman married to a Caucasian man, I find ways to bring up diversity. My husband and I can have some healthy, heated debating conversations, but we always come out better for it. We agree that our varying views have nothing to do with how much we love each other.  Being different is what makes us so great together."  Ebony also believes that, as a diverse individual, one has to find ways to introduce herself or himself in conversations. She shares, "Announce who you are—be comfortable with it—whether you're a person of color, LGBTQ, disabled, or a veteran, you should be able to have your say and be heard."
Ebony took a role in DE&I soon after earning her MBA and moved into this HR role after a few years in Global Compliance as a Manager, Global Communications and Training. During her time in DE&I she accepted a stretch assignment within Legal in 2019 while still working as a DE&I Sr. Manager, spending the year in Employee Relations conducting employee investigations. In her present position as the Director of Global HR & Equal Employment Opportunity (EEO) Policy & Audit, she is able to combine her love of people, willingness to lend a hand, understanding of employee policies, and dedication to DE&I. She enjoys doing DEI in a slightly different way.
Ebony claims that DEI was a part of her role for a very long time before it was a need for many people today. Almost 20 years ago, she was a co-founder of an employee resource group called "Bridge," which was developed to bridge more connections for black employees. For Ebony, this was an incredibly impactful experience as it enabled her to meet more individuals like herself and develop lifelong friendships while still working together.
One interesting aspect of Ebony's work that many people are unaware of is that she has performed the great majority of her jobs remotely from her home in Dallas, Texas. But it's never stopped her from achieving her goals or being productive. Ebony has worked remotely for 25 years, but she's never felt isolated from her co-workers because she's always found a way to stay in touch. She shares, "When I travel, I intentionally make time for people, whether with a quick hello or a fun selfie picture. I want them to know that I see them. During COVID and still today, I find it important to have those 1:1 conversation with many to ensure we continue to build a strong bond and working relationship no matter the miles between us."
Looking back at her illustrious yet unconventional career journey, Ebony sees that all of this paved the way for her to live a fulfilling, healthy, and joyful life, knowing there are still so many opportunities ahead.
The Expert
"People are what matters most in creating diversity, equity, and inclusion."
 – Ebony
Ebony currently is a Director, Global HR & EEO Policy, Programs and Audit at Boston Scientific where she provides thought leadership and strategic direction for their global employee and Equal Employment Opportunity (EEO) policies. She benchmarks externally and collaborates internally with partners in human resources and business leaders to make sure that the company's policies reflect not only the law but also its core values and inclusive culture. Additionally, Ebony develops and conducts training on various policies She also supports the company's US affirmative action plans to ensure that everyone is aware of the company's objectives and efforts in relation to the hiring and promotion of women, people from different cultures, disabilities, and veterans, among others.
Ebony loves working since her day-to-day duties are continuously changing. She would not alter a thing about her job since she loves every bit of it. Ebony receives calls from employees every day asking for advice on how to take on the next assignment or develop in their profession. She genuinely enjoys helping others have fulfilling lives and develop into their best selves.
Ebony is extremely upbeat and grateful for her professional work. She says, "Doing what I love to me is more important than any award received, for my award is the people I have the pleasure of working with each and every day."
Views on Challenges
 'I am convinced that life is 10% what happens to me and 90% of how I react to it.' – Charles R. Swindoll
During her early career, Ebony worked as an administrative assistant and found that as she advanced in her career, this was what people saw in her for many years: "as an administrative assistant" until she shifted her personal brand and mindset. Throughout her career, she has had to find ways to ensure people truly see her in each of her new roles.
Being the "only one," or the lone black woman in the room, proved to have its challenges at times, but Ebony never let that stop her. Over time, she worked to make sure that people could see the color of her skin because if they couldn't, they couldn't see her.
Some people would find this unimportant, but Ebony also had to work on controlling her good energy, which to me meant being who she really was. Many people occasionally remarked as she advanced in her profession that her upbeat, joyful attitude occasionally did not appear real or true. Therefore, in order to avoid overwhelming anyone with whom she could be dealing, Ebony had to learn to meet people where they were at.
Ebony gradually came to the realization that she could meet people where they were without losing sight of who she was and how she manifests herself every day, which is brimming with true, healthy energy and vitality. Ebony also discovered that being her real self in every area of her life meant bringing her healthiest self to work every day. The important components of Ebony's identity as a black Hispanic woman are joy and overall well-being. She says, "While remaining an upbeat, positive individual, I can be professional, strategic, and more."
The Changing DEI Landscape
The corporate world has long known that DEI projects are developing and becoming increasingly important in many businesses today. This is a must for business, not simply a nice-to-have. It does not take much to notice that businesses and workers are more accepting of DEI than ever before. Businesses are now realizing how important it is to keep working hard to create an inclusive workplace environment where all employees may succeed. Ebony appreciates how many businesses are realizing the importance of DEI and how it can significantly improve their bottom line. She states, "Data shows that the most successful teams include members who are diverse in gender identity or sexual orientation, ethnicity, nationality, geographic location, ability or disability, veterans, and age." She also adds that businesses have to continue to think differently about the value of including diversity, equity, and inclusion in all that they do. If everyone is willing to put in the effort, the possibilities of making real, positive, and meaningful change will happen. Ebony asserts, "DEI is truly at the heart of so much of what I do and I hope for many others too."
Joy, Purpose, and Motivation are the Keys to Balance
It is too common to think that one must balance work and personal life, but people rarely do. It is impossible to strike an equal balance between life and work. Balance can be defined as the feeling of satisfaction found within each of everyone, but there must be fluidity in life. Ebony states, "What works today may not work tomorrow, and where we spend our time will change over time as our needs change." She has to work at keeping that balance, and she does. She implies by this that she moves slowly and deliberately. She must admit that this helps her manage her work, which she loves, and her life, which she is happy to live every day and which involves caring for her mother, being a wife, being a mother to fur babies, being friends with many, working out seven days a week, and so much more. Her strategy for developing habits that stick is to take small steps. She opines, "In embracing your intention, your clarity, it is possible to experience deep and permanent satisfaction in how you "balance" your life and work."
Ebony balances her life and work while also making time for a second interest of hers: public speaking at professional conferences where she shares her passions for DEI, personal branding, energy management, overall well-being, and many other topics. Since many people have inspired her, she believes that doing this for others will help her reach out to and inspire those that are coming up next in this world.
Ebony finds it easy to encourage herself, her co-workers and her family and friends. She is who she is because of her optimistic, joyous attitude. Ebony inspires so many by sharing her joy for life.
"Joy of life and everything I do."
When Ebony is not working, she loves spending time with friends and family, but she also loves to inspire and motivate people to be fit, be healthy, and be happy. She is a social media influencer with a large Instagram following, focusing on personal branding, fitness, and self-care. She asserts, "I love sharing my life, which is always full of joy and happiness. Social media is not me just sharing the good; it is me truly sharing how my life is – fulfilling."
Ebony believes, people must feed their minds with positive thoughts to live a fulfilling life. She says, "My family, my colleagues, my friends, they all give me purpose."
She mentions that she owes a lot of gratitude of thanks to her husband Robert who has stuck by her side for 20+years providing her such love and support throughout her career.
Having a Contented Heart is True Success
"When you are able to call a place your home, you are always successful," says Ebony. She feels this way about the company she has been at for 25 years. She shares, "The concept of home does not require a specific structure. It can be a country, a city, or even an individual. The fact that you have a place where you feel safe and comfortable is already a significant accomplishment." She further adds, "You can achieve success by giving your best effort in all aspects of everything you do, even if the results are not spectacular. As long as you have done your best, you should be proud of your efforts. And to me, that is success."
According to Ebony, she is extremely happy in life and pleased with where she is in her career as the Director of Global Human Resources and EEO Policy, Programs, and Audit. She is also a wife, mother to two furry children, caregiver to her mother, and a social media influencer for health and fitness. She reflects, "I had no idea my joy for work and life could be so great that it would overflow my heart, and that is success to me." Ebony considers Maya Angelou's quote resonates with her: "Success is liking yourself, liking what you do, and liking how you do it." She also believes that her success has not come without a lot of hard work and sacrifice, but she would not change.