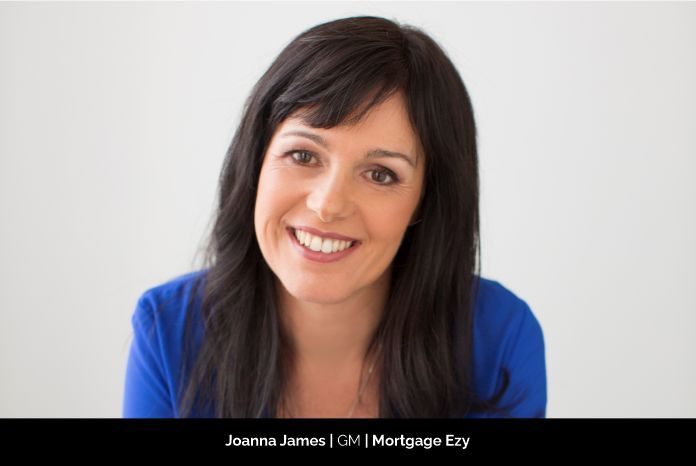 As a former Architect and designer, who gained international exposure to become the youngest female registered architect and licensed builder in Australia, Joanna James, General Manager of Mortgage Ezy ignited a passion for infusing her creative ideas at an early age. She carried those ideas into the financial world and is now steering the wheel of Mortgage Ezy as the General Manager. Mortgage Ezy is disrupting the mortgage market as the super safe and secured mortgage manager.
Her road to success has not been a bed of roses. However, she is proud to have learned many valuable lessons along the way that paved the way for her profound personal growth. She says, "My journey is an adventure where every day we work with many wonderful people and whilst the stakes are high with what we do and the responsibility that we hold – along the way we have lots of fun too."
Traversing Difficult Valleys Boldly
Ever since she began working at Mortgage Ezy 20 years ago, the team experienced numerous hurdles on their way to success. However, they all have managed to come out stronger, be it striving upwards from rapid changes, managing all people effectively, or strategic change failures.
They also recognized that their main struggles originated from the need to partner with third-party suppliers and relying on their capabilities. The noteworthy point here is that the key process and solution to these issues has always been the same; only the implementation needs to be perfect to get the desired outcome. In this case, the ultimate lesson was to keep the focus on the company's growth through developing partnerships planning for adaption and redundancies along the way.
She shares, "Whether it be bricks and mortar or technology systems, it's a dynamic process of improvement that always brings benefits. Living the changes in technology over my lifetime and experiencing the tangible effects has always been both exciting and a driver for me."
Innovative Services of Mortgage Ezy
Established in 2001, Mortgage Ezy is an award-winning non-bank Mortgage Manager with over 6000 brokers across the nation. Having served over 3.6 Billion dollars in Home loans, Mortgage Ezy offers a plethora of lending solutions for mum and dad lending and alternative product solutions that comprise construction, SMSF lending, non-resident, and expat lending.
The team is passionate about what they do, supporting everyday Australians who don't traditionally meet the lending requirements set by the banks.
Mortgage Ezy's company culture is unique. The company capitalizes on the strengths and talents of each individual to ensure the team stretches beyond any self-imposed limits.
"We are a unique bunch from a wide variety of backgrounds working together as a democracy. We treat everyone as an individual, not just a number," says Joanna.
They provide borrowers with solutions that work for them. Their wide product range offers customers a lot of choices. Joanna states, "You can stay assured that your loan with Mortgage Ezy is safe, secure, and backed by a panel of the best lenders across the globe. Your money is safe. Our process is secure. Your confidence can be sky-high! We access funding through the biggest national and international brands. Additionally, your loan in many circumstances is guaranteed by the Australian Federal Government so that you have greater security." As their name suggests, they are all about cutting red tape and making the process EZY.
Golden Triangle
The company witnesses a 'Golden Triangle' that specifies the relationship between their brokers and their clients. Joanna believes that all these three should have ample support and harmony so that all sides can create value. She adds, "For this, our company has devised four core values for our teams: Drive, Excellence, Ownership, and Inspection. We believe these four pillars, when combined, create a successful company culture ."
Their creative and out-of-the-box thought-processing let them tread their own road to keep their A-game ahead. The employees here always look for solutions that are quite unique and completely opposite to the mainstream.
Backing up every post 
With the mission to provide excellent services to the customers whilst facilitating and nimbly executing EZY end-to-end experience, Joanna manages every aspect in general. She adds, "I am responsible across all the departments, all the issues, and all the people, whilst delivering the company's strategic vision. Primarily this means I work to support the leadership and development of our teams, processes, and delivery of products to market."
She follows an unorthodox approach when it comes to cater to the needs of her professional and personal life. She expresses, "I don't believe in balance for, at any one time, things are moving in a fulcrum point, everything and I mean everything, in life is constantly in motion. Some days professional needs will be more demanding, and on other days, family needs will come first; the complete picture is painted over time."
To handle everything responsibly, she starts her mornings by investing time in self-care and development. Knowing the importance and value of good mental and physical health, she indulges in a proper exercise regime. Moreover, she aims to learn new skills and expand her horizons.
At work, every day is different depending on the needs of the business. "Typically, there are a variety of scheduled appointments with executives and teams, intermingled with ad Hoc meetings with external suppliers or partners, and in between are any daily issues to address. Although I have regular repeating commitments, every day is tailored to the current business needs and always presents a lot of variety. My role requires constant discipline to prioritize, re-prioritize, and also maintain consistent application with what I do," says Joanna.
Future outlook
Mortgage Ezy will continue to grow and expand. Being an integral part of the wider group of companies, it will continue to be the distribution and processing hub for this dynamic group. Technology has always been at the center of this innovative company, and the roadmap will see it play an even bigger role to disrupt the industry.
Joanna states, "We intend to tip current lending practices on their head by providing loan approvals in minutes rather than the weeks they currently need."